Abstract
Trial tested effect of advance care planning on family/surrogates' understanding of patients' end-of-life treatment preferences longitudinally. A multisite, assessor-blinded, intent-to-treat, parallel-group, randomized controlled clinical trial in five hospital-based HIV clinics enrolled 449 participants aged 22 to 77 years during October 2013-March 2017. Patients living with HIV/family dyads were randomized at 2:1 ratio to 2 weekly ~ 60-min sessions either ACP (n = 155 dyads)—(1) ACP facilitated conversation, (2) Advance directive completion; or Control (n = 68 dyads)—(1) Developmental/relationship history, (2) Nutrition/exercise tips. ACP families/surrogates were more likely to accurately report patients' treatment preferences at Time 1 (T1) and 12 months post-intervention (T2) compared to controls, experiencing high congruence longitudinally (high→high transition), [63·6% vs 37·7% (difference = 25·9%, 95% CI: 11·3%, 40·4%, χ2 = 11·52, p = 0·01)], even as patients' preferences changed over time. ACP families/surrogates had eight times the odds of controls of having an excellent understanding of patients' treatment preferences (Adjusted Odds Ratio 7.91, 95%CI: 3.08, 20.3). Conversations matter.
Resumen
Este ensayo evaluó la comprensión de la familia/sustituto de las preferencias de tratamiento relacionado al final de la vida del paciente a lo largo del tiempo usando el FAmily CEntered (FACE) advance care planning (ACP) intervención. Un ensayo controlado aleatorio, multicentrico, con cegamiento de acceso con intención de tratar, de grupo paralelo, en clínicas de VIH ambulatorios basados en el hospital inscribrió a 449 participantes de 22 a 77 años durante Octubre de 2013 a Marzo de 2017. Pacientes viviendo con VIH/sustituto tomador de decisiones diadas fueron asignados aleatoriamente en una 2:1 proporción a dos semanales ~ 60 minuto sesiones ya sea FACE ACP (n = 155 diadas)-objetivos de cuidado conversaciones y finalización del directiva anticipada; o "Control" (n = 68 diadas) historia del desarrollo y consejos nutricionales. Familias/sustitutos del grupo de ACP fueron mas propensos a informar con precisión las preferencias de tratamiento de los pacientes a Tiempo 1 y 12 meses después de la intervención en comparación con los controles ["High""High" transiciones: 63·6% vs. 37·7% (diferencia = 25·9%, 95% CI: 11·3%, 40·4%, χ2 = 11·52, p = 0·01)], incluyendo cuando las preferencias de los pacientes cambiaron con el tiempo. En general, FACE ACP tuvo una influencia positiva en la compresión de los sustitutos de los deseos que los pacientes tenían para sus tratamientos al final de la vida, en comparación con los controles, al inicio del estudio y un año después de la intervención (64% vs. 38%, p = 0.01).
Access options
Buy single article
Instant access to the full article PDF.
US$ 39.95
Tax calculation will be finalised during checkout.
Subscribe to journal
Immediate online access to all issues from 2019. Subscription will auto renew annually.
US$ 79
Tax calculation will be finalised during checkout.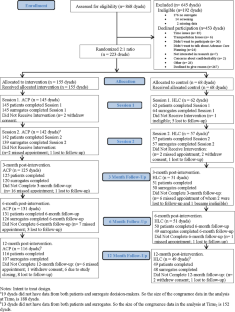 References
1.

Rietjens JAC, Sudore RL, Connolly M, et al. Definition and recommendations for advance care planning: an international consensus supported by the European Association for Palliative Care. Lancet Onc. 2017;18:e543–e551551. https://doi.org/10.1016/S1470-2045(17)30582-X.

2.

Song MK, Ward SE, Fine JP, et al. Advance care planning and end-of-life decision making in dialysis: a randomized controlled trial targeting patients and their surrogates. Am J Kidney Dis. 2015;66(5):813–22.

3.

Detering KM, Hancock AD, Reade MC, Silvester W. The impact of advance care planning on end of life care in elderly patients: randomized controlled trial. BMJ. 2010;340:c1345. https://doi.org/10.1136/bmj.c1345.

4.

Wright AA, Zhang B, Ray A, et al. Associations between end-of-life discussions, patient mental health, medical care near death, and caregiver bereavement adjustment. JAMA. 2008;300(14):1665–733.

5.

Johnson SB, Butow PN, Bell ML, et al. A randomised controlled trial of an advance care planning intervention for patients with incurable cancer. Br J Cancer. 2018;119(10):1182–90. https://doi.org/10.1038/s41416-018-0303-7.

6.

Neergaard MA, Skorstengaard MH, Brogaard T, et al. Advance care planning an longer survival in the terminally ill: a randomised controlled trial unexpected finding. BMJ Support Palliat Care. 2019. https://doi.org/10.1136/bmjspcare-2109-001906.

7.

Sangarlangkarn A, Merlin JS, Tucker RO, Kelley AS. Advance care planning and HIV infection in the era of antiretroviral therapy: a review. Top Antivirus Med. 2017;23(5):174–80.

8.

Rhodes RL, Nazir F, Lopez S, Xuan L, Nijhawan AE, Alexander-Scott NE, Halm EA. Use and predictors of end-of-life care among HIV patients in a safety net health system. J Pain Symptom Manag. 2016;51(1):120–5.

9.

Curtis JR, Patrick DL, Caldwell E, Greenlee H, Collier AC. The quality of patient-doctor communication about end-of-life care: a study of patients with advanced AIDS and their primary care clinicians. AIDS. 1999;13:1123–31.

10.

Wenger NS, Kanouse DE, Collins RL, et al. End-of-life discussions and preferences among persons with HIV. JAMA. 2001;285(22):2880–7.

11.

De Coninck Z, Hussain-Alkhateeb L, Bratt G, et al. Non-AIDS mortality is higher among successfully treated people living with HIV compared with matched HIV-Negative control persons: a 15-Year Follow-Up Cohort Study in Sweden. AIDS Patient Care STDs. 2018;32(8):297–305.

12.

Mitchell MM, Robinson AC, Nguyen TQ, Smith TJ, Knowlton AR. Preferences for professional versus informal care at the end of life amongst African-American drug users with HIV/AIDS. AIDS Care. 2015;27(2):218–22.

13.

Hansen ED, Mitchell MM, Smith T, Hutton N, Keruly J, Knowlton AR. Chronic pain, patient-physician engagement, and surrogate communication associated with drug-using HIV patients' discussing advance care planning with their physicians. J Pain Symptom Manag. 2017;54(4):508–13.

14.

Mitchell MM, Hansen ED, Tseng T, et al. Correlates of patterns of health values of African Americans living with HIV/AIDS: implications for advance care planning and HIV palliative care. J Pain Symptom Manage. 2018;56(1):53–62.

15.

Lyon ME, Garvie PA, Briggs L, He J, D'Angelo L, McCarter R. Development, feasibility and acceptability of the Family-Centered (FACE) advance care planning intervention for adolescents with HIV. J Palliat Med. 2009;12(14):363–72.

16.

Lyon ME, Garvie PA, D'Angelo LJ, et al. Advance care planning and HIV symptoms in adolescence. Pediatrics. 2018;142(5):e20173869. https://doi.org/10.1542/peds.2017-3869.

17.

Kimmel AL, Wang J, Scott RK, Briggs L, Lyon ME. FAmily CEntered (FACE) advance care planning: study design and methods for a patient-centered communication and decision-making intervention for patients with HIV/AIDS and their surrogate decision-makers. Contemp Clin Trials. 2015;43:172–8.

18.

DC Health Department. Annual Epidemiology & Surveillance Report 2018: Data through December 2017. https://dchealth.dc.gov/sites/default/files/dc/sites/doh/publication/attachments/AR%20report%202018_v072518_FINAL.pdf. Accessed 30 Nov 2018

19.

Lyon ME, Leah Squires L, D'Angelo LJ, et al. FAmily CEntered (FACE) advance care planning among African-American and non-African-American adults living with HIV in Washington, DC: a randomized controlled trial to increase documentation & health equity. J Pain Symptom Manage. 2019;57(3):607–16.

20.

Lyon ME, Kimmel AL, Cheng YI, Wang J. The role of religiousness/spirituality in health-related quality of life among adolescents with HIV: a latent profile analysis. J Relig Health. 2016;55(5):1688–99.

21.

Grill KB, Wang J, Cheng YI, Lyon ME. The role of religiousness and spirituality in health-related quality of life of persons living with HIV: a latent class analysis. Psych Relig Spirit. 2020. https://doi.org/10.1037/rel0000301.

22.

Billings JA, Bernacki R. Strategic targeting of advance care planning interventions: The goldilocks phenomenon. JAMA Intern Med. 2014;174(4):620–4.

23.

Folkman S, Greer S. Promoting psychological well-being in the face of serious illness: when theory, research and practice inform each other. Psychoonc. 2000;9(1):11–9.

24.

Hammes BJ, Briggs L. Respecting choices: palliative care facilitator manual-revised. LaCrosse, WI: Gundersen Lutheran Medical Foundation; 2007.

25.

Aging with Dignity. Five Wishes. Aging with Dignity. www.agingwithdignity.org. Updated 2018. Accessed 19 Aug 2018

26.

Jimenez G, Tan WS, Virk AK, Low CK, Car J, Ho AHY. Overview of systematic reviews of advance care planning: summary of evidence and global lessons. J Pain Symptom Manag. 2018;56(3):436–59.

27.

MacKenzie MA, Smith-Howell E, Bomba PA, Salimah H, Meghani SH. Respecting choices and related models of advance care planning: a systematic review of published evidence. Am J Hosp Palliat Med. 2018;35(6):897–907.

28.

Dziak JJ, Lanza ST, Xianming TX. Effect size, statistical power and sample size requirements for the bootstrap likelihood ratio test in latent class analysis. Struct Equ Modeling. 2014;21(4):534–52.

29.

Fahner JC, Beunders AJM, van der Heide A, Rietjens JAC, Vanderschuren MM, van Delden JJM, Kars MC. Interventions guiding advance care planning conversations: a systematic review. JAMDA. 2019;20:227–48.

30.

Lee BC, Houston PE, Rana SR, Lyon ME, the Adolescent Palliative Care Consortium. Who will speak for me? Disparities in palliative care research with "unbefriended" adolescents living with HIV. J Palliat Med. 2017;20(10):1135–8.

31.

Harding R. Palliative care as an essential component of the HIV care continuum. Lancet-HIV. 2018;5:e524–e530530. https://doi.org/10.1016/S2352-3018(18)30110-3.

32.

Frampton SB, Guastello S, Hoy L, Naylor M, Sheridan S, Johnston-Fleece M. Harnessing Evidence and Experience to Change Culture: A Guiding Framework for Patient and Family Engaged Care. Discussion Paper, National Academy of Medicine, Washington, DC. 2016. https://nam.edu/harnessing-evidence-and-experience-to-change-culture-a-guiding-framework-for-patient-and-family-engaged-care/
Acknowledgements
We are deeply grateful to the patients and their surrogates who participated in this trial. We also thank our funders, the National Institute of Nursing Research (NINR)/National Institutes of Health (NIH) Award Number R01NR014-052–06 (no cost extension); NIH National Center for Advancing Translational Sciences CTSI-CN UL1RR031988; and our study sites and staff from: Children's National Health System, MedStar Georgetown University Hospital, The George Washington Medical Faculty Associates, MedStar Washington Hospital Center, and the Washington DC Veterans Affairs Medical Center, all of which are members of District of Columbia-Center For AIDS Research (DC-CFAR). This research has been facilitated by the services and resources provided by the District of Columbia Center for AIDS Research, an NIH funded program (AI117970), which is supported by the following NIH Co-Funding and Participating Institutes and Centers: NIAID, NCI, NICHD, NHLBI, NIDA, NIMH, NIA, FIC, NIGMS, NIDDK, and OAR. These institutions were not involved in the design and conduct of the study; collection, management, analysis, and interpretation of the data; or preparation, review, or approval of the manuscript. This content is solely the responsibility of the authors and does not necessarily represent the official views of the NINR or the NIH or CTSI-CN. We thank the FACE Palliative Care Consortium, including David Parenti, Fred Gordon, Connie Trexler, as well as our consultants Bruce Rapkin, Bea Krauss and Linda Koenig, for their dedicated efforts toward the completion of this study. Special thanks also to our clinical coordinators: Brittney Lee, Jessica Gaines, Allison Kimmel from the Coordinating Center at Children's National; Ginny Levin formerly of George Washington University Medical Faculty Associates; and Chelsea Tanous formerly of Georgetown University Hospital.
Ethics declarations
Conflict of interest
The authors report no conflicts of interest.
Ethical Approval
The trial was approved by the ethics committees of all study sites (Institutional Review Boards). A Safety Monitoring Committee monitored the protocol yearly. All participants gave written informed consent. After written informed consent, participants received secondary eligibility screening. All procedures performed in this study were in accordance with the ethical standards of the institutional review boards and with the 1964 Helsinki declaration and its later amendments or comparable ethical standards.
Additional information
Publisher's Note
Springer Nature remains neutral with regard to jurisdictional claims in published maps and institutional affiliations.
About this article
Cite this article
Lyon, M.E., Squires, L., Scott, R.K. et al. Effect of FAmily CEntered (FACE®) Advance Care Planning on Longitudinal Congruence in End-of-Life Treatment Preferences: A Randomized Clinical Trial. AIDS Behav 24, 3359–3375 (2020). https://doi.org/10.1007/s10461-020-02909-y
Keywords
Advance care planning

HIV

AIDS

Palliative care

Randomized clinical trial

Congruence