Abstract
Pre-exposure prophylaxis (PrEP) is an effective HIV prevention strategy for high-risk adults and recently was given US FDA approval for use among adolescents. Yet, the barriers to medication uptake for this population are unique when compared to adult populations, as parents may be just as likely as prescribers to be gatekeepers to access. To better understand the role of parents in adolescents' attitudes towards PrEP, we surveyed 491 adolescent men who have sex with men (AMSM) ages 13–18, using forced choice and open-ended response questions. We measured perceived parent-PrEP supportiveness, hypothetical parent reactions to a request to initiate PrEP, and perceived positive and negative aspects of taking PrEP without parents knowing. A mixed-methods approach was employed. Results indicated a majority of AMSM had heard of PrEP and most reported their parents would be unsupportive of their taking PrEP. Teens perceived their parents would likely be angry, accusatory, and punitive if PrEP use was discovered, and that accessing PrEP independent of parents might increase their health autonomy, agency, and prevent awkward conversations about sex. Furthermore, a path model revealed that fears of parental reaction and poor self-efficacy to communicate with parents about PrEP significantly contributed to participants feeling PrEP was not "right" for them, and as a corollary, less interest in starting PrEP. The study suggests that improving parental knowledge of PrEP and encouraging parents to begin the conversation about PrEP could help increase uptake in AMSM.
Resumen
El Profilaxis de preexposición (PrEP) ha sido aprobado por la US FDA como una estrategia efectiva para la prevención del VIH en adolescentes. Las barreras de esta población para el uso de PrEP son únicas, ya que padres y proveedores pueden controlar su acceso. Para entender mejor la influencia que tienen los padres en las actitudes de los adolescentes hacia PrEP, se llevó a cabo una encuesta con 491 adolescentes (13–18) que tienen sexo con otros hombres. Medimos la percepción de apoyo parental hacia el uso PrEP, reacciones hipotéticas de los padres al enterarse de su uso y aspectos positivo y negativos de tomar PrEP sin el conocimiento de los padres. La mayoría de los adolescentes indicó haber escuchado de PrEP y que sus padres no los apoyarían si quisieran tomarlo. Los participantes reportaron que sus padres reaccionarían con coraje, acusaciones y castigos al enterarse del uso de PrEP. También reportaron que acceder a PrEP sin sus padres podría aumentar su autonomía, su agencia y prevenir conversaciones incómodas acerca del sexo. Un análisis de ruta reveló que el miedo a la reacción de sus padres y poca auto-eficacia para comunicarse con sus padres acerca de PrEP, contribuyen significativamente a que los participantes sientan que PrEP no es adecuado para ellos y tengan menos interés en comenzar a tomar PrEP. Nuestro estudio sugiere que mejorar el conocimiento de los padres acerca de PrEP y fomentar la comunicación entre padres y adolescentes acerca del mismo puede aumentar el consumo de PrEP en adolescentes que tienen sexo con otros hombres.
Access options
Buy single article
Instant access to the full article PDF.
US$ 39.95
Tax calculation will be finalised during checkout.
Subscribe to journal
Immediate online access to all issues from 2019. Subscription will auto renew annually.
US$ 79
Tax calculation will be finalised during checkout.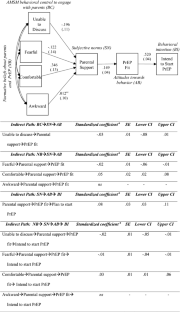 References
1.

Centers for Disease Control and Prevention. HIV Surveillance Report, 2017, 2018. https://www.cdc.gov/hiv/pdf/library/reports/surveillance/cdc-hiv-surveillance-report-2017-vol-29.pdf. Accessed Nov 2018

2.

Mustanski B, Moskowitz DA, Moran KO, Rendina HJ, Newcomb ME, Macapagal K. Factors associated with HIV testing in teenage men who have sex with men. Pediatrics. 2020. https://doi.org/10.1542/peds.2019-2322.

3.

Ybarra ML, Prescott TL, Phillips GL 2nd, Bull SS, Parsons JT, Mustanski B. Pilot RCT results of an mHealth HIV prevention program for sexual minority male adolescents. Pediatrics. 2017. https://doi.org/10.1542/peds.2016-2999.

4.

Macapagal K, Moskowitz DA, Li DH, Carrion A, Bettin E, Fisher CB, et al. Hookup app use, sexual behavior, and sexual health among adolescent men who have sex with men in the United States. J Adolesc Health. 2018;62(6):708–15.

5.

Shannon CL, Keizur EM, Fehrenbacher A, Wood-Palmer D, Ramos W, Koussa M, et al. Sexually transmitted infection positivity among adolescents with or at high-risk for human immunodeficiency virus infection in Los Angeles and New Orleans. Sex Transm Dis. 2019;46(11):737–42.

6.

Macapagal K, Kraus A, Moskowitz DA, Birnholtz J. Geosocial networking application use, characteristics of app-met sexual partners, and sexual behavior among sexual and gender minority adolescents assigned male at birth. J Sex Res. 2019;17:1–10.

7.

Mustanski B, Fisher CB. HIV rates are increasing in gay/bisexual teens: IRB barriers to research must be resolved to bend the curve. Am J Prev Med. 2016;51(2):249–52.

8.

CDC. Pre-exposure prophylaxis (PrEP). Atlanta, GA: Centers for Disease Control and Prevention; 2018. https://www.cdc.gov/hiv/risk/prep/.

9.

Pace JE, Siberry GK, Hazra R, Kapogiannis BG. Preexposure prophylaxis for adolescents and young adults at risk for HIV infection: is an ounce of prevention worth a pound of cure? Clin Infect Dis. 2013;56(8):1149–55.

10.

Mullins TLK, Lehmann CE. Oral pre-exposure prophylaxis (PrEP) for HIV prevention in adolescents and young adults. Curr Pediatr Rep. 2018;6(2):114–22.

11.

Huebner DM, Mustanski B. Navigating the long road forward for maximizing PrEP impact among adolescent men who have sex with men. Arch Sex Behav. 2019;49(1):211–6.

12.

Hosek SG, Landovitz RJ, Kapogiannis B, Siberry GK, Rudy B, Rutledge B, et al. Safety and feasibility of antiretroviral preexposure prophylaxis for adolescent men who have sex with men aged 15 to 17 years in the United States. JAMA Pediatr. 2017;171(11):1063–71.

13.

Thoma BC, Huebner DM. Brief report: HIV pre-exposure prophylaxis engagement among adolescent men who have sex with men: the role of parent-adolescent communication about sex. J Acquir Immune Defic Syndr. 2018;79(4):453–7.

14.

Macapagal K, Kraus A, Korpak AK, Jozsa K, Moskowitz DA. PrEP awareness, uptake, barriers, and correlates among adolescent males who have sex with males in the USA. Arch Sex Behav. 2019;49(1):113–24.

15.

Fisher CB, Arbeit MR, Dumont MS, Macapagal K, Mustanski B. Self-consent for HIV prevention research involving sexual and gender minority youth: reducing barriers through evidence-based ethics. J Empir Res Hum Res Ethics. 2016;11(1):3–14.

16.

Fisher CB, Fried AL, Macapagal K, Mustanski B. Patient-provider communication barriers and facilitators to HIV and STI preventive services for adolescent MSM. AIDS Behav. 2018;22(10):3417–28.

17.

Fletcher FE, Fisher C, Buchberg MK, Floyd B, Hotton A, Ehioba A, et al. "Where did this [PrEP] come from?" African American mother/daughter perceptions related to adolescent preexposure prophylaxis (PrEP) utilization and clinical trial participation. J Empir Res Hum Res Ethics. 2018;13(2):173–84.

18.

Hosek SG, Rudy B, Landovitz R, Kapogiannis B, Siberry G, Rutledge B, et al. An HIV preexposure prophylaxis demonstration project and safety study for young MSM. J Acquir Immune Defic Syndr. 2017;74(1):21–9.

19.

Mustanski B, Macapagal K, Thomann M, Feinstein BA, Newcomb ME, Motley D, et al. Parents' perspectives about adolescent boys' involvement in biomedical HIV prevention research. Arch Sex Behav. 2018;47(7):1923–35.

20.

Hasstedt K. Ensuring adolescents' ability to obtain confidential family planning services in Title X. Guttmacher Policy Rev. 2018;21:48–544.

21.

Centers for Disease Control and Prevention. Minors' consent laws for HIV and STD services 2018. https://www.cdc.gov/hiv/policies/law/states/minors.html. Accessed 30 Nov, 2018

22.

Hanghøj S, Boisen KA. Self-reported barriers to medication adherence among chronically ill adolescents: a systematic review. J Adolesc Health. 2014;54(2):121–38.

23.

Haberer J, Mellins C. Pediatric adherence to HIV antiretroviral therapy. Curr HIV/AIDS Rep. 2009;6(4):194–200.

24.

Rhee H, Belyea MJ, Brasch J. Family support and asthma outcomes in adolescents: barriers to adherence as a mediator. J Adolesc Health. 2010;47(5):472–8.

25.

Berg CA, King PS, Butler JM, Pham P, Palmer D, Wiebe DJ. Parental involvement and adolescents' diabetes management: the mediating role of self-efficacy and externalizing and internalizing behaviors. J Pediatr Psychol. 2010;36(3):329–39.

26.

Hébert J, Polotskaia A, Joober R, Grizenko N. Adherence to psychostimulant medication in children with attention-deficit/hyperactivity disorder: the role of attitudes. J Canad Acad Child Adolesc Psychiatry. 2013;22(4):317.

27.

Widman L, Choukas-Bradley S, Noar SM, Nesi J, Garrett K. Parent-adolescent sexual communication and adolescent safer sex behavior: a meta-analysis. JAMA Pediatr. 2016;170(1):52–61.

28.

Radisic G, Chapman J, Flight I, Wilson C. Factors associated with parents' attitudes to the HPV vaccination of their adolescent sons: a systematic review. Prev Med. 2017;95:26–37.

29.

Ajzen I. The theory of planned behavior. Organ Behav Hum Decis Process. 1991;50(2):179–21111.

30.

Ajzen I, Fishbein M. Understanding attitudes and predicting social behavior. Englewood Cliffs, N.J.: Prentice-Hall; 1980.

31.

Glassman M, Fitzhenry N. Fishbein's subjective norm: Theoretical considerations and empirical evidence. ACR North Am Adv. 1976;3:477–80.

32.

Rendina HJ, Whitfield TH, Grov C, Starks TJ, Parsons JT. Distinguishing hypothetical willingness from behavioral intentions to initiate HIV pre-exposure prophylaxis (PrEP): findings from a large cohort of gay and bisexual men in the US. Soc Sci Med. 2017;172:115–23.

33.

Schnarrs PW, Gordon D, Martin-Valenzuela R, Sunil T, Delgado AJ, Glidden D, et al. Perceived social norms about oral PrEP use: differences between African-American, Latino and White gay, bisexual and other men who have sex with men in Texas. AIDS Behav. 2018;22(11):3588–602.

34.

Mimiaga MJ, Case P, Johnson CV, Safren SA, Mayer KH. Preexposure antiretroviral prophylaxis attitudes in high-risk Boston area men who report having sex with men: limited knowledge and experience but potential for increased utilization after education. J Acquir Immune Defic Syndr. 2009;50(1):77–83.

35.

Sieverding JA, Adler N, Witt S, Ellen J. The influence of parental monitoring on adolescent sexual initiation. Arch Pediatr Adolesc Med. 2005;159(8):724–9.

36.

Coley RL, Lombardi CM, Lynch AD, Mahalik JR, Sims J. Sexual partner accumulation from adolescence through early adulthood: the role of family, peer, and school social norms. J Adolesc Health. 2013;53(1):91–7.e2.

37.

Marcoux BC, Shope JT. Application of the theory of planned behavior to adolescent use and misuse of alcohol. Health Educ Res. 1997;12(3):323–31.

38.

Murnaghan DA, Blanchard CM, Rodgers WM, LaRosa JN, MacQuarrie CR, MacLellan DL, et al. Predictors of physical activity, healthy eating and being smoke-free in teens: a theory of planned behaviour approach. Psychol Health. 2010;25(8):925–41.

39.

Lac A, Alvaro EM, Crano WD, Siegel JT. Pathways from parental knowledge and warmth to adolescent marijuana use: an extension to the theory of planned behavior. Prev Sci. 2009;10(1):22–32.

40.

Coley RL, Votruba-Drzal E, Schindler HS. Trajectories of parenting processes and adolescent substance use: reciprocal effects. J Abnorm Child Psychol. 2008;36(4):613–25.

41.

Hutchinson MK, Montgomery AJ. Parent communication and sexual risk among African Americans. West J Nurs Res. 2007;29(6):691–707.

42.

Hutchinson MK, Jemmott JB III, Jemmott LS, Braverman P, Fong GT. The role of mother-daughter sexual risk communication in reducing sexual risk behaviors among urban adolescent females: a prospective study. J Adolesc Health. 2003;33(2):98–107.

43.

Murphy SA. An experimental design for the development of adaptive treatment strategies. Stat Med. 2005;24(10):1455–81.

44.

Mustanski B, Greene GJ, Ryan D, Whitton SW. Feasibility, acceptability, and initial efficacy of an online sexual health promotion program for LGBT youth: The Queer Sex Ed intervention. J Sex Res. 2015;52(2):220–30.

45.

Mustanski B, Parsons JT, Sullivan PS, Madkins K, Rosenberg E, Swann G. Biomedical and behavioral outcomes of keep it up!: an eHealth HIV prevention program RCT. Am J Prev Med. 2018;55(2):151–8.

46.

Mustanski B, Garofalo R, Monahan C, Gratzer B, Andrews R. Feasibility, acceptability, and preliminary efficacy of an online HIV prevention program for diverse young men who have sex with men: the keep it up! intervention. AIDS Behav. 2013;17(9):2999–3012.

47.

Madkins K, Moskowitz DA, Moran K, Dellucci TV, Mustanski B. Measuring acceptability and engagement of the keep it up! internet-based HIV prevention randomized controlled trial for young men who have sex with men. AIDS Educ Prev. 2019;31(4):287–305.

48.

CDC. Compendium of evidence-based interventions and best practices for HIV prevention Atlanta, GA: Division of HIV/AIDS Prevention, National Center for HIV/AIDS, Viral Hepatitis, STD, and TB Prevention, Centers for Disease Control and Prevention; 2019. https://www.cdc.gov/hiv/research/interventionresearch/compendium/index.html.

49.

Parsons JT, Lelutiu-Weinberger C, Botsko M, Golub SA. A randomized controlled trial utilizing motivational interviewing to reduce HIV risk and drug use in young gay and bisexual men. J Consult Clin Psychol. 2014;82(1):9–18.

50.

Mustanski B. Ethical and regulatory issues with conducting sexuality research with LGBT adolescents: a call to action for a scientifically informed approach. Arch Sex Behav. 2011;40(4):673–86.

51.

Bauermeister JA, Meanley S, Pingel E, Soler JH, Harper GW. PrEP awareness and perceived barriers among single young men who have sex with men. Curr HIV Res. 2013;11(7):520–7.

52.

Parsons JT, Rendina HJ, Lassiter JM, Whitfield TH, Starks TJ, Grov C. Uptake of HIV pre-exposure prophylaxis (PrEP) in a national cohort of gay and bisexual men in the United States: the motivational PrEP Cascade. J Acquir Immune Defic Syndr. 2017;74(3):285–92.

53.

Hsieh HF, Shannon SE. Three approaches to qualitative content analysis. Qual Health Res. 2005;15(9):1277–88.

54.

Neuendorf KA. The content analysis guidebook. Thousand Oaks: Sage; 2016.

55.

Fleiss JL. Measuring nominal scale agreement among many raters. Psychol Bull. 1971;76(5):378–82.

56.

Landis JR, Koch GG. The measurement of observer agreement for categorical data. Biometrics. 1977;33(1):159–74.

57.

Bentler PM. Comparative fit indexes in structural models. Psychol Bull. 1990;107(2):238–46.

58.

Hu LT, Bentler PM. Cutoff criteria for fit indexes in covariance structure analysis: Conventional criteria versus new alternatives. Struct Equ Model Multidiscip J. 1999;6(1):1–55.

59.

Preacher KJ, Hayes AF. Asymptotic and resampling strategies for assessing and comparing indirect effects in multiple mediator models. Behav Res Methods. 2008;40(3):879–91.

60.

Finlayson T. Changes in HIV preexposure prophylaxis awareness and use among men who have sex with men—20 urban areas, 2014 and 2017. MMWR Morbidity and mortality weekly report. 2019;68.

61.

Thompson SH, Yannessa JF, Dunn MS, McGough FM, Duffy JL. Let's talk about sex: parents' and teen's comfort levels during these discussions. Am J Health Stud. 2015;30(1):1–12.

62.

Chrisler AJ. Understanding parent reactions to coming out as lesbian, gay, or bisexual: a theoretical framework. J Fam Theory Rev. 2017;9(2):165–81.

63.

Newcomb ME, Feinstein BA, Matson M, Macapagal K, Mustanski B. "I have no idea what's going on out there:" Parents' perspectives on promoting sexual health in lesbian, gay, bisexual and transgender adolescents. Sex Res Soc Policy. 2018;15(2):111–22.

64.

Baiocco R, Fontanesi L, Santamaria F, Ioverno S, Marasco B, Baumgartner E, et al. Negative parental responses to coming out and family functioning in a sample of lesbian and gay young adults. J Child Fam Stud. 2015;24(5):1490–500.

65.

Pistella J, Salvati M, Ioverno S, Laghi F, Baiocco R. Coming-out to family members and internalized sexual stigma in bisexual, lesbian and gay people. J Child Fam Stud. 2016;25(12):3694–701.

66.

Baiocco R, Fontanesi L, Santamaria F, Ioverno S, Baumgartner E, Laghi F. Coming out during adolescence: perceived parents' reactions and internalized sexual stigma. J Health Psychol. 2016;21(8):1809–13.

67.

Duncan R, Anderson L, Pickering N. Closing the gap between need and uptake: a case for proactive contraception provision to adolescents. Asian Bioeth Rev. 2019;11(1):95–109.

68.

Akers AY, Schwarz EB, Borrero S, Corbie-Smith G. Family discussions about contraception and family planning: a qualitative exploration of black parent and adolescent perspectives. Perspect Sexual Reprod Health. 2010;42(3):160–7.

69.

Melo J, Peters M, Teal S, Guiahi M. Adolescent and young women's contraceptive decision-making processes: choosing "The Best Method for Her". J Pediatr Adolesc Gynecol. 2015;28(4):224–8.

70.

Fu LY, Bonhomme L-A, Cooper SC, Joseph JG, Zimet GD. Educational interventions to increase HPV vaccination acceptance: a systematic review. Vaccine. 2014;32(17):1901–20.

71.

Alexander AB, Stupiansky NW, Ott MA, Herbenick D, Reece M, Zimet GD. What parents and their adolescent sons suggest for male HPV vaccine messaging. Health Psychol. 2014;33(5):448.

72.

Nan X, Madden K, Richards A, Holt C, Wang MQ, Tracy K. Message framing, perceived susceptibility, and intentions to vaccinate children against HPV among African American parents. Health Commun. 2016;31(7):798–805.

73.

Sadaf A, Richards JL, Glanz J, Salmon DA, Omer SB. A systematic review of interventions for reducing parental vaccine refusal and vaccine hesitancy. Vaccine. 2013;31(40):4293–304.
Acknowledgements
This work was supported by a grant from the National Institute on Minority Health and Health Disparities (U01MD011281; PI: B. Mustanski). The sponsor had no involvement in the conduct of the research or the preparation of the article. We would like to thank all of the staff across Northwestern University, University of Puerto Rico, Hunter College of the City University of New York, and North Carolina State University for their hard work. Finally, we would like to thank all of the participants in SMART for their time and commitment to the study.
Ethics declarations
Conflict of interest
All authors declare that they have no conflict of interest.
Ethical Approval
All procedures performed in studies involving human participants were in accordance with the ethical standards of the institutional and/or national research committee and with the 1964 Helsinki declaration and its later amendments or comparable ethical standards.
Informed Consent
This study (STU No. 00201997) was granted a waiver of parental consent and waiver of written consent by the institutional review board at Northwestern University.
Additional information
Publisher's Note
Springer Nature remains neutral with regard to jurisdictional claims in published maps and institutional affiliations.
About this article
Cite this article
Moskowitz, D.A., Macapagal, K., Mongrella, M. et al. What If My Dad Finds Out!?: Assessing Adolescent Men Who Have Sex with Men's Perceptions About Parents as Barriers to PrEP Uptake. AIDS Behav 24, 2703–2719 (2020). https://doi.org/10.1007/s10461-020-02827-z
Keywords
Adolescents

PrEP

Parents

Family communication

HIV prevention