Abstract
HIV-related stigma is prevalent in the US Deep South; however, information regarding the types of stigma and their effects on HIV-related outcomes is limited. This study examined the prevalence of different forms of stigma and the association of stigma with medication and medical visit adherence in the Deep South. Survey participants included 201 individuals living with HIV recruited from Infectious Diseases Clinics (ID) and AIDS Service Organizations (ASOs) in four Deep South states. Study participants reported high levels of experienced, perceived, and internalized stigma. Multivariable analysis revealed that internalized stigma and recent stigmatizing experiences were significantly associated with poorer HIV medication adherence. Internalized stigma was also associated with having missed an HIV medical care visit in the last 6 months. These findings suggest the need to identify and develop effective interventions to address internalized HIV-related stigma and to address community HIV stigma to improve outcomes for individuals living with HIV.
Access options
Buy single article
Instant access to the full article PDF.
US$ 39.95
Tax calculation will be finalised during checkout.
Subscribe to journal
Immediate online access to all issues from 2019. Subscription will auto renew annually.
US$ 79
Tax calculation will be finalised during checkout.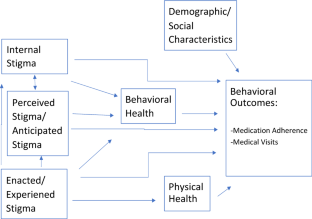 Notes
1.

Alabama, Florida, Louisiana, Mississippi, North Carolina, South Carolina, Mississippi, Tennessee, and Texas.
References
1.

Reif S, Safley D, McAllaster C, Wilson E, Whetten K. State of HIV in the US Deep South. J Community Health. 2017;42(5):844–53.

2.

NCHHSTP Atlas. 2016. http://www.cdc.gov/nchhstp/atlas/. Accessed 1 June 2019.

3.

Kaiser Family Foundation. State Health Facts: Poverty Rate by Age. 2017. http://kff.org/other/state-indicator/poverty-rate-by-age/?currentTimeframe=0&sortModel=%7B%22colId%22:%22Total%22,%22sort%22:%22desc%22%7D. Accessed 14 July 2019.

4.

Gilman B, Bouchery E, Hogan P, Negrusa S, Trent-Adams S, Cheever L. The HIV clinician workforce in the United States. HIV Spec. 2016;8(3):2–9.

5.

Heumann C, Cohn S, Krishnan S, et al. Regional variation in HIV clinical trials participation in the United States. South Med J. 2015;108(2):107–16.

6.

National Alliance of State and Territorial AIDS Directors. Stigma and the Impact on Public Health. Ryan White HIV/AIDS Program Grantee Meeting. Washington DC; 2012.

7.

Kerr J, Valois R, DiClemente R, et al. HIV-related stigma among African-American youth in the northeast and southeast US. AIDS Behav. 2014;18:1063–7.

8.

Reif S, Sullivan K, Wilson E, Berger M.: HIV/AIDS Care and Prevention Infrastructure in the US Deep South. 2016. https://southernaids.files.wordpress.com/2016/03/hiv-aids-care-and-prevention-infrastructure-in-the-u-s-deep-south1.pdf. Accessed 1 Sept 2018.

9.

Sweeney S, Vanable P. The association of HIV-related stigma to HIV medication adherence: a systematic review and synthesis of the literature. AIDS Behav. 2016;20:29–50.

10.

Turan B, Budhwani H, Fazeli P, et al. How does stigma affect people living with HIV? The mediating roles of internalized and anticipated HIV stigma in the effects of perceived community stigma on health and psychosocial outcomes. AIDS Behav. 2017;21:283–91.

11.

Waite K, Paasche-Orlow M, Rintamaki L, Davis T, Wolf M. Literacy, social stigma and HIV medication adherence. J Gen Intern Med. 2008;23(9):1367–72.

12.

Stangl A, Brady L, Fritz K. Measuring HIV stigma and discrimination. 2012. http://strive.lshtm.ac.uk/system/files/attachments/STRIVE%20stigma%20measurement.pdf. Accessed 14 July 2019.

13.

Earnshaw V, Chaudoir S. From conceptualizing to measuring HIV stigma: a review of HIV stigma mechanim measures. AIDS Behav. 2009;13(6):1160–77.

14.

Earnshaw V, Smith L, Chaudoir S, Amico K, Copenhaver M. HIV stigma mechanisms and well-being among PLWH: a test of the HIV stigma framework. AIDS Behav. 2013;17(5):1785–95.

15.

White J, Gordon J, Mimiaga J. The role of substance use and mental health problems in medication adherence among HIV-infected MSM. LGBT Health. 2014;1(4):319–22.

16.

Chitsaz E, Meyer J, Krishman A, Springer S, Marcus R, Zaller N. Contribution of substance use disorders on HIV treatment outcomes and antiretroviral medication adherence among HIV-infected persons entering jail. AIDS Behav. 2013;17(Supplement 2):118–27.

17.

Gonzalez J, Batchelder A, Psaros C, Safren S. Depression and HIV/AIDS treatment nonadherence: a review and meta-analysis. J Acquir Immune Defic Syndr. 2011;58(2):181–7.

18.

Rao D, Feldmans B, Fredricksen R, Crane P, Simoni J, Kitahata M. A structural equation model of HIV-related stigma, depressive symptoms, and medication adherene. AIDS Behav. 2012;16(3):711–6.

19.

Sayles J, Wong M, Kinsler J, Martings D, Cunningham W. The association of stigma with self-reported access to medical care and antiretroviral therapy adherence in persons living with HIV/AIDS. J Gen Intern Med. 2009;24(10):1101–8.

20.

Mitzel L, Vanable P, Brown J, Bostwick R, Sweeney S, Carey M. Depressive symptoms mediate the effect of HIV-related stigmatization on medication adherence among HIV-infected men who have sex with men. AIDS Behav. 2015;19(8):1454–9.

21.

Harvey P. Race, culture, and religion in the American South. Oxford research encyclopedia of religion. Oxford: Oxford University Press; 2015.

22.

Brunn S, Webster G, Archer J, Reif S. The bible belt in a changing south:shrinking, relocating and multiple buckes, vol. 51. Chapel Hill: The University of North Carolina Press; 2011. p. 513–49.

23.

Pew Research Center. Religious landscape study. Washington: Pew Research Center; 2014.

24.

Reif S, Wilson E, McAllaster C. Perceptions and impact of HIV stigma among high risk populations in the US Deep South. J HIV AIDS. 2018. https://doi.org/10.16966/2380-5536.

25.

O'Connell H. The impact of slavery on racial inequality in poverty in the contemporary US South. Soc Forces. 2012;90(3):713–34.

26.

Acharyn A, Blackwell M, Sen M. The political legacy of American slavery. J Polit. 2016;78(3):621–41.

27.

Adimora A, Schoenback V, Doherty I. HIV and African Americans in the southern United States: sexual networks and social context. Sex Transm Dis. 2006;33(7):39–45.

28.

Berger B, Ferrans C, Lashley F. Measuring stigma in people with HIV: psychometric assessment of the HIV Stigma Scale. Res Nurs Health. 2001;24(6):518–29.

29.

Buseh A, Keber S, Hewitt J, Stevens P. Perceived stigma and life satisfaction: experiences of urban African-American men living with HIV/AIDS. Int J Men's Health. 2006;5(1):35–51.

30.

Holzemer W, Uys L, Chirwa M, et al. Validation of the HIV/AIDS Stigma Instrument - PLWA (HASI-P). AIDS Care. 2007;19(8):1002–12.

31.

Nunnally C, Bernstein I. Psychometric theory. 3rd ed. New York: McGraw-Hill; 1994.

32.

Kalichman S, Amaral CM, Swetzes C, et al. A simple single-item rating scale to measure medication adherence: further evidence for convergent validity. J Int Assoc Phys AIDS Care. 2009;8(6):367–74.

33.

Sherbourne C, Stewart A. The MOS social support survey. Soc Sci Med. 1991;32:705–14.

34.

Kroenke K, Spitzer R, Williams J. The PHQ-9: validity of a brief depression severity measure. J Gen Intern Med. 2001;16(9):606–13.

35.

Smith P, Schmidt S, Allensworth-Davies D, Saitz R. A single-question screening test for drug use in primary care. Arch Intern Med. 2010;170(13):1155–60.

36.

MacKinnon D. Mediation analysis. Ann Rev Psychol. 2007;58:593–614.

37.

Baron R, Kenny D. The moderator-mediator variable distinction in social psychological research: conceptual, strategic, and statistical considerations. J Pers Soc Psychol. 1986;51:1173–82.

38.

Baugher A, Beer L, Fagan J, et al. Prevalence of internalized HIV-related stigma among HIV-infected adults in care, United States, 2011–2013. AIDS Behav. 2017;21(9):2600–8.

39.

Gonzalez J, Batchelder A, Psaros C, Safren S. Depression and HIV/AIDS treatment nonadherence: a review and meta-analysis. J Acquir Immune Defic Syndr. 2013;58(2):181–7.

40.

Rao D, Desmond M, Andrasik M, et al. Feasibility, acceptability, and preliminary efficacy of the unity workshop: an internalized stigma reduction intervenion for African American women living with HIV. AIDS Patient Care STDs. 2012;26(10):614–20.

41.

Batey D, Whitfield D, Mulla M, et al. Intervention to reduce HIV-related stigma among healthcare workers in the United States: piloting of the FRESH Workshop. AIDS Patient Care STDs. 2016;30(11):519–27.
Acknowledgements
This study was supported through the Ford Foundation (1115–1373). We wish to thank all of our partners at infectious diseases clinics and community-based organizations in Alabama, Mississippi, South Carolina and North Carolina that assisted in bringing this study to fruition. The collection of research data at the University of Mississippi Medical Center was approved through the External Request Review Committee (ERRC).
Ethics declarations
Conflict of interest
The authors declare that they have no conflict of interest.
Ethical Approval
All procedures performed in studies involving human participants were in accordance with the ethical standards of the Duke Medical Center institutional review board and with the 1964 Helsinki declaration and its later amendments or comparable ethical standards.
Informed Consent
Informed consent was obtained from all individual participants included in the study.
Additional information
Publisher's Note
Springer Nature remains neutral with regard to jurisdictional claims in published maps and institutional affiliations.
About this article
Cite this article
Reif, S., Wilson, E., McAllaster, C. et al. The Relationship of HIV-related Stigma and Health Care Outcomes in the US Deep South. AIDS Behav 23, 242–250 (2019). https://doi.org/10.1007/s10461-019-02595-5
Keywords
HIV

Southern US

HIV-related stigma

Medication adherence