Abstract
Female sex workers (FSW) face structural barriers to HIV-service access, however the effect of their mobility is uncertain. Using cross-sectional data from 2839 FSW in 14 sites in Zimbabwe, we explored the association between mobility (number of trips, distance, duration) in the past 12 months and five HIV-service-access outcomes: exposure to community mobilisation, clinic attendance, HIV testing, antiretroviral treatment initiation, and viral suppression (< 1000 copies per mL). We used modified-Poisson regression, and natural-effects models to estimate how the effect of trip frequency was mediated by distance and duration away. Each additional trip in 12 months was associated with increased community-mobilisation-event attendance (adjusted RR 1.08, 95% CI 1.04–1.12) and attending clinic two-or-more times (adjusted RR 1.02, 95% CI 1.00–1.05). There was little evidence of any other associations, or of mediation. Our findings are consistent with literature that found the effects of mobility to vary by context and outcome. This is the first study to consider many FSW-mobility and HIV-service-access measures together. Future research on mobility and health-related behaviour should use a spectrum of measures.
Access options
Buy single article
Instant access to the full article PDF.
USD 39.95
Price includes VAT (USA)
Tax calculation will be finalised during checkout.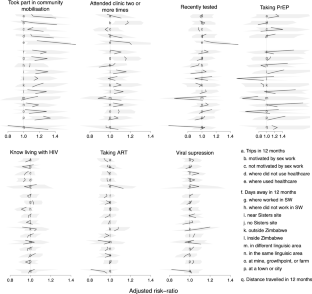 References
1.

Baral S, Beyrer C, Muessig K, Poteat T, Wirtz AL, Decker MR, et al. Burden of HIV among female sex workers in low-income and middle-income countries: a systematic review and meta-analysis. Lancet Infect Dis. 2012;12:538–49.

2.

Sagtani RA, Bhattarai S, Adhikari BR, Baral D, Yadav DK, Pokharel PK. Violence, HIV risk behaviour and depression among female sex workers of eastern Nepal. BMJ Open. 2013;3:e002763.

3.

Li Q, Li X, Stanton B. Alcohol use among female sex workers and male clients: an integrative review of global literature. Alcohol Alcohol. 2010;45:188–99.

4.

Shannon K, Csete J. Violence, condom negotiation, and HIV/STI risk among sex workers. JAMA. 2010;304:573–4.

5.

Scorgie F, Nakato D, Harper E, Richter M, Maseko S, Nare P, et al. ″We are despised in the hospitals" sex workers' experiences of accessing health care in four african countries. Cult Health Sex. 2013;15:450–65.

6.

Cohen MS, Chen YQ, McCauley M, Gamble T, Hosseinipour MC, Kumarasamy N, et al. Prevention of HIV-1 infection with early antiretroviral therapy. N Engl J Med. 2011;365:493–505.

7.

Bekker L-G, Johnson L, Cowan F, Overs C, Besada D, Hillier S, et al. Combination HIV prevention for female sex workers: what is the evidence? Lancet. 2015;385:72–87.

8.

Davey C, Dirawo J, Mushati P, Magutshwa S, Hargreaves JR, Cowan FM. Mobility and sex work: why, where, when? A typology of female-sex-worker mobility in Zimbabwe. Soc Sci Med. 2019;220:322–30.

9.

Van Blerk L. AIDS, mobility and commercial sex in Ethiopia: implications for policy. AIDS Care. 2007;19:79–86.

10.

Scambler G, Paoli F. Health work, female sex workers and HIV/AIDS: global and local dimensions of stigma and deviance as barriers to effective interventions. Soc Sci Med. 2008;66:1848–62.

11.

Ham J, Gerard A. Strategic in/visibility: does agency make sex workers invisible? Criminol Crim Justice. 2014;14:298–313.

12.

Deering KN, Amin A, Shoveller J, Nesbitt A, Garcia-Moreno C, Duff P, et al. A systematic review of the correlates of violence against sex workers. Am J Public Health. 2014;104:e42–54.

13.

Taylor BS, Garduño LS, Reyes EV, Valiño R, Rojas R, Donastorg Y, et al. HIV care for geographically mobile populations. Mount Sinai J Med. 2011;78:342–51.

14.

Goldenberg SM, Montaner J, Duff P, Nguyen P, Dobrer S, Guillemi S, et al. Structural barriers to antiretroviral therapy among sex workers living with HIV: findings of a longitudinal study in Vancouver, Canada. Aids Behav. 2016;20(5):977–86.

15.

Davey C, Cowan F, Hargreaves J. The effect of mobility on HIV-related healthcare access and use for female sex workers: a systematic review. Soc Sci Med. 2018;211:261–73.

16.

Goldenberg SM, Chettiar J, Nguyen P, Dobrer S, Montaner J, Shannon K. Complexities of short-term mobility for sex work and migration among sex workers: violence and sexual risks, barriers to care, and enhanced social and economic opportunities. J Urban Health. 2014;91:736–51.

17.

Armstrong G, Medhi GK, Kermode M, Mahanta J, Goswami P, Paranjape RS. Exposure to HIV prevention programmes associated with improved condom use and uptake of HIV testing by female sex workers in Nagaland, north-east India. BMC Public Health. 2013;13:476.

18.

Morales-Miranda S, Jacobson JO, Loya-Montiel I, Mendizabal-Burastero R, Galindo-Arandi C, Flores C, et al. Scale-up, retention and HIV/STI prevalence trends among female sex workers attending VICITS clinics in Guatemala. PLoS ONE. 2014;9(8):e103455.

19.

Bach Xuan T, Long Thanh N, Nhung Phuong N, Huong Thu Thi P. HIV voluntary testing and perceived risk among female sex workers in the Mekong Delta region of Vietnam. Glob Health Action. 2013;6:20690.

20.

Schwartz S, Lambert A, Phaswana-Mafuya N, Kose Z, McIngana M, Holland C, et al. Engagement in the HIV care cascade and barriers to antiretroviral therapy uptake among female sex workers in Port Elizabeth, South Africa: findings from a respondent-driven sampling study. Sex Transm Infect. 2017;93:290–6.

21.

Zulliger R, Barrington C, Donastorg Y, Perez M, Kerrigan D. High drop-off along the HIV care continuum and ART interruption among female sex workers in the Dominican Republic. J Acquir Immune Defic Syndr. 2015;69:216–22.

22.

Duff P, Goldenberg S, Deering K, Montaner J, Nguyen P, Dobrer S, et al. Barriers to viral suppression among female sex workers: role of structural and intimate partner dynamics. J Acquir Immune Defic Syndr. 2016;73:83–90.

23.

Donastorg Y, Barrington C, Perez M, Kerrigan D. Abriendo Puertas: baseline findings from an integrated intervention to promote prevention, treatment and care among FSW living with HIV in the Dominican Republic. PLoS ONE. 2014;9:e88157.

24.

Joint United Nations Programme on HIV/AIDS. Population mobility and AIDS: UNAIDS technical update. Geneva: UNAIDS; 2001.

25.

Platt L, Grenfell P, Fletcher A, Sorhaindo A, Jolley E, Rhodes T, et al. Systematic review examining differences in HIV, sexually transmitted infections and health-related harms between migrant and non-migrant female sex workers. Sex Transm Infect. 2013;89:311–9.

26.

Mountain E, Pickles M, Mishra S, Vickerman P, Alary M, Boily MC. The HIV care cascade and antiretroviral therapy in female sex workers: implications for HIV prevention. Expert Rev Anti-Infect Therapy. 2014;12:1203–19.

27.

Garnett GP, Hallett TB, Takaruza A, Hargreaves J, Rhead R, Warren M, et al. Providing a conceptual framework for HIV prevention cascades and assessing feasibility of empirical measurement with data from east Zimbabwe: a case study. Lancet HIV. 2016;3:e297–306.

28.

World Health Organization. Prevention and treatment of HIV and other sexually transmitted infections for sex workers in low-and middle-income countries: recommendations for a public health approach. Geneva: World Health Organization; 2012.

29.

Moore L, Chersich MF, Steen R, Reza-Paul S, Dhana A, Vuylsteke B, et al. Community empowerment and involvement of female sex workers in targeted sexual and reproductive health interventions in Africa: a systematic review. Glob Health. 2014;10:47.

30.

Joint United Nations Programme on HIV/AIDS and Joint United Nations Programme on HIV/Aids and others. 90-90-90: an ambitious treatment target to help end the AIDS epidemic. Geneva: UNAIDS; 2014.

31.

Camlin CS, Cassels S, Seeley J. Bringing population mobility into focus to achieve HIV prevention goals. J Int AIDS Soc. 2018. https://doi.org/10.1002/jia2.25136.

32.

Hargreaves JR, Fearon E, Davey C, Phillips A, Cambiano V, Cowan FM. Statistical design and analysis plan for an impact evaluation of an HIV treatment and prevention intervention for female sex workers in Zimbabwe: a study protocol for a cluster randomised controlled trial. Trials. 2016;17:6.

33.

Heckathorn DD. Respondent-driven sampling: a new approach to the study of hidden populations. Soc Probl. 1997;44:174–99.

34.

World Health Organization. Consolidated guidelines on the use of antiretroviral drugs for treating and preventing HIV infection: recommendations for a public health approach. Geneva: World Health Organization; 2016.

35.

Chibanda D, Verhey R, Gibson LJ, Munetsi E, Machando D, Rusakaniko S, et al. Validation of screening tools for depression and anxiety disorders in a primary care population with high HIV prevalence in Zimbabwe. J Affect Disord. 2016;198:50–5.

36.

Zou G. A modified poisson regression approach to prospective studies with binary data. Am J Epidemiol. 2004;159:702–6.

37.

Tufte ER. Beautiful evidence. Cheshire: Graphics Press; 2006.

38.

Volz E, Heckathorn DD. Probability based estimation theory for respondent driven sampling. J Off Stat. 2008;24:79–97.

39.

McLaughlin KR, Handcock MS, Johnston LG, Japuki X, Gexha-Bunjaku D, Deva E, et al. Inference for the visibility distribution for respondent-driven sampling. Alexandria: American Statistical Association; 2015.

40.

Lumley T. Analysis of complex survey samples. J Stat Softw. 2004;9:1–19.

41.

R Core Team. R: A language and environment for statistical computing [Internet]. Vienna: R Foundation for Statistical Computing; 2017. http://www.R-project.org/.

42.

Hernan MA, Hernandez-Diaz S, Werler MM, Mitchell AA. Causal knowledge as a prerequisite for confounding evaluation: an application to birth defects epidemiology. Am J Epidemiol. 2002;155:176–84.

43.

Cragg JG. Some statistical models for limited dependent variables with application to the demand for durable goods. Econometrica. 1971;39(5):829–44.

44.

Valeri L, VanderWeele TJ. Mediation analysis allowing for exposure–mediator interactions and causal interpretation: theoretical assumptions and implementation with SAS and SPSS macros. Psychol Methods. 2013;18:137.

45.

Daniel R, De Stavola B, Cousens S, Vansteelandt S. Causal mediation analysis with multiple mediators. Biometrics. 2015;71:1–14.

46.

VanderWeele T, Vansteelandt S. Mediation analysis with multiple mediators. Epidemiol Methods. 2014;2:95–115.

47.

Steen J, Loeys T, Moerkerke B, Vansteelandt S. Flexible mediation analysis with multiple mediators. Am J Epidemiol. 2017;186:184–93.

48.

Feise RJ. Do multiple outcome measures require p-value adjustment? BMC Med Res Methodol. 2002;2:8.

49.

Barros AJ, Hirakata VN. Alternatives for logistic regression in cross-sectional studies: an empirical comparison of models that directly estimate the prevalence ratio. BMC Med Res Methodol. 2003;3:21.

50.

Williamson T, Eliasziw M, Fick GH. Log-binomial models: exploring failed convergence. Emerg Themes Epidemiol. 2013;10:14.

51.

Petersen MR, Deddens JA. A comparison of two methods for estimating prevalence ratios. BMC Med Res Methodol. 2008;8:9.

52.

Altman DG, Royston P. The cost of dichotomising continuous variables. BMJ. 2006;332:1080.

53.

Razum O, Zeeb H, Rohrmann S. The "healthy migrant effect"–not merely a fallacy of inaccurate denominator figures. Int J Epidemiol. 2000;29:191–2.

54.

McMichael AJ. Standardized mortality ratios and the "healthy worker effect": scratching beneath the surface. J Occup Med. 1976;18:165–8.

55.

Maxwell SE, Cole DA, Mitchell MA. Bias in cross-sectional analyses of longitudinal mediation: partial and complete mediation under an autoregressive model. Multivar Behav Res. 2011;46:816–41.

56.

Coulter R, van Ham M, Findlay AM. Re-thinking residential mobility: linking lives through time and space. Prog Hum Geogr. 2016;40:352–74.

57.

Bell M, Ward G. Comparing temporary mobility with permanent migration. Tour Geogr. 2000;2:87–107.

58.

Deane KD, Parkhurst JO, Johnston D. Linking migration, mobility and HIV. Trop Med Int Health. 2010;15:1458–63.

59.

Andrews JR, Wood R, Bekker L-G, Middelkoop K, Walensky RP. Projecting the benefits of antiretroviral therapy for HIV prevention: the impact of population mobility and linkage to care. J Infect Dis. 2012;206:543–51.
Ethics declarations
Conflict of interest
Calum Davey was funded by a Strategic Skills pre-doctoral Fellowship from the Medical Research Council, UK. Jeffrey Dirawo, James R. Hargreaves, and Frances M. Cowan received no funding for this work. None of the authors have conflicts of interest to declare. We are very grateful to all of the women who gave their time to be interviewed and for their assistance in recruiting their peers.
Additional information
Publisher's Note
Springer Nature remains neutral with regard to jurisdictional claims in published maps and institutional affiliations.
Electronic supplementary material
Below is the link to the electronic supplementary material.
About this article
Cite this article
Davey, C., Dirawo, J., Hargreaves, J.R. et al. Exploring the Association Between Mobility and Access to HIV Services Among Female Sex Workers in Zimbabwe. AIDS Behav 24, 746–761 (2020). https://doi.org/10.1007/s10461-019-02559-9
Keywords
Sex work

Migration

Mobility

Healthcare

HIV