Abstract
African American adolescents are at elevated risk for HIV and sexually transmitted infections. Risk reduction efforts have focused on parent–child communications, despite inconsistent findings regarding their association with adolescent sexual risk behaviors. The present study included sexually active African American adolescents and their parents/guardians (N = 125 dyads). All participants reported on frequency of sexual health conversations and adolescents reported recent occasions of protected and condomless sex. Analyses examined the congruence between parent–child communication reports and the association between this congruence and adolescent condomless sex. Parents and adolescents disagreed on the frequency of sexual health communication: 30% of parents reported such conversations as frequent, whereas only 2% of adolescents did. Parent-reported sex communication was negatively associated with adolescent condomless sex, while adolescent-reported communication was not. The moderation hypothesis was supported in that adolescent-reported sex communication was negatively associated with adolescent condomless sex only among parent–child dyads high in agreement on sexual health communication. Promoting parent–child conversations regarding sexual health, with attention to relational characteristics of the conversations, offers a promising approach to sexual health promotion and disease prevention for African American youth.
This is a preview of subscription content, log in to check access.
Access options
Buy single article
Instant access to the full article PDF.
US$ 39.95
Price includes VAT for USA
Subscribe to journal
Immediate online access to all issues from 2019. Subscription will auto renew annually.
US$ 99
This is the net price. Taxes to be calculated in checkout.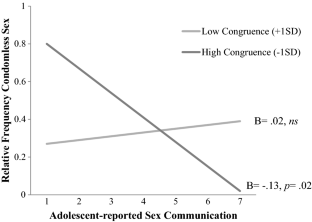 References
1.

Klein J, Sabaratnam P, Pazos B, Auerbach M, Havens C, Brach M. Evaluation of the parents as primary sexuality educators program. J Adolesc Health. 2005;37:94–9.

2.

Centers for Disease Control and Prevention. STDs in racial and ethnic minorities. 2017. https://www.cdc.gov/std/stats17/minorities.htm. Accessed 17 Oct 2018.

3.

Balaji AB, Oraka E, Fasula AM, Jayne PE, Carry MG, Raiford JL. Association between parent–adolescent communication about sex-related topics and HIV testing, United States 2006–2013. AIDS Care. 2017;29(3):344–9.

4.

Markham CM, Lormand D, Gloppen KM, et al. Connectedness as a predictor of sexual and reproductive health outcomes for youth. J Adolesc Health. 2010;46(3):23–41.

5.

Widman L, Choukas-Bradley S, Noar SM, Nesi J, Garrett K. Parent-adolescent sexual communication and adolescent safer sex behavior: a meta-analysis. JAMA Pediatr. 2016;170(1):52–61.

6.

Martino SC, Elliott MN, Corona R, Kanouse DE, Schuster MA. Beyond the "Big Talk": the roles of breadth and repetition in parent-adolescent communication about sexual topics. Pediatrics. 2008;121(3):612–8.

7.

Boislard M-A, Poulin F. Individual, familial, friends-related and contextual predictors of early sexual intercourse. J Adolesc. 2011;34(2):289–300.

8.

Aspy CB, Vesely SK, Oman RF, Rodine S, Marshall LD, McLeroy K. Parental communication and youth sexual behaviour. J Adolesc. 2007;30(3):449–66.

9.

Koo HP, Rose A, Bhaskar B, Walker LR. Relationships of pubertal development among early adolescents to sexual and nonsexual risk behaviors and caregivers' parenting behaviors. J Early Adolesc. 2012;32(4):589–614.

10.

Huebner AJ, Howell LW. Examining the relationship between adolescent sexual risk-taking and perceptions of monitoring, communication, and parenting styles. J Adolesc Health. 2003;33(2):71–8.

11.

Khurana A, Cooksey EC. Examining the effect of maternal sexual communication and adolescents' perceptions of maternal disapproval on adolescent risky sexual involvement. J Adolesc Health. 2012;51(6):557–65.

12.

Deptula DP, Henry DB, Schoeny ME. How can parents make a difference? Longitudinal associations with adolescent sexual behavior. J Fam Psychol. 2010;24(6):731–9.

13.

Hadley W, Brown LK, Lescano CM, et al. Parent-adolescent sexual communication: associations of condom use with condom discussions. AIDS Behav. 2009;13(5):997–1004.

14.

Kapungu C, Baptiste D, Holmbeck G, et al. Beyond the "birds and the bees": gender differences in sex-related communication among urban African-American adolescents. Fam Process. 2010;49(2):251–64.

15.

Grossman JM, Sarwar PF, Richer AM, Erkut S. "We talked about sex." "No, we didn't.": exploring adolescent and parent agreement about sexuality communication. Am J Sex Educ. 2017;12(4):343–57.

16.

DiIorio C, Pluhar E, Belcher L. Parent-child communication about sexuality: a review of the literature from 1980-2002. J HIVAIDS Prev Educ Adolesc Child. 2003;5(3/4):7–32.

17.

Aspy CB, Vesely SK, Oman RF, et al. Youth-parent communication and youth sexual behavior: implications for physicians. Fam Med. 2006;38(7):500–4.

18.

Santa Maria D, Markham C, Swank P, Baumler E, McCurdy S, Tortolero S. Does parental monitoring moderate the relation between parent-child communication and pre-coital sexual behaviours among urban, minority early adolescents? Sex Educ. 2014;14(3):286–98.

19.

VanderDrift LE, Vanable PA, Bonafide KE, Brown JL, Bostwick RA, Carey MP. Using actor-partner interdependence modeling to understand HPV vaccine acceptance. PLoS ONE. 2017;12(7):1–9.

20.

Turner C, Ku L, Rogers S, Lindberg L, Pleck J, Sonenstein F. Adolescent sexual behavior, drug use, and violence: increased reporting with computer survey technology. Science. 1998;280(5365):867–73.

21.

DiIorio C, Kelley M, Hockenberry-Eaton M. Communication about sexual issues: mothers, fathers, and friends. J Adolesc Health. 1999;24(3):181–9.

22.

De Los Reyes A, Kazdin AE. Informant discrepancies in the assessment of childhood psychopathology: a critical review, theoretical framework, and recommendations for further study. Psychol Bull. 2005;131(4):483–509.

23.

Carlton-Ford SL, Paikoff RL, Brooks-Gunn J. Methodological issues in the study of divergent views of the family. New Dir Child Adolesc Dev. 1991;51:87–102.

24.

Vanable PA, Carey MP, Brown JL, et al. Test-retest reliability of self-reported HIV/STD-related measures among African-American adolescents in four U.S. cities. J Adolesc Health. 2009;44(3):214–21.

25.

Schroeder KE, Carey MP, Vanable PV. Methodological challenges in research on sexual risk behavior: II. Accuracy of self-reports. Ann Behav Med. 2003;26(2):104–23.

26.

Widman L, Noar SM, Choukas-Bradley S, Francis DB. Adolescent sexual health communication and condom use: a meta-analysis. Health Psychol. 2014;33(10):1113–24.

27.

Upton P, Lawford J, Eiser C. Parent-child agreement across child health-related quality of life instruments: a review of the literature. Qual Life Res. 2008;17(6):895–913.

28.

Smith SR. Making sense of multiple informants in child and adolescent psychopathology. J Psychoeduc Assess. 2007;25(2):139–49.

29.

Guilamo-Ramos V, Jaccard J, Dittus P, Collins S. Parent-adolescent communication about sexual intercourse: an analysis of maternal reluctance to communicate. Health Psychol. 2008;27(6):760–9.

30.

Ariel S. An information processing theory of family dysfunction. Psychother Theory Res Pract Train. 1987;24(3S):477–95.

31.

Guion K, Mrug S, Windle M. Predictive value of informant discrepancies in reports of parenting: relations to early adolescents' adjustment. J Abnorm Child Psychol. 2009;37(1):17–30.

32.

Ohannessian CM, Lerner JV, Lerner RM, Von Eye A. Adolescent-parent discrepancies in perceptions of family functioning and early adolescent self-competence. Int J Behav Dev. 2000;24(3):362–72.

33.

Dittus PJ, Michael SL, Becasen JS, Gloppen KM, McCarthy K, Guilamo-Ramos V. Parental monitoring and its associations with adolescent sexual risk behavior: a meta-analysis. Pediatrics. 2015;136(6):1587–99.

34.

Pluhar EI, DiIorio CK, McCarty F. Correlates of sexuality communication among mothers and 6-12-year-old children. Child Care Health Dev. 2008;34(3):283–90.

35.

Kann L, McManus T, Harris W, et al. Youth risk behavior surveillance- United States, 2017. MMWR Surveill Summ. 2018;67(SS-8):1–114.

36.

Miller KS, Fasula AM, Dittus P, Wiegand RE, Wyckoff SC, McNair L. Barriers and facilitators to maternal communication with preadolescents about age-relevant sexual topics. AIDS Behav. 2009;13:365–74.

37.

Rogers AA, Ha T, Stormshak EA, Dishion TJ. Quality of parent-adolescent conversations about sex and adolescent sexual behavior: an observational study. J Adolesc Health. 2015;57(2):174–8.

38.

Santa Maria D, Markham C, Bluethmann S, Mullen PD. Parent-based adolescent sexual health interventions and effect on communication outcomes: a systematic review and meta-analyses. Perspect Sex Reprod Health. 2015;47(1):37–50.

39.

Sutton MY, Lasswell SM, Lanier Y, Miller KS. Impact of parent-child communication interventions on sex behaviors and cognitive outcomes for Black/African-American and Hispanic/Latino youth: a systematic review, 1988-2012. J Adolesc Health. 2014;54(4):369–84.
Acknowledgements
This research was funded by a Merck HPV Investigator Initiated Studies Program grant awarded to Peter A. Vanable. The authors wish to thank Noel Brewer for providing consultation and assistance with the development of our survey instrument.
Ethics declarations
Ethical Approval
All procedures performed in studies involving human participants were in accordance with the ethical standards of the institutional and/or national research committee and with the 1964 Helsinki declaration and its later amendments or comparable ethical standards.
Additional information
Publisher's Note
Springer Nature remains neutral with regard to jurisdictional claims in published maps and institutional affiliations.
About this article
Cite this article
Bonafide, K.E., Vanable, P.A. & Carey, M.P. The Association Between African American Parent–Child Sex Communication and Adolescent Condomless Sex. AIDS Behav 24, 847–853 (2020). https://doi.org/10.1007/s10461-019-02504-w
Keywords
Parent–child communication

Sexual risk behavior

African American

Adolescents