Abstract
We conducted a randomized controlled trial to determine whether, for homeless persons living with HIV/AIDS (PLWHA), rapid re-housing can improve housing and HIV viral suppression more than standard housing assistance. We recruited 236 PLWHA from HIV emergency housing in New York City (NYC) and randomized them to: (1) Enhanced Housing Placement Assistance (EHPA), i.e., immediate assignment to a case manager to rapidly re-house the client and provide 12 months of case management or (2) usual services, i.e., referral to an NYC housing placement program for which all HIV emergency housing residents were eligible. We compared time to stable housing placement and percentage virally suppressed from baseline to 12 months. EHPA clients were placed faster than usual services clients (p = 0.02; 25% placed by 150 days vs. 243 days, respectively), more likely to be placed [adjusted hazards ratio = 1.8; 95% confidence interval(CI) 1.1–2.8], and twice as likely to achieve or maintain suppression (adjusted odds ratio 2.1; 95% CI 1.1–4.0).
Resumen
Llevamos a cabo un ensayo controlado con asignación aleatoria para determinar si la pronta reubicación de personas con VIH/SIDA sin hogar puede mejorar la condición de su estado de vivienda y la supresión viral del VIH más que la asistencia de reubicación básica. Reclutamos 236 personas con VIH/SIDA que residen en viviendas de emergencia para personas con VIH en la Ciudad de Nueva York y las asignamos aleatoriamente para: 1) Servicio de asistencia mejorada, es decir, asignación a un consejero para que rápidamente realoje al cliente y provee 12 meses de servicios sociales o 2) Servicios usuales de asistencia, es decir, referidos a un programa de colocación de vivienda de la Ciudad de Nueva York donde todos los residentes de viviendas de emergencia con VIH eran elegibles. Comparamos el tiempo de la reubicación a vivienda estable y el porcentaje de supresión de la carga viral desde la línea de base hasta 12 meses. Los clientes asignados a servicio de asistencia mejorada fueron colocados más rápido que los clientes asignados a servicios usuales de asistencia (p = 0.02; 25% colocado dentro de 150 días vs. 243 días, respectivamente), tuvieron mayor probabilidad de ser asignados a una vivienda estable (proporción de riesgos ajustada = 1.8; intervalo de confianza del 95% [IC] = 1.1-2.8), y tuvieron doble probabilidad de lograr o mantener la supresión de la carga viral (proporción de probabilidades ajustado = 2.1; 95% IC = 1.1-4.0).
This is a preview of subscription content, log in to check access.
Access options
Buy single article
Instant access to the full article PDF.
US$ 39.95
Price includes VAT for USA
Subscribe to journal
Immediate online access to all issues from 2019. Subscription will auto renew annually.
US$ 99
This is the net price. Taxes to be calculated in checkout.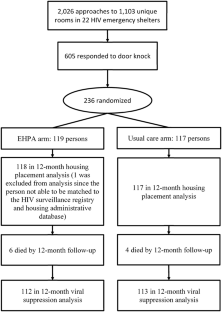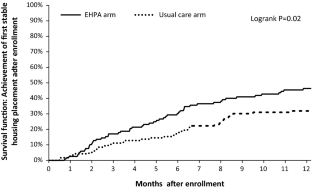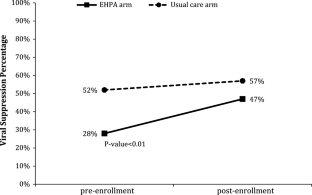 References
1.

Palepu A, Patterson M, Strehlau V, et al. Daily substance use and mental health symptoms among a cohort of homeless adults in Vancouver, British Columbia. J Urban Health. 2013;90(4):740–6.

2.

Magura S, Nwakeze PC, Rosenblum A, Joseph H. Substance misuse and related infectious diseases in a soup kitchen population. Subst Use Misuse. 2000;35(4):551–83.

3.

Torchalla I, Strehlau V, Li K, Krausz M. Substance use and predictors of substance dependence in homeless women. Drug Alcohol Depend. 2011;2:173.

4.

Friedman MS, Marshal MP, Stall R, et al. Associations between substance use, sexual risk taking and HIV treatment adherence among homeless people living with HIV. AIDS Care. 2009;21(6):692–700.

5.

Koegel P, Sullivan G, Burnam A, Morton SC, Wenzel S. Utilization of mental health and substance abuse services among homeless adults in Los Angeles. Med Care. 1999;37(3):306–17.

6.

Robertson MJ, Clark RA, Charlebois ED, et al. HIV seroprevalence among homeless and marginally housed adults in San Francisco. Am J Public Health. 2004;94(7):1207–17.

7.

Kerker BD, Bainbridge J, Kennedy J, et al. A population-based assessment of the health of homeless families in New York City, 2001–2003. Am J Public Health. 2011;101(3):546–53.

8.

Barrow SM, Herman DB, Cordova P, Struening EL. Mortality among homeless shelter residents in New York City. Am J Public Health. 1999;89(4):529–34.

9.

Hwang SW, Wilkins R, Tjepkema M, O'Campo PJ, Dunn JR. Mortality among residents of shelters, rooming houses, and hotels in Canada: 11 year follow-up study. BMJ. 2009;339:b4036.

10.

Baggett TP, Hwang SW, O'Connell JJ, et al. Mortality among homeless adults in Boston: shifts in causes of death over a 15-year period. JAMA Intern Med. 2013;173(3):189–95.

11.

Hwang SW, Orav EJ, O'Connell JJ, Lebow JM, Brennan TA. Causes of death in homeless adults in Boston. Ann Intern Med. 1997;126(8):625–8.

12.

Deeks SG, Phillips AN. HIV infection, antiretroviral treatment, ageing, and non-AIDS related morbidity. BMJ. 2009;338:a3172.

13.

Aidala AA, Lee G, Abramson DM, Messeri P, Siegler A. Housing need, housing assistance, and connection to HIV medical care. AIDS Behav. 2007;11(6 Suppl):101–15.

14.

Aidala AA, Wilson MG, Shubert V, et al. Housing status, medical care, and health outcomes among people living with HIV/AIDS: A systematic review. Am J Public Health. 2016;106(1):e1–23.

15.

Palepu A, Patterson ML, Moniruzzaman A, Frankish CJ, Somers J. Housing first improves residential stability in homeless adults with concurrent substance dependence and mental disorders. Am J Public Health. 2013;103:e30.

16.

Schwarcz SK, Hsu LC, Vittinghoff E, Vu A, Bamberger JD, Katz MH. Impact of housing on the survival of persons with AIDS. BMC Public Health. 2009;9:220.

17.

Padgett DK, Stanhope V, Henwood BF, Stefancic A. Substance use outcomes among homeless clients with serious mental illness: comparing Housing First with Treatment First programs. Community Ment Health J. 2011;47(2):227–32.

18.

Milby JB, Schumacher JE, Wallace D, Freedman MJ, Vuchinich RE. To house or not to house: the effects of providing housing to homeless substance abusers in treatment. Am J Public Health. 2005;95(7):1259–65.

19.

Kidder DP, Wolitski RJ, Campsmith ML, Nakamura GV. Health status, health care use, medication use, and medication adherence among homeless and housed people living with HIV/AIDS. Am J Public Health. 2007;97(12):2238–45.

20.

Moss AR, Hahn JA, Perry S, et al. Adherence to highly active antiretroviral therapy in the homeless population in San Francisco: a prospective study. Clin Infect Dis. 2004;39(8):1190–8.

21.

Aidala A, Cross JE, Stall R, Harre D, Sumartojo E. Housing status and HIV risk behaviors: implications for prevention and policy. AIDS Behav. 2005;9(3):251–65.

22.

Prevention Access Campaign. Undetectable = Untransmittable. Available at: https://www.preventionaccess.org/undetectable.

23.

United States Department of Housing and Urban Development (HUD). Affordable Housing.  Available at: https://www.hud.gov/program_offices/comm_planning/affordablehousing/.

24.

Watson NE, Steffen BL, Martin M, Vandenbroucke DA. Worst case housing needs: 2017 report to congress. Washington, DC U.S. Department of Housing and Urban Development, Office of Policy Development and Research. 2017.

25.

Aidala AA, Sumartojo E. Why housing? AIDS Behav. 2007;11(6 Suppl):1–6.

26.

Wolitski RJ, Kidder DP, Pals SL, et al. Randomized trial of the effects of housing assistance on the health and risk behaviors of homeless and unstably housed people living with HIV. AIDS Behav. 2009;14:493.

27.

Buchanan D, Kee R, Sadowski LS, Garcia D. The health impact of supportive housing for HIV-positive homeless patients: a randomized controlled trial. Am J Public Health. 2009;99(Suppl 3):S675–80.

28.

Hawk M, Davis D. The effects of a harm reduction housing program on the viral loads of homeless individuals living with HIV/AIDS. AIDS Care. 2012;24(5):577–82.

29.

Terzian AS, Irvine MK, Hollod LM, Lim S, Rojas J, Shepard CW. Effect of HIV housing services on engagement in care and treatment, New York City, 2011. AIDS Behav. 2015;19(11):2087–96.

30.

The National Alliance to End Homelessness. Rapid Re-housing: Creating Programs that Work. Washington, D.C.2009.

31.

Berg S. The HEARTH Act. Cityscape: J Policy Dev Res 2013;15(1):317–324.

32.

HIV Epidemiology and Field Services Program. Medical care and clinical status among persons with HIV in New York City, 2014. New York City Department of Health and Mental Hygiene. 2014.

33.

Xia Q, Kersanske LS, Wiewel EW, Braunstein SL, Shepard CW, Torian LV. Proportions of patients with HIV retained in care and virally suppressed in New York City and the United States: higher than we thought. JAIDS. 2015;68(3):351–8.

34.

National Alliance to End Homelessness. Rapid Re-housing Performance Evaluation and Improvement Toolkit. Available at: https://endhomelessness.org/resource/rapid-re-housing-performance-evaluation-and-improvement-toolkit/ (2006).

35.

Lebrun-Harris LA, Baggett TP, Jenkins DM, et al. Health status and health care experiences among homeless patients in federally supported health centers: findings from the 2009 patient survey. Health Serv Res. 2013;48(3):992–1017.
Acknowledgements
First and foremost, the authors thank the housing consumers, who offered us time, patience, and honesty. Their participation and candor made it possible to conduct this study. We are also grateful to the staff of CitiWide Harm Reduction (now BOOM!Health) who participated in recruitment and case management, particularly Sandy Guillaume. We also thank the New York City HIV/AIDS Services Administration (HASA) for collaborating with us to help consumers of emergency housing transition to more stable living situations. The authors also thank current and former staff of the Housing Services Unit of the New York City Department of Health and Mental Hygiene, including Giovanna Novoa, Laura McAllister-Hollod, Roland Torres, Dave Magno, X. Pamela Farquhar, Christopher M. Beattie, and Joanne Hsu, who helped with study administration, conduct, monitoring, analysis, and/or interpretation. Thank you to evaluation interns from the Columbia University Mailman School of Public Health who helped interview consumers: Jenny Doyle, Michelle Dixon, Lorlette Haughton, Lindsay DuBois, Abigail Greenleaf, and Hannah Cohen-Blair. Finally, we thank Eleonora Jimenez-levi, Raquel Silverio, and Dr. Luis Roberto Rodriguez-Porras for their assistance in preparing the Spanish abstract.
Funding
The study's evaluation was covered through existing responsibilities of staff at the New York City Department of Health and Mental Hygiene.
Ethics declarations
Conflict of interest
All the authors declared that they have no conflict of interest.
Informed Consent
Informed consent was obtained from all individual participants included in the study.
Research Involving Human Participants and/or Animals
All procedures performed involving human participants were in accordance with the ethical standards of the 1964 Helsinki declaration, its later amendments, and the New York City Department of Health and Mental Hygiene, and were reviewed and approved by that agency's Institutional Review Board. The study has been registered on ClinicalTrials.gov (record ID: NCT03334825). This article does not contain any studies with animals performed by any of the authors.
Additional information
Publisher's Note
Springer Nature remains neutral with regard to jurisdictional claims in published maps and institutional affiliations.
About this article
Cite this article
Towe, V.L., Wiewel, E.W., Zhong, Y. et al. A Randomized Controlled Trial of a Rapid Re-housing Intervention for Homeless Persons Living with HIV/AIDS: Impact on Housing and HIV Medical Outcomes. AIDS Behav 23, 2315–2325 (2019). https://doi.org/10.1007/s10461-019-02461-4
Keywords
Homeless persons

Acquired immunodeficiency syndrome

HIV

Housing

Randomized controlled trial