Abstract
Cities worldwide are striving to get to zero HIV stigma as a condition to get to zero new infections. We tracked an indicator of perceived HIV stigma across surveys of men who have sex with men (MSM) in San Francisco from 2011 to 2017. Little improvement in perceived HIV stigma was observed, from 22.3% (95% CI 18.7–26.3) of MSM agreeing with the statement "Most people would discriminate against someone with HIV" in 2011 to 21.0% (95% CI 17.5–24.9) in 2017 (χ2 test for trend 0.252, p = 0.616). Success in ending the epidemic may flag without addressing the causes of HIV stigma.
Access options
Buy single article
Instant access to the full article PDF.
US$ 39.95
Tax calculation will be finalised during checkout.
Subscribe to journal
Immediate online access to all issues from 2019. Subscription will auto renew annually.
US$ 79
Tax calculation will be finalised during checkout.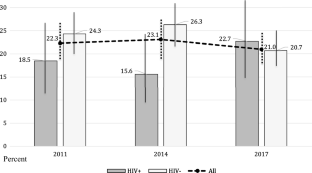 References
1.

UNAIDS. Getting to zero. 2010;5–34. http://www.unaids.org/sites/default/files/sub_landing/files/JC2034_UNAIDS_Strategy_en.pdf. Accessed 13 Sept 2018

2.

Getting to zero San Francisco. http://www.gettingtozerosf.org. Accessed 13 Sept 2018

3.

San Francisco Department of Public Health. HIV epidemiology annual report 2017. https://www.sfdph.org/dph/files/reports/RptsHIVAIDS/AnnualReport2017-Green-20180904-Web.pdf. Accessed 13 Sept 2018

4.

Rueda S, Mitra S, Chen S, et al. Examining the associations between HIV-related stigma and health outcomes in people living with HIV/AIDS: a series of meta-analyses. BMJ Open. 2016;6(7):e011453. https://doi.org/10.1136/bmjopen-2016-011453.

5.

Tan RKJ. Internalized homophobia, HIV knowledge, and HIV/AIDS personal responsibility beliefs: correlates of HIV/AIDS discrimination among MSM in the context of institutionalized stigma. J Homosex. 2018;21:1–22.

6.

Katz IT, Ryu AE, Onuegbu AG, Psaros C, Weiser SD, Bangsberg DR, Tsai AC. Impact of HIV-related stigma on treatment adherence: systematic review and meta-synthesis. J Int AIDS Soc. 2013;16(3Suppl 2):18640. https://doi.org/10.7448/ias.16.3.18640.

7.

Logie CH, Jenkinson JIR, Earnshaw V, Tharao W, Loutfy MR. A structural equation model of HIV-related stigma, racial discrimination, housing insecurity and wellbeing among african and caribbean black women living with HIV in Ontario, Canada. PLoS ONE. 2016;11(9):e0162826. https://doi.org/10.1371/journal.pone.0162826.

8.

MacKellar D, Valleroy L, Karon J, Lemp G, Janssen R. The Young Men's Survey: methods for estimating HIV seroprevalence and risk factors among young men who have sex with men. Public Health Rep. 1996;111(Suppl 1):138–44.

9.

Raymond HF, Guigayoma J, Snowden J, Chen Y-H, McFarland W. Community levels of PrEP use among men who have sex with men by race/ethnicity, San Francisco, 2017. Conference of the American Public Health Associattion, 2018 [Abstract #2057].

10.

Liu H, Xu Y, Sun Y, Dumenci L. Measuring HIV stigma at the family level: psychometric assessment of the Chinese Courtesy Stigma Scales (CCSSs). PloS ONE. 2014;9(3):e92855. https://doi.org/10.1371/journal.pone.0092855.

11.

Hatzenbuehler ML. Structural stigma: research evidence and implications for psychological science. Am Psychol. 2013;71(8):742–51.

12.

Earnshaw VA, Chaudoir SR. From conceptualizing to measuring HIV stigma: a review of HIV stigma mechanism measures. AIDS Behav. 2009;13(6):1160–77.
Acknowledgements
This research was supported by the US Centers for Disease Control and Prevention (CDC) 1U1BPS003247, 5U1BPS003247, and 6NU62PS005077.
Ethics declarations
Conflict of interest
The authors declare they have no conflict of interest.
Ethical Approval
The study was reviewed and approved by the Institutional Review Board of the University of California San Francisco. All procedures performed in studies involving human participants were in accordance with the ethical standards of the institutional and/or national research committee and with the 1964 Helsinki declaration and its later amendments or comparable ethical standards.
Informed Consent
Informed consent was obtained from all individual participants included in the study.
Additional information
Publisher's Note
Springer Nature remains neutral with regard to jurisdictional claims in published maps and institutional affiliations.
About this article
Cite this article
Beltran, S., Chen, YH., Miller, D. et al. Will We Get to Zero HIV Stigma in San Francisco?. AIDS Behav 24, 5–7 (2020). https://doi.org/10.1007/s10461-019-02434-7
Keywords
HIV stigma

Men who have sex with men

San Francisco