Abstract
Short Message Service (SMS) offers an innovative method of promoting sexual health to key and vulnerable populations who are users of mobile phones and are at high risk of HIV infection. This cluster randomised control trial tests the effectiveness of a SMS intervention in reducing HIV risk behaviours and improving HIV testing behaviours among truck drivers, sex workers and community residents located near Roadside Wellness Clinics (RWCs) in three southern African countries. The SMS arm received 35 HIV risk reduction and HIV testing SMSs over a 6-month period. The SMS intervention had no significant impact on sexual risk behaviours. However, participants in the SMS arm were more likely to have tested for HIV in the previous 6 months (86.1% vs. 77.7%; AOR 1.71, 95% CI 1.11–2.66). The results indicate that the general SMS intervention, which provide health promoting information, improved HIV testing rates in key and vulnerable populations in southern Africa.
This is a preview of subscription content,
to check access.
Access this article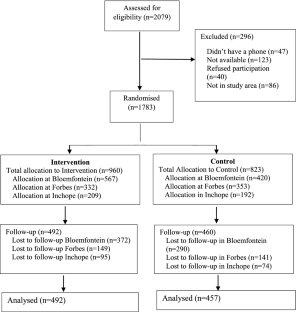 Similar content being viewed by others
References
Kharsany ABM, Karim QA. HIV infection and AIDS in Sub-Saharan Africa: current status, challenges and opportunities. Open AIDS J. 2016;10:34–48.

The Joint United Nations Programme on HIV/AIDS. UNAIDS Data 2017. 2017. http://www.unaids.org/en/resources/documents/2017/2017_data_book. Accessed 1 Feb 2019.

The Joint United Nations Programme on HIV/AIDS. The Gap Report 2014: Sex Workers. 2014. http://www.unaids.org/en/resources/documents/2014/Sexworkers. Accessed 1 Feb 2019.

Delany-Moretlwe S, Bello B, Kinross P, Oliff M, Chersich M, Kleinschmidt I, et al. HIV prevalence and risk in long-distance truck drivers in South Africa: a national cross-sectional survey. Int J STD AIDS. 2014;25(6):428–38.

Lafort Y, Geelhoed D, Cumba L, Lázaro CDDM, Delva W, Luchters S, et al. Reproductive health services for populations at high risk of HIV: performance of a night clinic in Tete province, Mozambique. BMC Health Serv Res. 2010;10(1):144.

Botão C, Horth RZ, Frank H, Cummings B, Inguane C, Sathane I, et al. Prevalence of HIV and associated risk factors among long distance truck drivers in Inchope, Mozambique, 2012. AIDS Behav. 2016;20(4):811–20.

Catalani C, Philbrick W, Fraser H, Mechael P, Israelski DM. mHealth for HIV treatment & prevention: a systematic review of the literature. Open AIDS J. 2013;7:17.

Mbuagbaw L, Mursleen S, Lytvyn L, Smieja M, Dolovich L, Thabane L. Mobile phone text messaging interventions for HIV and other chronic diseases: an overview of systematic reviews and framework for evidence transfer. BMC Health Serv Res. 2015;15(1):33.

Kelvin EA, George G, Mwai E, Nyaga E, Mantell JE, Romo ML, et al. Offering self-administered oral HIV testing to truck drivers in Kenya to increase testing: a randomized controlled trial. AIDS Care. 2018;30(1):47–55.

Kelvin E, George G, Mwai E, Kinyanjui S, Romo M, Odhiambo J, et al. A randomized controlled trial to increase HIV testing demand among female sex workers in kenya through announcing the availability of HIV self-testing via text message. AIDs Behav. 2018;1–10

Tomlinson M, Rotheram-Borus MJ, Swartz L, Tsai AC. Scaling up mHealth: where is the evidence? PLoS Med. 2013;10(2):e1001382.

Cornelius JB, Dmochowski J, Boyer C, Lawrence JS, Lightfoot M, Moore M. Text-messaging-enhanced HIV intervention for African American adolescents: a feasibility study. J Assoc Nurses AIDS Care. 2013;24(3):256–67.

Agarwal A, Hamdallah M, Swain SN, Mukherjee S, Singh N, Mahapatra S, et al. Implementation of a confidential helpline for men having sex with men in India. JMIR mHealth and uHealth. 2015;3(1).

Goedel WC, Mitchell JW, Krebs P, Duncan DT. Willingness to use mobile phone apps for HIV prevention among men who have sex with men in London: web-based survey. JMIR mHealth uHealth. 2017;5(10).

Hammett TM, Des Jarlais D, Johnston P, Kling R, Ngu D, Liu W, et al. HIV prevention for injection drug users in China and Vietnam: policy and research considerations. Global Public Health. 2007;2(2):125–39.

Prem Kumar S, Kumar GA, Poluru R, Schneider JA, Dandona L, Vemu L, et al. Contact with HIV prevention programmes & willingness for new interventions among truckers in India. Indian J Med Res. 2013;137(6):1061–71.

Bourne C, Knight V, Guy R, Wand H, Lu H, McNulty A. Short message service reminder intervention doubles sexually transmitted infection/HIV re-testing rates among men who have sex with men. Sex Transm Infect. 2011;87(3):229–31.

de Tolly K, Skinner D, Nembaware V, Benjamin P. Investigation into the use of short message services to expand uptake of human immunodeficiency virus testing, and whether content and dosage have impact. Telemed e-Health. 2012;18(1):18–23.

Njuguna N, Ngure K, Mugo N, Sambu C, Sianyo C, Gakuo S, et al. The effect of human immunodeficiency Virus prevention and reproductive health text messages on human immunodeficiency virus testing among young women in rural Kenya: a pilot study. Sex Transm Dis. 2016;43(6):353.

Burns K, Keating P, Free C. A systematic review of randomised control trials of sexual health interventions delivered by mobile technologies. BMC Public Health. 2016;16(1):778.

Deng L, Geng W, editors. Effects of short message service on HIV prevention among young college students. In: IEEE 8th international conference on information technology in medicine and education (ITME) 2016.

Reback CJ, Grant DL, Fletcher JB, Branson CM, Shoptaw S, Bowers JR, et al. Text messaging reduces HIV risk behaviors among methamphetamine-using men who have sex with men. AIDS Behav. 2012;16(7):1993–2002.

Chib A, Wilkin H, Ling LX, Hoefman B, Van Biejma H. You have an important message! Evaluating the effectiveness of a text message HIV/AIDS campaign in Northwest Uganda. J Health Commun. 2012;17(sup1):146–57.

Crush J, Williams B, Gouws E, Lurie M. Migration and HIV/AIDS in South Africa. Dev S Afr. 2005;22(3):293–318.

North Star Alliance. Key figures 2016. http://www.northstar-alliance.org/key-figures/ Accessed 1 Feb 2019.

Jewkes R, Dunkle K, Nduna M, Shai NJ. Transactional sex and HIV incidence in a cohort of young women in the stepping stones trial. J AIDS Clin Res. 2012;3(5).

Smith KW, McGraw SA, Costa LA, McKinley JB. A self-efficacy scale for HIV risk behaviors: development and evaluation. AIDS Educ Prev. 1996.

Cole-Lewis H, Kershaw T. Text messaging as a tool for behavior change in disease prevention and management. Epidemiol Rev. 2010;32(1):56–69.

Brody C, Tuot S, Chhoun P, Swendenman D, Kaplan KC, Yi S. Mobile Link–a theory-based messaging intervention for improving sexual and reproductive health of female entertainment workers in Cambodia: study protocol of a randomized controlled trial. Trials. 2018;19(1):235.

De Leon E, Fuentes LW, Cohen JE. Characterizing periodic messaging interventions across health behaviors and media: systematic review. J Med Internet Res. 2014;16(3).

Siedner MJ, Lankowski AJ, Kanyesigye M, Bwana MB, Haberer JE, Bangsberg DR. A combination SMS and transportation reimbursement intervention to improve HIV care following abnormal CD4 test results in rural Uganda: a prospective observational cohort study. BMC Med. 2015;13(1):160.

Sullivan PS, Jones J, Kishore N, Stephenson R. The roles of technology in primary HIV prevention for men who have sex with men. Curr HIV/AIDS Rep. 2015;12(4):481–8.

Ybarra ML, Prescott TL, Phillips GL, Bull SS, Parsons JT, Mustanski B. Pilot RCT results of an mHealth HIV prevention program for sexual minority male adolescents. Pediatrics. 2017;140(1):e20162999.

Coates TJ, Kulich M, Celentano DD, Zelaya CE, Chariyalertsak S, Chingono A, et al. Effect of community-based voluntary counselling and testing on HIV incidence and social and behavioural outcomes (NIMH Project Accept; HPTN 043): a cluster-randomised trial. Lancet Global Health. 2014;2(5):e267–77.

Young SD, Hlavka Z, Modiba P, Gray G, Van Rooyen H, Richter L, et al. HIV-related stigma, social norms and HIV testing in Soweto and Vulindlela, South Africa: NIMH Project Accept (HPTN 043). J Acquir Immune Defic Syndr. 2010;55(5):620.

Van Rooyen H, Barnabas RV, Baeten JM, Phakathi Z, Joseph P, Krows M, et al. High HIV testing uptake and linkage to care in a novel program of home_based HIV counseling and testing with facilitated referral in KwaZulu-Natal, South Africa. J Acquir Immune Defic Syndr. 2013;64(1):e1.

Rosenberg NE, Westreich D, Bärnighausen T, Miller WC, Behets F, Maman S, et al. Assessing the effect of HIV counseling and testing on HIV acquisition among South African youth. AIDS (London, England). 2013;27(17):2765.

WHO. Consolidated guidelines on HIV prevention, diagnosis, treatment and care for key populations–2016 update: World Health Organization. 2016.
Acknowledgements
We thank our colleagues from University of Gothenburg, Sweden who provided insight and expertise that greatly assisted the research and North Star Alliance Roadside Wellness Clinics for allowing us to undertake research at their sites.
Funding
This research was supported by SADC HIV and AIDS Special Fund Round 111. The funding organization had no role in the design and conduct of the study; collection, management, analysis, and interpretation of the data; preparation, review, or approval of the manuscript; and decision to submit the manuscript for publication.
Ethics declarations
Conflict of interest
All authors declare that they have no conflict of interest.
Ethical Approval
All procedures performed in studies involving human participants were in accordance with the ethical standards of the institutional and/or national research committee and with the 1964 Helsinki declaration and its later amendments or comparable ethical standards. Study procedures were approved by the University of KwaZulu-Natal Institutional Review Board (BFC483/14) and by national ethical committees (Medical Research Council of Zimbabwe and National Health Bioethics Committee for Mozambique) in each of the three countries.
Informed Consent
Informed consent was obtained from all individual participants included in the study.
Additional information
Publisher's Note
Springer Nature remains neutral with regard to jurisdictional claims in published maps and institutional affiliations.
Electronic supplementary material
Below is the link to the electronic supplementary material.
About this article
Cite this article
Govender, K., Beckett, S., Masebo, W. et al. Effects of a Short Message Service (SMS) Intervention on Reduction of HIV Risk Behaviours and Improving HIV Testing Rates Among Populations located near Roadside Wellness Clinics: A Cluster Randomised Controlled Trial in South Africa, Zimbabwe and Mozambique. AIDS Behav 23, 3119–3128 (2019). https://doi.org/10.1007/s10461-019-02427-6
Published:

Issue Date:

DOI: https://doi.org/10.1007/s10461-019-02427-6
Keywords