Abstract
Increased coverage of voluntary medical male circumcision (VMMC) is needed in countries with high HIV prevalence. We applied an HIV-prevention cascade to identify gaps in male circumcision coverage in Zambia. We used survey data collected in 2013 and 2014/15 to describe circumcision coverage at each time-point, and prevalence of variables related to demand for and supply of VMMC. We explored whether circumcision coverage in 2014/15 was associated with demand and supply among uncircumcised men in 2013. Results show that circumcision coverage was 11.5% in 2013 and 18.0% in 2014/15. Levels of having heard of circumcision and agreeing with prevention benefits was similar at both time-points (79.8% vs 83.2%, and 49.7% vs 50.7%, respectively). In 2013, 39.3% of men perceived services to be available compared to 54.7% in 2014/15. Levels of having heard of circumcision in 2013 was correlated with and higher perceived service availability associated with coverage in 2014/15. VMMC coverage was low in these study sites. Knowledge of prevention tools and of service availability are necessary to increase coverage but alone are insufficient.
This is a preview of subscription content, log in to check access.
Access options
Buy single article
Instant access to the full article PDF.
US$ 39.95
Price includes VAT for USA
Subscribe to journal
Immediate online access to all issues from 2019. Subscription will auto renew annually.
US$ 99
This is the net price. Taxes to be calculated in checkout.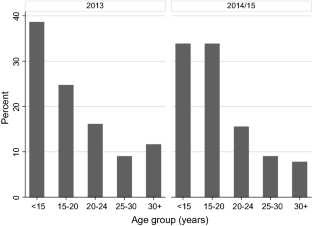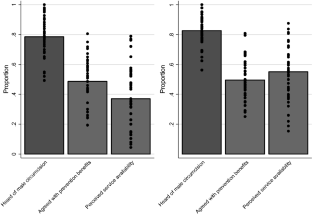 References
1.

UNAIDS. UNAIDS Data 2017. 2017.

2.

Smith JA, Anderson SJ, Harris KL, McGillen JB, Lee E, Garnett GP, et al. Maximising HIV prevention by balancing the opportunities of today with the promises of tomorrow: a modelling study. Lancet HIV. 2016;3(7):e289–96.

3.

Voluntary Medical Male Circumcision for HIV Prevention in 14 Priority Ccountries in Eastern and Southern Africa. WHO; 2017.

4.

National Voluntary Medical Male Circumcision Communication and Advocacy Strategy, 2012–2015. Lusaka, Zambia: Minidtry of Health; 2012.

5.

Lukobo MD, Bailey RC. Acceptability of male circumcision for prevention of HIV infection in Zambia. AIDS Care. 2007;19(4):471–7.

6.

National Male Circumcision Strategy and Implementation Plan 2010–2020. Lusaka, Zambia: Ministry of Health; 2009.

7.

WHO. WHO Progress Brief: Voluntary Medical Male Circumcision for HIV Prevention in 14 Priority Countries in East and Southern Africa. 2017.

8.

Zambia Country Report: Monitoring the Declaration of Commitment on HIV and AIDS and the Universal Access. 2015.

9.

Dehne KL, Dallabetta G, Wilson D, Garnett GP, Laga M, Benomar E, et al. HIV Prevention 2020: a framework for delivery and a call for action. Lancet HIV. 2017;3(7):e323–32.

10.

Fast-Track—Ending the AIDS epidemic by 2030. Geneva: UNAIDS; 2014.

11.

Bazant E, Mahler H, Machaku M, Lemwayi R, Kulindwa Y, Gisenge Lija J, et al. A randomized evaluation of a demand creation lottery for voluntary medical male circumcision among adults in Tanzania. J Acquir Immune Defic Syndr. 2016;72(Suppl 4):S280–7.

12.

Thirumurthy H, Masters SH, Rao S, Bronson MA, Lanham M, Omanga E, et al. Effect of providing conditional economic compensation on uptake of voluntary medical male circumcision in Kenya: a randomized clinical trial. JAMA. 2014;312(7):703–11.

13.

Thirumurthy H, Masters SH, Rao S, Murray K, Prasad R, Zivin JG, et al. The effects of providing fixed compensation and lottery-based rewards on uptake of medical male circumcision in Kenya: a randomized trial. J Acquir Immune Defic Syndr. 2016;72(Suppl 4):S299–305.

14.

Weiss SM, Zulu R, Jones DL, Redding CA, Cook R, Chitalu N. A cluster randomized controlled trial to increase the availability and acceptability of voluntary medical male circumcision in Zambia: the Spear and Shield Project. Lancet HIV. 2015;2(5):e181–9.

15.

Leiby K, Connor A, Tsague L, Sapele C, Kaonga A, Kakaire J, et al. The impact of SMS-based interventions on VMMC uptake in Lusaka Province, Zambia: a randomized controlled trial. J Acquir Immune Defic Syndr. 2016;72(Suppl 4):S264–72.

16.

Wilson N, Frade S, Rech D, Friedman W. Advertising for demand creation for voluntary medical male circumcision. J Acquir Immune Defic Syndr. 2016;72(Suppl 4):S288–91.

17.

Kaufman ZA, DeCelles J, Bhauti K, Hershow RB, Weiss HA, Chaibva C, et al. A sport-based intervention to increase uptake of voluntary medical male circumcision among adolescent male students: results from the MCUTS 2 cluster-randomized trial in Bulawayo, Zimbabwe. JAIDS J Acquir Immune Defic Syndr. 2016;72.

18.

Semeere AS, Castelnuovo B, Bbaale DS, Kiragga AN, Kigozi J, Muganzi AM, et al. Innovative demand creation for voluntary medical male circumcision targeting a high impact male population: a pilot study engaging pregnant women at antenatal clinics in Kampala, Uganda. J Acquir Immune Defic Syndr. 2016;72(Suppl 4):S278–84.

19.

Downs JA, Mwakisole AH, Chandika AB, Lugoba S, Kassim R, Laizer E, et al. Educating religious leaders to promote uptake of male circumcision in Tanzania: a cluster randomised trial. Lancet. 2017;389(10074):1124–32.

20.

Hargreaves JR, Delany-Moretlwe S, Hallett TB, Johnson S, Kapiga S, Bhattacharjee P, et al. The HIV prevention cascade: integrating theories of epidemiological, behavioural, and social science into programme design and monitoring. Lancet HIV. 2016;3(7):e318–22.

21.

Garnett GP, Hallett TB, Takaruza A, Hargreaves J, Rhead R, Warren M, et al. Providing a conceptual framework for HIV prevention cascades and assessing feasibility of empirical measurement with data from east Zimbabwe: a case study. Lancet HIV. 2016;3(7):e297–306.

22.

Stringer JSA, Chisembele-Taylor A, Chibwesha CJ, Chi HF, Ayles H, Manda H, et al. Protocol-driven primary care and community linkages to improve population health in rural Zambia: the Better Health Outcomes through Mentoring and Assessment (BHOMA) project. BMC Health Serv Res. 2013;13(Suppl 2):S7.

23.

Promising Practice Zambia: SFH Community mobilisation, mid media campaigns and national communications materials. 2014. https://www.malecircumcision.org/sites/default/files/document_library/Zambia_SFH_2_0.pdf.

24.

Pasch K, Komro KA, Perry CL, Hearst MO, Farbakhsh K. Outdoor alcohol advertising near schools: what does it advertise and how is it related to intentions and use of alcohol among young adolescents? J Stud Alcohol Drugs. 2007;68:587–96.

25.

Grund JM, Bryant TS, Jackson I, Curran K, Bock N, Toledo C, et al. Association between male circumcision and women's biomedical health outcomes: a systematic review. Lancet Glob Heal. 2018;5(11):e1113–22.

26.

Rogers EM. Diffusion of innovation. New York: Free Press; 2003.

27.

Zanolini A, Bolton C, Lyabola L-L, Phiri G, Samona A, Kaonga A, et al. Feasibility and effectiveness of a peer referral incentive intervention to promote male circumcision uptake in Zambia. J Acquir Immune Defic Syndr. 2016;72(Suppl 4):S262–8.

28.

Krishnaratne S, Hensen B, Cordes J, Enstone J, Hargreaves JR. Interventions to strengthen the HIV prevention cascade: a systematic review of reviews. Lancet HIV. 2016;3(7):e307–17.

29.

Medley A, Kennedy C, O'Reilly K, Sweat M. Effectiveness of peer education interventions for HIV prevention in developing countries: a systematic review and meta-analysis. AIDS Educ Prev. 2009;21(3):181–206.

30.

Simoni JM, Nelson KM, Franks JC, Yard SS, Lehavot K. Are peer interventions for HIV efficacious? A systematic review. AIDS Behav. 2011;15(8):1589–95.

31.

Michie S, van Stralen MM, West R. The behaviour change wheel: a new method for characterising and designing behaviour change interventions. Implement Sci. 2011;6:42.

32.

Semo B-W, Wirth KE, Ntsuape C, Barnhart S, Kleinman NJ, Ramabu N, et al. Modifying the health system to maximize voluntary medical male circumcision uptake: a qualitative study in Botswana. HIV AIDS (Auckl). 2018;18(10):1–8.

33.

Wambura M, Mahler H, Grund JM, Larke N, Mshana G, Kuringe E, et al. Increasing voluntary medical male circumcision uptake among adult men in Tanzania. AIDS. 2017;31(7):1025–34.

34.

Ashengo TA, Hatzold K, Mahler H, Rock A, Kanagat N, Magalona S, et al. Voluntary medical male circumcision (VMMC) in Tanzania and Zimbabwe: service delivery intensity and modality and their influence on the age of clients. PLoS ONE. 2014;9(5):e83642.

35.

Gurman TA, Dhillon P, Greene JL, Makadzange P, Khumlao P, Shekhar N. Informing the scaling up of voluntary medical male circumcision efforts through the use of theory of reasoned action: survey findings among uncircumcised young men in Swaziland. AIDS Educ Prev. 2015;27(2):153–66.

36.

Mavhu W, Buzdugan R, Langhaug LF, Hatzold K, Benedikt C, Sherman J, et al. Prevalence and factors associated with knowledge of and willingness for male circumcision in rural Zimbabwe. Trop Med Int Heal. 2011;16(5):589–97.

37.

Khumalo-Sakutukwa G, Lane T, van-Rooyen H, Chingono A, Humphries H, Timbe A, et al. Understanding and addressing socio-cultural barriers to medical male circumcision in traditionally non-circumcising rural communities in sub-Saharan Africa. Cult Health Sex. 2013;15(9):1085–100.

38.

Rupfutse M, Tshuma C, Tshimanga M, Gombe N, Bangure D, Wellington M. Factors associated with uptake of voluntary medical male circumcision, Mazowe District, Zimbabwe, 2014. Pan Afr Med J. 2014;19:337. http://www.ncbi.nlm.nih.gov/pmc/articles/PMC4405072/.

39.

Skolnik L, Tsui S, Adamu Ashengo T, Kikaya V, Lukobo-Durrell M. A cross-sectional study describing motivations and barriers to voluntary medical male circumcision in Lesotho. BMC Public Health. 2014;14.

40.

Hewett PC, Haberland N, Apicella L, Mensch BS. The (Mis)Reporting of male circumcision status among men and women in Zambia and Swaziland: a randomized evaluation of interview methods. PLoS ONE. 2012;7(5):e36251. https://doi.org/10.1371/journal.pone.0036251.

41.

Hensen B, Lewis JJ, Schaap A, Tembo M, Vera-Hernandez M, Mutale W, et al. Frequency of HIV-testing and factors associated with multiple lifetime HIV-testing among a rural population of Zambian men. BMC Public Health. 2015;15(960).

42.

Central Statistical Office, Ministry of Health and II. Zambia Demographic and Health Survey 2013-14. Rockville, Maryland, USA: CSO and Macro International Inc.; 2014.
Acknowledgements
The authors would like to express their gratitude to the men who participated in the surveys, and the BHOMA community survey team leaders and research assistants.
Funding
The BHOMA trial was part of the Africa Health Initiative launched by the Doris Duke Charitable Foundation (Grant# 2009060). Funding was provided by Economic and Social Research Council (Grant No. ES/J500021/1).
Ethics declarations
Conflict of interest
The authors declare that they have no conflict of interest.
Ethical Approval
All procedures performed in studies involving human participants were in accordance with the ethical standards of the institutional and/or national research committee and with the 1964 Helsinki declaration and its later amendments or comparable ethical standards.
Additional information
Publisher's Note
Springer Nature remains neutral with regard to jurisdictional claims in published maps and institutional affiliations.
About this article
Cite this article
Hensen, B., Fearon, E., Schaap, A. et al. Application of an HIV Prevention Cascade to Identify Gaps in Increasing Coverage of Voluntary Medical Male Circumcision Services in 42 Rural Zambian Communities. AIDS Behav 23, 1095–1103 (2019). https://doi.org/10.1007/s10461-019-02407-w
Keywords
Voluntary medical male circumcision

HIV prevention cascade

Zambia

Africa

HIV