Abstract
Friends could be influential on young women's sexual health via influences on sexual behaviours and as connections to sexual partners, but are understudied in sub-Saharan Africa. We cross-sectionally surveyed 2326 13–20 year-old young women eligible for grades 8–11 in rural South Africa about their sexual behaviour and up to three sexual partners. Participants each described five specific but unidentified friends and the relationships between them in an 'egocentric' network analysis design. We used logistic regression to investigate associations between friendship characteristics and participants' reports of ever having had sex (n = 2326) and recent condom use (n = 457). We used linear regression with random effects by participant to investigate friendship characteristics and age differences with sexual partners (n = 633 participants, 1051 partners). We found that it was common for friends to introduce young women to those who later became sexual partners, and having older friends was associated with having older sexual partners, (increase of 0.37 years per friend at least 1 year older, 95% CI 0.21–0.52, adjusted). Young women were more likely to report ever having had sex when more friends were perceived to be sexually active (adjusted OR 1.85, 95% CI 1.72–2.01 per friend) and when they discussed sex, condoms and HIV with friends. Perception of friends' condom use was not associated with participants' reported condom use. While this study is preliminary and unique in this population and further research should be conducted, social connections between friends and sexual partners and perceptions of friend sexual behaviours could be considered in the design of sexual health interventions for young women in South Africa.
This is a preview of subscription content, log in to check access.
Access options
Buy single article
Instant access to the full article PDF.
US$ 39.95
Price includes VAT for USA
Subscribe to journal
Immediate online access to all issues from 2019. Subscription will auto renew annually.
US$ 99
This is the net price. Taxes to be calculated in checkout.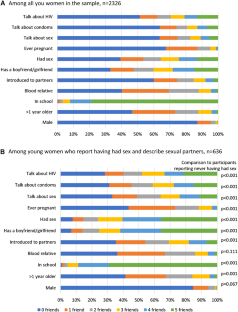 Abbreviations
ACASI:

Audio computer assisted self interview

AIC:

Akaike information criterion

CI:

Confidence interval

HIV:

Human immunodeficiency virus

HIV/AIDS:

Human immunodeficiency virus/acquired immune deficiency syndrome

HPTN HIV:

Prevention trials network

LSHTM:

London School of Hygiene and Tropical Medicine

OR:

Odds ratio

SEP:

Socio-economic position
References
1.

Fletcher A, Bonell C, Sorhaindo A. You are what your friends eat: systematic review of social network analyses of young people's eating behaviours and bodyweight. J Epidemiol Community Health. 2011;65(6):548–55.

2.

Go MH, Green HD Jr, Kennedy DP, Pollard M, Tucker JS. Peer influence and selection effects on adolescent smoking. Drug Alcohol Depend. 2010;109(1–3):239–42.

3.

Mercken L, Steglich C, Sinclair P, Holliday J, Moore L. A longitudinal social network analysis of peer influence, peer selection, and smoking behavior among adolescents in British schools. Health Psychol. 2012;31(4):450–9.

4.

Macdonald-Wallis K, Jago R, Sterne JA. Social network analysis of childhood and youth physical activity: a systematic review. Am J Prev Med. 2012;43(6):636–42.

5.

Leung RK, Toumbourou JW, Hemphill SA. The effect of peer influence and selection processes on adolescent alcohol use: a systematic review of longitudinal studies. Health Psychol Rev. 2014;8(4):426–57.

6.

Ali MM, Dwyer DS. Estimating peer effects in sexual behavior among adolescents. J Adolesc. 2011;34(1):183–90.

7.

Dellar RC, Dlamini S, Karim QA. Adolescent girls and young women: key populations for HIV epidemic control. J Int AIDS Soc. 2015;18(2 Suppl 1):19408.

8.

Yamanis TJ, Fisher JC, Moody JW, Kajula LJ. Young Men's social network characteristics and associations with sexual partnership concurrency in Tanzania. AIDS Behav. 2016;20(6):1244–55.

9.

Yamanis TJ, Dervisevic E, Mulawa M, Conserve DF, Barrington C, Kajula LJ, et al. Social network influence on HIV testing among urban men in Tanzania. AIDS Behav. 2017;21(4):1171–82.

10.

Lam D, Marteleto LJ, Ranchhod V. The influence of older classmates on adolescent sexual behavior in Cape Town, South Africa. Stud Fam Plan. 2013;44(2):147–67.

11.

Mulawa M, Yamanis TJ, Hill LM, Balvanz P, Kajula LJ, Maman S. Evidence of social network influence on multiple HIV risk behaviors and normative beliefs among young Tanzanian men. Soc Sci Med. 2016;153:35–43.

12.

Perkins JM, Subramanian SV, Christakis NA. Social networks and health: a systematic review of sociocentric network studies in low- and middle-income countries. Soc Sci Med. 2015;125:60–78.

13.

Fearon E, Wiggins RD, Pettifor AE, Hargreaves JR. Is the sexual behaviour of young people in sub-Saharan Africa influenced by their peers? A systematic review. Soc Sci Med. 2015;146:62–74.

14.

Gouws E, Williams BG. Age-mixing and the incidence of HIV among young women. Lancet HIV. 2017;4(1):e6–8.

15.

Schaefer R, Gregson S, Eaton JW, Mugurungi O, Rhead R, Takaruza A, et al. Age-disparate relationships and HIV incidence in adolescent girls and young women: evidence from Zimbabwe. AIDS. 2017;31(10):1461–70.

16.

Goodreau SM, Kitts JA, Morris M. Birds of a feather, or friend of a friend? Using exponential random graph models to investigate adolescent social networks. Demography. 2009;46(1):103–25.

17.

Cialdini RB, Reno RR. A focus theory of normative conduct: recycling the concept of norms to reduce littering in public places. J Person Soc Psychol. 1990;58(6):1015–26.

18.

Kabiru CW, Beguy D, Undie C-C, Zulu EM, Ezeh AC. Transition into first sex among adolescents in slum and non-slum communities in Nairobi, Kenya. J Youth Stud. 2010;13(4):453–71.

19.

Bingenheimer JB, Asante E, Ahiadeke C. Peer influences on sexual activity among adolescents in Ghana. Stud Fam Plan. 2015;46(1):1–19.

20.

Bauman KE, Faris R, Ennett ST, Hussong A, Foshee VA. Adding valued data to social network measures: does it add to associations with adolescent substance use? Soc Netw. 2007;29(1):1–10.

21.

Helleringer S, Kohler H-P. Social networks, perceptions of risk, and changing attitudes towards HIV/AIDS: new evidence from a longitudinal study using fixed-effects analysis. Popul Stud J Demogr. 2005;59(3):265–82.

22.

Kohler HP, Behrman JR, Watkins SC. Social networks and HIV/AIDs risk perceptions. Demography. 2007;44(1):1–33.

23.

Campbell C. Letting them die: why HIV prevention programmes fail. Bloomington: Indiana University Press; 2003.

24.

Campbell C, MacPhail C. Peer education, gender and the development of critical consciousness: participatory HIV prevention by South African youth. Soc Sci Med. 2002;55(2):331–45.

25.

Gottert A, Barrington C, McNaughton-Reyes HL, Maman S, MacPhail C, Lippman SA, et al. Gender norms, gender role conflict/stress and HIV risk behaviors among men in Mpumalanga, South Africa. AIDS Behav. 2017. https://doi.org/10.1007/s10461-017-1706-9.

26.

Harrison A, Smit J, Hoffman S, Nzama T, Leu CS, Mantell J, et al. Gender, peer and partner influences on adolescent HIV risk in rural South Africa. Sex Health. 2012;9(2):178–86.

27.

Tsai AC, Subramanian SV. Proximate context of gender-unequal norms and women's HIV risk in sub-Saharan Africa. AIDS. 2012;26(3):381–6.

28.

Qiao S, Li X, Stanton B. Social support and HIV-related risk behaviors: a systematic review of the global literature. AIDS Behav. 2014;18(2):419–41.

29.

Fearon E, Wiggins RD, Pettifor AE, MacPhail C, Kahn K, Selin A, et al. Associations between friendship characteristics and HIV and HSV-2 status amongst young South African women in HPTN-068. J Int AIDS Soc. 2017. https://doi.org/10.1002/jia2.25029.

30.

Pettifor A, MacPhail C, Selin A, Gomez-Olive FX, Rosenberg M, Wagner RG, et al. HPTN 068: a randomized control trial of a conditional cash transfer to reduce HIV infection in young women in South Africa—study design and baseline results. AIDS Behav. 2016;20(9):1863–82.

31.

Kahn K, Tollman SM, Collinson MA, Clark SJ, Twine R, Clark BD, et al. Research into health, population and social transitions in rural South Africa: data and methods of the Agincourt Health and Demographic Surveillance System. Scand J Public Health Suppl. 2007;69:8–20.

32.

Gomez-Olive FX, Angotti N, Houle B, Klipstein-Grobusch K, Kabudula C, Menken J, et al. Prevalence of HIV among those 15 and older in rural South Africa. AIDS Care. 2013;25:1122–8.

33.

Valente T. Social networks and health: models, methods and applications. Oxford: Oxford University Press; 2010.

34.

Kreager DA, Molloy LE, Moody J, Feinberg ME. Friends first? The peer network origins of adolescent dating. J Res Adolesc. 2016;26(2):257–69.

35.

Ritchwood TD, Hughes JP, Jennings L, MacPhail C, Williamson B, Selin A, et al. Characteristics of age-discordant partnerships associated with HIV risk among young south african women (HPTN 068). J Acquir Immune Defic Syndr. 2016;72(4):423–9.

36.

Pettifor A, Wang J, Selin A, Hughes J, Stoner M, MacPhail C, et al. Impact of male partners and schooling on HIV risk on South African girls: HPTN 068. In: Conference retroviruses and opportunistic infections, Boston; 2016.

37.

Perkins HW. Misperceptions of peer substance use among youth are real. Addiction. 2012;107(5):888–9.

38.

Miller DT, Prentice DA. Changing norms to change behavior. Annu Rev Psychol. 2016;67:339–61.

39.

Rees C, Wallace D. The myth of conformity: adolescents and abstention from unhealthy drinking behaviors. Soc Sci Med. 2014;108:34–45.

40.

Kawai K, Kaaya SF, Kajula L, Mbwambo J, Kilonzo GP, Fawzi WW. Parents' and teachers' communication about HIV and sex in relation to the timing of sexual initiation among young adolescents in Tanzania. Scand J Public Health. 2008;36(8):879–88.

41.

Wolf RC, Pulerwitz J. The influence of peer versus adult communication on AIDS-protective behaviors among Ghanaian youth. J Health Commun. 2003;8(5):463–74.

42.

Amirkhanian YA, Kelly JA, Takacs J, McAuliffe TL, Kuznetsova AV, Toth TP, et al. Effects of a social network HIV/STD prevention intervention for MSM in Russia and Hungary: a randomized controlled trial. AIDS. 2015;29(5):583–93.
Funding
EF was funded with a Bloomsbury Colleges PhD studentship with fieldwork funding from the London International Development Centre. This work was supported by Award Numbers UM1 AI068619 (HPTN Leadership and Operations Center), UM1AI068617 (HPTN Statistical and Data Management Center), and UM1AI068613 (HPTN Laboratory Center) from the National Institute of Allergy and Infectious Diseases, the National Institute of Mental Health and the National Institute on Drug Abuse of the National Institutes of Health. This work was also supported by NIMH R01 (R01MH087118) and the Carolina Population Center and its NIH Center Grant (P2C HD050924). The content is solely the responsibility of the authors and does not necessarily represent the official views of the National Institutes of Health.
Ethics declarations
Conflict of interest
The authors have no conflicts of interest to declare.
Ethical Approval
All procedures performed in studies involving human participants were in accordance with the ethical standards of the institutional and/or national research committee and with the 1964 Helsinki declaration and its later amendments or comparable ethical standards. This study was approved by the London School of Hygiene and Tropical Medicine, with the original trial obtaining approval from Mpumalanga Province Health Research and Ethics Committee, the University of North Carolina Chapel Hill, the University of the Witwatersrand and the London School of Hygiene and Tropical Medicine.
Informed Consent
Informed consent was obtained from all individual participants included in the study aged 18 years or over at enrolment. Individuals aged under 18 years at the time of enrolment gave assent, with informed consent obtained from their parent or guardian.
Additional information
Publisher's Note
Springer Nature remains neutral with regard to jurisdictional claims in published maps and institutional affiliations.
Electronic supplementary material
Below is the link to the electronic supplementary material.
About this article
Cite this article
Fearon, E., Wiggins, R.D., Pettifor, A.E. et al. Friendships Among Young South African Women, Sexual Behaviours and Connections to Sexual Partners (HPTN 068). AIDS Behav 23, 1471–1483 (2019). https://doi.org/10.1007/s10461-019-02406-x
Keywords
Peer influence

Sexual behaviour

Sexual partners

Adolescents

South Africa