Abstract
Despite the large interest in economic interventions to reduce HIV risk, little research has been done to show whether there are economic gains of these interventions for younger women and what intermediary role economic resources play in changing participants' sexual behavior. This paper contributes to this gap by examining the impacts of a conditional cash transfer (CCT) for young women in South Africa on young women's economic resources and the extent to which they play a role in young women's health and behavior. We used data from HIV Prevention Trials Network 068 study, which provided transfers to young women (in addition to their parents) conditional on the young woman attending at least 80% of school days in the previous month. We found that the CCT increased young women's economic wellbeing in terms of having savings, spending money, being unindebted, and food secure. We also investigated heterogeneous effects of the program by household economic status at baseline because the program was not specifically poverty targeted and found that the results were driven by young women from the poorest families. From these results, we examined heterogeneity by baseline poverty for other outcomes related to HIV risk including sexual behavior and psychosocial well-being. We found psychosocial well-being benefits in young women from the poorest families and that economic wellbeing gains explained much these impacts.
This is a preview of subscription content, log in to check access.
Access options
Buy single article
Instant access to the full article PDF.
US$ 39.95
Price includes VAT for USA
Subscribe to journal
Immediate online access to all issues from 2019. Subscription will auto renew annually.
US$ 99
This is the net price. Taxes to be calculated in checkout.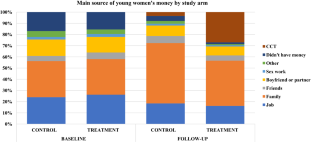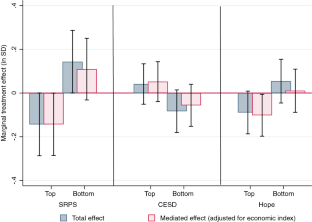 Notes
1.

The CES-D was not included in the baseline survey so we show baseline descriptive data for the 10-item Children's Depression Index (cite) in Table 1.

2.

3.4% of control group also reported the CCT as their main source of money. This data could be due to misreporting, but as there were reports of young women in the treatment group sharing their money with friends and siblings, this may reflect those allocations.

3.

Less than half of women report being sexual active during the trial, however, of the women that report having a partner, the majority report that they received money at some point from their partner.

4.

Results look the same for the resource index with no paid work.
References
1.

Levine R, Lloyd B, Greene ME, Grown C. Girls count: a global investment & action agenda. https://www.icrw.org/wp-content/uploads/2016/10/Girls-Count-A-global-Investment-and-Action-Agenda.pdf (2009).

2.

Jones N, Harper C, Watson C, Espey J, Wadugodapitiya D, Page E et al. Stemming girls' chronic poverty: catalysing development change by building just social institutions (SSRN scholarly paper no. ID 1719613). Rochester: Social Science Research Network. https://papers.ssrn.com/abstract=1719613 (2010).

3.

UNICEF. The state of the World's children 2011: adolescence—an age of opportunity. New York: UNICEF; 2011.

4.

Wojcicki JM. Socioeconomic status as a risk factor for HIV infection in women in east, central and southern Africa: a systematic review. J Biosoc Sci. 2005;37(1):1–36. https://doi.org/10.1017/S0021932004006534.

5.

Kim J, Pronyk P, Barnett T, Watts C. Exploring the role of economic empowerment in HIV prevention. AIDS. 2008;22:S57. https://doi.org/10.1097/01.aids.0000341777.78876.40.

6.

Gillespie S, Kadiyala S, Greener R. Is poverty or wealth driving HIV transmission? AIDS. 2007;21:S5. https://doi.org/10.1097/01.aids.0000300531.74730.72.

7.

Harrison A, Colvin CJ, Kuo C, Swartz A, Lurie M. Sustained high HIV incidence in young women in Southern Africa: social, behavioral, and structural factors and emerging intervention approaches. Curr HIV/AIDS Rep. 2015;12(2):207–15. https://doi.org/10.1007/s11904-015-0261-0.

8.

Shisana O, Rehle T, Simbayi LC, Zuma K, Jooste S, Zungu N, Labadarios D, Onoya D, et al. South African national HIV prevalence, incidence and behaviour survey, 2012. Cape Town: HSRC Press; 2014.

9.

UNAIDS. 2016-prevention-gap-report_en.pdf. http://www.unaids.org/sites/default/files/media_asset/2016-prevention-gap-report_en.pdf (n.d.).

10.

Luke N. Age and economic asymmetries in the sexual relationships of adolescent girls in sub-Saharan Africa. Stud Fam Plan. 2003;34(2):67–86.

11.

Karim QA, Sibeko S, Baxter C. Preventing HIV infection in women: a global health imperative. Clin Infect Dis. 2010;50(Supplement_3):S122–9. https://doi.org/10.1086/651483.

12.

MacPhail C, Campbell C. "I think condoms are good but, aai, I hate those things": condom use among adolescents and young people in a Southern African township. Soc Sci Med (1982). 2001;52(11):1613–27.

13.

Kaufman CE, Stavrou SE. 'Bus fare please': the economics of sex and gifts among young people in urban South Africa. Cult Health Sex. 2004;6(5):377–91. https://doi.org/10.1080/13691050410001680492.

14.

Jennings L, Mathai M, Linnemayr S, Trujillo A, Mak'anyengo M, Montgomery BEE, Kerrigan DL. Economic context and HIV vulnerability in adolescents and young adults living in urban slums in kenya: a qualitative analysis based on scarcity theory. AIDS Behav. 2017;21(9):2784–98. https://doi.org/10.1007/s10461-017-1676-y.

15.

Leclerc-Madlala S. Age-disparate and intergenerational sex in southern Africa: the dynamics of hypervulnerability. AIDS. 2008;22:S17. https://doi.org/10.1097/01.aids.0000341774.86500.53.

16.

Harrison A, Cleland J, Frohlich J. Young people's sexual partnerships in KwaZulu-Natal, South Africa: patterns, contextual influences, and HIV risk. Stud Fam Plann. 2008;39(4):295–308. https://doi.org/10.1111/j.1728-4465.2008.00176.x.

17.

Luke N. Confronting the "sugar daddy" stereotype: age and economic asymmetries and risky sexual behavior in Urban Kenya. Int Fam Plan Perspect. 2005;31(1):6–14.

18.

Biello KB, Sipsma HL, Ickovics JR, Kershaw T. Economic dependence and unprotected sex: the role of sexual assertiveness among young urban mothers. J Urban Health. 2010;87(3):416–25. https://doi.org/10.1007/s11524-010-9449-1.

19.

Dunkle RKJ, Brown HC, Gray GE, McIntryre JA, Harlow SD. Transactional sex among women in Soweto, South Africa: prevalence, risk factors and association with HIV infection. Soc Sci Med. 2004;59(8):1581–92. https://doi.org/10.1016/j.socscimed.2004.02.003.

20.

Jewkes R, Dunkle K, Nduna M, Shai NJ. Transactional sex and HIV incidence in a cohort of young women in the stepping stones trial. J AIDS Clin Res. 2012. https://doi.org/10.4172/2155-61131000158.

21.

Krishnan S, Dunbar MS, Minnis AM, Medlin CA, Gerdts CE, Padian NS. Poverty, gender inequities, and women's risk of human immunodeficiency virus/AIDS. Ann N Y Acad Sci. 2008;1136:101–10. https://doi.org/10.1196/annals.1425.013.

22.

Ashburn K, Warner A. Can economic empowerment reduce vulnerability of girls and young women to HIV? https://www.icrw.org/publications/can-economic-empowerment-reduce-vulnerability-of-girls-and-young-women-to-hiv/ (2010).

23.

Heise L, Lutz B, Ranganathan M, Watts C. Cash transfers for HIV prevention: considering their potential. J Int AIDS Soc. 2013;16:18615. https://doi.org/10.7448/ias.16.1.18615.

24.

Pettifor A, MacPhail C, Nguyen N, Rosenberg M. Can money prevent the spread of HIV? A review of cash payments for HIV prevention. AIDS Behav. 2012;16(7):1729–38. https://doi.org/10.1007/s10461-012-0240-z.

25.

Reed E, West BS, Salazar M, Monroy RV. Economic empowerment to improve sexual and reproductive health among women and girls. In: Global perspectives on women's sexual and reproductive health across the lifecourse. Cham: Springer; 2018. p. 297–315. https://doi.org/10.1007/978-3-319-60417-6_17.

26.

Tenkorang EY, Maticka-Tyndale E, Rajulton F. A multi-level analysis of risk perception, poverty and sexual risk-taking among young people in Cape Town, South Africa. Health Place. 2011;17(2):525–35.

27.

Thornton R. or 2010)? Sexual networks and social capital: multiple and concurrent sexual partnerships as a rational response to unstable social networks. Afr J AIDS Res. 2009;8(4):413–21. https://doi.org/10.2989/AJAR.2009.8.4.5.1042.

28.

Loevinsohn M, Gillespie SR. HIV/AIDS, food security and rural livelihoods: understanding and responding. Washington, DC: IFPRI. https://core.ac.uk/download/pdf/6289494.pdf (2003).

29.

Nyanzi B, Nyanzi S, Wolff B, Whitworth J. Money, men and markets: economic and sexual empowerment of market women in southwestern Uganda. Cult Health Sex. 2005;7(1):13–26. https://doi.org/10.1080/13691050410001731099.

30.

Mumah JN, Jackson-Smith D. Why are the benefits of increased resources not impacting the risk of HIV infection for high SES women in Cameroon? PLoS ONE. 2014;9(6):e100507. https://doi.org/10.1371/journal.pone.0100507.

31.

Jennings L, Pettifor A, Hamilton E, Ritchwood TD, Gómez-Olivé FX, MacPhail C, et al. Economic resources and HIV preventive behaviors among school-enrolled young women in rural South Africa (HPTN 068). AIDS Behav. 2017;21(3):665–77. https://doi.org/10.1007/s10461-016-1435-5.

32.

Pronyk PM, Hargreaves JR, Kim JC, Morison LA, Phetla G, Watts C, et al. Effect of a structural intervention for the prevention of intimate-partner violence and HIV in rural South Africa: a cluster randomised trial. Lancet. 2006;368(9551):1973–83. https://doi.org/10.1016/S0140-6736(06)69744-4.

33.

Ssewamala FM, Han C-K, Neilands TB, Ismayilova L, Sperber E. Effect of economic assets on sexual risk-taking intentions among orphaned adolescents in Uganda. Am J Public Health. 2010;100(3):483–8. https://doi.org/10.2105/AJPH.2008.158840.

34.

Ssewamala FM, Ismayilova L, McKay M, Sperber E, Bannon W, Alicea S. Gender and the effects of an economic empowerment program on attitudes toward sexual risk-taking among AIDS-orphaned adolescent youth in Uganda. J Adolesc Health. 2010;46(4):372–8. https://doi.org/10.1016/j.jadohealth.2009.08.010.

35.

Taaffe J, Cheikh N, Wilson D. The use of cash transfers for HIV prevention—are we there yet? Afr J AIDS Res. 2016;15(1):17–25. https://doi.org/10.2989/16085906.2015.1135296.

36.

Dunbar MS, Dufour M-SK, Lambdin B, Mudekunye-Mahaka I, Nhamo D, Padian NS. The SHAZ! project: results from a pilot randomized trial of a structural intervention to prevent HIV among adolescent women in Zimbabwe. PLoS ONE. 2014;9(11):e113621. https://doi.org/10.1371/journal.pone.0113621.

37.

Baird S, Chirwa E, McIntosh C, Özler B. The short-term impacts of a schooling conditional cash transfer program on the sexual behavior of young women. Health Econ. 2010;19(S1):55–68.

38.

Baird SJ, Garfein RS, McIntosh CT, Özler B. Effect of a cash transfer programme for schooling on prevalence of HIV and herpes simplex type 2 in Malawi: a cluster randomised trial. Lancet. 2012;379(9823):1320–9.

39.

Pettifor A, MacPhail C, Hughes JP, Selin A, Wang J, Gómez-Olivé FX, et al. The effect of a conditional cash transfer on HIV incidence in young women in rural South Africa (HPTN 068): a phase 3, randomised controlled trial. Lancet Glob Health. 2016;4(12):e978–88.

40.

MacPhail C, Khoza N, Selin A, Julien A, Twine R, Wagner RG, et al. Cash transfers for HIV prevention: what do young women spend it on? Mixed methods findings from HPTN 068. BMC Public Health. 2017;18:10. https://doi.org/10.1186/s12889-017-4513-3.

41.

Kahn K, Collinson MA, Gómez-Olivé FX, Mokoena O, Twine R, Mee P, et al. Profile: agincourt health and socio-demographic surveillance system. Int J Epidemiol. 2012;41(4):988–1001. https://doi.org/10.1093/ije/dys115.

42.

Gómez-Olivé FX, Angotti N, Houle B, Klipstein-Grobusch K, Kabudula C, Menken J, et al. Prevalence of HIV among those 15 and older in rural South Africa. AIDS Care. 2013;25(9):1122–8. https://doi.org/10.1080/09540121.2012.750710.

43.

Baird S, de Hoop J, Özler B. Income shocks and adolescent mental health. J Hum Resour. 2013;48(2):370–403. https://doi.org/10.3368/jhr.48.2.370.

44.

Ssewamala FM, Neilands TB, Waldfogel J, Ismayilova L. The impact of a comprehensive microfinance intervention on depression levels of AIDS-orphaned children in Uganda. J Adolesc Health. 2012;50(4):346–52. https://doi.org/10.1016/j.jadohealth.2011.08.008.

45.

Ssewamala FM, Han CK, Neilands TB. Asset ownership and health and mental health functioning among AIDS-orphaned adolescents: findings from a randomized clinical trial in rural Uganda. Soc Sci Med. 2009;69(2):191–8.

46.

Pulerwitz J, Gortmaker SL, DeJong W. Measuring sexual relationship power in HIV/STD research. Sex Roles. 2000;42(7–8):637–60. https://doi.org/10.1023/A:1007051506972.

47.

Dunkle KL, Jewkes RK, Brown HC, Gray GE, McIntryre JA, Harlow SD. Gender-based violence, relationship power, and risk of HIV infection in women attending antenatal clinics in South Africa. Lancet. 2004;363(9419):1415–21.

48.

Radloff LS. The CES-D scale: a self-report depression scale for research in the general population. Appl Psychol Meas. 1977;1(3):385–401. https://doi.org/10.1177/014662167700100306.

49.

Abler L, Hill L, Maman S, DeVellis R, Twine R, Kahn K, et al. Hope matters: developing and validating a measure of future expectations among young women in a high HIV prevalence setting in rural South Africa (HPTN 068). AIDS Behav. 2017;21(7):2156–66. https://doi.org/10.1007/s10461-016-1523-6.

50.

Bedoya, G., Bittarello, L., Davis, J., & Mittag, N. (2017). Distributional impact analysis. World Bank policy research working paper 8139.

51.

Keele L, Tingley D, Yamamoto T. Identifying mechanisms behind policy interventions via causal mediation analysis. J Policy Anal Manag. 2015;34(4):937–63.

52.

Inson MA, White MJ, Ginsburg C, Gómez-Olivé FX, Kahn K, Tollman S. Youth migration, livelihood prospects and demographic dividend: a comparison of the Census 2011 and Agincourt Health and Demographic Surveillance System in the rural northeast of South Africa. Afr Popul Stud. 2016;30(2 Suppl):2629–39.

53.

Stats SA. Poverty trends in South Africa: an examination of absolute poverty between 2006 and 2011. Pretoria: Stat South Africa; 2014.

54.

Dunbar MS, Maternowska C, Kang M-SJ, Laver SM, Mudekunye I, Padian NS. Findings from SHAZ!: a feasibility study of a microcredit and life-skills HIV prevention intervention to reduce risk among adolescent female orphans in Zimbabwe. J Prev Interv Commun. 2010;38(2):147–61. https://doi.org/10.1080/10852351003640849.

55.

Baird S, McIntosh C, Özler B. Cash or condition? Evidence from a cash transfer experiment. Q J Econ. 2011;126(4):1709–53.

56.

Bastagli F, Hagen-Zanker J, Harman L, Barca V, Sturge G, Schmidt T, Pellerano L. Cash transfers: what does the evidence say. A rigorous review of programme impact and the role of design and implementation features. London: ODI; 2016.
Funding
Funding support for the HPTN was provided by the National Institute of Allergy and Infectious Diseases (NIAID), the National Institute of Mental Health (NIMH), and the National Institute on Drug Abuse (NIDA) of the National Institutes of Health (NIH; Award Numbers UM1AI068619 [HPTN Leadership and Operations Center], UM1AI068617 [HPTN Statistical and Data Management Center], and UM1AI068613 [HPTN Laboratory Center]. The study was also funded under R01MH110186, R01MH087118, and R24 HD050924 to the Carolina Population Center. Research reported in this publication was also supported by the NIAID of the NIH [Award Number T32AI007001]. Additional funding was provided by the Division of Intramural Research, NIAID, and NIH. The Agincourt Health and Socio-Demographic Surveillance System is supported by the University of the Witwatersrand, the Medical Research Council, South Africa and the Wellcome Trust, UK (Grants 058893/Z/99/A; 069683/Z/02/Z; 085477/Z/08/Z; and 085477/B/08/Z).
Ethics declarations
Conflict of interest
The authors declare that they have no conflict of interest.
Ethical Approval
All procedures performed in studies involving human participants were in accordance with the ethical standards of the institutional and/or national research committee and with the 1964 Helsinki declaration and its later amendments or comparable ethical standards.
Informed Consent
Informed consent was obtained from all individual participants included in the study.
Appendix
Appendix
See Figs. 3 and 4 and Tables 6 and 7.
About this article
Cite this article
Kilburn, K., Hughes, J.P., MacPhail, C. et al. Cash Transfers, Young Women's Economic Well-Being, and HIV Risk: Evidence from HPTN 068. AIDS Behav 23, 1178–1194 (2019). https://doi.org/10.1007/s10461-018-2329-5
Keywords
Adolescent girls and young women

South Africa

Economic empowerment

Cash transfers

Psychosocial well-being