Abstract
Qualitative studies suggest that social relationships play an important role in HIV pre-exposure prophylaxis (PrEP) use, but there have been few quantitative assessments of the role of social relationships in PrEP uptake or adherence. We examined the association between disclosure of study participation or LGBT identity and PrEP use in the 1603 HIV-negative participants enrolled in the iPrEx OLE study. We also evaluated the association between LGBT social group involvement and PrEP use. Study participation disclosure to parents and LGBT identity disclosure to anyone in a participant's social network were associated with greater PrEP uptake. Study participation disclosure to partners was associated with higher probability of having protective PrEP drug concentrations compared [risk difference 0.15 95% CI (0.01, 0.30)]. For each additional type of LGBT organization a participant was involved in, the probability of PrEP uptake and having protective drug concentrations increased by 0.04 [95% CI (0.03, 0.06)] and 0.04 (95% CI (0.02, 0.07)] respectively. Overall, social context was associated with PrEP use in iPrEx OLE, and should be taken into consideration when designing future PrEP implementation programs.
Access options
Buy single article
Instant access to the full article PDF.
US$ 39.95
Tax calculation will be finalised during checkout.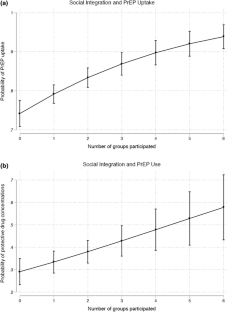 References
1.

Hankins C, Macklin R, Warren M. Translating PrEP effectiveness into public health impact: key considerations for decision-makers on cost-effectiveness, price, regulatory issues, distributive justice and advocacy for access. J Int AIDS Soc. 2015;18:3.

2.

Eaton LA, Kalichman S. Translating Pre-Exposure Prophylaxis Evidence into Practice and Public Health Impact. In: Advances Biomedical, editor. Biomedical advances in HIV prevention: social and behavioral perspectives. New York: Springer Science & Business Media; 2013.

3.

Sorensen G, et al. Model for incorporating social context in health behavior interventions: applications for cancer prevention for working-class, multiethnic populations. Prev Med. 2003;37:188–97.

4.

Berkman LF, Syme SL. Social networks, host resistance, and mortality: A nine-year follow-up study of Alameda County residents. Am J Epidemiol. 1979;109:186–204.

5.

Cohen S. Social relationships and health. Am Psychol. 2004;59:676–84.

6.

Uchino BN. Social support and health: a review of physiological processes potentially underlying links to disease outcomes. J Behav Med. 2006;29:377–87.

7.

Gottlieb BH, Bergen AE. Social support concepts and measures. J Psychosom Res. 2010;69:511–20.

8.

Kumar S, Calvo R, Avendano M, Sivaramakrishnan K, Berkman LF. Social support, volunteering and health around the world: cross-national evidence from 139 countries. Soc Sci Med. 2012;1982(74):696–706.

9.

DiMatteo MR. Social support and patient adherence to medical treatment: a meta-analysis. Health Psychol. 2004;23:207–18.

10.

Ware NC, et al. What's love got to do with it? Explaining adherence to oral antiretroviral pre-exposure prophylaxis (PrEP) for HIV serodiscordant couples. J Acquir Immune Defic Syndr. 2012;1999:59.

11.

Liu A, et al. Patterns and correlates of PrEP drug detection among MSM and transgender women in the Global iPrEx Study. J Acquir Immune Defic Syndr. 2014;1999(67):528–37.

12.

Donnell D, et al. HIV protective efficacy and correlates of tenofovir blood concentrations in a clinical trial of PrEP for HIV prevention. J Acquir Immune Defic Syndr. 2014;1999(66):340–8.

13.

Haberer JE, et al. Adherence to antiretroviral prophylaxis for HIV prevention: a substudy cohort within a clinical trial of serodiscordant couples in East Africa. PLoS Med. 2013;10:e1001511.

14.

Baeten JM, Haberer JE, Liu AY, Sista N. Preexposure prophylaxis for HIV prevention: where have we been and where are we going? J Acquir Immune Defic Syndr. 2013;1999(63 Suppl 2):S122–9.

15.

Grant RM, et al. Uptake of pre-exposure prophylaxis, sexual practices, and HIV incidence in men and transgender women who have sex with men: a cohort study. Lancet Infect Dis. 2014;14:820–9.

16.

Amico KR, et al. Experiences with HPTN 067/ADAPT study-provided open-label PrEP among women in cape town: facilitators and barriers within a mutuality framework. AIDS Behav. 2017;21:1361–75.

17.

Gilmore HJ, et al. Participant experiences and facilitators and barriers to pill use among men who have sex with men in the iPrEx pre-exposure prophylaxis trial in San Francisco. AIDS Patient Care STDs. 2013;27:560–6.

18.

Arnold T, et al. Social, structural, behavioral and clinical factors influencing retention in Pre-Exposure Prophylaxis (PrEP) care in Mississippi. PLoS ONE. 2017;12:e0172354.

19.

Goicochea, P. Barriers and facilitators to PrEP adherence in iPrEx: a prevention trial that started in 3 Andean cities. (2009).

20.

Berkman LF, Glass T, Brissette I, Seeman TE. From social integration to health: Durkheim in the new millennium☆☆This paper is adapted from Berkman LF, Glass T. Social integration, social networks, social support and health. In Berkman LF, Kawachi I, Social Epidemiology. New York: Oxford University Press; and Brissette I, Cohen S, Seeman T. Measuring social integration and social networks. In Cohen S, Underwood L, Gottlieb B, Social Support Measurements and Intervention. New York: Oxford University Press. Soc Sci Med 51: 843–857 (2000).

21.

Grant RM, et al. Preexposure chemoprophylaxis for HIV prevention in men who have sex with men. N Engl J Med. 2010;363:2587–99.

22.

Hosek SG, et al. The acceptability and feasibility of an HIV preexposure prophylaxis (PrEP) trial with young men who have sex with men. J Acquir Immune Defic Syndr. 2013;1999(62):447–56.

23.

Grohskopf LA, et al. Randomized trial of clinical safety of daily oral tenofovir disoproxil fumarate among HIV-uninfected men who have sex with men in the United States. J Acquir Immune Defic Syndr. 2013;1999(64):79–86.

24.

Castillo-Mancilla J, et al. Emtricitabine-triphosphate in dried blood spots as a marker of recent dosing. Antimicrob Agents Chemother. 2016;60:6692–7.

25.

Anderson PL, et al. Emtricitabine–Tenofovir concentrations and pre-exposure prophylaxis efficacy in men who have sex with men. Sci Transl Med. 2012;4:151.

26.

Deutsch MB, et al. HIV pre-exposure prophylaxis in transgender women: a subgroup analysis of the iPrEx trial. Lancet HIV. 2015. https://doi.org/10.1016/S2352-3018(15)00206-4.

27.

Localio AR, Margolis DJ, Berlin JA. Relative risks and confidence intervals were easily computed indirectly from multivariable logistic regression. J Clin Epidemiol. 2007;60:874–82.

28.

Williams R. Using the margins command to estimate and interpret adjusted predictions and marginal effects. Stata J. 2012;12:308–31.

29.

STATA Statistical Software: Release 13. (StataCorp LP).

30.

Tangmunkongvorakul A, et al. Facilitators and barriers to medication adherence in an HIV prevention study among men who have sex with men in the iPrEx study in Chiang Mai, Thailand. AIDS Care. 2013;25:961–7.

31.

Galea JT, et al. Acceptability of Pre-Exposure Prophylaxis (PrEP) as an HIV prevention strategy: barriers and facilitators to PrEP uptake among at-risk Peruvian populations. Int J STD AIDS. 2011;22:256–62.
Funding
The iPrEx Open Label Extension was sponsored by the NIH (NIAID UO1 AI064002, RO1 AI062333, and RO1 AI118575) with study medication donated by Gilead Sciences.
Ethics declarations
Conflicts of interest
RM.G has received fees from and a research Grant from ViiV, a manufacturer of an investigational compound being investigated for use as PrEP. D.V.G is a member of an advisory board for Gilead Sciences. K.R.A. has a Gilead Sciences education Grant through the University of Michigan. All other authors: no reported conflicts.
Ethical Approval
All procedures performed in studies involving human participants were in accordance with the ethical standards of the institutional and/or national research committee and with the 1964 Helsinki Declaration and its later amendments or comparable ethical standards.
Informed Consent
Informed consent was obtained from all individual participants included in the study.
Electronic supplementary material
Below is the link to the electronic supplementary material.
About this article
Cite this article
Mehrotra, M.L., Rivet Amico, K., McMahan, V. et al. The Role of Social Relationships in PrEP Uptake and Use Among Transgender Women and Men Who Have Sex with Men. AIDS Behav 22, 3673–3680 (2018). https://doi.org/10.1007/s10461-018-2151-0
Keywords
Pre-exposure prophylaxis

Social relationships

Disclosure

Social integration

Adherence