Abstract
Nondisclosure of maternal HIV status to young children can negatively impact child functioning; however, many mothers do not disclose due to lack of self-efficacy for the disclosure process. This study examines demographic variations in disclosure self-efficacy, regardless of intention to disclose, and assesses the relationship between self-efficacy and child adjustment via the parent–child relationship among a sample of HIV+ mothers and their healthy children (N = 181 pairs). Mothers completed demographic and self-efficacy measures; children completed measures assessing the parent–child relationship and child adjustment (i.e., worry, self-concept, depression). Across demographics, few mothers reported confidence in disclosure. Results from covariance structural modeling showed mothers endorsing higher self-efficacy had children who reported better relationship quality, and, in turn, reported fewer adjustment difficulties; higher levels of disclosure self-efficacy also directly predicted fewer adjustment problems. Findings offer support for interventions aimed at providing mothers with skills to enhance confidence for disclosing their HIV status.
Resumen
Al no revelar el estado de VIH materno a los niños pequeños puede tener un impacto negativo en el funcionamiento del niño; sin embargo, muchas madres no revelan su estado debido a la falta de autoeficacia en el proceso de revelación. Este estudio examina las variaciones demográficas en la autoeficacia de revelación, independientemente de la intención de revelar, y evalúa la relación entre autoeficacia y ajuste infantil a través de la relación entre padres e hijos entre una muestra de madres VIH + y sus hijos sanos (N = 181 pares). Las madres completaron medidas demográficas y de autoeficacia; los niños completaron medidas para evaluar la relación entre padres e hijos y el ajuste del niño (por ejemplo, preocupación, autoconcepto, depresión). A través de la demografía, pocas madres reportaron tener confianza en revelar su estado de VIH. Los resultados de la modelación estructural de covarianza mostraron que las madres que respaldan una mayor autoeficacia tenían hijos que reportaron una mejor calidad de relación y, a su vez, informaron menos dificultades de adaptación. Niveles más altos de autoeficacia de revelación también predijeron directamente menos problemas de ajuste. Los hallazgos ofrecen apoyo para las intervenciones dirigidas a proveer madres con las habilidades para aumentar la confianza a la hora de revelar su estado de VIH.
Access options
Buy single article
Instant access to the full article PDF.
US$ 39.95
Tax calculation will be finalised during checkout.
Subscribe to journal
Immediate online access to all issues from 2019. Subscription will auto renew annually.
US$ 79
Tax calculation will be finalised during checkout.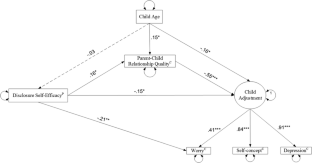 References
1.

Joint United Nations Programme on HIV/AIDS. UNAIDS Data 2017. 2017. http://www.unaids.org/en/resources/documents/2017/2017_data_book. Retrieved July 2017.

2.

UNICEF. Towards an AIDS-free generation: children and AIDS: Sixth stocktaking report, 2013. 2013. http://www.unicef.org/publications/files/children_and_AIDS_Sixth_Stocktaking_Report_EN.pdf.

3.

Centers for Disease Control and Prevention (CDC). HIV Surveillance Report, 2015. vol. 27. 2015. http://www.cdc.gov/hiv/library/reports/hiv-surveillance.html. Retrieved Nov 2016.

4.

Thurman TR, Kidman R, Taylor TM. Bridging the gap: the impact of home visiting programs for orphans and vulnerable children on social grant uptake in South Africa. Child Youth Serv Rev. 2015;48:111–6.

5.

Armistead L, Tannenbaum L, Forehand R, Morse E, Morse P. Disclosing HIV status: are mothers telling their children? J Pediatr Psychol. 2001;26:11–20.

6.

Murphy DA, Roberts KJ, Hoffman D. Regrets and advice from mothers who have disclosed their HIV+ serostatus to their young children. J Child Fam Stud. 2003;12:307–19.

7.

Murphy DA, Armistead L, Marelich WD, Payne DL, Herbeck DM. Pilot trial of a disclosure intervention for HIV+ mothers: the TRACK Program. J Consult Clin Psychol. 2011;79:203–14.

8.

Corona R, Beckett MK, Cowgill BO, et al. Do children know their parent's HIV status? Parental reports of child awareness in a nationally representative sample. Ambul Pediatr. 2006;6:138–44.

9.

Qiao S, Li X, Stanton B. Disclosure of parental HIV infection to children: a systematic review of global literature. AIDS Behav. 2013;17:369–89. https://doi.org/10.1007/s10461-011-0069-x.

10.

Chaudoir SR, Fisher JD, Simoni JM. Understanding HIV disclosure: a review and application of the disclosure process model. Soc Sci Med. 2011;72:1618–29.

11.

Armistead L, Summers P, Forehand R, Morse PS, Morse E, Clark L. Understanding of HIV/AIDS among children of HIV-infected mothers: implications for prevention, disclosure, and bereavement. Child Healthc. 1999;28:277–95.

12.

Pachankis JE. The psychological implications of concealing a stigma: a cognitive-affective-behavioral model. Psychol Bull. 2007;133:328–45.

13.

Murphy DA, Steers WN, Dello Stritto ME. Maternal disclosure of mothers' HIV serostatus to their young children. J Fam Psychol. 2001;15:441–50. https://doi.org/10.1037//0893-3200.15.3.441.

14.

Forehand R, Jones D, Kotchick B, et al. Non-infected children of HIV-infected mothers: a four year longitudinal study of child psychosocial adjustment and parenting. Behav Ther. 2002;33:579–600.

15.

Forehand R, Wierson M. The role of developmental factors in planning behavioral interventions for children: disruptive behavior as an example. Behav Ther. 1993;24:117–41.

16.

Bandura A. Self efficacy: the exercise of control. New York: Freeman; 1997.

17.

Robin AL, Foster SL. Negotiating parent-adolescent conflict: a behavioral-family systems approach. New York: Guilford Press; 1989.

18.

Kovacs M, Beck AT. An empirical-clinical approach toward a definition of clinical depression. In: Schultebrandt JG, Raskin A, editors. Depression in childhood: Diagnosis, treatment, and conceptual models. New York: Raven Press; 1977. p. 1–25.

19.

Kovacs M. The Children's Depression Inventory (CDI). Psychopharm Bull. 1985;21:995–8.

20.

Chorpita BF, Tracey SA, Brown TA, Collica TJ, Barlow DH. Assessment of worry in children and adolescents: an adaptation of the Penn State Worry Questionnaire. Behav Res Ther. 1997;35:569–81.

21.

Piers EV, Herzberg DS. Piers-Harris children's self concept scale-second edition manual. Los Angeles: Western Psychological Services; 2002.

22.

Marin G, Marin B. Research with Hispanic populations. Newbury Park: Sage; 1991.

23.

Muthén LK, Muthén BO. Mplus user's guide. 7th ed. Los Angeles: Muthén & Muthén; 1998–2012.

24.

Chou CP, Bentler PM, Satorra A. Scaled test statistics and robust standard errors for non-normal data in covariance structure analysis: a Monte Carlo study. Br J Math Stat Psychol. 1991;44:347–57.

25.

Hu L, Bentler PM. Cutoff criteria for fit indexes in covariance structure analysis: conventional criteria versus new alternatives. Struct Equ Model Multidiscip J. 1999;6:1–55. https://doi.org/10.1080/10705519909540118.

26.

Little TD, Slegers DW, Card NA. A non-arbitrary method of identifying and scaling latent variables in SEM and MACS models. Struct Equ Model. 2006;13:59–72.
Acknowledgements
This study was funded by the National Institute of Mental Health (Grants R01MH094233-Armistead & R01MH09418 -Schulte). The authors wish to thank the families who participated in this research, as well as Ivette Avina and Rosa Felix for their contributions to quality assurance and translation of the abstract.
Ethics declarations
Conflict of interest
The authors have no conflicts of interest relevant to this article to disclose.
Ethical Approval
The authors declare they have no conflicts of interest. All procedures performed in this study were in accordance with the ethical standards of the universities' institutional review boards and with the 1964 Helsinki declaration and its later amendments or comparable ethical standards. Informed consent was obtained from all adult participants included in the study. Parental consent and child assent were obtained from participants under age 18.
About this article
Cite this article
Armistead, L., Goodrum, N., Schulte, M. et al. Does Maternal HIV Disclosure Self-Efficacy Enhance Parent–Child Relationships and Child Adjustment?. AIDS Behav 22, 3807–3814 (2018). https://doi.org/10.1007/s10461-018-2042-4
Keywords
HIV disclosure

Parent–child relationship

Disclosure self-efficacy