Abstract
Questionnaires over a 9-year study period (2002–2010) were used to characterize cannabis, stimulant, and alcohol use among 3099 HIV-infected men participating in the Veterans Aging Cohort Study (VACS) to determine whether use of these substances is associated with changes in the VACS Index, a validated prognostic indicator for all-cause mortality. At baseline, 18% of participants reported no substance use in the past year, 24% lower risk alcohol use only, 18% unhealthy alcohol use only, 15% cannabis use (with or without alcohol), and 24% stimulant use (with or without alcohol or cannabis). In adjusted longitudinal analyses, cannabis use [β = −0.97 (95% CI −1.93, 0.00), p = 0.048] was not associated with mortality risk, while stimulant use [1.08 (0.16, 2.00), p = 0.021] was associated with an increased mortality risk, compared to lower risk alcohol use. Our findings show no evidence of a negative effect of cannabis use on mortality risk, while stimulant use was associated with increased mortality risk among HIV-infected men. Interventions to reduce stimulant use in this patient population may reduce mortality.
Access options
Buy single article
Instant access to the full article PDF.
USD 39.95
Price excludes VAT (USA)
Tax calculation will be finalised during checkout.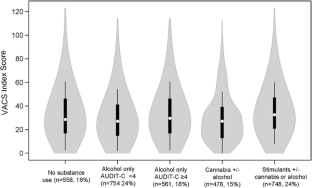 References
Arnsten JH, Demas PA, Grant RW, et al. Impact of active drug use on antiretroviral therapy adherence and viral suppression in HIV-infected drug users. J Gen Intern Med. 2002;17(5):377–81.

Langebeek N, Gisolf EH, Reiss P, et al. Predictors and correlates of adherence to combination antiretroviral therapy (ART) for chronic HIV infection: a meta-analysis. BMC Med. 2014;12:142.

Kalichman SC, Kalichman MO, Cherry C, et al. Intentional medication nonadherence because of interactive toxicity beliefs among HIV-positive active drug users. J Acquir Immune Defic Syndr. 2015;70(5):503–9.

Hinkin CH, Barclay TR, Castellon SA, et al. Drug use and medication adherence among HIV-1 infected individuals. AIDS Behav. 2007;11(2):185–94.

Sullivan LE, Goulet JL, Justice AC, Fiellin DA. Alcohol consumption and depressive symptoms over time: a longitudinal study of patients with and without HIV infection. Drug Alcohol Depend. 2011;117(2–3):158–63.

Kapadia F, Vlahov D, Donahoe RM, Friedland G. The role of substance abuse in HIV disease progression: reconciling differences from laboratory and epidemiologic investigations. Clin Infect Dis. 2005;41(7):1027–34.

Nath A, Hauser KF, Wojna V, et al. Molecular basis for interactions of HIV and drugs of abuse. J Acquir Immune Defic Syndr. 2002;31(Suppl 2):S62–9.

Baum MK, Rafie C, Lai S, Sales S, Page B, Campa A. Crack-cocaine use accelerates HIV disease progression in a cohort of HIV-positive drug users. J Acquir Immune Defic Syndr. 2009;50(1):93–9.

Williams EC, Hahn JA, Saitz R, Bryant K, Lira MC, Samet JH. Alcohol use and human immunodeficiency virus (HIV) infection: current knowledge, implications, and future directions. Alcohol Clin Exp Res. 2016;40(10):2056–72.

Chander G, Himelhoch S, Moore RD. Substance abuse and psychiatric disorders in HIV-positive patients: epidemiology and impact on antiretroviral therapy. Drugs. 2006;66(6):769–89.

Mimiaga MJ, Reisner SL, Grasso C, et al. Substance use among HIV-infected patients engaged in primary care in the United States: findings from the Centers for AIDS Research Network of Integrated Clinical Systems cohort. Am J Public Health. 2013;103(8):1457–67.

Furler MD, Einarson TR, Millson M, Walmsley S, Bendayan R. Medicinal and recreational marijuana use by patients infected with HIV. AIDS Patient Care STDS. 2004;18(4):215–28.

Harris GE, Dupuis L, Mugford GJ, et al. Patterns and correlates of cannabis use among individuals with HIV/AIDS in Maritime Canada. Can J Infect Dis Med Microbiol. 2014;25(1):e1–7.

D'Souza G, Matson PA, Grady CD, et al. Medicinal and recreational marijuana use among HIV-infected women in the Women's Interagency HIV Study (WIHS) cohort, 1994-2010. J Acquir Immune Defic Syndr. 2012;61(5):618–26.

Bruce D, Harper GW, Fernandez MI. The adolescent medicine trials network for HIVAI heavy Marijuana use among gay and bisexual male emerging adults living with HIV/AIDS. J HIV AIDS Soc Serv. 2013;12(1):26–48.

Bing EG, Burnam MA, Longshore D, et al. Psychiatric disorders and drug use among human immunodeficiency virus-infected adults in the United States. Arch Gen Psychiatry. 2001;58(8):721–8.

White JM, Gordon JR, Mimiaga MJ. The Role of substance use and mental health problems in medication adherence among HIV-infected MSM. LGBT Health. 2014;1(4):319–22.

Skeer MR, Mimiaga MJ, Mayer KH, O'Cleirigh C, Covahey C, Safren SA. Patterns of substance use among a large urban cohort of HIV-infected men who have sex with men in primary care. AIDS Behav. 2012;16(3):676–89.

Colfax G, Shoptaw S. The methamphetamine epidemic: implications for HIV prevention and treatment. Curr HIV/AIDS Rep. 2005;2(4):194–9.

Reback CJ, Fletcher JB, Shoptaw S, Grella CE. Methamphetamine and other substance use trends among street-recruited men who have sex with men, from 2008 to 2011. Drug Alcohol Depend. 2013;133(1):262–5.

Milloy MJ, Marshall B, Kerr T, et al. High-intensity cannabis use associated with lower plasma human immunodeficiency virus-1 RNA viral load among recently infected people who use injection drugs. Drug Alcohol Rev. 2015;34(2):135–40.

Marcellin F, Lions C, Rosenthal E, et al. No significant effect of cannabis use on the count and percentage of circulating CD4 T-cells in HIV-HCV co-infected patients (ANRS CO13-HEPAVIH French cohort). Drug Alcohol Rev. 2016.

Okafor CN, Zhou Z, Burrell LE, 2nd, et al. Marijuana use and viral suppression in persons receiving medical care for HIV-infection. Am J Drug Alcohol Abuse. 2016:1–8.

Okafor CN, Cook RL, Chen X, et al. Trajectories of Marijuana use among HIV-seropositive and HIV-seronegative MSM in the Multicenter AIDS cohort study (MACS), 1984-2013. AIDS Behav. 2016.

Tate JP, Justice AC, Hughes MD, et al. An internationally generalizable risk index for mortality after one year of antiretroviral therapy. AIDS. 2013;27(4):563–72.

Justice AC, Modur SP, Tate JP, et al. Predictive accuracy of the Veterans Aging Cohort Study index for mortality with HIV infection: a North American cross cohort analysis. J Acquir Immune Defic Syndr. 2013;62(2):149–63.

Justice AC, Freiberg MS, Tracy R, et al. Does an index composed of clinical data reflect effects of inflammation, coagulation, and monocyte activation on mortality among those aging with HIV? Clin Infect Dis. 2012;54(7):984–94.

Conigliaro J, Madenwald T, Bryant K, et al. The Veterans Aging Cohort Study: observational studies of alcohol use, abuse, and outcomes among human immunodeficiency virus-infected veterans. Alcohol Clin Exp Res. 2004;28(2):313–21.

Justice AC, Dombrowski E, Conigliaro J, et al. Veterans Aging Cohort Study (VACS): overview and description. Med Care. 2006;44(8 Suppl 2):S13–24.

Bush K, Kivlahan DR, McDonell MB, Fihn SD, Bradley KA. The AUDIT alcohol consumption questions (AUDIT-C): an effective brief screening test for problem drinking. Ambulatory care quality improvement project (ACQUIP). Alcohol use disorders identification test. Arch Intern Med. 1998;158(16):1789–95.

Saitz R. Clinical practice. Unhealthy alcohol use. N Engl J Med. 2005;352(6):596–607.

Broyles LM, Gordon AJ, Sereika SM, Ryan CM, Erlen JA. Do words matter? Incongruent responses to inconsistently worded AUDIT-C alcohol screening instruments. Subst Abuse. 2011;32(4):202–9.

Lim SH, Ostrow D, Stall R, et al. Changes in stimulant drug use over time in the MACS: evidence for resilience against stimulant drug use among men who have sex with men. AIDS Behav. 2012;16(1):151–8.

Green TC, Kershaw T, Lin H, et al. Patterns of drug use and abuse among aging adults with and without HIV: a latent class analysis of a US Veteran cohort. Drug Alcohol Depend. 2010;110(3):208–20.

Finucane MM, Samet JH, Horton NJ. Translational methods in biostatistics: linear mixed effect regression models of alcohol consumption and HIV disease progression over time. Epidemiol Perspect Innov. 2007;4:8.

Laird NM, Ware JH. Random-effects models for longitudinal data. Biometrics. 1982;38(4):963–74.

Cole SR, Hernan MA. Constructing inverse probability weights for marginal structural models. Am J Epidemiol. 2008;168(6):656–64.

Weuve J, Tchetgen EJT, Glymour MM, et al. Accounting for bias due to selective attrition: the example of smoking and cognitive decline. Epidemiology. 2012;23(1):119–28.

Tsubono Y, Yamada S, Nishino Y, Tsuji I, Hisamichi S. Choice of comparison group in assessing the health effects of moderate alcohol consumption. JAMA. 2001;286(10):1177–8.

Stranges S, Notaro J, Freudenheim JL, et al. Alcohol drinking pattern and subjective health in a population-based study. Addiction. 2006;101(9):1265–76.

Volkow ND, Baler RD, Compton WM, Weiss SR. Adverse health effects of marijuana use. N Engl J Med. 2014;370(23):2219–27.

Ghosn J, Leruez-Ville M, Blanche J, et al. HIV-1 DNA levels in peripheral blood mononuclear cells and cannabis use are associated with intermittent HIV shedding in semen of men who have sex with men on successful antiretroviral regimens. Clin Infect Dis. 2014;58(12):1763–70.

Corless IB, Lindgren T, Holzemer W, et al. Marijuana effectiveness as an HIV self-care strategy. Clin Nurs Res. 2009;18(2):172–93.

Tucker JS, Orlando M, Burnam MA, Sherbourne CD, Kung FY, Gifford AL. Psychosocial mediators of antiretroviral nonadherence in HIV-positive adults with substance use and mental health problems. Health Psychol. 2004;23(4):363–70.

Korthuis PT, McGinnis KA, Kraemer KL, et al. Quality of HIV care and mortality rates in HIV-infected patients. Clin Infect Dis. 2016;62(2):233–9.

Justice AC, McGinnis KA, Tate JP, et al. Risk of mortality and physiologic injury evident with lower alcohol exposure among HIV infected compared with uninfected men. Drug Alcohol Depend. 2016;161:95–103.

Korthuis PT, Fiellin DA, McGinnis KA, et al. Unhealthy alcohol and illicit drug use are associated with decreased quality of HIV care. J Acquir Immune Defic Syndr. 2012;61(2):171–8.

Kalichman SC, Grebler T. Stress and poverty predictors of treatment adherence among people with low-literacy living with HIV/AIDS. Psychosom Med. 2010;72(8):810–6.

Weiser SD, Frongillo EA, Ragland K, Hogg RS, Riley ED, Bangsberg DR. Food insecurity is associated with incomplete HIV RNA suppression among homeless and marginally housed HIV-infected individuals in San Francisco. J Gen Intern Med. 2009;24(1):14–20.

Waldrop-Valverde D, Osborn CY, Rodriguez A, Rothman RL, Kumar M, Jones DL. Numeracy skills explain racial differences in HIV medication management. AIDS Behav. 2010;14(4):799–806.

Delpierre C, Cuzin L, Lauwers-Cances V, Datta GD, Berkman L, Lang T. Unemployment as a risk factor for AIDS and death for HIV-infected patients in the era of highly active antiretroviral therapy. Sex Transm Infect. 2008;84(3):183–6.

Leaver CA, Bargh G, Dunn JR, Hwang SW. The effects of housing status on health-related outcomes in people living with HIV: a systematic review of the literature. AIDS Behav. 2007;11(6 Suppl):85–100.

Lesko CR, Cole SR, Miller WC, et al. Ten-year Survival by race/ethnicity and sex among treated, HIV-infected adults in the United States. Clin Infect Dis. 2015;60(11):1700–7.

Rosen CS, Henson BR, Finney JW, Moos RH. Consistency of self-administered and interview-based addiction severity Index composite scores. Addiction. 2000;95(3):419–25.

Kitahata MM, Gange SJ, Abraham AG, et al. Effect of early versus deferred antiretroviral therapy for HIV on survival. N Engl J Med. 2009;360(18):1815–26.

When To Start C, Sterne JA, May M, et al. Timing of initiation of antiretroviral therapy in AIDS-free HIV-1-infected patients: a collaborative analysis of 18 HIV cohort studies. Lancet. 2009;373(9672):1352–63.
Acknowledgements
We would like to acknowledge the veterans who participate in the Veterans Aging Cohort Study (VACS) and the study coordinators and staff at each VACS site and at the West Haven Coordinating Center. This work was supported by grants from the National Institute on Alcohol Abuse and Alcoholism (NIAAA: U24-AA022000, U10-AA013566, U01-AA020795, U01-AA020790, U24-AA020794, and P01-AA019072), the National Institute of Allergy and Infectious Diseases (P30-AI042853), and in kind by the U.S. Department of Veterans Affairs.
Disclaimer
The views expressed in this article are those of the authors and do not necessarily reflect the position or policy of the Department of Veterans Affairs.
Ethics declarations
Conflict of interest
The authors declare that they have no conflict of interest.
Ethical Approval
All procedures performed in studies involving human participants were in accordance with the ethical standards of the institutional and/or national research committee and with the 1964 Helsinki declaration and its later amendments or comparable ethical standards.
Informed Consent
Informed consent was obtained from all individual participants included in the study.
Electronic supplementary material
Below is the link to the electronic supplementary material.
About this article
Cite this article
Adams, J.W., Bryant, K.J., Edelman, J.E. et al. Association of Cannabis, Stimulant, and Alcohol use with Mortality Prognosis Among HIV-Infected Men. AIDS Behav 22, 1341–1351 (2018). https://doi.org/10.1007/s10461-017-1905-4
Published:

Issue Date:

DOI: https://doi.org/10.1007/s10461-017-1905-4
Keywords