Abstract
Using data from the Comparison of Outcomes and Service Utilization Trends (COAST) study we examined factors associated with mood disorder diagnosis (MDD) among people living with HIV (PLHIV) and HIV-negative individuals in British Columbia, Canada. MDD cases were identified between 1998 and 2012 using International Classification of Disease 9 and 10 codes. A total of 491,796 individuals were included and 1552 (23.7%) and 60,097 (12.4%) cases of MDD were identified among the HIV-positive and HIV-negative populations, respectively. Results showed HIV status was associated with greater odds of MDD among men and lower odds among women. Among PLHIV, MDD was significantly associated with: identifying as gay, bisexual or other men who have sex with men compared to heterosexuals; higher viral load; history of injection drug use; and concurrent anxiety, dysthymia, and substance use disorders. Findings highlight the need for comprehensive and holistic HIV and mental health care.
This is a preview of subscription content, log in to check access.
Access options
Buy single article
Instant access to the full article PDF.
US$ 39.95
Price includes VAT for USA
Subscribe to journal
Immediate online access to all issues from 2019. Subscription will auto renew annually.
US$ 99
This is the net price. Taxes to be calculated in checkout.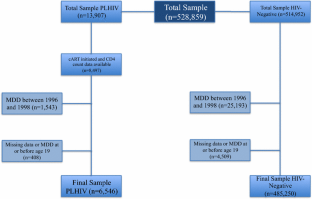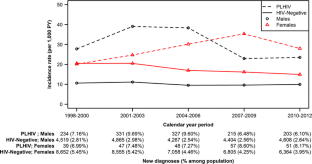 References
1.

Samji H, Cescon A, Hogg RS, et al. Closing the gap: increases in life expectancy among treated HIV-positive individuals in the United States and Canada. PLoS ONE. 2013;8:e81355.

2.

Patterson S, Cescon A, Samji H, et al. Life expectancy of HIV-positive individuals on combination antiretroviral therapy in Canada. BMC Infect Dis. 2015;15:274.

3.

Garey L, Bakhshaie J, Sharp C, et al. Anxiety, depression, and HIV symptoms among persons living with HIV/AIDS: the role of hazardous drinking. AIDS Care. 2015;27:80–5.

4.

Magidson JF, Blashill AJ, Safren SA, et al. Depressive symptoms, lifestyle structure, and ART adherence among HIV-infected individuals: a longitudinal mediation analysis. AIDS Behav. 2015;19:34–40.

5.

Nanni MG, Caruso R, Mitchell AJ, et al. Depression in HIV infected patients: a review. Curr Psychiatry Rep. 2015;17:530.

6.

Salters KA, Irick M, Anema A, et al. Harder-to-reach people living with HIV experiencing high prevalence of all-type mental health disorder diagnosis. AIDS Care. 2016;. doi:10.1080/09540121.2016.1227763.

7.

Hanel G, Henningsen P, Herzog W, et al. Depression, anxiety, and somatoform disorders: vague or distinct categories in primary care? Results from a large cross-sectional study. J Psychosom Res. 2009;67:189–97.

8.

Ferrari AJ, Charlson FJ, Norman RE, et al. Burden of depressive disorders by country, sex, age, and year: findings from the global burden of disease study 2010. PLoS Med. 2013;10:e1001547.

9.

Challacombe L. The epidemiology of HIV in Canada. Available at: http://www.catie.ca/en/fact-sheets/epidemiology/epidemiology-hiv-canada.

10.

Public Health Agency of Canada. What is Depression?. Available at: http://www.phac-aspc.gc.ca/cd-mc/mi-mm/depression-eng.php Accessed 20 Apr 2016.

11.

Statistics Canada. Mood disorders by sex, by province and territory Government of Canada, 2016.

12.

Lima VD, Geller J, Bangsberg DR, et al. The effect of adherence on the association between depressive symptoms and mortality among HIV-infected individuals first initiating HAART. AIDS. 2007;21:1175–83.

13.

Mathers BM, Degenhardt L, Phillips B, et al. Global epidemiology of injecting drug use and HIV among people who inject drugs: a systematic review. Lancet. 2008;372:1733–45.

14.

Taniguchi T, Shacham E, Onen NF, et al. Depression severity is associated with increased risk behaviors and decreased CD4 cell counts. AIDS Care. 2014;26:1004–12.

15.

Eyawo O, Franco-Villalobos C, Hull MW, et al. Changes in mortality rates and causes of death in a population-based cohort of persons living with and without HIV from 1996 to 2012. BMC Infect Dis. 2017;17:174.

16.

BC Centre for Excellence in HIV/AIDS. Drug Treatment Program and Labratory Available at:. http://www.cfenet.ubc.ca/drug-treatment-program and http://www.cfenet.ubc.ca/research/laboratory-program.

17.

Population Data BC: About Population Data BC. Available at: http://www.popdata.bc.ca/aboutus Accessed 31 Mar 2017.

18.

Kisely S, Lin E, Gilbert C, et al. Use of administrative data for the surveillance of mood and anxiety disorders. Australian and New Zeland Journal of Psychiatry. 2009;43:1118–25.

19.

Puyat JH, Marhin WW, Etches D, et al. Estimating the prevalence of depression from EMRs. Canadian Family Psysician. 2013;59:445.

20.

British Columbia Ministry of Health (2014): Consolidation File (MSP Registration & Premium Billing). Population Data BC. Data Extract. MOH (2014).  http://www.popdata.bc.ca/data.

21.

British Columbia Ministry of Health (2014): Medical Services Plan (MSP) Payment Information File. Population Data BC. Data Extract. MOH (2014). http://www.popdata.bc.ca/data.

22.

Canadian Institute for Health Information (2014): Discharge Abstract Database (Hospital Separations). Population Data BC. Data Extract. MOH (2014). http://www.popdata.bc.ca/data.

23.

BC Vital Statistics Agency (2014): Vital Statistics Deaths. Population Data BC. Data Extract. BC Vital Statistics Agency (2014). http://www.popdata.bc.ca/data.

24.

Hayashi K, Dong H, Marshall BD, et al. Sex-based differences in rates, causes, and predictors of death among injection drug users in Vancouver, Canada. Am J Epidemiol. 2016;183:544–52.

25.

R Core Team. R: A language and environemnt for statistical computing. R Foundation for Statistical Computing, Vienna, Austria. 2015.

26.

Arseniou S, Arvaniti A, Samakouri M. HIV infection and depression. Psychiatry Clin Neurosci. 2014;68:96–109.

27.

Lopes M, Olfson M, Rabkin J, et al. Gender, HIV status, and psychiatric disorders: results from the National Epidemiologic Survey on Alcohol and Related Conditions. J Clin Psychiatry. 2012;73:384–91.

28.

Heywood W, Lyons A. HIV and Elevated Mental Health Problems: Diagnostic, Treatment, and Risk Patterns for Symptoms of Depression, Anxiety, and Stress in a National Community-Based Cohort of Gay Men Living with HIV. AIDS Behav. 2016;20:1632–45.

29.

Pettes T, Kerr T, Voon P, et al. Depression and sexual risk behaviours among people who inject drugs: a gender-based analysis. Sexual Health. 2015;12:224–30.

30.

Joint United Nations Programme on HIV/AIDS. Global AIDS update 2016. Geneva: UNAIDS, 2016

31.

Gardner LI, Marks G, Shahani L, et al. Assessing efficacy of a retention in care intervention among HIV patients with depression, anxiety, heavy alcohol consumption and illicit drug use. Aids. 2016;30:1111–9.

32.

Socias ME, Koehoorn M, Shoveller J. Gender Inequalities in Access to Health Care among Adults Living in British Columbia, Canada. Womens Health Issues. 2016;26:74–9.

33.

Public Health Agency of Canada (PHAC). Population-Specific HIV/AIDS Status Report: Women; 2012 October 31st, 2016.

34.

Asch SM, Kilbourne AM, Gifford AL, et al. Underdiagnosis of depression in HIV: who are we missing? J Gen Intern Med. 2003;18:450–60.

35.

Greenberg PE, Fournier AA, Sisitsky T, et al. The economic burden of adults with major depressive disorder in the United States (2005 and 2010). J Clin Psychiatry. 2015;76:155–62.

36.

Lepine JP, Briley M. The increasing burden of depression. Neuropsychiatr Dis Treat. 2011;7:3–7.

37.

Sherr L, Clucas C, Harding R, et al. HIV and depression–a systematic review of interventions. Psychol Health Med. 2011;16:493–527.

38.

Ickovics JR, Hamburger ME, Vlahov D, et al. Mortality, CD4 cell count decline, and depressive symptoms among HIV-seropositive women: longitudinal analysis from the HIV epidemiology research study. JAMA. 2001;285:1466–74.

39.

Griffiths H Dr. Peter Centre—removing barriers to health care services. Nurs BC. 2002;34:10–4.

40.

Kalichman SC, Rompa D, Cage M. Distinguishing between overlapping somatic symptoms of depression and HIV disease in people living with HIV-AIDS. J Nerv Ment Dis. 2000;188:662–70.

41.

Haut ER, Pronovost PJ. Surveillance bias in outcomes reporting. JAMA. 2011;305:2462–3.

42.

HealthMeasures: Transforming how health is measured. Available at: http://www.healthmeasures.net/explore-measurement-systems/promis Accessed 18 Mar 2017.

43.

Pakula B, Shoveller JA. Sexual orientation and self-reported mood disorder diagnosis among Canadian adults. BMC Public Health. 2013;13:209.

44.

World Health Organization. Classifications of Disease. Available at: http://www.who.int/classifications/icd/en/Accessed 30 Mar 2017.
Acknowledgements
Author Contributions
Study concept and design: K.C., C.O., S. K., D. M. S., O.E., J. S.G. M. & R.S.H. Statistical Analysis: C. F-V. & S. J. Drafting of the manuscript was conducted by K. C., C. O, S.K. & D. M. S., with critical revisions from all authors. The principal investigator (R.S.H.) takes responsibility for the integrity and accuracy of the data, and has the final decision in the submission of the manuscript. In addition, we would like to thank Dr. Jeannie Shoveller, Dr. Kate Salters and other COAST team members and support staff for ongoing support and feedback during the preparation of this manuscript. The authors would like to thank the COAST study participants, the BC Centre for Excellence in HIV/AIDS, the BC Ministry of Health, and the institutional data stewards for granting access to the data, and Population Data BC for facilitating the data linkage process. The COAST study members and investigators include: Rolando Barrios, Guillaume Colley, Oghenowede Eyawo, Nada Gataric, Richard Harrigan, Robert Hogg (PI), Mark Hull, Scott Lear, Viviane Dias Lima, Julio Montaner, David Moore, Bohdan Nosyk, Jeannie Shoveller, Danielle Smith, Sam Wiseman, and David Whitehurst.
Disclaimer
All inferences, opinions, and conclusions drawn from this manuscript are those of the authors and do not reflect the opinions or policies of the Data Stewards or the funders.
Ethics declarations
Conflicts of interest
RSH has received funding from Canadian Institutes of Health, through a Foundation Award, to support this research study; RSH has held grant funding in the last 10 years from the National Institutes of Health, Canadian Institutes of Health Research, Health Canada, Merck, and the Social Sciences and Humanities Research Council of Canada. JSGM is supported with grants paid to his institution, from Abbvie, Bristol-Myers Squibb, Gilead Sciences, Janssen, Merck, and Viiv Healthcare.
Ethical Approval
Ethical approval was obtained from the University of British Columbia/Providence Health Care (#H09-02905) and Simon Fraser University (#2013s0566) research ethics boards.
About this article
Cite this article
Closson, K., Osborne, C., Smith, D.M. et al. Factors Associated with Mood Disorder Diagnosis Among a Population Based Cohort of Men and Women Living With and Without HIV in British Columbia Between 1998 and 2012. AIDS Behav 22, 1530–1540 (2018). https://doi.org/10.1007/s10461-017-1825-3
Keywords
HIV

Mood disorders

Canada

Mental health