Abstract
This study assesses whether men's ART use mitigates HIV-risk within age-disparate partnerships. Using data from the 2012 South African National HIV survey, we analyzed differences in HIV prevalence and ART use between men in age-disparate and age-similar partnerships with young women aged 15–29 using multiple logistic regression analyses. Within partnerships involving women 15–24 years old, men in age-disparate partnerships were more likely to be HIV-positive (5–9 year age-gap: aOR 2.8, 95%CI 1.4–5.2; p < 0.01; 10+ year age-gap: aOR 2.2, 95%CI 1.0–4.6; p < 0.05). Men in age-disparate partnerships who were 5–9 years older were significantly more likely to be HIV-positive and ART-naïve (aOR 2.4, 95%CI 1.2–4.8; p < 0.05), while this was not the case for men 10+ years older (aOR 1.5, 95%CI 0.7–3.6; p = 0.32). No evidence was found that 25–29 year old women were at greater HIV-risk in age-disparate partnerships. Our results indicate that young women aged 15–24 have a greater likelihood of exposure to HIV through age-disparate partnerships, but ART use among men 10+ years older could mitigate risk.
This is a preview of subscription content, log in to check access.
Access options
Buy single article
Instant access to the full article PDF.
US$ 39.95
Price includes VAT for USA
Subscribe to journal
Immediate online access to all issues from 2019. Subscription will auto renew annually.
US$ 99
This is the net price. Taxes to be calculated in checkout.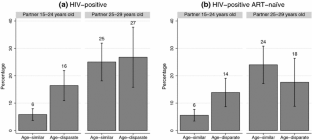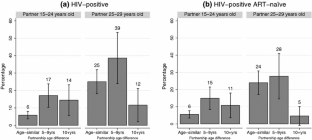 References
1.

Dellar RC, Dlamini S, Karim QA. Adolescent girls and young women: key populations for HIV epidemic control. J Int AIDS Soc. 2015;18(Suppl 1):19408.

2.

Joint United Nations Programme on HIV/AIDS (UNAIDS). Global report: UNAIDS report on the global AIDS epidemic 2013. Geneva: UNAIDS; 2013.

3.

Shisana O, Rehle T, Simbayi L, et al. South African national HIV prevalence, incidence and behaviour survey, 2012. Cape Town: HSRC Press; 2014.

4.

Pettifor AE, Rees HV, Kleinschmidt I, et al. Young people's sexual health in South Africa: HIV prevalence and sexual behaviors from a nationally representative household survey. AIDS. 2005;19(14):1525–34.

5.

Gregson S, Nyamukapa CA, Garnett GP, et al. Sexual mixing patterns and sex-differentials in teenage exposure to HIV infection in rural Zimbabwe. Lancet. 2002;359(9321):1896–903.

6.

Kelly RJ, Gray RH, Sewankambo NK, et al. Age differences in sexual partners and risk of HIV-1 infection in rural Uganda. J Acquir Immune Defic Syndr. 2003;32(4):446–51.

7.

Chapman R, White RG, Shafer LA, et al. Do behavioural differences help to explain variations in HIV prevalence in adolescents in sub-Saharan Africa? Trop Med Int Health. 2010;15(5):554–66.

8.

de Oliveira T, Kharsany AB, Gräf T, et al. Transmission networks and risk of HIV infection in KwaZulu-Natal, South Africa: a community-wide phylogenetic study. Lancet HIV. 2016;. doi:10.1016/S2352-3018(16)30186-2.

9.

Evans M, Risher K, Zungu N, et al. Age-disparate sex and HIV risk for young women from 2002 to 2012 in South Africa. J Int AIDS Soc. 2016;19(1):21310.

10.

Shisana O, Rehle T, Simbayi L, et al. South African national HIV prevalence incidence behaviour and communication survey 2008: a turning tide among teenagers?. Cape Town: HSRC Press; 2009.

11.

Leclerc-Madlala S. Age-disparate and intergenerational sex in southern Africa: the dynamics of hypervulnerability. AIDS. 2008;22(Suppl 4):S17–25.

12.

Maughan-Brown B, Kenyon C, Lurie MN. Partner age differences and concurrency in South Africa: implications for HIV-infection risk among young women. AIDS Behav. 2014;18(12):2469–76.

13.

Bankole A, Ahmed FH, Neema S, et al. Knowledge of correct condom use and consistency of use among adolescents in four countries in sub-Saharan Africa. Afr J Reprod Health. 2007;11:197–220.

14.

Longfield K, Glick A, Waithaka M, et al. Relationships between older men and younger women: implications for STIs/HIV in Kenya. Stud Fam Plann. 2004;35:125–34.

15.

Glynn JR, Caraël M, Auvert B, et al. Why do young women have a much higher prevalence of HIV than young men? A study in Kisumu, Kenya and Ndola. Zambia AIDS. 2001;15:S51–60.

16.

Harling G, Newell ML, Tanser F, et al. Do age-disparate relationships drive HIV incidence in young women? Evidence from a population cohort in rural KwaZulu-Natal, South Africa. J Acquir Immune Defic Syndr. 2014;66(4):443–51.

17.

Balkus JE, Nair G, Montgomery ET, et al. Age-disparate partnerships and risk of HIV-1 acquisition among South African women participating in the VOICE Trial. J Acquir Immune Defic Syndr. 2015;70(2):212–7.

18.

Baird SJ, Garfein RS, McIntosh CT, et al. Effect of a cash transfer programme for schooling on prevalence of HIV and herpes simplex type 2 in Malawi: a cluster randomised trial. Lancet. 2012;379:1320–9.

19.

Dupas P. Do teenagers respond to HIV risk information? Evidence from a field experiment in Kenya. Am Econ J Appl Econ. 2009;3:1–34.

20.

Luke N. Age and economic asymmetries in the sexual relationships of adolescent girls in sub-Saharan Africa. Stud Fam Plann. 2003;34:67–86.

21.

Luke N. Confronting the "sugar daddy" stereotype: age and economic asymmetries and risky sexual behavior in urban Kenya. Int Fam Plan Perspect. 2005;31:6–14.

22.

Maughan-Brown B, Evans M, George G. Sexual behaviour of men and women within age-disparate partnerships in South Africa: implications for young women's HIV risk. PLoS ONE. 2016;11(8):e0159162.

23.

Cohen MS, Chen YQ, McCauley M, et al. Prevention of HIV-1 infection with early antiretroviral therapy. N Engl J Med. 2011;365(6):493–505.

24.

Lamb MR, Fayorsey R, Nuwagaba-Biribonwoha H, et al. High attrition before and after ART initiation among youth (15–24 years of age) enrolled in HIV care. AIDS. 2014;28(4):559.

25.

Kenyon C, Dlamini S, Boulle A, et al. A network-level explanation for the differences in HIV prevalence in South Africa's racial groups. Afr J AIDS Res. 2009;8(3):243–54.

26.

UNAIDS. Terminology guidelines. Geneva: UNAIDS; 2011.

27.

Bagnol B, Chamo E. Intergenerational relationship in Mozambique: what is driving young women and older men. Sex Health Exch. 2004;3:10–1.

28.

Cameron AC, Miller DL. A practitioner's guide to Cluster-Robust inference. J Hum Resour. 2015;50(2):317–72.

29.

Maughan-Brown B, Lloyd N, Bor J, et al. Increasing access to HIV testing: Impacts on equity of coverage and uptake from a national campaign in South Africa. Working paper 145, Southern Africa Labour and Development Research Unit (SALDRU); 2015.

30.

Eisele TP, Mathews C, Chopra M, et al. Changes in risk behavior among HIV-positive patients during their first year of antiretroviral therapy in Cape Town South Africa. AIDS Behav. 2009;13(6):1097–105.

31.

Maughan-Brown B, Venkataramani A. Measuring concurrent partnerships: potential for underestimation in UNAIDS recommended method. AIDS. 2011;25:1549–51. doi:10.1097/QAD.0b013e32834905c4.

32.

Harling G, Tanser F, Mutevedzi T, et al. Assessing the validity of respondents' reports of their partners' ages in a rural South African population-based cohort. BMJ Open. 2015;5(3):e005638.

33.

Beauclair R, Delva W. Is younger really safer? A qualitative study of perceived risks and benefits of age-disparate relationships among women in Cape Town, South Africa. PLoS ONE. 2013;8(11):e81748.

34.

Brouard P, Crewe M. Sweetening the deal? Sugar daddies, sugar mummies, sugar babies and HIV in contemporary South Africa. Agenda. 2012;26(4):48–56.

35.

Leclerc-Madlala S. Transactional sex and the pursuit of modernity. Social Dynamics. 2003;29:213–33.

36.

Wamoyi J, Fenwick A, Urassa M, et al. "Women's bodies are shops": beliefs about transactional sex and implications for understanding gender power and HIV prevention in Tanzania. Arch Sex Behav. 2011;40:5–15.

37.

Zembe Y, Townsend L, Thorson A, et al. "Money talks, bullshit walks" interrogating notions of consumption and survival sex among young women engaging in transactional sex in post-apartheid South Africa: a qualitative enquiry. Global Health. 2013;9:28.

38.

Cluver L, Boyes M, Orkin M, et al. Child-focused state cash transfers and adolescent risk of HIV infection in South Africa: a propensity-score-matched case-control study. Lancet Glob Health. 2013;1(6):e362–70.

39.

Bekker LG, Gill K, Wallace M. Pre-exposure prophylaxis for South African adolescents: what evidence? S Afr Med J. 2015;105(11):907–11.

40.

Celum CL, Delany-Moretlwe S, McConnell M, et al. Rethinking HIV prevention to prepare for oral PrEP implementation for young African women. J Int AIDS Soc. 2015;18(4 Suppl 3):20227.

41.

Walensky RP, Park JE, Wood R, et al. The cost-effectiveness of pre-exposure prophylaxis for HIV infection in South African women. Clin Infect Dis. 2012;54:1504–13.

42.

Mills EJ, Beyrer C, Birungi J, et al. Engaging men in prevention and care for HIV/AIDS in Africa. PLoS Med. 2012;9(2):e1001167.

43.

Van Rooyen H, McGrath N, Chirowodza A, et al. Mobile VCT: reaching men and young people in urban and rural South African pilot studies (NIMH Project Accept, HPTN 043). AIDS Behav. 2013;17(9):2946–53.
Acknowledgements
The authors acknowledge the dedication of fieldworkers and research staff of the Human Sciences Research Council and partners, as well as through the contributions of study participants, who made the 2012 South African National HIV Survey possible. The authors thank Atheendar Venkataramani and David Maughan Brown for helpful comments and suggestions on previous versions of this manuscript.
Funding
This study is based on data collected as part of the 2012 South African National HIV Survey, supported by the President's Emergency Plan for AIDS Relief (PEPFAR) through the Centers for Disease Control and Prevention (CDC) under the terms of 5U2GGH000570. The contents of this study are solely the responsibility of the authors and do not necessarily represent the official views of CDC. Brendan Maughan-Brown acknowledges support from the National Research Foundation, South Africa, through the Research Career Advancement Fellowship.
Ethics declarations
Conflict of interest
The authors declare that they have no conflicts of interest.
Ethical Approval
Ethical approval for the study was obtained from the Ethics Committee of the Human Sciences Research Council (HSRC), South Africa and Centers for Disease Control (CDC), United States. All procedures performed in the study were in accordance with the ethical standards of the HSRC and CDC.
Informed Consent
Informed consent was obtained from all individual participants included in the study.
Electronic supplementary material
Below is the link to the electronic supplementary material.
About this article
Cite this article
Evans, M., Maughan-Brown, B., Zungu, N. et al. HIV Prevalence and ART Use Among Men in Partnerships with 15–29 Year Old Women in South Africa: HIV Risk Implications for Young Women in Age-Disparate Partnerships. AIDS Behav 21, 2533–2542 (2017). https://doi.org/10.1007/s10461-017-1741-6
Keywords
HIV

South Africa

Sexual behaviour

Age-disparate partnerships

Intergenerational partnerships