Abstract
We estimate the number of HIV cases diagnosed, costs, and cost per HIV case detected associated with integrating HIV counseling and testing (HCT) into primary health care facilities in Ukraine. The study uses a difference-in-difference design with four districts implementing the intervention compared to 20 districts where HCT were offered only at specialized HIV clinics. There was a 2.01 (95 % CI: 1.12–3.61) times increase in the number of HIV cases detected per capita in intervention districts compared to other districts. The incremental cost of the intervention was $21,017 and the incremental cost per HIV case detected was $369. The average cost per HIV case detected before the intervention was $558. Engaging primary health care facilities to provide HCT is likely desirable from an efficiency point-of-view. However, the affordability of the intervention needs to be assessed because expansion will require additional investment.
Access options
Buy single article
Instant access to the full article PDF.
USD 39.95
Price includes VAT (USA)
Tax calculation will be finalised during checkout.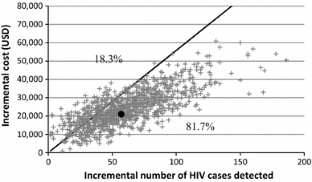 References
1.

UNAIDS. Epidemiological fact sheet on HIV and AIDS. Ukraine: UNAIDS; 2014.

2.

UNAIDS. Ukraine; 2015. http://www.unaids.org/en/regionscountries/countries/ukraine. Accessed 7 Jan 2016.

3.

Ukrainian Center for Disease Control. Operational data of the number of PLHIV registered for HIV care as of January 2015; 2015. http://ucdc.gov.ua/attachments/article/1325/%D1%81%D1%96%D1%87%D0%B5%D0%BD%D1%8C%202015.pdf. Accessed 23 Mar 2016.

4.

Denisiuk O, Smyrnov P, Kumar AM, Achanta S, Boyko K, Khogali M, et al. Sex, drugs and prisons: HIV prevention strategies for over 190 000 clients in Ukraine. Public Health Action. 2014;4(2):96–101.

5.

World Health Organization. Service delivery approaches to HIV testing and counselling (HTC): a strategic HTC policy framework. Geneva: World Health Organ; 2012.

6.

Кiriazova TK, Neduzhko OO. Kang Dufour M, Culyba RJ, Myers JJ. Evaluation of the effectiveness of HIV voluntary counseling and testing trainings for clinicians in the Odessa region of Ukraine. AIDS and Behavior. 2014;18(1 Supplement):89–95.

7.

Ukrainian Center for Disease Control. HIV infection in Ukraine: informational bulletin #41. Ukraine: Kyiv; 2014.

8.

UNAIDS. UNGASS country progress reports—2015 (Ukraine). Kiev, Ukraine: 2015.

9.

Vitek CR, Cakalo JI, Kruglov YV, Dumchev KV, Salyuk TO, Bozicevic I, et al. Slowing of the HIV epidemic in Ukraine: evidence from case reporting and key population surveys, 2005–2012. PLoS One. 2014;9(9):e103657.

10.

Cowley P, Akkazieva B. Optimization of HIV/AIDS services within the context of health care reform in Ukraine. Bethesda, MD: Health Systems 20/20 Project, 2012.

11.

Tarantino L, Chankova S, Preble E, Rosenfeld J, Routh S. Ukraine health system assessment 2011. Bethesda, MD: Health Systems 20/20 Project, 2011.

12.

World Economic Outlook Database, October 2015 [Internet]. International Monetary Fund; 2015. https://www.imf.org/external/pubs/ft/weo/2015/02/weodata/weorept.aspx?sy=2012&ey=2015&scsm=1&ssd=1&sort=country&ds=.&br=1&c=926&s=NGDPDPC%2CPPPPC%2CGGR%2CGGX_NGDP&grp=0&a=&pr.x=43&pr.y=8. Accessed 7 Jan 2016.

13.

Siapka M, Remme M, Obure CD, Maier CB, Dehne KL, Vassall A. Is there scope for cost savings and efficiency gains in HIV services? A systematic review of the evidence from low- and middle-income countries. Bull World Health Organ. 2014;92(7):499–511AD.

14.

Sweeney S, Obure CD, Maier CB, Greener R, Dehne K, Vassall A. Costs and efficiency of integrating HIV/AIDS services with other health services: a systematic review of evidence and experience. Sex Transm Infect. 2012;88(2):85–99.

15.

Drummond MF, Sculpher MJ, Torrance GW, O'Brien BJ, Stoddart GL. Methods for the economic evaluation of health care programmes. 3rd ed. Oxford: Oxford University Press; 2005.

16.

Baltussen R, Adam T, Tan-Torres Edejer T, Hutubessy R, Acharya A, Evans DB, et al. Part one: methods for generalized cost-effectiveness analysis. In: Tan-Torres Edejer T, Baltussen R, Adam T, Hutubessy R, Acharya A, Evans DB, et al., editors. WHO Guide to cost-effectiveness analysis. Geneva: World Health Organization; 2003. p. 1–122.

17.

Bratt JH, Foreit J, Chen PL, West C, Janowitz B, de Vargas T. A comparison of four approaches for measuring clinician time use. Health Policy Plan. 1999;14(4):374–81.

18.

National Bank of Ukraine. National bank of ukraine leaves the discount rate unchanged; 2016. http://www.bank.gov.ua/control/en/publish/article?art_id=28181883. Accessed 12 June 2016.

19.

Briggs A. Handling uncertainty in economic evaluation and presenting the results. In: Drummond M, McGuire A, editors. Economic evaluation in health care: merging theory with practice. Oxford: Oxford University Press; 2001. p. 172–214.

20.

Gomez-Ayerbe C, Elias MJ, Muriel A, Elias PP, Cano A, Diaz A, et al. Incremental cost per newly diagnosed HIV infection (NDHI): routine (RTS), targeted (TTS), and current clinical practice testing strategies (CPTS). J Int AIDS Soc. 2014;17(4 Suppl 3):19606.
Acknowledgments
The authors would like to thank the many partners who contributed to the successful implementation of this project: USAID mission in Ukraine, the Ministry of Health (MoH) of Ukraine; the State Service on Control over HIV/AIDS, Tuberculosis, and other Socially Dangerous Diseases; the Ukrainian Center for Disease Control, Clinton Health Access Initiative, International HIV/AIDS Alliance in Ukraine, National Academy of Post-Graduate Education named after P. L. Shupik; Institute of Epidemiology and Infectious Diseases named after V.L. Gromashevsky, and the All-Ukrainian Network of People Living with HIV. Most importantly we thank the Chernigiv Oblast Administration and Oblast AIDS Center, Trust Cabinets, and primary health care staff in pilot districts and cities of Chernigiv Oblast, in particular Dr. Mykola Deykun, Director of the Chernigiv Oblast AIDS Center, and Dr. Olga Malyuta, Head of the Outpatient Department of the Chernigiv Oblast AIDS Center, for their commitment to implementation of the new HIV testing and counseling delivery model and effective collaboration during the implementation phase. We are grateful for the useful input from participants in Abt's Journal Author Support Group, especially Minki Chatterji. This work was supported by funding from the United States Agency for International Development (USAID) through the Health Finance and Governance Project [cooperative agreement number AID-OAA-A-12-00080]. Support for this research was also provided in part by Abt Associates Inc.'s Daniel B. McGillis Professional Development and Dissemination Grant program. BJ contributed to the study design, data analysis, and wrote the final manuscript. OD contributed to the study design, oversaw data collection, led the data analysis, and drafted the preliminary manuscript. LT and PC contributed to the study design, assisted with interpretations of the findings, and critically reviewed the manuscript. The views expressed in this article are those of the authors and do not necessarily reflect the official policy or position of the US Government.
Ethics declarations
Conflicts of interest
All authors declare no conflicts of interest.
Ethics Committee Approval
The study protocol was submitted to Abt Associates, Inc. Institutional Review Board, and was determined to be exempt from review. No primary data involving human participants were collected for this study. For this type of study formal consent is not required.
Electronic supplementary material
Below is the link to the electronic supplementary material.
About this article
Cite this article
Johns, B., Doroshenko, O., Tarantino, L. et al. The Cost-Effectiveness of Integrating HIV Counseling and Testing into Primary Health Care in the Ukraine. AIDS Behav 21, 655–664 (2017). https://doi.org/10.1007/s10461-016-1554-z
Keywords
HIV counseling and testing

Ukraine

Integration

Primary health care

Cost-effectiveness