Abstract
In this paper, we exploit a lottery in Tanzania, which randomly assigned eligible participants to receive $100 cash grants. The randomized nature of the lottery allows us to estimate the causal impact of positive income shocks on risky sexual behavior. We found that winning the lottery led men to have 0.28 (95 % CI 0.14, 0.55) more sexual partners and to a 0.21 (95 % CI 0.01–0.4) increase in the probability of unprotected sex with a non-primary partner relative to a control group of eligible non-winners. We found no significant effect of winning the lottery on the sexual behavior of women.
Access options
Buy single article
Instant access to the full article PDF.
US$ 39.95
Tax calculation will be finalised during checkout.
Subscribe to journal
Immediate online access to all issues from 2019. Subscription will auto renew annually.
US$ 79
Tax calculation will be finalised during checkout.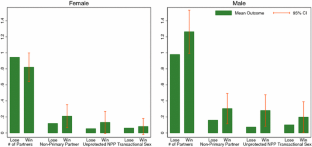 References
1.

Institute for Health Metrics and Evaluation (IHME). GBD Heatmap. Seattle, WA: IHME, University of Washington, 2013. http://vizhub.healthdata.org/irank/heat.php. Accessed 8 March 2015.

2.

Chen L, Jha P, Stirling B, et al. Sexual risk factors for HIV infection in early and advanced HIV epidemics in Sub-Saharan Africa: systematic overview of 68 epidemiological studies. PLoS One. 2007;2(10):e1001.

3.

Burke M, Gong E, Jones K. Income shocks and HIV in Africa. Econ J. 2014;125:1157–89.

4.

Baird SJ, Garfein RS, McIntosh CT, Özler B. Effect of a cash transfer programme for schooling on prevalence of HIV and herpes simplex type 2 in Malawi: a cluster randomised trial. Lancet. 2012;379(9823):1320–9.

5.

Kohler H-P, Thornton RL. Conditional cash transfers and HIV/AIDS prevention: unconditionally promising? World Bank Econ Rev. 2011;26:165–90.

6.

de Walque D, Dow WH, Gong E. Coping with risk: the effects of shocks on reproductive health and transactional sex in rural Tanzania. Unpublished 2013.

7.

DHS implementing partners and ICF International. Demographic and Health Surveys 2003–2011 [Dataset, modify years as appropriate]. Data extract from DHS Recode files. IPUMS-Demographic and Health Surveys (IPUMS-DHS), version 3.0, Minnesota Population Center and ICF International [Distributors].

8.

Glynn JR, Caraël M, Auvert B, et al. Why do young women have a much higher prevalence of HIV than young men? A study in Kisumu, Kenya and Ndola. Zamb Aids. 2001;15:S51–60.

9.

Gertler P, Shah M, Bertozzi SM. Risky business: the market for unprotected commercial sex. J Polit Econ. 2005;113(3):518–50.

10.

Garcia M, Moore CG, Moore CM. The cash dividend: the rise of cash transfer programs in sub-Saharan Africa. Washington: World Bank Publications; 2012.

11.

Björkman-Nyqvist M, de Walque D, Corno L, Svensson J. Using lotteries to incentivize safer sexual behavior: evidence from a randomized controlled trial on HIV prevention. Washington: World Bank Policy Research Working Paper; 2015.

12.

Gong E. HIV testing and risky sexual behaviour. Econ J. 2014;125:32–60.
Acknowledgments
The findings, interpretations, and conclusions expressed in this paper are entirely those of the authors. They do not necessarily represent the views of the International Bank for Reconstruction and Development/World Bank and its affiliated organizations, or those of the Executive Directors of the World Bank or the governments they represent.
Funding
We gratefully acknowledge funding by the World Bank Research Committee, the Strategic Impact Evaluation Fund (SIEF), the Bank-Netherlands Partnership Program (BNPP), Trust Fund for Environmentally & Socially Sustainable Development (TFESSD) and Knowledge for Change Program (KCP) managed by the World Bank, and the William and Flora Hewlett Foundation through the Population Reference Bureau and the National Institute on Aging (Grant #T32-AG000246).
Ethics declarations
Conflict of Interest
All authors have no conflicts of interest to declare.
Ethical Approval
The study protocol was initially approved by the University of California, Berkeley's Institutional Review Board and Tanzania's National Institute for Medical Research. All procedures performed in studies involving human participants were in accordance with the ethical standards of the institutional and/or national research committee and with the 1964 Helsinki declaration and its later amendments or comparable ethical standards.
Informed Consent
Informed consent was obtained from all individual participants included in the study.
Electronic supplementary material
Below is the link to the electronic supplementary material.
About this article
Cite this article
Wagner, Z., Gong, E., de Walque, D. et al. The Impact of Positive Income Shocks on Risky Sexual Behavior: Experimental Evidence from Tanzania. AIDS Behav 21, 650–654 (2017). https://doi.org/10.1007/s10461-016-1524-5
Keywords
HIV/AIDS

Lottery

Risky sexual behavior

Tanzania

Income shocks