Abstract
Men in sub-Saharan Africa have low HIV testing rates. Social networks exert an important influence on men's HIV-related behavior. We examined associations between network factors and HIV testing among men in Dar es Salaam, Tanzania. Data are from the baseline assessment of an HIV prevention trial with 48 primarily male networks. Among 923 sexually active men, 52 % had ever tested for HIV. In a random effects logistic regression model, men in the network core were 1.50 times more likely (p < .05) to test than those in the periphery. Percentage of women in the network was associated with men's increased HIV testing (AOR 4.24, p < .05). Perception of network HIV stigma was negatively associated with HIV testing (AOR 0.92, p < .01). Thinking at least one close friend tested for HIV was associated with increased testing (AOR 2.66, p < .001). Social network interventions are a promising approach for scaling up men's HIV testing.
Resumen
Las tasas de realización de pruebas de VIH son bajas entre los hombres en África sub-Sahariana. Las redes sociales ejercen una influencia importante sobre las conductas relacionadas con el VIH entre los hombres. Examinamos las asociaciones entre los factores de redes asociados y la realización de pruebas de VIH entre hombres en Dar es Salaam, Tanzania. La información proviene de una encuesta de línea basal de un ensayo de prevención del VIH con 48 redes, mayoritariamente masculinas. De los 923 hombres sexualmente activos que participaron, el 52 % habían realizado la prueba alguna vez. En un modelo de efectos aleatorios de regresión logística, los hombres dentro del núcleo de la red fueron 1.50 veces más probables (p < .05) de realizarse la prueba que aquellos en la periferia. El porcentaje de mujeres en la red estuvo asociado con una tasa mayor de realización de pruebas de VIH entre hombres (AOR 4.24, p < .05). La percepción del estigma por VIH en la red estaba negativamente relacionado con la realización de pruebas de VIH (AOR 0.92, p < .01). El pensar que al menos un amigo cercano obtuvo un resultado positivo en la prueba de VIH estaba asociado con un aumento en la cantidad de pruebas realizadas (AOR 2.66, p < .001). Las intervenciones con redes sociales tienen potencial para aumentar el uso de las pruebas de VIH entre hombres.
This is a preview of subscription content, log in to check access.
Access options
Buy single article
Instant access to the full article PDF.
US$ 39.95
Tax calculation will be finalised during checkout.
Subscribe to journal
Immediate online access to all issues from 2019. Subscription will auto renew annually.
US$ 99
Tax calculation will be finalised during checkout.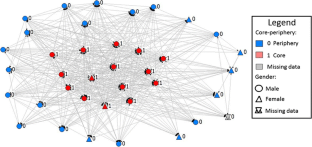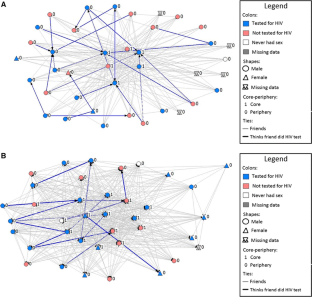 References
1.

UNAIDS. 90-90-90 An ambitious treatment target to help end the AIDS epidemic. Geneva; 2014. http://www.unaids.org/en/resources/documents/2014/90-90-90.

2.

World Health Organization. Consolidated guidelines on HIV testing services. 5Cs: Consent, confidentiality, counselling, correct results and connection. Geneva; 2015. http://www.who.int/hiv/pub/guidelines/hiv-testing-services/en/.

3.

Mills EJ, Beyrer C, Birungi J, Dybul MR. Engaging men in prevention and care for HIV/AIDS in Africa. PLoS Med. 2012;9(2):e1001167.

4.

Conserve D, Sevilla L, Mbwambo J, King G. Determinants of previous HIV testing and knowledge of partner's HIV status among men attending a voluntary counseling and testing clinic in Dar es Salaam, Tanzania. Am J Mens Health. 2013;7(6):450–60.

5.

Johannessen A. Are men the losers of the antiretroviral treatment scale-up? AIDS. 2011;25(9):1225–6.

6.

Mills EJ, Bakanda C, Birungi J, Chan K, Hogg RS, Ford N, et al. Male gender predicts mortality in a large cohort of patients receiving antiretroviral therapy in Uganda. J Int AIDS Soc. 2011;14(1):52.

7.

Hensen B, Taoka S, Lewis JJ, Weiss H, Hargreaves J. Systematic review of strategies to increase men's HIV-testing in sub-Saharan Africa. AIDS. 2014;28(14):2133–45.

8.

Shand T. Thomson-de Boor H, van den Berg W, Peacock D, Pascoe L. The HIV blind spot: men and HIV testing, treatment and care in sub-Saharan Africa. IDS Bull. 2014;1(1):53–60.

9.

Siu GE, Wight D, Seeley JA. Masculinity, social context and HIV testing: an ethnographic study of men in Busia district, rural eastern Uganda. BMC Public Health. 2014;14(1):33.

10.

Skovdal M, Campbell C, Madanhire C, Mupambireyi Z, Nyamukapa C, Gregson S. Masculinity as a barrier to men's use of HIV services in Zimbabwe. Glob Health. 2011;7(1):13.

11.

Izugbara CO, Undie C-C, Mudege NN, Ezeh AC. Male youth and voluntary counseling and HIV testing: the case of Malawi and Uganda. Sex Educ. 2009;9(3):243–59.

12.

Denison J, McCauley P, Dunnett-Dagg W, Lungu N, Sweat MD. The HIV testing experiences of adolescents in Ndola, Zambia: do families and friends matter? AIDS Care. 2008;20(1):101–5.

13.

Tanzania Commission for AIDS (TACAIDS), Zanzibar AIDS Commission (ZAC), National Bureau of Statistics (NBS), Office of the Chief Government Statistician (OCGS), ICF International (ICF). Tanzania HIV/AIDS and Malaria Indicator Survey 2011–12. Dar es Salaam, Tanzania; 2013.

14.

Agadjanian V. Men's talk about "women's matters": gender, communication, and contraception in urban Mozambique. Gend Soc. 2002;16(2):194–215.

15.

Barrington C, Latkin C, Sweat MD, Moreno L, Ellen J, Kerrigan D. Talking the talk, walking the walk: social network norms, communication patterns, and condom use among the male partners of female sex workers in La Romana, Dominican Republic. Soc Sci Med. 2009;68(11):2037–44.

16.

Blum RW. Youth in sub-Saharan Africa. J Adolesc Health. 2007;41(3):230–8.

17.

Rai A, Stanton B, Wu Y, Li X, Galbraith J, Cottrell L, et al. Relative influences of perceived parental monitoring and perceived peer involvement on adolescent risk behaviors: an analysis of six cross-sectional data sets. J Adolesc Health. 2003;33(2):108–18.

18.

Romer D, Black M, Ricardo I, Feigelman S, Kaljee L, Galbraith J, et al. Social influences on the sexual behavior of youth at risk for HIV exposure. Am J Public Health. 1994;84(6):977–85.

19.

Maxwell KA. Friends: the role of peer influence across adolescent risk behaviors. J Youth Adolesc. 2002;31(4):267–77.

20.

Ali MM, Dwyer DS. Estimating peer effects in sexual behavior among adolescents. J Adolesc. 2011;34(1):183–90.

21.

Dilger H. No sexuality, AIDS, and the lures of modernity: reflexivity and morality among young people in rural Tanzania. Med Anthropol Q. 2003;22(1):23–52.

22.

Setel P. AIDS as a paradox of manhood and development in Kilimanjaro, Tanzania. Soc Sci Med. 1996;43(8):1169–78.

23.

Yamanis TJ, Maman S, Mbwambo JK, Earp JAE, Kajula LJ. Social venues that protect against and promote HIV risk for young men in Dar es Salaam, Tanzania. Soc Sci Med. 2010;71(9):1601–9.

24.

Yamanis TJ, Fisher JC, Moody JW, Kajula LJ. Young men's social network characteristics and associations with sexual partnership concurrency in Tanzania. AIDS Behav. 2016;20(6):1244–55.

25.

Valente TW. Social networks and health: models, methods, and applications. Oxford: Oxford University Press; 2010.

26.

Latkin C, Forman V, Knowlton A, Sherman S. Norms, social networks, and HIV-related risk behaviors among urban disadvantaged drug users. Soc Sci Med. 2003;56(3):465–76.

27.

Huang ZJ, He N, Nehl EJ, Zheng T, Smith BD, Zhang J, et al. Social network and other correlates of HIV testing: findings from male sex workers and other MSM in Shanghai, China. AIDS Behav. 2012;16(4):858–71.

28.

Schneider J, Kumar R, Dandona R, Kumar P, Kumar A, Lakshmi V, et al. Social network and risk-taking behavior most associated with rapid HIV testing, circumcision, and preexposure prophylaxis acceptability among high-risk Indian men. AIDS Patient Care STDs. 2012;26(10):631–40.

29.

Perkins JM, Subramanian SV, Christakis N. Social networks and health: a systematic review of sociocentric network studies in low- and middle-income countries. Soc Sci Med. 2015;125:60–78.

30.

Wasserman S, Faust K. Social network analysis: methods and applications. New York: Cambridge University Press; 1994.

31.

Friedkin NE. A structural theory of social influence. Cambridge: Cambridge University Press; 2006.

32.

White HC, Boorman SA, Breiger RL. Social structure from multiple networks I: blockmodels of roles and positions. Am J Sociol. 1976;81:730–81.

33.

Borgatti SP, Everett MG. Models of core/periphery structures. Soc Netw. 1999;21:375–95.

34.

Kalichman SC, Simbayi LC. HIV testing attitudes, AIDS stigma, and voluntary HIV counselling and testing in a black township in Cape Town, South Africa. Sex Transm Infect. 2003;79:442–8.

35.

Babalola S. Readiness for HIV testing among young people in northern Nigeria: the roles of social norm and perceived stigma. AIDS Behav. 2007;11(5):759–69.

36.

Young SD, Hlavka Z, Modiba P, Gray G, Van Rooyen H, Richter L, et al. HIV-related stigma, social norms, and HIV testing in Soweto and Vulindlela, South Africa: National Institutes of Mental Health Project Accept (HPTN 043). J Acquir Immune Defic Syndr. 2010;55(5):620–4.

37.

Pyne JM, Kuc EJ, Schroeder PJ, Fortney JC, Edlund M, Sullivan G. Relationship between perceived stigma and depression severity. J Nerv Ment Dis. 2004;192(4):278–83.

38.

Cialdini R, Reno R, Kallgren C. A focus theory of normative conduct: recycling the concept of norms to reduce littering in public places. J Pers Soc Psychol. 1990;58:1015–26.

39.

Kajula L, Balvanz P, Kilonzo MN, Mwikoko G, Yamanis T, Mulawa M, et al. Vijana Vijiweni II : a cluster-randomized trial to evaluate the efficacy of a microfinance and peer health leadership intervention for HIV and intimate partner violence prevention among social networks of young men in Dar es Salaam. BMC Public Health. 2016;16(113):1–12.

40.

Tanzania National Bureau of Statistics (NBS). The United Republic of Tanzania 2012 Population and Housing Census: Population Distribution by Administrative Areas. Dar es Salaam; 2013.

41.

Weir SS, Morroni C, Coetzee N, Spencer J, Boerma JT. A pilot study of a rapid assessment method to identify places for AIDS prevention in Cape Town, South Africa. Sex Transm Infect. 2002;78(Suppl 1):i106–13.

42.

Burt RS. A note on missing network data in the general social survey. Soc Netw. 1987;9:63–73.

43.

Kossinets G. Effects of missing data in social networks. Soc Netw. 2006;28:247–68.

44.

Borgatti SP, Molina JL. Ethical and strategic issues in organizational social network analysis. J Appl Behav Sci. 2003;39:337–49.

45.

Znidarsic A, Doreian P, Ferligoj A. Non-response in social networks: the impact of different non-response treatments on the stability of blockmodels. Soc Netw. 2012;34(4):438–50.

46.

Filmer D, Pritchett L. Estimating wealth effects withoutexpenditure data—or tears: an application to educational enrollments in states of India. Demography. 2001;38(1):115–32.

47.

Borgatti SP, Everett MG, Freeman L. Ucinet for Windows: Software for Social Network Analysis. 2002.

48.

Singer S, Steward W, Ekstrand M, Milagro-Fotre S, Walusimbi M, Havlir D, et al. Differences and similarities between perceived community HIV stigma and TB stigma among TB evaluation patients offered same-day HIV counseling and testing. In: International AIDS Conference 2008 (AIDS 2008), Mexico City; 2008. http://caps.ucsf.edu/uploads/pubs/presentations/pdf/charlebois_VCT_ias08.pdf.

49.

Ridout MS, Demétrio CGB, Firth D. Estimating intraclass correlation for binary data. Biometrics. 1999;55(1):137–48.

50.

Raudenbush SW, Bryk AS. Hierarchical Linear Models: Applications and Data Analysis Methods. Thousand Oaks: SAGE Publications; 2002.

51.

Valente TW. Network interventions. Science. 2012;337(6090):49–53.

52.

Pettifor A, MacPhail C, Suchindran S, Delany-Moretlwe S. Factors associated with HIV testing among public sector clinic attendees in Johannesburg, South Africa. AIDS Behav. 2010;14(4):913–21.

53.

United Republic of Tanzania. Third National Multi-sectoral Strategic Framework for HIV and AIDS (2013/14- 2017/18). Dar es Salaam; 2013. http://www.tacaids.go.tz/index.php?option=com_content&view=article&id=44:nmsf&catid=25:strategic-documents&Itemid=140.

54.

Latkin C, Knowlton A. Micro-social structural approaches to HIV prevention: a social ecological perspective. AIDS Care. 2005;17(Suppl 1):S102–13.

55.

Jürgensen M, Sandøy IF, Michelo C, Fylkesnes K. Effects of home-based Voluntary Counselling and Testing on HIV-related stigma: findings from a cluster-randomized trial in Zambia. Soc Sci Med. 2013;81:18–25.

56.

Prentice D, Miller D. Pluralistic ignorance and the perpetuation of social norms by unwitting actors. In: Mark P, editor. Advances in experimental social psychology. 28th ed. Cambridge: Academic Press; 1996. p. 161–209.

57.

Mulawa M, Yamanis TJ, Balvanz P, Kajula LJ, Maman S. Comparing perceptions with actual reports of close friend's HIV testing behavior among urban Tanzanian men. AIDS Behav. 2016. doi:10.1007/s10461-016-1335-8.

58.

Tobin KE, Yang C, Sun C, Spikes P, Latkin CA. Discrepancies between HIV prevention communication attitudes and actual conversations about HIV testing within social and sexual networks of African American men who have sex with men. Sex Transm Dis. 2014;41(4):221–6.

59.

Webel AR, Okonsky J, Trompeta J, Holzemer WL. A systematic review of the effectiveness of peer-based interventions on health-related behaviors in adults. Am J Public Health. 2010;100(2):247–53.

60.

Basu I, Jana S, Rotheram-Borus MJ, Swendeman D, Lee S-J, Newman P, et al. HIV prevention among sex workers in India. J Acquir Immune Defic Syndr. 2004;36:845–52.

61.

Kelly JA, Amirkhanian YA, Kabakchieva E, Vassileva S, Mcauliffe TL, Difranceisco WJ, et al. Prevention of HIV and sexually transmitted diseases in high risk social networks of young Roma (Gypsy) men in Bulgaria: a randomised controlled trial. Br Med J. 2006;333(7578):1098–101.

62.

Agha S, Van Rossem R. Impact of a school-based peer sexual health intervention on normative beliefs, risk perceptions, and sexual behavior of Zambian adolescents. J Adolesc Health. 2004;34(5):441–52.

63.

Valente TW, Pumpuang P. Identifying opinion leaders to promote behavior change. Health Educ Behav. 2007;34(6):881–96.

64.

Heckathorn DD, Broadhead RS, Anthony DL, Weakliem DL. AIDS and social networks: HIV prevention through network mobilization. Sociol Focus. 1999;32(2):159–79.

65.

Latkin C, Davey-Rothwell M, Knowlton AR, Alexander K, Williams CT, Boodram B. Social network approaches to recruitment, HIV prevention, medical care, and medication adherence. J Acquir Immune Defic Syndr. 2013;1(63 Suppl 1):S54–8.
Acknowledgments
We wish to acknowledge the work and dedication of our research team in Chapel Hill and Dar es Salaam including Peter Balvanz, Lauren Hill, Mrema Noel Kilonzo, Deus Kajuna, Brenda Mkony, Joyce Kondela and Gema Lambert. We would like to thank the participants of our study for their time and cooperation.
Funding
Research reported in this publication was supported by the National Institute of Mental Health of the National Institutes of Health under Award Numbers R01MH098690 (awarded to S. Maman) and F31MH103062 (awarded to M. Mulawa), and T32AI007001, a training grant from the National Institute of Allergy and Infectious Diseases (awarded to D. Conserve). The content is solely the responsibility of the authors and does not necessarily represent the official views of the National Institutes of Health.
Ethics declarations
Conflict of Interest
The authors declare that they have no conflict of interest.
Ethical Approval
All procedures performed in studies involving human participants were in accordance with the ethical standards of the institutional and/or national research committee and with the 1964 Helsinki declaration and its later amendments or comparable ethical standards.
Informed Consent
Informed consent was obtained from all individual participants included in the study.
About this article
Cite this article
Yamanis, T.J., Dervisevic, E., Mulawa, M. et al. Social Network Influence on HIV Testing Among Urban Men in Tanzania. AIDS Behav 21, 1171–1182 (2017). https://doi.org/10.1007/s10461-016-1513-8
Keywords
Social networks

Men

Sub-Saharan Africa

HIV testing