Abstract
Few researchers have attempted to examine the mechanisms through which HIV-related stigma in the community is processed and experienced at an individual level by people living with HIV. We examined how the effects of perceived HIV stigma in the community on health outcomes for people living with HIV are mediated by internalized stigma and anticipated stigma. Participants (N = 203) from an HIV clinic completed self-report measures and their clinical data were obtained from medical records. Results suggested that the association between perceived community stigma and affective, cognitive, and mental health outcomes (self-esteem, depressive symptoms, avoidance coping, self-blame) are mediated by internalized stigma. Furthermore, a serial mediation model suggested that perceived community stigma leads to internalized stigma, which leads to anticipated community stigma, which in turn leads to lower medication adherence. The associations between perceived community stigma and interpersonal outcomes (social support, trust in physicians) were mediated by internalized stigma and anticipated stigma, again in a serial fashion (perceived community stigma leads to internalized stigma, which leads to anticipated stigma, which in turn leads to interpersonal outcomes). These results suggest that perceived HIV-related stigma in the community may cause people living with HIV to internalize stigma and anticipate stigmatizing experiences, resulting in adverse health and psychosocial outcomes—information that can be used to shape interventions.
Access options
Buy single article
Instant access to the full article PDF.
US$ 39.95
Tax calculation will be finalised during checkout.
Subscribe to journal
Immediate online access to all issues from 2019. Subscription will auto renew annually.
US$ 79
Tax calculation will be finalised during checkout.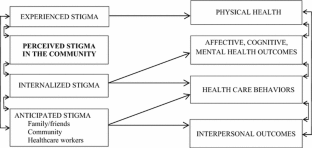 References
1.

Goffman E. Stigma; notes on the management of spoiled identity. Englewood Cliffs: Prentice-Hall; 1963.

2.

Vanable PA, Carey MP, Blair DC, Littlewood RA. Impact of HIV-related stigma on health behaviors and psychological adjustment among HIV-positive men and women. AIDS Behav. 2006;5(10):473–82.

3.

Katz IT, Ryu AE, Onuegbu AG, et al. Impact of HIV-related stigma on treatment adherence: systematic review and meta-synthesis. J Int AIDS Soc. 2013;16(3 Suppl 2):18640.

4.

Sweeney S, Vanable P. The association of HIV-related stigma to HIV medication adherence: a systematic review and synthesis of the literature. AIDS Behav. 2016;20:29–50.

5.

Turan B, Smith W, Cohen MH, Wilson TE, Adimora AA, Merenstein D, Adedimeji A, Wentz EL, Foster AG, Metsch L, Tien PC, Weiser SD, Turan JM. Mechanisms for the negative effects of internalized HIV-related stigma on ART adherence in women: the roles of social isolation and depression. JAIDS. 2016;72(2):198–205.

6.

Turan B, Fazeli P, Raper JL, Mugavero MJ, Johnson MO. Social support and moment-to-moment changes in treatment self-efficacy in men living with HIV: psychosocial moderators and clinical outcomes. Health Psychol. doi:10.1037/hea0000356.

7.

Turan B, Stringer KL, Onono M, et al. Linkage to HIV care, postpartum depression, and HIV-related stigma in newly diagnosed pregnant women living with HIV in Kenya: a longitudinal observational study. BMC Pregnancy Childbirth. 2014;14(1):400.

8.

Turan J, Nyblade L. HIV-related stigma as a barrier to achievement of global PMTCT and maternal health goals: a review of the evidence. AIDS Behav. 2013;17(7):2528–39.

9.

Helms CB, Turan JM, Atkins G, et al. Interpersonal mechanisms contributing to the association between HIV-related internalized stigma and medication adherence. AIDS Behav. 2016;. doi:10.1007/s10461-016-1320-2.

10.

Kalichman SC. The Harms of Internalized AIDS Stigma: a Comment on Tsai et al. Ann Behav Med. 2013;46(3):256–7.

11.

Berger BE, Ferrans CE, Lashley FR. Measuring stigma in people with HIV: psychometric assessment of the HIV stigma scale. Res Nurs Health. 2001;24(6):518–29.

12.

Link BG, Phelan JC. Stigma and its public health implications. Lancet. 2006;367(9509):528–9.

13.

Earnshaw VA, Chaudoir SR. From conceptualizing to measuring HIV stigma: a review of HIV stigma mechanism measures. AIDS Behav. 2009;13(6):1160–77.

14.

Earnshaw VA, Smith LR, Chaudoir SR, Amico KR, Copenhaver MM. HIV stigma mechanisms and well-being among PLWH: a test of the HIV stigma framework. AIDS Behav. 2013;17(5):1785–95.

15.

Person B, Bartholomew LK, Gyapong M, Addiss DG, van den Borne B. Health-related stigma among women with lymphatic filariasis from the Dominican Republic and Ghana. Soc Sci Med. 2009;68(1):30–8.

16.

Kilinc S, Campbell C. "It shouldn't be something that's evil, it should be talked about": a phenomenological approach to epilepsy and stigma. Seizure. 2009;18(10):665–71.

17.

Mak WW, Cheung RY, Law RW, Woo J, Li PC, Chung RW. Examining attribution model of self-stigma on social support and psychological well-being among people with HIV+/AIDS. Soc Sci Med. 2007;64(8):1549–59.

18.

Cox WT, Abramson LY, Devine PG, Hollon SD. Stereotypes, prejudice, and depression the integrated perspective. Perspect Psychol Sci. 2012;7(5):427–49.

19.

Beck AT, Alford BA. Depression: causes and treatment. Philadelphia: University of Pennsylvania Press; 2009.

20.

Rieger S, Gollner R, Trautwein U, Roberts BW. Low self-esteem prospectively predicts depression in the transition to young adulthood: a replication of Orth, Robins, and Roberts (2008). J Pers Soc Psychol. 2015;110(1):e16.

21.

Tsai AC, Bangsberg DR, Frongillo EA, et al. Food insecurity, depression and the modifying role of social support among people living with HIV/AIDS in rural Uganda. Soc Sci Med. 2012;74(12):2012–9.

22.

Major B, Quinton WJ, McCoy SK. Antecedents and consequences of attributions to discrimination: theoretical and empirical advances. Adv Exp Soc Psychol. 2002;34:251–330.

23.

Wrubel J, Stumbo S, Johnson MO. Antiretroviral medication support practices among partners of men who have sex with men: a qualitative study. AIDS Patient Care STDS. 2008;22(11):851–8.

24.

Schmitz MF, Crystal S. Social relations, coping, and psychological distress among persons with HIV/AIDS. J Appl Soc Psychol. 2000;30(4):665–85.

25.

Earnshaw VA, Quinn DM. The impact of stigma in healthcare on people living with chronic illnesses. J Health Psychol. 2012;17(2):157–68.

26.

Hayes AF. Introduction to mediation, moderation, and conditional process analysis: a regression-based approach. New York: Guilford Press; 2013.

27.

Holmes JG. Interpersonal expectations as the building blocks of social cognition: an interdependence theory perspective. Pers Relatsh. 2002;9(1):1–26.

28.

Bunn JY, Solomon SE, Miller C, Forehand R. Measurement of stigma in people with HIV: a reexamination of the HIV Stigma Scale. AIDS Educ Prev. 2007;19(3):198–208.

29.

Rosenberg M. Society and the adolescent self-image. Princeton: Princeton University Press; 1965.

30.

Kroenke K, Spitzer RL, Williams JB. The PHQ-9: validity of a brief depression severity measure. J Gen Intern Med. 2001;16(9):606–13.

31.

Folkman S, Lazarus RS. If it changes it must be a process: study of emotion and coping during three stages of a college examination. J Pers Soc Psychol. 1985;48(1):150.

32.

Lu M, Safren SA, Skolnik PR, et al. Optimal recall period and response task for self-reported HIV medication adherence. AIDS Behav. 2008;12(1):86–94.

33.

Feldman B, Fredericksen R, Crane P, et al. Evaluation of the single-item self-rating adherence scale for use in routine clinical care of people living with HIV. AIDS Behav. 2013;17(1):307–18.

34.

Thompson MA, Mugavero MJ, Amico KR, et al. Guidelines for improving entry into and retention in care and antiretroviral adherence for persons with HIV: evidence-based recommendations from an International Association of Physicians in AIDS Care panel. Ann Intern Med. 2012;156(11):817–33.

35.

Payne TJ, Andrew M, Butler KR, Wyatt SB, Dubbert PM, Mosley TH. Psychometric evaluation of the interpersonal support evaluation list–short form in the ARIC study cohort. SAGE Open. 2012;2(3):2158244012461923.

36.

Hall MA, Zheng B, Dugan E, et al. Measuring patients' trust in their primary care providers. Med Care Res Rev. 2002;59(3):293–318.

37.

Rao D, Feldman BJ, Fredericksen RJ, et al. A structural equation model of HIV-related stigma, depressive symptoms, and medication adherence. AIDS Behav. 2012;16(3):711–6.

38.

Mitzel LD, Vanable PA, Brown JL, Bostwick RA, Sweeney SM, Carey MP. Depressive symptoms mediate the effect of HIV-related stigmatization on medication adherence among HIV-infected men who have sex with men. AIDS Behav. 2015;19(8):1454–9.
Acknowledgments
We would like to thank Maria Lechtreck, C. Blake Helms, Christy Thai, and all the research assistants for their help in data collection.
Funding
This research was supported by the University of Alabama at Birmingham (UAB) Center for AIDS Research CFAR, an NIH funded program (P30 AI027767) that was made possible by the following institutes: NIAID, NCI, NICHD, NHLBI, NIDA, NIA, NIDDK, NIGMS, and OAR. Dr. Fazeli is supported by 1K99 AG048762-01 from NIA (P. Fazeli, PI). The content is solely the responsibility of the authors and does not necessarily represent the official views of the National Institutes of Health.
Ethics declarations
Conflict of Interest
Bulent Turan, Henna Budhwani, Pariya L. Fazeli, Wesley R. Browning, James L. Raper, Michael J. Mugavero, and Janet M. Turan, declares that they has no conflict of interest.
Ethical Approval
All procedures performed in studies involving human participants were in accordance with the ethical standards of the institutional and/or national research committee and with the 1964 Helsinki declaration and its later amendments or comparable ethical standards.
Informed Consent
Informed consent was obtained from all individual participants included in the study.
Additional information
Henna Budhwani and Bulent Turan have contributed equally to this manuscript.
About this article
Cite this article
Turan, B., Budhwani, H., Fazeli, P.L. et al. How Does Stigma Affect People Living with HIV? The Mediating Roles of Internalized and Anticipated HIV Stigma in the Effects of Perceived Community Stigma on Health and Psychosocial Outcomes. AIDS Behav 21, 283–291 (2017). https://doi.org/10.1007/s10461-016-1451-5
Keywords
HIV

Stigma

Internalized stigma

Perceived community stigma

Anticipated stigma

Mechanisms

Mediation