Abstract
We conducted a group randomized trial to assess the feasibility and effectiveness of a multi-component, clinic-based HIV prevention intervention for HIV-positive patients attending clinical care in Namibia, Kenya, and Tanzania. Eighteen HIV care and treatment clinics (six per country) were randomly assigned to intervention or control arms. Approximately 200 sexually active clients from each clinic were enrolled and interviewed at baseline and 6- and 12-months post-intervention. Mixed model logistic regression with random effects for clinic and participant was used to assess the effectiveness of the intervention. Of 3522 HIV-positive patients enrolled, 3034 (86 %) completed a 12-month follow-up interview. Intervention participants were significantly more likely to report receiving provider-delivered messages on disclosure, partner testing, family planning, alcohol reduction, and consistent condom use compared to participants in comparison clinics. Participants in intervention clinics were less likely to report unprotected sex in the past 2 weeks (OR = 0.56, 95 % CI 0.32, 0.99) compared to participants in comparison clinics. In Tanzania, a higher percentage of participants in intervention clinics (17 %) reported using a highly effective method of contraception compared to participants in comparison clinics (10 %, OR = 2.25, 95 % CI 1.24, 4.10). This effect was not observed in Kenya or Namibia. HIV prevention services are feasible to implement as part of routine care and are associated with a self-reported decrease in unprotected sex. Further operational research is needed to identify strategies to address common operational challenges including staff turnover and large patient volumes.
This is a preview of subscription content, log in to check access.
Access options
Buy single article
Instant access to the full article PDF.
US$ 39.95
Price includes VAT for USA
Subscribe to journal
Immediate online access to all issues from 2019. Subscription will auto renew annually.
US$ 99
This is the net price. Taxes to be calculated in checkout.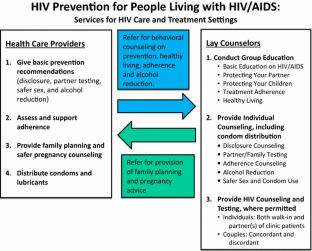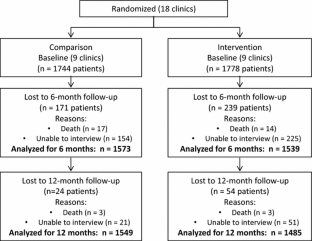 References
1.

UNAIDS. The gap report. Geneva: Joint United Nations Programme on HIV/AIDS, 2014; 123.

2.

UNAIDS. 90-90-90: an ambitious treatment target to help end the AIDS epidemic. Geneva: Joint United Nations Programme on HIV/AIDS, 2014. Available at: http://www.unaids.org/sites/default/files/media_asset/90-90-90_en_0.pdf. Accessed October 26, 2015.

3.

UNAIDS. Fast-tracking combination prevention. Towards reducing new HIV infections to fewer than 500,000 by 2020. Geneva: Joint United Nations Programme on HIV/AIDS. 2015.

4.

UNAIDS and GNP + . Positive health, dignity, and prevention: operational guidelines. Geneva and Amsterdam: Joint United Nations Programme on HIV/AIDS and Global Network of People Living with HIV, 2013. Available at: http://www.gnpplus.net/assets/positive_health_dignity_and_prevention_operational_guidelines_-_unaids_gnp_2013.pdf. Accessed November 10, 2015.

5.

Medley A, Bachanas P, Grillo M, Hasen N, Amanyeiwe U. Integrating prevention interventions for people living with HIV into care and treatment programs: a systematic review of the evidence. JAIDS. 2015;68(suppl 3):S286–96.

6.

Crepaz N, Lyles CM, Wolitski RJ, et al. Do prevention interventions reduce HIV risk behaviours among people living with HIV? A meta-analytic review of controlled trials. AIDS. 2006;20:143–57.

7.

Kennedy CE, Medley AM, Sweat MD, O'Reilly KR. Behavioural interventions for HIV positive prevention in developing countries: a systematic review and meta-analysis. Bull World Health Organ. 2010;88:615–23.

8.

Saleh-Onoya D, Reddy P, Ruiter R, Sifunda S, Wingood G, van den Borne B. Condom use promotion among isiXhosa speaking women living with HIV in the Western Cape Province, South Africa: a pilot study. AIDS Care. 2009;21(7):817–25.

9.

Wingood GM, DiClemente RJ, Mikhail I, et al. A randomized controlled trial to reduce HIV transmission risk behaviors and sexually transmitted diseases among women living with HIV: the WiLLOW program. JAIDS. 2004;37:S58–67.

10.

Grossman D, Onono M, Newmann SJ, et al. Integration of family planning services into HIV care and treatment in Kenya: a cluster-randomized trial. AIDS. 2013;27(suppl 1):S77–85.

11.

Kirigia JM, Barry SP. Health challenges in Africa and the way forward. Int Arch Med. 2008;1:27.

12.

World Health Organization (WHO). Hormonal contraception and HIV: technical statement. Available at: http://www.who.int/reproductivehealth/publications/family_planning/rhr_12_8/en/index.html. Accessed on March 20, 2013.

13.

Murray DM. Design and analysis of group-randomized trials. New York: Oxford University Press; 1998.

14.

Kidder D, Bachanas P, Medley A, et al. HIV prevention in care and treatment settings: baseline risk behaviors among HIV patients in Kenya, Namibia, and Tanzania. PLoS ONE. 2013;8(2):e57215.

15.

Babor T, Higgins-Biddle JC, Saunders JB, et al. The alcohol use disorders identification test: guidelines for use in primary care, 2nd edn. WHO, 2001. Available at: http://whqlibdoc.who.int/hq/2001/who_msd_msb_01.6a.pdf. Accessed on January 20, 2011.

16.

Kalichman SC, Simbayi LC, Jooste S, Cain D, Cherry C. Sensation seeking, alcohol use, and sexual behaviors among sexually transmitted infection clinic patients in Cape Town, South Africa. Psychol Addit Behav. 2006;20:298–304.

17.

Luchters S, Geibel S, Syengo M, Lango D, King'ola N, Temmerman M, Chersich MF. Use of AUDIT and measures of drinking frequency and patterns to detect associations between alcohol and sexual behavior in male sex workers in Kenya. BMC Public Health. 2011;11:384–92.

18.

Nakimuli-Mpungu E, Bass JK, Alexandre P, Mills EJ, Musisi S, Ram M, et al. Depression, alcohol use, and adherence to antiretroviral therapy in sub-Saharan Africa: a systematic review. AIDS Behav. 2012;16:2101–18.

19.

Zetola NM, Modongo C, Kip EC, Gross R, Bisson GP, Collman RG. Alcohol use and abuse among patients with multi-drug resistant tuberculosis in Botswana. Int J Tuberc Lung Dis. 2012;16:1529–34.

20.

Church K, Kiweewa F, Dagupta A, Mwangome M, Mpandaguta E, Gomez-Olive FX, et al. A comparative analysis of national HIV policies in six African countries with generalized epidemics. Bull World Health Organ. 2015;93:457–67.

21.

Kakietek J, Geberselassie T, Manteuffel B, Ogungbemi K, Krivelyova A, Bausch S et al. It takes a village: community-based organizations and the availability and utilization of HIV/AIDS-related services in Nigeria. AIDS Care 25(suppl 1):78–87.

22.

Hickey MD, Salmen CR, Omollo D, Mattah B, Fiorella KJ, Geng EH, et al. Implementation and operational research: pulling the network together. Quasi-experimental trial of a patient-defined support network intervention for promoting engagement in HIV care and medication adherence on Mfangano Island, Kenya. JAIDS. 2015;69(4):e127–34.
Additional information
For the PwP Evaluation Study Team.
About this article
Cite this article
Bachanas, P., Kidder, D., Medley, A. et al. Delivering Prevention Interventions to People Living with HIV in Clinical Care Settings: Results of a Cluster Randomized Trial in Kenya, Namibia, and Tanzania. AIDS Behav 20, 2110–2118 (2016). https://doi.org/10.1007/s10461-016-1349-2
Keywords
HIV/AIDS

Sub-Saharan Africa

HIV prevention

People living with HIV