Abstract
Men have lower rates of HIV testing and higher rates of AIDS-related mortality compared to women in sub-Saharan Africa. To assess whether there is an opportunity to increase men's uptake of testing by correcting misperceptions about testing norms, we compare men's perceptions of their closest friend's HIV testing behaviors with the friend's actual testing self-report using a unique dataset of men sampled within their social networks (n = 59) in Dar es Salaam, Tanzania. We examine the accuracy and bias of perceptions among men who have tested for HIV (n = 391) and compare them to the perceptions among men who never tested (n = 432). We found that testers and non-testers did not differ in the accuracy of their perceptions, though non-testers were strongly biased towards assuming that their closest friends had not tested. Our results lend support to social norms approaches designed to correct the biased misperceptions of non-testers to promote men's HIV testing.
Resumen
Los hombres tienen tasas más bajas de utilización de la prueba de VIH y tasas más altas de mortalidad relacionada con el SIDA en comparación con las mujeres en África subsahariana. En este estudio evaluamos la oportunidad de incrementar la aceptación de la prueba de VIH por parte de hombres a través de corrigir los errores de percepción sobre las normas en el uso de la prueba de VIH. Comparamos percepciones de comportamientos relacionados con la prueba del VIH por parte de sus amigos más cercanos con datos reales de las pruebas de sus amigos, usando una base de datos única de redes sociales de hombres (n = 59) en Dar es Salaam, Tanzania. Examinamos la precision y el prejuicio de las percepciones entre hombres que se hicieron la prueba del VIH (n = 391) y las comparamos con las percepciones de los hombres que nunca se hicieron la prueba del VIH (n = 432). Se encontraron que los hombres que se hicieron la prueba y los hombres que nunca se hicieron la prueba no mostraron diferencias significativas en la precisión de sus percepciones, aunque los hombres que no hicieron la prueba estaban fuertemente sesgados hacia el supuesto de que sus amigos más cercanos no se habían hecho la prueba. Nuestros resultados sugieren que los programas que fueron diseñados para corregir los errores de percepción sobre normas de la prueba del VIH con hombres que nunca se hicieron la prueba podrían promover la prueba del VIH con ellos.
This is a preview of subscription content, log in to check access.
Access options
Buy single article
Instant access to the full article PDF.
US$ 39.95
Price includes VAT for USA
Subscribe to journal
Immediate online access to all issues from 2019. Subscription will auto renew annually.
US$ 99
This is the net price. Taxes to be calculated in checkout.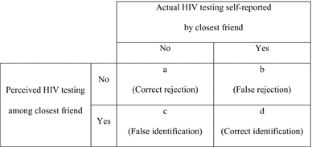 References
1.

Dovel K, Yeatman S, Watkins S, Poulin M. Men's heightened risk of AIDS-related death: the legacy of gendered HIV testing and treatment strategies. AIDS. 2015;29(10):1123–5.

2.

Venkatesh KK, Madiba P, De Bruyn G, Lurie MN, Coates TJ, Gray GE. Who gets tested for HIV in a South African urban township? Implications for test and treat and gender-based prevention interventions. J Acquired Immune Defic Syndr. 2011;56(2):151–65.

3.

Muula AS, Ngulube TJ, Siziya S, Makupe CM, Umar E, Prozesky HW, et al. Gender distribution of adult patients on highly active antiretroviral therapy (HAART) in Southern Africa: a systematic review. BMC Public Health. 2007;7:63.

4.

Taylor-Smith K, Tweya H, Harries A, Schoutene E, Jahn A. Gender differences in retention and survival on antiretroviral therapy of HIV-1 infected adults in Malawi. Malawi Med J. 2010;22(2):49–56.

5.

Higgins JA, Hoffman S, Dworkin SL. Rethinking gender, heterosexual men, and women's vulnerability to HIV/AIDS. Am J Public Health. 2010;100(3):435–45.

6.

Mills EJ, Ford N, Mugyenyi P. Expanding HIV care in Africa: making men matter. Lancet. 2009;374(9686):275–6.

7.

Mills EJ, Beyrer C, Birungi J, Dybul MR. Engaging men in prevention and care for HIV/AIDS in Africa. PLoS Med. 2012;9(2):e1001167.

8.

Musheke M, Ntalasha H, Gari S, McKenzie O, Bond V, Martin-Hilber A, et al. A systematic review of qualitative findings on factors enabling and deterring uptake of HIV testing in Sub-Saharan Africa. BMC Public Health. 2013;13:220.

9.

Mulawa M, Yamanis TJ, Hill LM, Balvanz P, Kajula LJ, Maman S. Evidence of social network influence on multiple HIV risk behaviors and normative beliefs among young Tanzanian men. Soc Sci Med. 2016;153:35–43.

10.

Cialdini RB, Reno RR, Kallgren CA. A focus theory of normative conduct: recycling the concept of norms to reduce littering in public places. J Pers Soc Psychol. 1990;58(6):1015–26.

11.

Black SR, Schmiege S, Bull S. Actual versus perceived peer sexual risk behavior in online youth social networks. Transl Behav Med. 2013;3(3):312–9.

12.

Berkowitz AD. Applications of social norms theory to other health and social justice issues. In: Perkins WH, editor. The social norms approach to preventing school and college age substance abuse: a handbook for educators, counselors, and clinicians. San Francisco: Jossey-Bass; 2003.

13.

Prentice DA, Miller DT. Pluralistic ignorance and the perpetuation of social norms by unwitting actors. In: Mark PZ, editor. Advances in experimental social psychology, vol. 28. Cambridge: Academic Press; 1996. p. 161–209.

14.

Toch H, Klofas J. Pluralistic ignorance, revisited. In: Stephenson GM, Davis JH, editors. Progress in applied social psychology, vol. 2. New York: Wiley; 1984.

15.

Ross L, Greene D, House P. The false consensus effect: an egocentric bias in social perception and attribution processes. J Exp Soc Psychol. 1977;13(3):279–301.

16.

Berkowitz AD. An overview of the social norms approach. In: Lederman LC, Stewart CP, editors. Challenging the culture of college drinking: a socially situated health communication campaign. Cresskill: Hampton Press; 2005. p. 193–214.

17.

Gupta GR. Gender, sexuality, and HIV/AIDS: the what, the why, and the how. Can HIV AIDS Policy Law Rev. 2000;5(4):86–93.

18.

Moreira MT, Smith LA, Foxcroft D. Social norms interventions to reduce alcohol misuse in university or college students. Cochrane Database Syst Rev. 2009;3:CD006748.

19.

Tanzania Commission for AIDS (TACAIDS) ZACZ, National Bureau of Statistics (NBS), Office of the Chief Government Statistician (OCGS), and ICF International. Tanzania HIV/AIDS and malaria indicator survey 2011–12. Dar es Salaam: TACAIDS, ZAC, NBS, OCGS, and ICF International; 2013.

20.

Yamanis TJ, Doherty IA, Weir SS, Bowling JM, Kajula LJ, Mbwambo JK, et al. From coitus to concurrency: sexual partnership characteristics and risk behaviors of 15-19 year old men recruited from urban venues in Tanzania. AIDS Behav. 2012;17(7):2405–15.

21.

Yamanis TJ, Maman S, Mbwambo JK, Earp JA, Kajula LJ. Social venues that protect against and promote HIV risk for young men in Dar es Salaam, Tanzania. Soc Sci Med. 2010;71(9):1601–9.

22.

Yamanis TJ, Fisher JC, Moody JW, Kajula LJ. Young men's social network characteristics and associations with sexual partnership concurrency in Tanzania. AIDS Behav. 2015. doi:10.1007/s10461-015-1152-5.

23.

Maman S, Kajula L, Balvanz P, Kilonzo M, Mulawa M, Yamanis T. Leveraging strong social ties among young men in Dar es Salaam: a pilot intervention of microfinance and peer leadership for HIV and gender-based violence prevention. Glob Public Health. 2015;20:1–14.

24.

Kajula L, Balvanz P, Kilonzo MN, Mwikoko G, Yamanis T, Mulawa M, et al. Vijana Vijiweni II: a cluster-randomized trial to evaluate the efficacy of a microfinance and peer health leadership intervention for HIV and intimate partner violence prevention among social networks of young men in Dar es Salaam. BMC Public Health. 2016;16(1):1–12.

25.

Grier JB. Nonparametric indexes for sensitivity and bias: computing formulas. Psychol Bull. 1971;75(6):424–9.

26.

Donaldson W. Measuring recognition memory. J Exp Psychol Gen. 1992;121(3):275–7.

27.

Henry DB, Kobus K, Schoeny ME. Accuracy and bias in adolescents' perceptions of friends' substance use. Psychol Addict Behav. 2011;25(1):80–9.

28.

Filmer D, Pritchett LH. Estimating wealth effects without expenditure data—or tears: an application to educational enrollments in states of India. Demography. 2001;38(1):115–32.

29.

SAS Institute Inc. SAS® 9.4 Cary, 2011.

30.

Perkins HW. Misperceptions of peer drinking norms in Canada: another look at the "reign of error" and its consequences among college students. Addict Behav. 2007;32(11):2645–56.

31.

McAlaney J, McMahon J. Normative beliefs, misperceptions, and heavy episodic drinking in a british student sample. J Stud Alcohol Drugs. 2007;68(3):385–92.

32.

Perkins HW, Haines MP, Rice R. Misperceiving the college drinking norm and related problems: a nationwide study of exposure to prevention information, perceived norms and student alcohol misuse. J Stud Alcohol. 2005;66(4):470–8.

33.

Kandel DB. The parental and peer contexts of adolescent deviance: an algebra of interpersonal influences. J Drug Issues. 1996;26(2):289.

34.

Prinstein MJ, Wang SS. False consensus and adolescent peer contagion: examining discrepancies between perceptions and actual reported levels of friends' deviant and health risk behaviors. J Abnorm Child Psychol. 2005;33(3):293–306.

35.

Hensen B, Taoka S, Lewis JJ, Weiss HA, Hargreaves J. Systematic review of strategies to increase men's HIV-testing in sub-Saharan Africa. AIDS. 2014;28(14):2133–45.

36.

Perkins HW, Berkowitz AD. Perceiving the community norms of alcohol use among students: some research implications for campus alcohol education programming. Int J Addict. 1986;9–10:961–76.

37.

Miller MB, Leffingwell T, Claborn K, Meier E, Walters S, Neighbors C. Personalized feedback interventions for college alcohol misuse: an update of Walters & Neighbors (2005). Psychol Addict Behav. 2013;27(4):909–20.

38.

Tobin KE, Yang C, Sun C, Spikes P, Latkin CA. Discrepancies between HIV prevention communication attitudes and actual conversations about HIV testing within social and sexual networks of African American men who have sex with men. Sex Transm Dis. 2014;41(4):221–6.

39.

Babalola S. Readiness for HIV testing among young people in northern Nigeria: the roles of social norm and perceived stigma. AIDS Behav. 2007;11(5):759–69.

40.

Mburu G, Ram M, Siu G, Bitira D, Skovdal M, Holland P. Intersectionality of HIV stigma and masculinity in eastern Uganda: implications for involving men in HIV programmes. BMC Public Health. 2014;14:1061.
Acknowledgments
We wish to acknowledge the work and dedication of our study interviewers as well as our research team in Dar es Salaam, including Mrema Noel Kilonzo, Deus Kajuna, Brenda Mkony, Joyce Kondela and Gema Lambert. We also thank the anonymous reviewers for their comments on prior drafts. Finally, we would like to thank the participants of our study for their contributions.
Funding
Research reported in this publication was supported by the National Institute of Mental Health of the National Institutes of Health under Award Numbers R01MH098690 and F31MH103062. The content is solely the responsibility of the authors and does not necessarily represent the official views of the National Institutes of Health.
Ethics declarations
Ethical Approval
All procedures performed in studies involving human participants were in accordance with the ethical standards of the institutional and/or national research committee and with the 1964 Helsinki declaration and its later amendments or comparable ethical standards.
Conflict of Interest
The authors declare that they have no conflict of interest.
About this article
Cite this article
Mulawa, M., Yamanis, T.J., Balvanz, P. et al. Comparing Perceptions with Actual Reports of Close Friend's HIV Testing Behavior Among Urban Tanzanian Men. AIDS Behav 20, 2014–2022 (2016). https://doi.org/10.1007/s10461-016-1335-8
Keywords
HIV testing

Misperceptions

Men

Tanzania