Abstract
MSM continue to represent the largest share of new HIV infections in the United States each year due to high infectivity associated with unprotected anal sex. Ecological momentary assessment (EMA) has the potential to provide a unique view of how high-risk sexual events occur in the real world and can impart detailed information about aspects of decision-making, antecedents, and consequences that accompany these events. EMA may also produce more accurate data on sexual behavior by assessing it soon after its occurrence. We conducted a study involving 12 high-risk MSM to explore the acceptability and feasibility of a 30 day, intensive EMA procedure. Results suggest this intensive assessment strategy was both acceptable and feasible to participants. All participants provided response rates to various assessments that approached or were in excess of their targets: 81.0 % of experience sampling assessments and 93.1 % of daily diary assessments were completed. However, comparing EMA reports with a Timeline Followback (TLFB) of the same 30 day period suggested that participants reported fewer sexual risk events on the TLFB compared to EMA, and reported a number of discrepancies about specific behaviors and partner characteristics across the two methods. Overall, results support the acceptability, feasibility, and utility of using EMA to understand sexual risk events among high-risk MSM. Findings also suggest that EMA and other intensive longitudinal assessment approaches could yield more accurate data about sex events.
This is a preview of subscription content, log in to check access.
Access options
Buy single article
Instant access to the full article PDF.
US$ 39.95
Price includes VAT for USA
Subscribe to journal
Immediate online access to all issues from 2019. Subscription will auto renew annually.
US$ 99
This is the net price. Taxes to be calculated in checkout.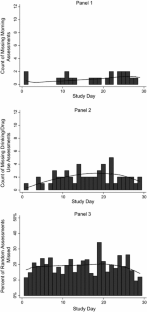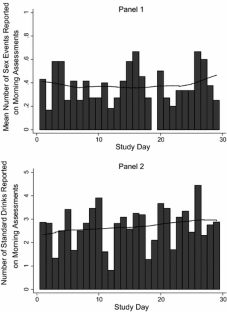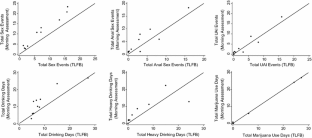 References
1.

Beyrer C, Baral SD, van Griensven F, Goodreau SM, Chariyalertsak S, Wirtz AL, et al. Global epidemiology of HIV infection in men who have sex with men. Lancet. 2012;380(9839):367–77.

2.

Centers for Disease Control and Prevention. Estimated HIV incidence in the United States, 2007–2010. Atlanta: U.S. Department of Health and Human Services; 2012.

3.

Valleroy LA, MacKellar DA, Karon JM, Rosen DH, McFarland W, Shehan DA, et al. HIV prevalence and associated risks in young men who have sex with men. JAMA. 2000;284(2):198–204.

4.

Koblin BA, Chesney MA, Husnik MJ, Bozeman S, Celum CL, Buchbinder S, et al. High-risk behaviors among men who have sex with men in 6 US cities: baseline data from the EXPLORE Study. Am J Public Health. 2003;93(6):926–32.

5.

Hirshfield S, Remien RH, Humberstone M, Walavalkar I, Chiasson MA. Substance use and high-risk sex among men who have sex with men: a national online study in the USA. AIDS Care. 2004;16(8):1036–47.

6.

Bruce D, Kahana S, Harper GW, Fernández MI, ATN. Alcohol use predicts sexual risk behavior with HIV-negative or partners of unknown status among young HIV-positive men who have sex with men. AIDS Care. 2013;25(5):559–65.

7.

Gorin AA, Stone AA. Recall biases and cognitive errors in retrospective self-reports: a call for momentary assessments. In: Baum A, Revenson TA, Singer JE, editors. Handbook of health psychology, vol. 23. Mahwah: Erlbaum; 2001. p. 405–13.

8.

Shiffman S, Stone AA, Hufford MR. Ecological momentary assessment. Annu Rev Clin Psychol. 2008;4:1–32.

9.

Sobell L, Sobell M. Timeline followback user's guide: a calendar method for assessing alcohol and drug use. Toronto: Addiction Research Foundation; 1996.

10.

Sobell LC, Sobell MB. Timeline follow-back. Measuring alcohol consumption. Totowa: Springer; 1992. p. 41–72.

11.

Napper LE, Fisher DG, Reynolds GL, Johnson ME. HIV risk behavior self-report reliability at different recall periods. AIDS Behav. 2010;14(1):152–61.

12.

Wray TB, Braciszewski JM, Zywiak WH, Stout RL. Examining the reliability of alcohol/drug use and HIV-risk behaviors using Timeline Follow-Back in a pilot sample. J Subst Use. 2015. doi:10.3109/14659891.2015.1018974

13.

Weinhardt LS, Forsyth AD, Carey MP, Jaworski BC, Durant LE. Reliability and validity of self-report measures of HIV-related sexual behavior: progress since 1990 and recommendations for research and practice. Arch Sex Behav. 1998;27(2):155–80.

14.

Carey MP, Carey K, Maisto S, Gordon C, Weinhardt L. Assessing sexual risk behaviour with the Timeline Followback (TLFB) approach: continued development and psychometric evaluation with psychiatric outpatients. Int J STD AIDS. 2001;12(6):365–75.

15.

Davidovich U, de Wit JB, Stroebe W. Assessing sexual risk behaviour of young gay men in primary relationships: the incorporation of negotiated safety and negotiated safety compliance. AIDS. 2000;14(6):701–6.

16.

Prestage G, Mao L, McGuigan D, Crawford J, Kippax S, Kaldor J, et al. HIV risk and communication between regular partners in a cohort of HIV-negative gay men. AIDS Care. 2006;18(2):166–72.

17.

Fortenberry JD, Temkit MH, Tu W, Graham CA, Katz BP, Orr DP. Daily mood, partner support, sexual interest, and sexual activity among adolescent women. Health Psychol. 2005;24(3):252.

18.

Bailey SL, Gao W, Clark DB. Diary study of substance use and unsafe sex among adolescents with substance use disorders. Journal of Adolescent Health. 2006;38(3):297.e13–20.

19.

Kiene SM, Barta WD, Tennen H, Armeli S. Alcohol, helping young adults to have unprotected sex with casual partners: findings from a daily diary study of alcohol use and sexual behavior. J Adolesc Health. 2009;44(1):73–80.

20.

Schroder KE, Johnson CJ, Wiebe JS. An event-level analysis of condom use as a function of mood, alcohol use, and safer sex negotiations. Arch Sex Behav. 2009;38(2):283–9.

21.

Parsons JT, Rendina HJ, Grov C, Ventuneac A, Mustanski B. Accuracy of highly sexually active gay and bisexual men's predictions of their daily likelihood of anal sex and its relevance for intermittent event-driven HIV pre-exposure prophylaxis. J Acquir Immune Defic Syndr. 2015;68(4):449–55.

22.

Mustanski BS. The relationship between mood and sexual interest, behavior, and risk-taking: ProQuest Information & Learning; 2004.

23.

Herbenick D, Reece M, Hensel D, Sanders S, Jozkowski K, Fortenberry JD. Association of lubricant use with women's sexual pleasure, sexual satisfaction, and genital symptoms: a prospective daily diary study. J Sex Med. 2011;8(1):202–12.

24.

Patrick ME, Maggs JL. Does drinking lead to sex? Daily alcohol—sex behaviors and expectancies among college students. Psychol Addict Behav. 2009;23(3):472.

25.

Grov C, Golub SA, Mustanski B, Parsons JT. Sexual compulsivity, state affect, and sexual risk behavior in a daily diary study of gay and bisexual men. Psychol Addict Behav. 2010;24(3):487.

26.

Horvath KJ, Beadnell B, Bowen AM. A daily web diary of the sexual experiences of men who have sex with men: comparisons with a retrospective recall survey. AIDS Behav. 2007;11(4):537–48.

27.

Newcomb ME, Mustanski B. Diaries for observation or intervention of health behaviors: factors that predict reactivity in a sexual diary study of men who have sex with men. Ann Behav Med. 2014;47(3):325–34.

28.

Smith A. Smartphone ownership—2013 update. 2013.

29.

Tennen H, Affleck G, Coyne JC, Larsen RJ, DeLongis A. Paper and plastic in daily diary research: Comment on Green, Rafaeli, Bolger, Shrout, and Reis (2006). 2006.

30.

Swendeman D, Comulada WS, Ramanathan N, Lazar M, Estrin D. Reliability and validity of daily self-monitoring by smartphone application for health-related quality-of-life, antiretroviral adherence, substance use, and sexual behaviors among people living with HIV. AIDS Behav. 2015;19(2):330–40.

31.

Bradburn NM, Rips LJ, Shevell SK. Answering autobiographical questions: the impact of memory and inference on surveys. Science. 1987;236(4798):157–61.

32.

Wray TB, Merrill JE, Monti PM. Using Ecological Momentary Assessment (EMA) to assess situation-level predictors of alcohol use and alcohol-related consequences. Alcohol Res Curr Rev. 2015;36(1):19–27.

33.

Nelson RO. Assessment and therapeutic functions of self-monitoring. In: Hersen M, Eisler RM, Miller PM, editors. Progress in behavior modification, vol. 4. New York: Academic Press; 1977. p. 263–308.

34.

Shiffman S. Ecological momentary assessment (EMA) in studies of substance use. Psychol Assess. 2009;21(4):486.

35.

Shiffman S. Designing protocols for ecological momentary assessment. In: Stone AA, Shiffman S, Atienza A, Nebeling L, editors. The science of real-time data capture: self-reports in health research. New York: Oxford University Press; 2007. p. 27–53.

36.

Csikszentmihalyi M, Larson R. Validity and reliability of the experience-sampling method. J Nerv Ment Dis. 1987;175(9):526–36.

37.

Kahler CW, Wray TB, Pantalone DW, Kruis RD, Mastroleo, NR, Monti PM, et al. Daily associations between alcohol use and unprotected anal sex among heavy drinking HIV-positive men who have sex with men. AIDS Behav. 2015;19:422–30. doi:10.1007/s10461-014-0896-7.

38.

Sander PM, Cole SR, Stall RD, Jacobson LP, Eron JJ, Napravnik S, et al. Joint effects of alcohol consumption and high-risk sexual behavior on HIV seroconversion among men who have sex with men. AIDS. 2013;27(5):815–23.

39.

Vosburgh HW, Mansergh G, Sullivan PS, Purcell DW. A review of the literature on event-level substance use and sexual risk behavior among men who have sex with men. AIDS Behav. 2012;16(6):1394–410.

40.

Yang C, Linas B, Kirk G, Bollinger R, Chang L, Chander G, et al. Feasibility and acceptability of smartphone-based ecological momentary assessment of alcohol use among African American men who have sex with men in Baltimore. JMIR mHealth uHealth. 2015;3(2):e67.

41.

National Institute on Alcohol Abuse and Alcoholism. Helping patients who drink too much: a clinician's guide. Rockville: U.S. Department of Health and Human Services; 2005.

42.

Dvorak RD, Pearson MR, Day AM. Ecological momentary assessment of acute alcohol use disorder symptoms: associations with mood, motives, and use on planned drinking days. Exp Clin Psychopharmacol. 2014;22(4):285.

43.

Simons JS, Dvorak RD, Batien BD, Wray TB. Event-level associations between affect, alcohol intoxication, and acute dependence symptoms: effects of urgency, self-control, and drinking experience. Addict Behav. 2010;35(12):1045–53.

44.

Shiffman S, Balabanis MH, Gwaltney CJ, Paty JA, Gnys M, Kassel JD, et al. Prediction of lapse from associations between smoking and situational antecedents assessed by ecological momentary assessment. Drug Alcohol Depend. 2007;91(2):159–68.

45.

Shiffman S. How many cigarettes did you smoke? Assessing cigarette consumption by global report, Time-Line Follow-Back, and ecological momentary assessment. Health Psychol. 2009;28(5):519–26.

46.

Rabe-Hesketh S, Skrondal A. Multilevel and longitudinal modeling using Stata. College Station: STATA press; 2008.

47.

Shrout PE, Fleiss JL. Intraclass correlations: uses in assessing rater reliability. Psychol Bull. 1979;86(2):420.

48.

Mustanski B. Moderating effects of age on the alcohol and sexual risk taking association: an online daily diary study of men who have sex with men. AIDS Behav. 2008;12(1):118–26.

49.

Parsons JT, Rendina HJ, Grov C, Ventuneac A, Mustanski B. Accuracy of highly sexually active gay and bisexual men's predictions of their daily likelihood of anal sex and its relevance for intermittent event-driven HIV pre-exposure prophylaxis. JAIDS. 2015;68(4):449–55.

50.

Litt MD, Cooney NL, Morse P. Ecological momentary assessment (EMA) with treated alcoholics: methodological problems and potential solutions. Health Psychol. 1998;17(1):48.

51.

Collins RL, Kashdan TB, Gollnisch G. The feasibility of using cellular phones to collect ecological momentary assessment data: application to alcohol consumption. Exp Clin Psychopharmacol. 2003;11(1):73.

52.

Miranda R Jr, MacKillop J, Monti PM, Rohsenow DJ, Tidey J, Gwaltney C, et al. Effects of topiramate on urge to drink and the subjective effects of alcohol: a preliminary laboratory study. Alcohol Clin Exp Res. 2008;32(3):489–97.

53.

Piasecki TM, Wood PK, Shiffman S, Sher KJ, Heath AC. Responses to alcohol and cigarette use during ecologically assessed drinking episodes. Psychopharmacology. 2012;223(3):331–44.

54.

Ray LA, Miranda R Jr, Tidey JW, McGeary JE, MacKillop J, Gwaltney CJ, et al. Polymorphisms of the μ-opioid receptor and dopamine D4 receptor genes and subjective responses to alcohol in the natural environment. J Abnorm Psychol. 2010;119(1):115.

55.

Tidey JW, Monti PM, Rohsenow DJ, Gwaltney CJ, Miranda R, McGeary JE, et al. Moderators of naltrexone's effects on drinking, urge, and alcohol effects in non-treatment-seeking heavy drinkers in the natural environment. Alcohol Clin Exp Res. 2008;32(1):58–66.

56.

Maisto SA, Palfai T, Vanable PA, Heath J, Woolf-King SE. The effects of alcohol and sexual arousal on determinants of sexual risk in men who have sex with men. Arch Sex Behav. 2012;41(4):971–86.

57.

Wray TB, Simons JS, Maisto SA. Effects of alcohol intoxication and autonomic arousal on delay discounting and risky sex in young adult heterosexual men. Addict Behav. 2015;42:9–13.

58.

Davis KC, Hendershot CS, George WH, Norris J, Heiman JR. Alcohol's effects on sexual decision making: an integration of alcohol myopia and individual differences. J Stud Alcohol Drugs. 2007;68(6):843–51.

59.

Davis KC, Norris J, Hessler DM, Zawacki T, Morrison DM, George WH. College women's sexual decision making: cognitive mediation of alcohol expectancy effects. J Am Coll Health. 2010;58(5):481–9.
Acknowledgments
This work was supported by Grants T32AA007459, P01AA019072, and L30AA023336.
Ethics declarations
Conflicts of interest
The authors have no conflicts of interest to disclose.
About this article
Cite this article
Wray, T.B., Kahler, C.W. & Monti, P.M. Using Ecological Momentary Assessment (EMA) to Study Sex Events Among Very High-Risk Men Who Have Sex with Men (MSM). AIDS Behav 20, 2231–2242 (2016). https://doi.org/10.1007/s10461-015-1272-y
Keywords
Ecological momentary assessment

MSM

Sex risk

Assessment

Alcohol use

Drug use