Abstract
Young women in South Africa are at high risk for HIV infection. Cash transfers offer promise to reduce HIV risk. We present the design and baseline results from HPTN 068, a phase III, individually randomized trial to assess the effect of a conditional cash transfer on HIV acquisition among South African young women. A total of 2533 young women were randomized to receive a monthly cash transfer conditional on school attendance or to a control group. A number of individual-, partner-, household- and school-level factors were associated with HIV and HSV-2 infection. After adjusting for age, all levels were associated with an increased odds of HIV infection with partner-level factors conveying the strongest association (aOR 3.05 95 % CI 1.84–5.06). Interventions like cash transfers that address structural factors such as schooling and poverty have the potential to reduce HIV risk in young women in South Africa.
This is a preview of subscription content, log in to check access.
Access options
Buy single article
Instant access to the full article PDF.
US$ 39.95
Price includes VAT for USA
Subscribe to journal
Immediate online access to all issues from 2019. Subscription will auto renew annually.
US$ 99
This is the net price. Taxes to be calculated in checkout.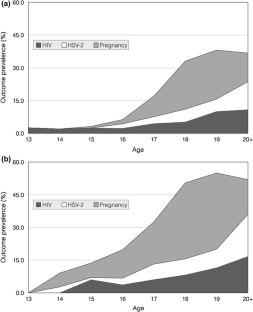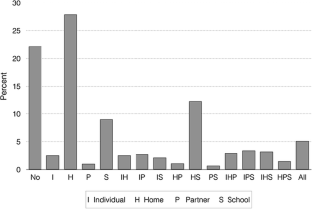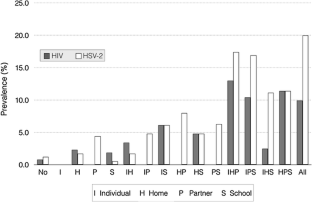 References
1.

Shisana O, Rehle T, LC S, Zuma K, Jooste S, N Z, et al. South African National HIV prevalence, incidence and behaviour survey 2012. Cape Town; 2014.

2.

Abdool Karim Q, Kharsany AB, Frohlich JA, Werner L, Mashego M, Mlotshwa M, et al. Stabilizing HIV prevalence masks high HIV incidence rates amongst rural and urban women in KwaZulu-Natal, South Africa. Int J Epidemiol. 2010.

3.

Marrazzo JM, Ramjee G, Richardson BA, Gomez K, Mgodi N, Nair G, et al. Tenofovir-based preexposure prophylaxis for HIV infection among African women. N Engl J Med. 2015;372(6):509–18.

4.

UNAIDS. The gap report. Geneva: UNAIDS; 2014.

5.

Cowan F, Pettifor A. HIV in adolescents in sub-Saharan Africa. Curr Opin HIV AIDS. 2009;4(4):288–93.

6.

Pettifor A, Bekker LG, Hosek S, DiClemente R, Rosenberg M, Bull SS, et al. Preventing HIV among young people: research priorities for the future. J Acquir Immune Defic Syndr (1999). 2013;63(2):S155–60.

7.

Pettifor AE, Levandowski BA, MacPhail C, Padian NS, Cohen MS, Rees HV. Keep them in school: the importance of education as a protective factor against HIV infection among young South African women. Int J Epidemiol. 2008;37(6):1266–73.

8.

Hargreaves JR, Bonell CP, Boler T, Boccia D, Birdthistle I, Fletcher A, et al. Systematic review exploring time trends in the association between educational attainment and risk of HIV infection in sub-Saharan Africa. AIDS. 2008;22(3):403–14.

9.

Jukes M, Simmons S, Bundy D. Education and vulnerability: the role of schools in protecting young women and girls from HIV in southern Africa. AIDS. 2008;22(4):S41–56.

10.

Fizbein A, Schady N. Conditional cash transfers reducing present and future poverty. 2009.

11.

Baird SJ, Garfein RS, McIntosh CT, Ozler B. Effect of a cash transfer programme for schooling on prevalence of HIV and herpes simplex type 2 in Malawi: a cluster randomised trial. Lancet. 2012;379(9823):1320–9.

12.

Cluver L, Boyes M, Orkin M, Pantelic M, Molwena T, Sherr L. Child-focused state cash transfers and adolescent risk of HIV infection in South Africa: a propensity-score-matched case-control study. Lancet Glob Health. 2013;1(6):e362–70.

13.

Handa S, Halpern CT, Pettifor A, Thirumurthy H. The government of Kenya's cash transfer program reduces the risk of sexual debut among young people age 15–25. PLoS One. 2014;9(1):e85473.

14.

Cho H, Hallfors DD, Mbai II, Itindi J, Milimo BW, Halpern CT, et al. Keeping adolescent orphans in school to prevent human immunodeficiency virus infection: evidence from a randomized controlled trial in Kenya. J Adolesc Health. 2011;48(5):523–6.

15.

Hallfors DD, Cho H, Rusakaniko S, Mapfumo J, Iritani B, Zhang L, et al. The impact of school subsidies on HIV-related outcomes among adolescent female orphans. J Adolesc Health. 2015;56(1):79–84.

16.

Kahn K, Collinson MA, Gómez-Olivé FX, Mokoena O, Twine R, Mee P, et al. Profile: Agincourt health and socio-demographic surveillance system. Int J Epidemiol. 2012;41:988–1001.

17.

Gomez-Olive FX, Angotti N, Houle B, Klipstein-Grobusch K, Kabudula C, Menken J, et al. Prevalence of HIV among those 15 and older in rural South Africa. AIDS Care. 2013;25(9):1122–8.

18.

Cluver L, Gardner F, Operario D. Psychological distress amongst AIDS-orphaned children in urban South Africa. J Child Psychol Psychiatry. 2007;48(8):755–63.

19.

García-Moreno C, et al. WHO multi-country study on women's health and domestic violence against women: initial results on prevalence, health outcomes and women's responses. Geneva; 2005.

20.

Kalichman SC, Simbayi LC, Jooste S, Toefy Y, Cain D, Cherry C, et al. Development of a brief scale to measure AIDS-related stigma in South Africa. AIDS Behav. 2005;9(2):135–43.

21.

UNICEF. Social protection preogrammes contribute to HIV prevention. 2015.

22.

Pettifor A, MacPhail C, Nguyen N, Rosenberg M. Can money prevent the spread of HIV? A review of cash payments for HIV prevention. AIDS Behav. 2012;16(7):1729–38.

23.

Department of Social Development, SASSA, UNICEF. The South African Child Support Grant impact assessment: evidence from a survey of children, adolescents, and their households. Pretoria; 2012.

24.

Pettifor A, Rees H, Steffenson A, Hlongwa-Madikizela L, MacPhail C, Vermaak K, et al. HIV and sexual behaviour among young South African a national survey of 15–24 year olds. Johannesburg: Reproductive Health Research Unit; 2004.

25.

Jewkes R, Abrahams N. The epidemiology of rape and sexual coercion in South Africa: an overview. Soc Sci Med. 2002;55:1231–44.

26.

Jewkes RK, Dunkle K, Nduna M, Shai N. Intimate partner violence, relationship power inequity, and incidence of HIV infection in young women in South Africa: a cohort study. Lancet. 2010;376(9734):41–8.

27.

Langhaug LF, Sherr L, Cowan FM. How to improve the validity of sexual behaviour reporting: systematic review of questionnaire delivery modes in developing countries. Trop Med Int Health. 2010;15(3):362–81.
Acknowledgments
Overall support for the HIV Prevention Trials Network (HPTN) was provided by the National Institute of Allergy and Infectious Diseases (NIAID), the National Institute of Mental Health (NIMH) and the National Institute on Drug Abuse (NIDA) of the National Institutes of Health (NIH) under Award Numbers UM1AI068619 (HPTN Leadership and Operations Center), UM1AI068617 (HPTN Statistical and Data Management Center), and UM1AI068613 (HPTN Laboratory Center). The study was also funded under Award Number 5R01MH087118-02 and R24 HD050924 to the Carolina Population Center. The content is solely the responsibility of the authors and does not necessarily represent the official views of the National Institute of Allergy and Infectious Diseases or the National Institutes of Health.
About this article
Cite this article
Pettifor, A., MacPhail, C., Selin, A. et al. HPTN 068: A Randomized Control Trial of a Conditional Cash Transfer to Reduce HIV Infection in Young Women in South Africa—Study Design and Baseline Results. AIDS Behav 20, 1863–1882 (2016). https://doi.org/10.1007/s10461-015-1270-0
Keywords
HIV

Adolescents

South Africa

Young women

HIV prevention

Cash transfers

Education