Abstract
The purpose of this study was to identify key psychosocial characteristics of HIV-infected women who exhibit different levels of both ART adherence and risk behaviors. We analyzed baseline data from 193 predominately African American HIV-infected women participating in a behavioral clinical trial. Women were categorized into high/low groups based on levels of adherence and risky behaviors. There was a significant interaction effect for internal motivation for adherence. Women at high risk for poor health and transmitting HIV (low adherence/high risk group) had the lowest levels of internal motivation and also reported more difficult life circumstances. Gender roles, caretaking and reliance on men for economic and other support may promote external versus internal motivation as well as riskier behaviors in this group. The highest levels of internal motivation were found in those with High Adherence/High Risk behaviors. This group was highly knowledgeable about HIV and had the lowest VL. Compared to others, this group seems to tolerate risky behaviors given their high level of adherence. Adherence and risk reduction behaviors are key to individual and public health. Motivation and risk compensation should be addressed when providing interventions to women living with HIV.
Resumen
El propósito de este estudio fue identificar las características psicosociales fundamentales de las mujeres infectadas por el VIH que presentan diferentes niveles de adherencia a antirretrovirales y los comportamientos de riesgo. Se analizaron los datos de referencia de 193 mujeres infectadas por el VIH, predominantemente Africano Americanos, que participaron en un ensayo clínico de comportamiento. Las mujeres se clasificaron en grupos de alta/baja en base a los niveles de adherencia y conductas de riesgo. Hubo un efecto de interacción significativo para la motivación interna para la adhesión. Las mujeres con alto riesgo de mala salud y de transmisión del VIH (baja adherencia/grupo de alto riesgo) tuvieron los niveles más bajos de la motivación interna y también reportaron circunstancias de vida más difíciles. Los roles de género, cuidados y la dependencia en los hombres por el apoyo económico y otros tipos de apoyo pueden promover la motivación externa versus la motivación interna, así como los comportamientos de mayor riesgo en este grupo. Se encontró que los niveles más altos de motivación interna fue en aquellos con comportamientos de alto riesgo y de alta adherencia. Este grupo fue muy bien informados sobre el VIH y tenía la carga viral más bajo. En comparación con otros, este grupo parece que tolera conductas de riesgo, dado su alto nivel de adherencia. Adherencia y conductas de riesgo son la clave para la salud individual y pública. La motivación y la compensación del riesgo deberán dirigir al proporcionar intervenciones a las mujeres que viven con el VIH.
This is a preview of subscription content, log in to check access.
Access options
Buy single article
Instant access to the full article PDF.
US$ 39.95
Price includes VAT for USA
Subscribe to journal
Immediate online access to all issues from 2019. Subscription will auto renew annually.
US$ 99
This is the net price. Taxes to be calculated in checkout.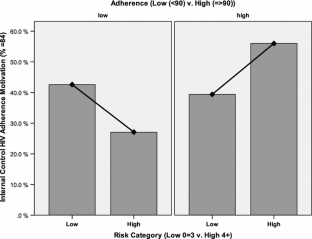 References
1.

Cohen MS, Chen YQ, McCauley M, et al. Prevention of HIV-1 infection with early antiretroviral therapy. N Engl J Med. 2011;365(6):493–505.

2.

Cohen J. HIV prevention. Halting HIV/AIDS epidemics. Science. 2011;334(6061):1338–40.

3.

Donnell D, Baeten JM, Kiarie J, et al. Heterosexual HIV-1 transmission after initiation of antiretroviral therapy: a prospective cohort analysis. Lancet. 2010;375(9731):2092–8.

4.

Centers for Disease Control and Prevention, Effect of antiretroviral therapy on risk of sexual transmission of HIV infection and superinfection. 2009;2009:1–11.

5.

Bangsberg DR. Preventing HIV antiretroviral resistance through better monitoring of treatment adherence. J Infect Dis. 2008;197(Suppl 3):S272–8.

6.

Paterson DL, Swindells S, Mohr J, et al. Adherence to protease inhibitor therapy and outcomes in patients with HIV infection. Ann Intern Med. 2000;133(1):21–30.

7.

Mannheimer S, Friedland G, Matts J, Child C, Chesney M. The consistency of adherence to antiretroviral therapy predicts biologic outcomes for human immunodeficiency virus-infected persons in clinical trials. Clin Infect Dis. 2002;34(8):1115–21.

8.

Liu H, Miller LG, Hays RD, et al. Repeated measures longitudinal analyses of HIV virologic response as a function of percent adherence, dose timing, genotypic sensitivity, and other factors. J Acquir Immune Defic Syndr. 2006;41(3):315–22.

9.

Parutti GML, Marani Toro P, et al. Long-term adherence to first-line highly active antiretroviral therapy in a hospital-based cohort: predictors and impact on virologic response and relapse. AIDS Patient Care STDs. 2006;20:48–57.

10.

Remien RH, Exner TM, Morin SF, et al. Medication adherence and sexual risk behavior among HIV-infected adults: implications for transmission of resistant virus. AIDS Behav. 2007;11(5):663–75.

11.

Kalichman SC, Rompa D. HIV treatment adherence and unprotected sex practices in people receiving antiretroviral therapy. Sex Transm Infect. 2003;79(1):59–61.

12.

Wilson TE, Barron Y, Cohen M, et al. Adherence to antiretroviral therapy and its association with sexual behavior in a national sample of women with human immunodeficiency virus. Clin Infect Dis. 2002;34(4):529–34.

13.

Diamond C, Richardson JL, Milam J, et al. Use of and adherence to antiretroviral therapy is associated with decreased sexual risk behavior in HIV clinic patients. J Acquir Immune Defic Syndr. 2005;39(2):211–8.

14.

Peretti-Watel P, Spire B, Schiltz MA, et al. Vulnerability, unsafe sex and non-adherence to HAART: evidence from a large sample of French HIV/AIDS outpatients. Soc Sci Med. 2006;62(10):2420–33.

15.

Tyer-Viola LA, Corless IB, Webel A, Reid P, Sullivan KM, Nichols P. Predictors of medication adherence among HIV-positive women in North America. J Obstet Gynecol Neonatal Nurs. 2014;43(2):168–78.

16.

Bayon C, Robertson K, Wolf E, et al. The prevalance of a positive screen for anxiety and/or depression in HIV-1 infected women across Western Europe and Canada-The CRANlum Study. 2nd international workshop on HIV & Women; 2012. Bethesda. Retrieved from http://regist2.virology-education.com/2012/2ndHIV&women/docs/02_vanwijk.pdf.

17.

Mascolini M (ed.). Differences between women and men on rilpivirine vs efavirenz for 96 weeks. In: 2nd international workshop on HIV & women, Bethesda; 2012.

18.

Boarts JM, Sledjeski EM, Bogart LM, Delahanty DL. The differential impact of PTSD and depression on HIV disease markers and adherence to HAART in people living with HIV. AIDS Behav. 2006;10(3):253–61.

19.

Chin-Hong PV, Deeks SG, Liegler T, et al. High-risk sexual behavior in adults with genotypically proven antiretroviral-resistant HIV infection. J Acquir Immune Defic Syndr. 2005;40(4):463–71.

20.

Starace F, Ammassari A, Trotta MP, et al. Depression is a risk factor for suboptimal adherence to highly active antiretroviral therapy. J Acquir Immune Defic Syndr. 2002;31(Suppl 3):S136–9.

21.

Treisman G, Angelino A. Interrelation between psychiatric disorders and the prevention and treatment of HIV infection. Clin Infect Dis. 2007;45(Suppl 4):S313–7.

22.

VanZile-Tamsen C, Testa M, Harlow LL, Livingston JA. A measurement model of women's behavioral risk taking. Health Psychol. 2006;25(2):249–54.

23.

Katz IT, Ryu AE, Onuegbu AG, et al. Impact of HIV-related stigma on treatment adherence: systematic review and meta-synthesis. J Int AIDS Soc. 2013;16(3 Suppl 2):18640.

24.

Vanable PA, Carey MP, Blair DC, Littlewood RA. Impact of HIV-related stigma on health behaviors and psychological adjustment among HIV-positive men and women. AIDS Behav. 2006;10(5):473–82.

25.

Simbayi LC, Kalichman SC, Strebel A, Cloete A, Henda N, Mqeketo A. Disclosure of HIV status to sex partners and sexual risk behaviours among HIV-positive men and women, Cape Town, South Africa. Sex Transm Infect. 2007;83(1):29–34.

26.

Wingood GM, DiClemente RJ. Application of the theory of gender and power to examin HIV-related exposures, risk factors, and effective interventions for women. Health Educ Behav. 2000;27(5):539–65.

27.

DePadilla L, Windle M, Wingood G, Cooper H, DiClemente R. Condom use among young women: modeling the theory of gender and power. Health Psychol. 2011;30(3):310–9.

28.

Bottonari KA, Roberts JE, Ciesla JA, Hewitt RG. Life stress and adherence to antiretroviral therapy among HIV-positive individuals: a preliminary investigation. AIDS Patient Care STDS. 2005;19(11):719–27.

29.

Golin C, Marks G, Wright J, et al. Psychosocial characteristics and sexual behaviors of people in care for HIV infection: an examination of men who have sex with men, heterosexual men and women. AIDS Behav. 2009;13(6):1129–42.

30.

Leserman J, Ironson G, O'Cleirigh C, Fordiani JM, Balbin E. Stressful life events and adherence in HIV. AIDS Patient Care STDS. 2008;22(5):403–11.

31.

Vyavaharkar M, Moneyham L, Tavakoli A, et al. Social support, coping, and medication adherence among HIV-positive women with depression living in rural areas of the southeastern United States. AIDS Patient Care STDS. 2007;21(9):667–80.

32.

Remien RH, Exner T, Kertzner RM, et al. Depressive symptomatology among HIV-positive women in the era of HAART: a stress and coping model. Am J Community Psychol. 2006;38(3–4):275–85.

33.

Simoni JM, Frick PA, Huang B. A longitudinal evaluation of a social support model of medication adherence among HIV-positive men and women on antiretroviral therapy. Health Psychol. 2006;25(1):74–81.

34.

Stirratt MJ, Remien RH, Smith A, Copeland OQ, Dolezal C, Krieger D. The role of HIV serostatus disclosure in antiretroviral medication adherence. AIDS Behav. 2006;10(5):483–93.

35.

O'Cleirigh C, Ironson G, Weiss A, Costa PT. Conscientiousness predicts disease progression (CD4 number and viral load) in people living with HIV. Health Psychol. 2007;26(4):473–80.

36.

Holstad MM, Diiorio C, McCarty F. Adherence, sexual risk, and viral load in HIV-infected women prescribed antiretroviral therapy. AIDS Patient Care STDS. 2011;25(7):431–8.

37.

Holstad MM, DiIorio C, Kelley ME, Resnicow K, Sharma S. Group motivational interviewing to promote adherence to antiretroviral medications and risk reduction behaviors in HIV infected women. AIDS Behav. 2011;15(5):885–96.

38.

Susser E, Valencia E, Berkman A, et al. Reporting sexual risk behavior for hiv: a practical risk index and a method for improving risk indices. Am J Public Health. 1998;88(4):671–4.

39.

Susser EV, Valencia E, Berkman A, Sohler A, et al. Human immunodeficiency virus sexual risk reduction in homeless men with mental illness. Arch Gen Psychiatr. 1998;55:266–72.

40.

Carmona J, Slesnick N, Guo X, Letcher A. Reducing high risk behaviors among street living youth: outcomes of an integrated prevention intervention. Child Youth Serv Rev. 2014;43:118–23.

41.

Revelle W. Psych: procedures for personality and psychological research, Version 1.5.6. Evanston: Northwestern University; 2015.

42.

CoreTeam R. R: a language and environment for statistical computing. Austria: R Foundation for Statistical Computing. Vienna; 2015.

43.

Resnicow K, Campbell MK, Carr C, et al. Body and soul a dietary intervention conducted through African-American churches. Am J Prev Med. 2004;27(2):97–105.

44.

Shaikh AR, Vinkur AD, Yaroch AL, Williams GC, Resnicow K. Direct and mediated effects of two theoretically based interventions to increase consumption of fruits and vegetables in the Healthy Body Healthy Spirit trial. Health Educ Behav. 2011;38(5):492–501.

45.

Deci EL, Ryan RM. Intrinsic motivation and self-determination in human behavior. New York: Plenum; 1985.

46.

Williams GC, Rodin GC, Ryan RM, Grolnick WS, Deci EL. Autonomous regulation and long-term medication adherence in adult outpatients. Health Psychol. 1998;17(3):269–76.

47.

DiIorio C, Maibach E, O'Leary A, Sanderson CA, Celentano D. Measurement of condom use self-efficacy and outcome expectancies in a geographically diverse group of STD patients. AIDS Educ Prev. 1997;9(1):1–13.

48.

Diiorio C, McCarty F, Depadilla L, et al. Adherence to antiretroviral medication regimens: a test of a psychosocial model. AIDS Behav. 2009;13(1):10–22.

49.

Carey MP, Schroder KE. Development and psychometric evaluation of the brief HIV knowledge questionnaire. AIDS Educ Prev. 2002;14(2):172–82.

50.

Carey MP, Morrison-Beedy D, Johnson BT. The HIV-Knowledge Questionnaire: development and evaluation of a reliable, valid, and practical self-administered questionnaire. AIDS Behav. 1997;1(1):61–74.

51.

Radloff LS. The CES-D scale a self-report depression scale for research in the general population. Appl Psychol Meas. 1977;1(3):385–401.

52.

Westbrook LE, Bauman LJ. Perceived stigma of HIV/AIDS scale. Bronx: Albert Einstein College of Medicine; 1996.

53.

Ellison CW. Spiritual well-being: conceptualization and measurement. J Psychol Theol. 1983;11(4):330–40.

54.

Paloutzian RF, Ellison C. Spiritual well-being scale. New York: Nyack; 1982.

55.

Barnard KE. Difficult life circumstances scale. Seattle: NCAST Publications; 1994.

56.

Brandt PA, Weinert C. The PRQ—a social support measure. Nurs Res. 1981;30(5):277–80.

57.

Marshall GN, Hays, RD. The patient satisfaction questionnaire short-form (PSQ-18). 1994. http://www.rand.org/content/dam/rand/pubs/papers/2006/P7865.pdf.

58.

Marshall GN, Hays RD, Sherbourne CD, Wells KB. The structure of patient satisfaction with outpatient medical care. Psychol Assess. 1993;5(4):477.

59.

Pargament KI, Smith BW, Koenig HG, Perez L. Patterns of positive and negative religious coping with major life stressors. J Sci Study Relig. 1998;37:710–24.

60.

Pargament KI, Koenig HG, Perez LM. The many methods of religious coping: Development and initial validation of the RCOPE. J Clin Psychol. 2000;56(4):519–43.

61.

Anderson LA, DeVellis RF, Boyles B, Feussner JR. Patients' perceptions of their clinical interactions: development of the multidimensional desire for control scales. Health Educ Res. 1989;4:383–97.

62.

Dawson B, Trapp RG. Basic & clinical biostatistics. 4th ed. New York: Lange Medical Books/McGraw-Hill; 2004.

63.

Kalichman SC. Co-occurrence of treatment nonadherence and continued HIV transmission risk behaviors: implications for positive prevention interventions. Psychosom Med. 2008;70:593–7.

64.

Jones RK, Frohwirth L, Moore AM. More than poverty: disruptive events among women having abortions in the USA. J Family Plan Reprod Health Care. 2013;39(1):36–43.

65.

Dole N, Savitz DA, Hertz-Picciotto I, Siega-Riz AM, McMahon MJ, Buekens P. Maternal stress and preterm birth. Am J Epidemiol. 2003;157(1):14–24.

66.

Wood L, France K, Hunt K, Eades S, Slack-Smith L. Indigenous women and smoking during pregnancy: knowledge, cultural contexts and barriers to cessation. Soc Sci Med. 2008;66(11):2378–89.

67.

Oakley LD, Song MK, Debose-McQuirter M. Positive and negative depression coping in low-income African American women. Res Nurs Health. 2005;28(2):106–16.

68.

Remien R, Dolezal C, Wagner GJ, et al. The association between poor antiretroviral adherence and unsafe sex: differences by gender and sexual orientation and implication for scale-up of treatment as prevention. AIDS Behav. 2014;18:1541–7.

69.

Hutton HE, Lyketsos CG, Zenilman JM, Thompson RE, Erbelding EJ. Depression and HIV risk behaviors among patients in a sexually transmitted disease clinic. Am J Psychiatry. 2004;161(5):912–4.

70.

Kelly JA, Murphy DA, Bahr GR, et al. Factors associated with severity of depression and high-risk sexual behavior among persons diagnosed with human immunodeficiency virus (HIV) infection. Health Psychol. 1993;12(3):215.

71.

Deci EL, Ryan RM. The "What" and "Why" of goal pursuits: human needs and the self-determination of behavior. Psychol Inq. 2009;11(4):227–68.

72.

Ryan RM, Deci EL. Self-determination theory and the facilitation of intrinsic motivation, social development, and well-being. Am Psychol. 2000;55(1):68–78.

73.

Ryan RM, Lynch MF, Vansteenkiste M, Deci EL. Motivation and autonomy in counseling, psychotherapy, and behavior change: a look at theory and practice. Couns Psychol. 2011;39:193.

74.

Muraven M. Ego depletion. Encyclopedia of social psychology. Thousand Oaks: Sage; 2007.

75.

Giola M, Quaranta B, Dalla Gasperina D, Basilico C, Tomasello L, Grossi P, eds. Adherence to antiretroviral therapy: underlying personality disorders can be more important than drugs convenience. In: 10th European AIDS clinical society conference; 2005.

76.

Settineri S, Mento C, Santoro D, et al. Ego strength and health: an empiric study in hemodialysis patients. Health. 2012;4(12):1328–33.

77.

Cassell M, Halperin DT, Shelton JD, Stanton D. Risk compensation: the Achilles' heel of innovations in HIV prevention? Br Med J. 2006;332:605–7.

78.

Pinkerton SD. Sexual risk compensation and HIV/STD transmission: empirical evidence and theoretical considerations. Risk Anal. 2001;21(4):727–36.

79.

Hunter SD. Promoting intrinsic motivation in clients. Strength Cond J. 2008;30(1):52–4.

80.

Neighbors C, Lewis MA, Fossos N, Grossbard JR. Motivation and risk behaviors: a self-determination perspective. In: Brown LV, editor. Psychology of motivation. Hauppauge: Nova Science Publishers; 2007. p. 99–113.
Acknowledgments
This study was funded by the National Institutes of Nursing Research/National Institutes of Health (R01NR008094) and in part by the Emory Center for AIDS Research (P30 AI050409).
Ethics declarations
Ethical Approval
All procedures performed in studies involving human participants were in accordance with the ethical standards of the institutional and/or national research committee and with the 1964 Helsinki declaration and its later amendments or comparable ethical standards.
About this article
Cite this article
Holstad, M.M., Spangler, S., Higgins, M. et al. Psychosocial Characteristics Associated with Both Antiretroviral Therapy Adherence and Risk Behaviors in Women Living with HIV. AIDS Behav 20, 1084–1096 (2016). https://doi.org/10.1007/s10461-015-1209-5
Keywords
HIV/AIDS

ART

Antiretroviral medication adherence

Sexual risk behavior

Motivation

Difficult life circumstances

Self-efficacy
Palabras clave
VIH/SIDA

terapia antiretroviral

la adherencia a medicación/medicina antiretroviral

el comportamiento de riesgos sexual

motivación

circunstancias difíciles de la vida

la autoeficacia