Abstract
Recent scientific evidence demonstrates that many young men commonly resist condom use with their female sex partners and that both alcohol intoxication and a history of sexual aggression may increase the risk of condom use resistance (CUR). Using a community sample of heterosexual male non-problem drinkers with elevated sexual risk (N = 311), this alcohol administration study examined the direct and indirect effects of intoxication and sexual aggression history on men's CUR intentions through a sexual risk analogue. State impulsivity, CUR-related attitudes, and CUR-related self-efficacy were assessed as mediators. Results demonstrated that alcohol intoxication directly increased CUR intentions, and sexual aggression history both directly and indirectly increased CUR intentions. These findings highlight the importance of addressing both alcohol use and sexual aggression in risky sex prevention programs, as well as indicate the continued worth of research regarding the intersection of men's alcohol use, sexual aggression, and sexual risk behaviors, especially CUR.
Access options
Buy single article
Instant access to the full article PDF.
USD 39.95
Price excludes VAT (USA)
Tax calculation will be finalised during checkout.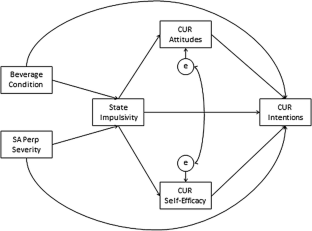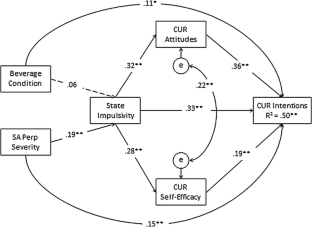 Notes
Analyses were also conducted using the traditional coding scheme of "most severe assault perpetrated." The pattern of results did not differ between the two SES scoring methods.
References
Satterwhite CL, Torrone E, Meites E, Dunne EF, Mahajan R, Ocfemia MCB, et al. Sexually transmitted infections among US women and men: prevalence and incidence estimates, 2008. Sex Transm Dis. 2013;40(3):187–93.

Centers for Disease Control and Prevention. 2013 Sexually Transmitted Diseases Surveillance [Internet]. Atlanta: U.S. Department of Health and Human Services; 2014 [cited 2015 Jan 14]. http://www.cdc.gov/std/stats13/default.htm.

Reece M, Herbenick D, Schick V, Sanders SA, Dodge B, Fortenberry JD. Condom use rates in a national probability sample of males and females ages 14 to 94 in the United States. J Sex Med. 2010;7(Suppl 5):266–76.

Davis KC, Stappenbeck CA, Norris J, George WH, Jacques-Tiura AJ, Schraufnagel TJ, et al. Young men's condom use resistance tactics: a latent profile analysis. J Sex Res. 2014;51(4):454–65.

Bowleg L, Lucas KJ, Tschann JM. "The ball was always in his court": an exploratory analysis of relationship scripts, sexual scripts, and condom use among African American women. Psychol Women Q. 2004;28(1):70–82.

Kennedy SB, Nolen S, Applewhite J, Waiter E. Urban African-American males' perceptions of condom use, gender and power, and HIV/STD prevention program. J Natl Med Assoc. 2007;99(12):1395–401.

Teitelman AM, Tennille J, Bohinski JM, Jemmott LS, Jemmott JBI. Unwanted unprotected sex: condom coercion by male partners and self-silencing of condom negotiation among adolescent girls. Adv Nurs Sci. 2011;34(3):243–59.

Measor L. Condom use: a culture of resistance. Sex Educ. 2006;6(4):393–402.

Davis KC, Schraufnagel TJ, Kajumulo KF, Gilmore AK, Norris J, George WH. A qualitative examination of men's condom use attitudes and resistance: "It's just part of the game". Arch Sex Behav. 2014;43(3):631–43.

Peasant C, Parra GR, Okwumabua TM. Condom negotiation: findings and future directions. J Sex Res. 2015;52(4):470–83.

Ajzen I. The theory of planned behavior. Organ Behav Hum Decis Process. 1991;50(2):179–211.

Albarracín D, Johnson BT, Fishbein M, Muellerleile PA. Theories of reasoned action and planned behavior as models of condom use: a meta-analysis. Psychol Bull. 2001;127(1):142–61.

Rehm J, Shield KD, Joharchi N, Shuper PA. Alcohol consumption and the intention to engage in unprotected sex: systematic review and meta-analysis of experimental studies. Addict Abingdon Engl. 2012;107(1):51–9.

De Wit H. Impulsivity as a determinant and consequence of drug use: a review of underlying processes. Addict Biol. 2009;14(1):22–31.

Wingrove J, Bond AJ. Impulsivity: a state as well as trait variable. Does mood awareness explain low correlations between trait and behavioural measures of impulsivity? Personal Individ Differ. 1997;22(3):333–9.

Dougherty DM, Marsh-Richard DM, Hatzis ES, Nouvion SO, Mathias CW. A test of alcohol dose effects on multiple behavioral measures of impulsivity. Drug Alcohol Depend. 2008;96(1–2):111–20.

Derefinko KJ, Peters JR, Eisenlohr-Moul TA, Walsh EC, Adams ZW, Lynam DR. Relations between trait impulsivity, behavioral impulsivity, physiological arousal, and risky sexual behavior among young men. Arch Sex Behav. 2014;43(6):1149–58.

Abbey A, Parkhill MR, Jacques-Tiura AJ, Saenz C. Alcohol's role in men's use of coercion to obtain unprotected sex. Subst Use Misuse. 2009;44(9–10):1329–48.

Purdie MP, Abbey A, Jacques-Tiura AJ. Perpetrators of intimate partner sexual violence: are there unique characteristics associated with making partners have sex without a condom? Violence Women. 2010;16(10):1086–97.

Raj A, Santana MC, La Marche A, Amaro H, Cranston K, Silverman JG. Perpetration of intimate partner violence associated with sexual risk behaviors among young adult men. Am J Public Health. 2006;96(10):1873–8.

Lisak D, Roth S. Motivational factors in nonincarcerated sexually aggressive men. J Personal Soc Psychol. 1988;55(5):795–802.

Petty GM, Dawson B. Sexual aggression in normal men: incidence, beliefs, and personality characteristics. Personal Individ Differ. 1989;10(3):355–62.

Spence JT, Losoff M, Robbins AS. Sexually aggressive tactics in dating relationships: personality and attitudinal correlates. J Soc Clin Psychol. 1991;10(3):289–304.

Kingree JB, Thompson M. A comparison of risk factors for alcohol-involved and alcohol-uninvolved sexual aggression. J Interpers Violence. 2015;30(9):1478–92.

Pokorny AD, Miller BA, Kaplan HB. The brief MAST: a shortened version of the Michigan Alcoholism Screening Test. Am J Psychiatry. 1972;129(3):342–5.

Friel PN, Logan BK, O'Malley D, Baer JS. Development of dosing guidelines for reaching selected target breath alcohol concentrations. J Stud Alcohol. 1999;60(4):555–65.

Rohsenow DJ, Marlatt GA. The balanced placebo design: methodological considerations. Addict Behav. 1981;6(2):107–22.

Pihl RO, Paylan SS, Gentes-Hawn A, Hoaken PNS. Alcohol affects executive cognitive functioning differentially on the ascending versus descending limb of the blood alcohol concentration curve. Alcohol Clin Exp Res. 2003;27(5):773–9.

Giancola PR, Zeichner A. The biphasic effects of alcohol on human physical aggression. J Abnorm Psychol. 1997;106(4):598–607.

Schacht RL, Stoner SA, George WH, Norris J. Idiographically determined versus standard absorption periods in alcohol administration studies. Alcohol Clin Exp Res. 2010;34(5):925–7.

Bird ST, Harvey SM, Beckman LJ, Johnson CH. Getting your partner to use condoms: interviews with men and women at risk of HIV/STDs. J Sex Res. 2001;38(3):233–40.

Abbey A, Parkhill MR, Koss MP. The effects of frame of reference on responses to questions about sexual assault victimization and perpetration. Psychol Women Q. 2005;29(4):364–73.

Davis KC, Gilmore AK, Stappenbeck CA, Balsan MJ, George WH, Norris J. How to score the Sexual Experiences Survey? A comparison of nine methods. Psychol Violence. 2014;4(4):445–61.

Ajzen I. Perceived behavioral control, self-efficacy, locus of control, and the theory of planned behavior. J Appl Soc Psychol. 2002;32(4):665–83.

Muthén LK. Mplus users guide. Los Angeles: Muthén & Muthén; 2010.

West SG, Taylor AB, Wu W. Model fit and model selection in structural equation modeling. In: Hoyle RH, editor. Handbook of structural equation modeling. New York: Guilford Press; 2012. p. 209–31.

Hayes AF. PROCESS: A versatile computational tool for observed variable mediation, moderation, and conditional process modeling [White paper]. 2012. Retrieved from http://www.afhayes.com/public/process2012.pdf.

Tabachnick BG, Fidell LS. Using multivariate statistics. Boston: Pearson; 2007. p. 980.

Cho Y-H, Span SA. The effect of alcohol on sexual risk-taking among young men and women. Addict Behav. 2010;35(8):779–85.

Davis KC, Hendershot CS, George WH, Norris J, Heiman JR. Alcohol's effects on sexual decision making: an integration of alcohol myopia and individual differences. J Stud Alcohol Drugs. 2007;68(6):843–51.

MacDonald TK, Fong GT, Zanna MP, Martineau AM. Alcohol myopia and condom use: can alcohol intoxication be associated with more prudent behavior? J Personal Soc Psychol. 2000;78(4):605–19.

Steele CM, Josephs RA. Alcohol myopia. Its prized and dangerous effects. Am Psychol. 1990;45(8):921–33.

Purdie MP, Norris J, Davis KC, Zawacki T, Morrison DM, George WH, et al. The effects of acute alcohol intoxication, partner risk level, and general intention to have unprotected sex on women's sexual decision making with a new partner. Exp Clin Psychopharmacol. 2011;19(5):378–88.

Frye V, Ompad D, Chan C, Koblin B, Galea S, Vlahov D. Intimate partner violence perpetration and condom use-related factors: associations with heterosexual men's consistent condom use. AIDS Behav. 2011;15(1):153–62.

Peterson ZD, Janssen E, Heiman JR. The association between sexual aggression and HIV risk behavior in heterosexual men. J Interpers Violence. 2010;25(3):538–56.

Bandura A. Adolescent development from agentic perspective. In: Pajares F, Urdan TC, editors. Self-efficacy beliefs of adolescents. Greenwich: Information Age Publishing; 2006. p. 1–43.

Schwarzer R, Luszczynska A. Self-efficacy, adolescents' risk-taking behaviors, and health. In: Pajares F, Urdan TC, editors. Self-efficacy beliefs of adolescents. Greenwich: Information Age Publishing; 2006. p. 1–43.

Scott-Sheldon LAJ, Johnson BT. Eroticizing creates safer sex: a research synthesis. J Prim Prev. 2006;27(6):619–40.

Abbey A, Wegner R, Woerner J, Pegram SE, Pierce J. Review of survey and experimental research that examined the relationship between alcohol consumption and men's sexual aggression perpetration. Trauma Violence Abuse. 2014;15(4):265–82.

Davis KC, Jacques-Tiura AJ, Stappenbeck CA, Danube CL, Morrison DM, Norris J, George WH. Men's condom use resistance: Alcohol effects on Theory of Planned Behavior constructs. Health Psychol. In press.
Acknowledgments
This research was supported by a grant to the first author from the National Institute of Alcohol Abuse and Alcoholism (R01-AA017608).
About this article
Cite this article
Davis, K.C., Danube, C.L., Neilson, E.C. et al. Distal and Proximal Influences on Men's Intentions to Resist Condoms: Alcohol, Sexual Aggression History, Impulsivity, and Social-Cognitive Factors. AIDS Behav 20 (Suppl 1), 147–157 (2016). https://doi.org/10.1007/s10461-015-1132-9
Published:

Issue Date:

DOI: https://doi.org/10.1007/s10461-015-1132-9
Keywords
Condom use resistance

Alcohol

Sexual aggression

Impulsivity