Abstract
With numerous HIV service gaps in prisons and jails, there has been little research on HIV stigma attitudes among correctional staff. Such attitudes may undermine HIV services for inmates at risk of or infected with HIV. This HIV stigma attitudes survey among 218 correctional staff in 32 US facilities (1) provides an overview of staff's stigma attitudes, (2) reports psychometric analyses of domains in Earnshaw and Chaudoir's HIV Stigma Framework (HSF), and (3) explores differences in stigma attitudes among different staff types. Overall, correctional and medical staff expressed non stigmatizing attitudes toward people living with HIV/AIDS, but perceived that stigma and discrimination exist in others. Factor analyses revealed a three factor structure capturing two mechanisms of the HSF (prejudice, discrimination). Few factor score differences were found by staff type or setting. Implications for correctional HIV services and future research on HIV stigma attitudes are discussed.
Resumen
Aunque existen numerosas brechas en los servicios de VIH en las prisiones y cárceles, existe poca investigación sobre las actitudes estigmatizantes hacia el VIH entre el personal correccional. Tales actitudes pueden socavar los esfuerzos para mejorar los servicios de VIH para las personas confinadas infectadas o en riesgo de infectarse con el VIH. Este cuestionario sobre las actitudes estigmatizantes hacia el VIH entre 218 empleados correccionales de 32 instalaciones en todo los EE.UU trató de (1) proveer una visión general del nivel de estigmatización entre el personal correccional, (2) reportar los análisis psicométricos preliminares de los dominios del 'Marco de Estima propuesto por Earnshaw y Chaudoir' (HSF por sus siglas en inglés) y (3) explorar las diferencias en el nivel y los mecanismos de estigma entre los diferentes tipos de personal. En general, el personal correccional y médico expresó actitudes no-estigmatizantes y de apoyo con respecto a las personas que viven con el VIH/SIDA, pero perciben que el estigma y la discriminación están presentes en otros. El análisis factorial reveló una estructura de tres factores que capturó dos mecanismos del Marco de Estigma hacia VIH (prejuicios, la discriminación). Encontramos pocas diferencias en las tres puntuaciones de los factores como función del tipo de personal o el escenario organizacional. Se discuten las implicaciones para los servicios de VIH en los escenarios correccionales y las futuras investigaciones sobre las actitudes de estigma hacia el VIH.
Access options
Buy single article
Instant access to the full article PDF.
USD 39.95
Price excludes VAT (USA)
Tax calculation will be finalised during checkout.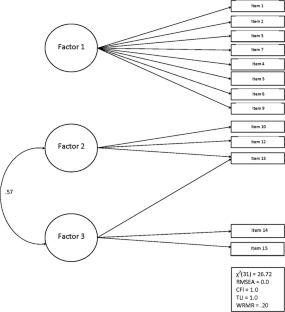 Notes
Prisons are operated by state correctional agencies and generally house inmates convicted of felony crimes sentenced to more than one year of incarceration. Jails are operated by county or city agencies and house inmates awaiting trial or those convicted of misdemeanors and sentenced to one year or less of incarceration. In this paper, the terms "correctional facility" or "corrections" are used generically to indicate both prisons and jails.
References
Centers for Disease Control and Prevention. HIV in correctional settings. http://www.cdc.gov/hiv/topics/correctional. Accessed 10 Aug 2012.

Maruschak L. HIV in prisons, 2001–2010. (NCJ 238877). Washington, DC: U.S Department of Justice, Bureau of Justice Statistics; 2012.

Belenko S, Hiller M, Visher C, et al. Policies and practices in the delivery of HIV services in correctional agencies and facilities: results from a multisite survey. J Correct Health Care. 2013;19:293–310.

Centers for Disease Control and Prevention. HIV testing implementation guidance for correctional settings. Atlanta: Centers for Disease Control and Prevention; 2009.

Begier EM, Bennani Y, Forgione L, et al. Undiagnosed HIV infection among New York city jail entrants, 2006: results of a blinded serosurvey. J Acquir Immune Defic Syndr. 2010;54(1):93–101.

Anderson RM. The transmission dynamics of sexually transmitted diseases: the behavioral component. In: Wasserheit JN, Aral SO, Holmes KK, Hitchcock PJ, editors. Research issues in human behavior and sexually transmitted diseases in the AIDS era. Washington, DC: American Society for Microbiology; 1991.

Aral SO. Determinants of STD epidemics: implications for phase appropriate intervention strategies. Sex Transm Infect. 2002;78(Suppl 1):i3–13.

Blanchard JF. Populations, pathogens, and epidemic phases: Closing the gap between theory and practice in the prevention of sexually transmitted diseases. Sex Transm Infect. 2002;78(Suppl 1):i183–8.

HHS Panel on Antiretroviral Guidelines for Adults and Adolescents. Guidelines for the use of antiretroviral agents in HIV-1-infected adults and adolescents. U.S. Department of Health and Human Services. 2014. http://aidsinfo.nih.gov/ContentFiles/AdultandAdolescentGL.pdf. Accessed 18 Feb 2015.

Stuber J, Meyer I, Link B. Stigma, prejudice, discrimination and health. Soc Sci Med. 2008;67(3):351–7.

UNAIDS. HIV- and AIDS-related stigmatization, discrimination and denial: forms, contexts and determinants. Research studies from Uganda and India. Geneva: UNAIDS; 2000.

Earnshaw VA, Chaudoir SR. From conceptualizing to measuring HIV stigma: a review of HIV stigma mechanism measures. AIDS Behav. 2009;13:1160–77.

Leukefeld C, Staton-Tindall M, Hiller ML, et al. A descriptive profile of health problems, health services utilization, and HIV serostatus among incarcerated male drug abusers. J Behav Health Serv Res. 2002;29(2):167–75.

Visser M, Kershaw T, Makin J, Forsyth B. Development of parallel scales to measure HIV-related stigma. AIDS Behav. 2008;12:759–71.

Roberson D, White B, Fogel C. Factors influencing adherence to antiretroviral therapy for HIV-infected female inmates. J Assoc Nurses AIDS Care. 2009;20:50–61.

Marks G, Crepaz N, Senterfitt J, Janssen R. Meta-analysis of high-risk sexual behavior in persons aware and unaware they are infected with HIV in the United States: implications for HIV prevention programs. J Acquir Immune Defic Syndr. 2005;39(4):446–53.

O'Connell DJ, Swan H, Martin SS, Surratt HL, Visher CA. An HIV continuum of care model for corrections. In: Sanders W, Deeds B, editors. Crime, HIV and health: intersections of criminal justice and public health concerns. New York: Springer; 2013. p. 2013.

Pettus-Davis C, Scheyett AM, Hailey D, Golin C, Wohl D. From the 'streets' to 'normal life': assessing the role of social support in release planning for HIV-positive and substance-involved prisoners. J Offender Rehab. 2009;48(5):367–87.

Zaller N, Thurmond P, Rich JD. Limited spending: an analysis of correctional expenditures on antiretrovirals for HIV-infected prisoners. Pub Health Rep. 2007;122(1):49–54.

Baillargeon JG, Giordano TP, Harzke AJ, Baillargeon G, Rich JD, Paar DP. Enrollment in outpatient care among newly released prison inmates with HIV infection. Pub Health Rep. 2010;125(Supp1):64–71.

Di Paola A, Altice FL, Powell ML, Trestman RL, Springer SA. A comparison of psychiatric diagnoses among HIV-infected prisoners receiving combination antiretroviral therapy and transitioning to the community. Health Justice. 2014;2:11.

Altice FL, Tehrani AS, Qiu J, Herme M, Springer SA. Directly administered antiretroviral therapy (DAART) is superior to self-administered therapy (SAT) among released HIV + prisoners: results from a randomized controlled trial. Paper presented at the 18th Conference on Retroviruses and Opportunistic Infections, Boston, MA, 27 Feb–2 Mar 2011.

Fischl M, Castro J, Monroid R et al. Impact of directly observed therapy on long-term outcomes in HIV clinical trials. In: Program and Abstracts of the 8th Conference on Retroviruses and Opportunistic Infections. Chicago, IL. Abstract 528. 4–8 Feb 2001.

Baillargeon J, Giordano TP, Rich JD, et al. Accessing antiretroviral therapy following release from prison. JAMA. 2009;310:848–57.

Deloria-Knoll M, Chmiel J, Moorman A, Wood K, Holmberg S, Palella F Jr, HIV Outpatient Study (HOPS) Investigators. Factors related to and consequences of adherence to antiretroviral therapy in an ambulatory HIV-infected patient cohort. AIDS Patient Care STDs. 2004;18:721–7.

Mannheimer S, Friedland G, Matts J, et al. The consistency of adherence to antiretroviral therapy predicts biologic outcomes for human immunodeficiency virus-infected persons in clinical trials. Clin Infect Dis. 2002;34:1115–21.

Paterson DL, Swindells S, Mohr J, et al. Adherence to protease inhibitor therapy and outcomes in patients with HIV infection. Ann Intern Med. 2000;133:21–30.

Bangsberg DR, Porco TC, Kagay C, Charlebois ED, Deeks SG, Guzman D, Clark R, Moss A. Modeling the HIV protease inhibitor adherence-resistance curve by use of empirically derived estimates. J Infect Dis. 2004;190(1):162–5.

Bangsberg DR, Kroetz DL, Deeks SG. Adherence-resistance relationships to combination HIV antiretroviral therapy. Curr HIV/AIDS Rep. 2007;4(2):65–72.

Gardner EM, Burman WJ, Steiner JF, Anderson PL, Bangsberg DR. Antiretroviral medication adherence and the development of class-specific antiretroviral resistance. AIDS. 2009;23(9):1035–46.

Herek GM, Capitanio JP, Widaman KF. HIV-related stigma and knowledge in the United States: prevalence and trends, 1991–1999. Am J Public Health. 2002;92:371–7.

Kalichman SC, Simbayi LC, Cloete A, et al. Measuring AIDS stigmas in people living with HIV/AIDS: the internalized AIDS-related stigma scale. AIDS Care. 2009;21:87–93.

Shapiro PD. How close is too close? The negative relationship between knowledge of HIV transmission routes and social distancing tendencies. Soc Sci J. 2005;42:629–37.

Zelaya CE, Sivaram S, Johnson SC, Srikrishnan AK, Solomon S, Celentano DD. HIV/AIDS stigma: reliability and validity of a new measurement instrument in Chennai, India. AIDS Behav. 2008;12:781–8.

Derlega VJ, Winstead BA, Brockington JE Jr. AIDS stigma among inmates and staff in a USA state prison. Int J STD AIDS. 2008;19:259–63.

Derlega VJ, Winstead BA, Gamble KA, Kelkar K, Khuanghlawn P. Inmates with HIV, stigma, and disclosure decision-making. J Health Psychol. 2010;15(2):258–68.

McKee KJ, Marková I, Power KG. Concern, perceived risk and attitudes towards HIV/AIDS in Scottish prisons. AIDS Care. 1995;7(2):159–70.

Arriola K, Kennedy SS, Coltharp JC, Braithwaite RL, Hammett TM, Tinsley MJ. Development and implementation of the cross-site evaluation of the CDC/HRSA corrections demonstration project. AIDS Educ Prev. 2002;14(Suppl A):107–18.

Hammett TM, Harmon P, Maruschak LM. 1996–1997 update: HIV/AIDS, STDs, and TB in correctional facilities. Washington, DC: U.S. Department of Justice, Office of Justice Programs; 1999.

Belenko S, Shedlin M, Chaple M. HIV risk behaviors, knowledge, and prevention service experiences among African American and other offenders. J Health Care Poor Underserved. 2005;16:108–29.

Solomon J, Card JJ, Malow RM. Adapting efficacious interventions: advancing translational research in HIV prevention. Eval Health Prof. 2006;29:162–94.

Massoglia M. Incarceration as exposure: the prison, infectious disease, and other stress-related illnesses. J Health Soc Behav. 2008;49:56.

Albizu-García CE, Hernández-Viver A, Feal J, Rodríguez-Orengo JF. Characteristics of inmates witnessing overdose events in prison: implications for prevention in the correctional setting. Harm Reduct J. 2009;6:15–23.

Macalino GE, Vlahov D, Sanford-Colby S, et al. Prevalence and incidence of HIV, hepatitis B virus, and hepatitis C virus infections among males in Rhode Island prisons. Am J Public Health. 2004;94(7):1218–23.

Earnshaw VA, Smith LR, Chaudoir SR, Amico KR, Copenhaver MM. HIV stigma mechanisms and well-being among PLWH: a test of the HIV stigma framework. AIDS Behav. 2013;17(5):1785–95.

Pascoe EA, Smart Richman L. Perceived discrimination and health: a meta-analytic review. Psychol Bull. 2009;135:531–54.

Smedley BD, Stith AY, Nelson AR, editors. Unequal treatment: confronting racial and ethnic disparities in health care. Washington, DC: Institute of Medicine, National Academy Press; 2003.

Carson EA Golinelli D. Prisoners in 2012, trends in admissions and releases, 1991–2012 (NCJ 243920). Washington DC: U.S. Department of Justice, Bureau of Justice Statistics. http://www.bjs.gov/index.cfm?ty=pbdetail&iid=4842. Accessed 29 July 2014.

Minton TD, Golinelli D. Jail inmates at midyear 2013- statistical tables (NCJ 245350). Washington DC: U.S Department of Justice, Bureau of Justice Statistics. http://www.bjs.gov/index.cfm?ty=pbdetail&iid=4988. Accessed 29 July 2014.

Belenko S, Visher C, Copenhaver M, et al. A cluster randomized trial of utilizing a local change team approach to improve the delivery of HIV services in correctional settings: study protocol. Health Justice. 2013;1:8.

McCarty D, Gustafson D, Wisdom J, et al. The Network for the Improvement of Addiction Treatment (NIATx): enhancing access and retention. Drug Alcohol Depend. 2007;88:138–45.

Genberg BL, Kawichai S, Chingono A, et al. Assessing HIV/AIDS stigma and discrimination in developing countries. AIDS Behav. 2008;12(5):772–80.

Young S, Hlavka Z, Modiba P, et al. HIV-related stigma, social norms, and HIV testing in Soweto and Vulindlela, South Africa: National Institutes of Mental Health Project Accept (HPTN 043). J Acquir Immune Defic Syndr. 2010;55:620–4.

Asparouhov T, Muthèn B. Exploratory structural equation modeling. Struct Equ Model. 2009;16:397–438.

Yates A. Multivariate exploratory data analysis: a perspective on exploratory factor analysis. Albany: State University of New York Press; 1987.

Muthèn LK, Muthèn B. Mplus user's guide. Los Angeles: Muthèn & Muthèn; 2012.

Thurstone LL. The vectors of mind: multiple factor analysis for the isolation of primary traits. Chicago: The University of Chicago Press; 1935.

Thurstone LL. Multiple-factor analysis. Chicago: The University of Chicago Press; 1947.

Browne MW. An overview of analytic rotation in exploratory factor analysis. Multivar Behav Res. 2001;36:111–50.

Nunnally JC. Psychometric theory. New York: McGraw-Hill; 1978.

Wilper AP, Woolhandler S, Boyd JW, et al. The health and health care of US prisoners: results of a nationwide survey (Review). Am J Pub Health. 2009;99:666–72.

The Pew Charitable Trusts and the John D and Catherine T. MacArthur Foundation. 2013. Managing Prison Health Care Spending. http://www.pewtrusts.org/~/media/legacy/uploadedfiles/pcs_assets/2014/PCTCorrectionsHealthcareBrief050814pdf.pdf. Accessed 6 Mar 2015.

Council of State Governments, Justice Center. Policy Brief: Opportunities for Criminal Justice Systems to Increase Medicaid Enrollment. 2013. http://csgjusticecenter.org/wp-content/uploads/2013/12/ACA-Medicaid-Expansion-Policy-Brief.pdf. Accessed 16 Jan 2015.

MacDonald M. Study of the health care provision, existing drug services and strategies operating in prisons in ten countries from Central and Eastern Europe. European Institute for Crime Prevention and Control, affiliated with the United Nations (HEUNI). Publication Series No. 45. Helsinki, Finland. 2005. http://www.heuni.fi/material/attachments/heuni/papers/6KtmY2gvf/HEUNI_papers_23.pdf. Accessed 15 Jan 2015.

Sabharwal CJ, Hunt Muse K, Alper H, et al. Jail-based providers' perceptions of challenges to routine HIV testing in New York City jails. J Correct Health Care. 2010;16(4):310–21.
Acknowledgments
This study was funded under a cooperative agreement from the U.S. Department of Health and Human Services, National Institutes of Health, National Institute on Drug Abuse. The authors gratefully acknowledge the collaborative contributions by NIDA; the Coordinating Center, AMAR International, Inc.; and the Research Centers participating in CJ-DATS. The Research Centers include: Arizona State University and Maricopa County Adult Probation (U01DA025307); University of Connecticut and the Connecticut Department of Correction (U01DA016194); University of Delaware and the New Jersey Department of Corrections (U01DA016230); Friends Research Institute (U01DA025233) and the Maryland Department of Public Safety Correctional Services' Division of Parole and Probation; University of Kentucky and the Kentucky Department of Corrections (U01DA016205); National Development and Research Institutes, Inc. and the Colorado Department of Corrections (U01DA016200); University of Rhode Island, Rhode Island Hospital and the Rhode Island Department of Corrections (U01DA016191); Texas Christian University and the Illinois Department of Corrections (U01DA016190); Temple University and the Pennsylvania Department of Corrections (U01DA025284); and the University of California at Los Angeles and the Washington State Department of Corrections (U01DA016211). The contents are solely the responsibility of the authors and do not necessarily represent the views of the Department of Health and Human Services, NIDA, or other CJ-DATS parties.
About this article
Cite this article
Belenko, S., Dembo, R., Copenhaver, M. et al. HIV Stigma in Prisons and Jails: Results from a Staff Survey. AIDS Behav 20, 71–84 (2016). https://doi.org/10.1007/s10461-015-1098-7
Published:

Issue Date:

DOI: https://doi.org/10.1007/s10461-015-1098-7
Keywords
HIV stigma

Prisons

Correctional staff

HIV discrimination

Factor analysis