Abstract
Early sexual debut is common in South Africa and Tanzania, with potentially negative reproductive health outcomes. The role of violence as a predictor of sexual debut was studied, in a context of predictors borrowed from social cognition models. Data were taken from cluster-randomized trials of school-based HIV prevention interventions in three sites in South Africa and Tanzania. Analyses consisted of descriptive statistics and multi-group structural equation modelling. The basic model functioned fairly well for Cape Town, but less well for Mankweng and Dar es Salaam (low R2 values). Attitudes were the strongest predictor of intention. Adding socio-demographic variables to the model did not reduce the associations much and neither did subsequent inclusion of violence. Sexual debut was strongly associated with victimization; adding violence also substantially increased R2 for sexual debut. Besides social cognition factors, intimate partner violence should be addressed in future research on reproductive health interventions for adolescents.
This is a preview of subscription content, log in to check access.
Access options
Buy single article
Instant access to the full article PDF.
US$ 39.95
Price includes VAT for USA
Subscribe to journal
Immediate online access to all issues from 2019. Subscription will auto renew annually.
US$ 99
This is the net price. Taxes to be calculated in checkout.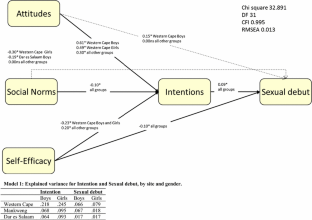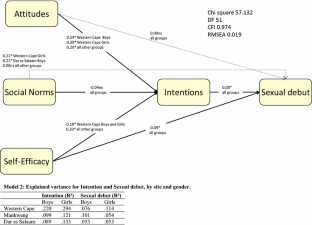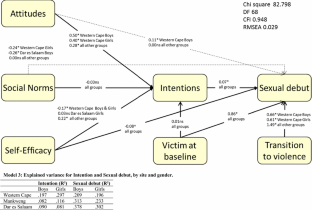 References
1.

Eaton L, Flisher AJ, Aarø LE. Unsafe sexual behaviour in South African youth. Soc Sci Med. 2003;56(1):149–65.

2.

Munguti K, Grosskurth H, Newell J, Senkoro K, Mosha F, Todd J, et al. Patterns of sexual behaviour in a rural population in north-western Tanzania. Soc Sci Med. 1997;44(10):1553–61.

3.

Watts C, Zimmerman C. Violence against women: global scope and magnitude. Lancet. 2002;359(9313):1232–7.

4.

Pettifor AE, van der Straten A, Dunbar MS, Shiboski SC, Padian NS. Early age of first sex: a risk factor for HIV infection among women in Zimbabwe. AIDS. 2004;18(10):1435–42.

5.

Fishbein M, Ajzen I. Predicting and changing behavior: the reasoned action approach. New York: Taylor & Francis Group; 2010.

6.

Carvajal SC, Parcel GS, Basen-Engquist K, Banspach SW, Coyle KK, Kirby D, et al. Psychosocial predictors of delay of first sexual intercourse by adolescents. Health Psychol. 1999;18(5):443–52.

7.

DiIorio C, Dudley WN, Kelly M, Soet JE, Mbwara J, Potter JS. Social cognitive correlates of sexual experience and condom use among 13- through 15-year-old adolescents. J Adolesc Health. 2001;29(3):208–16.

8.

Kinsman SB, Romer D, Furstenberg FF, Schwarz DF. Early sexual initiation: the role of peer norms. Pediatrics. 1998;102(5):1185–92.

9.

Villarruel AM, Jemmott JBI, Jemmott LS, Ronis DL. Predictors of sexual intercourse and condom use intentions among Spanish-dominant Latino youth: a test of the Planned Behavior Theory. Nurs Res. 2004;53(3):172–81.

10.

Buhi ER, Goodson P. Predictors of adolescent sexual behavior and intention: a theory-guided systematic review. J Adolesc Health. 2007;40(1):4–21.

11.

O'Leary A, Jemmott J, Jemmott L, Bellamy S, Ngwane Z, Icard L, et al. Moderation and mediation of an effective HIV risk-reduction intervention for South African adolescents. Ann Behav Med. 2012;44(2):181–91.

12.

Protogerou C, Flisher AJ, Aarø LE, Mathews C. The theory of planned behaviour as a framework for predicting sexual risk behaviour in sub-Saharan African youth: a critical review. J Child Adolesc Ment Health. 2012;24(1):15–35.

13.

Campbell C. 'Letting them die': why HIV/AIDS prevention programmes fail. Oxford: International African Institute; 2003.

14.

Mathews C, Aarø LE, Flisher AJ, Mukoma W, Wubs AG, Schaalma H. Predictors of early first sexual intercourse among adolescents in Cape Town, South Africa. Health Educ Res. 2009;24(1):1–10.

15.

Bryan A, Kagee A, Broaddus M. Condom use among South African adolescents: developing and testing theoretical models of intentions and behavior. AIDS Behav. 2006;10(4):387–97.

16.

Molla M. Nordrehaug Åstrøm A, Brehane Y. Applicability of the theory of planned behavior to intended and self-reported condom use in a rural Ethiopian population. AIDS Care. 2007;19(3):425–31.

17.

Schaalma H, Aarø LE, Flisher AJ, Mathews C, Kaaya S, Onya H, et al. Correlates of intention to use condoms among Sub-Saharan African youth: the applicability of the theory of planned behaviour. Scan J Public Health. 2009;37(2 suppl):87–91.

18.

Speizer I. Individual and community-level tolerance of spouse abuse and the association with the circumstances of first sex among youth from six sub-Saharan African countries. AIDS Care. 2012;24(3):291–300.

19.

Waltermaurer E. Public justification of intimate partner violence: a review of the literature. Trauma Violence Abuse. 2012;13(3):167–75.

20.

Mathews C, Aarø LE, Grimsrud A, Flisher AJ, Kaaya S, Onya H, et al. Effects of the SATZ teacher-led school HIV prevention programmes on adolescent sexual behaviour: cluster randomised controlled trials in three sub-Saharan African sites. Int Health. 2012;4(2):111–22.

21.

Aarø LE, Flisher AJ, Kaaya S, Onya H, Fuglesang M, Klepp KI, et al. Promoting sexual and reproductive health in early adolescence in South Africa and Tanzania: development of a theory- and evidence-based intervention programme. Scand J Public Health. 2006;34(2):150–8.

22.

Kugler KC, Komro KA, Stigler MH, Mnyika KS, Masatu M, Åstrom AN, et al. The reliability and validity of self–report measures used to evaluate adolescent HIV/AIDS prevention programs in sub–Saharan Africa. AIDS Educ Prev. 2007;19(5):365–82.

23.

Straus MA, Hamby SL, BoneyMcCoy S, Sugarman DB. The revised conflict tactics scales (CTS2) development and preliminary psychometric data. J Fam Issues. 1996;17(3):283–316.

24.

Wubs AG, Aarø LE, Mathews C, Onya HE, Mbwambo J. Associations between attitudes toward violence and intimate partner violence in South Africa and Tanzania. Violence Vict. 2013;28(2):324–40.

25.

Aarø LE, Breivik K, Klepp K-I, Kaaya S, Onya HE, Wubs A, et al. An HIV/AIDS knowledge scale for adolescents: item response theory analyses based on data from a study in South Africa and Tanzania. Health Educ Res. 2011;26(2):212–24.

26.

IBM Corp. IBM SPSS Statistics for Windows, Version 19.0. Armonk, NY: IBM Corp; 2010.

27.

Muthén LK, Muthén, BO. Mplus User's Guide. Sixth Edition. Los Angeles, CA: Muthén & Muthén; 1998–2011.

28.

Pettifor AE, Rees HV, Kleinschmidt I, Steffenson AE, MacPhail C, Hlongwa-Madikizela L, et al. Young people's sexual health in South Africa: HIV prevalence and sexual behaviors from a nationally representative household survey. AIDS. 2005;19(14):1525–34.

29.

Swart L-A, Seedat M, Stevens G, Ricardo I. Violence in adolescents' romantic relationships: findings from a survey amongst school-going youth in a South African community. J Adolesc. 2002;25(4):385–95.

30.

Jewkes RK, Dunkle K, Nduna M, Shai N. Intimate partner violence, relationship power inequity, and incidence of HIV infection in young women in South Africa: a cohort study. The Lancet. 2010;376(9734):41–8.

31.

Jasinski JL. Theoretical explanations for violence against women. In: Renzetti CM, Edleson JL, Bergen RK, editors. Sourcebook on violence against women. Thousand Oaks: Sage Publications, Inc; 2001. p. 5–21.

32.

Guerra NG, Huesmann LR, Spindler A. Community violence exposure, social cognition, and aggression among urban elementary school children. Child Dev. 2003;74(5):1561–76.

33.

Ogden J. Some problems with social cognition models: a pragmatic and conceptual analysis. Health Psychol. 2003;22(4):424.
Acknowledgments
The full title of the project was:"Promoting sexual and reproductive health. School-based HIV/AIDS prevention in sub-Saharan Africa". The acronym for the project was "SATZ", which stands for South Africa Tanzania. The SATZ study was funded by the EC—INCO research programme (Fifth Framework Programme—Contract number ICA4-CT-2002-10038). The partners and principal investigators included: University of Cape Town (Alan J. Flisher), Muhimbili University College of Health Sciences, (Sylvia Kaaya), University of the North (Hans Onya), Karolinska institute (Minou Fuglesang), University of Maastricht (Herman Schaalma), University of Oslo (Knut-Inge Klepp), World Population Foundation & Youth Incentives (Jo Reinders), University of Bergen (Leif Edvard Aarø—coordinator).
About this article
Cite this article
Wubs, A.G., Aarø, L.E., Kaaya, S. et al. Social Cognition Variables and Victimization as Predictors of Sexual Debut Among Adolescents in South Africa and Tanzania: A Multi-group SEM Analysis. AIDS Behav 19, 2141–2151 (2015). https://doi.org/10.1007/s10461-015-1087-x
Keywords
HIV prevention

Intimate partner violence

Adolescents

Theory of planned behaviour

Multi-group SEM analysis