Abstract
The impact of HIV and its treatment on the effects of alcohol remain unclear. Blood alcohol concentrations have been noted to be higher in HIV infected individuals prior to antiretroviral initiation. Our goal was to compare number of drinks to "feel a buzz or high" among HIV infected and uninfected men, stratified by viral load (VL) suppression. Data includes 1478 HIV infected and 1170 uninfected men in the veterans aging cohort study who endorsed current drinking. Mean (SD) number of drinks to feel a buzz was 3.1 (1.7) overall. In multivariable analyses, HIV infected men reported a lower mean number of drinks to feel a buzz compared to uninfected men (coef = −14 for VL < 500; −34 for VL ≥ 500; p ≤ .05). Men with HIV, especially those with a detectable VL, reported fewer drinks to feel a buzz. Future research on the relationship between alcohol and HIV should consider the role of VL suppression.
Access options
Buy single article
Instant access to the full article PDF.
USD 39.95
Price excludes VAT (USA)
Tax calculation will be finalised during checkout.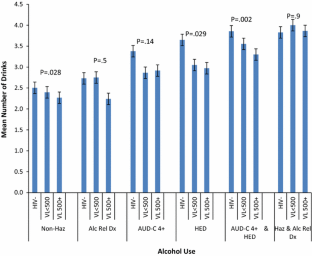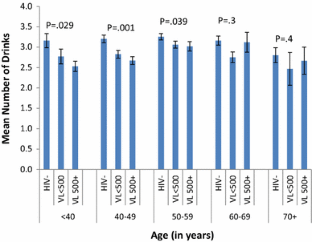 Abbreviations
VACS:

Veteran Aging Cohort Study

ART:

Antiretroviral therapy

VL:

HIV RNA viral load

AUDIT-C:

Alcohol use disorder identification test-consumption

HED:

Heavy episodic drinking

ICD-9:

International classification of diseases, ninth revision

BMI:

Body mass index

SD:

Standard deviation

Haz:

Hazardous

Alc Rel Dx:

Alcohol related ICD-9 diagnosis
References
Saitz R. Clinical practice. Unhealthy alcohol use. N Engl J Med. 2005;352(6):596–607.

Justice AC, Lasky E, McGinnis KA, Skanderson M, Conigliaro J, Fultz SL, et al. Medical disease and alcohol use among veterans with human immunodeficiency infection: a comparison of disease measurement strategies. Med Care. 2006;44(8 Suppl 2):S52–60.

Braithwaite RS, Justice AC, Chang CC, Fusco JS, Raffanti SR, Wong JB, et al. Estimating the proportion of patients infected with HIV who will die of comorbid diseases. Am J Med. 2005;118(8):890–8.

Braithwaite RS, Conigliaro J, Roberts MS, Shechter S, Schaefer A, McGinnis K, et al. Estimating the impact of alcohol consumption on survival for HIV+ individuals. AIDS Care. 2007;19(4):459–66.

Samet JH, Horton NJ, Traphagen ET, Lyon SM, Freedberg KA. Alcohol consumption and HIV disease progression: are they related? Alcohol Clin Exp Res. 2003;27(5):862–7.

Samet JH, Horton NJ, Meli S, Freedberg KA, Palepu A. Alcohol consumption and antiretroviral adherence among HIV-infected persons with alcohol problems. Alcohol Clin Exp Res. 2004;28(4):572–7.

Braithwaite RS, McGinnis KA, Conigliaro J, Maisto SA, Crystal S, Day N, et al. A temporal and dose-response association between alcohol consumption and medication adherence among veterans in care. Alcohol Clin Exp Res. 2005;29(7):1190–7.

Lim JK, Tate JP, Fultz SL, Goulet JL, Conigliaro J, Bryant KJ, et al. Relationship between alcohol use categories and noninvasive markers of advanced hepatic fibrosis in HIV-infected, chronic hepatitis C virus-infected, and uninfected patients. Clin Infect Dis. 2014;58(10):1449–58.

Cook RL, McGinnis KA, Kraemer KL, Gordon AJ, Conigliaro J, Maisto SA, et al. Intoxication before intercourse and risky sexual behavior in male veterans with and without human immunodeficiency virus infection. Med Care. 2006;44(8 Suppl 2):S31–6.

McCance-Katz EF, Lum PJ, Beatty G, Gruber VA, Peters M, Rainey PM. Untreated HIV infection is associated with higher blood alcohol levels. J Acquir Immune Defic Syndr. 2012;60(3):282–8.

McCance-Katz EF, Gruber VA, Beatty G, Lum PJ, Rainey PM. Interactions between alcohol and the antiretroviral medications ritonavir or efavirenz. J Addict Med. 2013;7(4):264–70.

Midanik LT. Drunkenness, feeling the effects and 5+ measures. Addiction. 1999;94(6):887–97.

Levitt A, Sher KJ, Bartholow BD. The language of intoxication: preliminary investigations. Alcohol Clin Exp Res. 2009;33(3):448–54.

Weathermon R, Crabb DW. Alcohol and medication interactions. Alcohol Res Health. 1999;23(1):40–54.

Justice AC, Dombrowski E, Conigliaro J, Fultz SL, Gibson D, Madenwald T, et al. Veterans aging cohort study (VACS): overview and description. Med Care. 2006;44(8 Suppl 2):S13–24.

Conigliaro J, Madenwald T, Bryant K, Braithwaite S, Gordon A, Fultz SL, et al. The Veterans Aging Cohort Study: observational studies of alcohol use, abuse, and outcomes among human immunodeficiency virus-infected veterans. Alcohol Clin Exp Res. 2004;28(2):313–21.

Greenfield TK, Midanik LT, Rogers JD. A 10-year national trend study of alcohol consumption, 1984–1995: is the period of declining drinking over? Am J Public Health. 2000;90(1):47–52.

Midanik LT. Definitions of drunkenness. Subst Use Misuse. 2003;38(9):1285–303.

Bush K, Kivlahan DR, McDonell MB, Fihn SD, Bradley KA. The AUDIT alcohol consumption questions (AUDIT-C): an effective brief screening test for problem drinking. Ambulatory care quality improvement project (ACQUIP). Alcohol use disorders identification test. Arch Intern Med. 1998;158(16):1789–95.

McGinnis KA, Justice AC, Kraemer KL, Saitz R, Bryant KJ, Fiellin DA. Comparing alcohol screening measures among HIV-infected and -uninfected men. Alcohol Clin Exp Res. 2013;37(3):435–42.

Justice AC, McGinnis KA, Skanderson M, Chang CC, Gibert CL, Goetz MB, et al. Towards a combined prognostic index for survival in HIV infection: the role of 'non-HIV' biomarkers. HIV Med. 2010;11(2):143–51.

Tate JP, Justice AC, Hughes MD, Bonnet F, Reiss P, Mocroft A, et al. An internationally generalizable risk index for mortality after one year of antiretroviral therapy. AIDS. 2013;27(4):563–72.

Justice AC, Freiberg MS, Tracy R, Kuller L, Tate JP, Goetz MB, et al. Does an index composed of clinical data reflect effects of inflammation, coagulation, and monocyte activation on mortality among those aging with HIV? Clin Infect Dis. 2012;54(7):984–94.

Wagner JH, Justice AC, Chesney M, Sinclair G, Weissman S, Rodriguez-Barradas M. Patient- and provider-reported adherence: toward a clinically useful approach to measuring antiretroviral adherence. J Clin Epidemiol. 2001;54(Suppl 1):S91–8.

Butt AA, McGinnis K, Rodriguez-Barradas MC, Crystal S, Simberkoff M, Goetz MB, et al. HIV infection and the risk of diabetes mellitus. AIDS. 2009;23(10):1227–34.

Maudens KE, Patteet L, van Nuijs AL, Van BC, Covaci A, Neels H. The influence of the body mass index (BMI) on the volume of distribution of ethanol. Forensic Sci Int. 2014;243C:74–8.

William G. Linear splines and piecewise linear functions. Stata Technical Bulletin 15. Stata Technical Bulletin Reprints. 3. College Station, TX: Stata Corporation; 1993. p. 13–7.

StataCorp. Stata Statistical Software: release 13.0. College Station: Stata Corporation; 2013.

Assimakopoulos SF, Dimitropoulou D, Marangos M, Gogos CA. Intestinal barrier dysfunction in HIV infection: pathophysiology, clinical implications and potential therapies. Infection. 2014;42:951–9.

Baron RM, Kenny DA. The moderator-mediator variable distinction in social psychological research: conceptual, strategic, an statistical considerations. J Pers Soc Psychol. 1986;51(6):1173–82.

Me S. Asymptotic confidence intervals for indirect effects in structural equation models. Sociol Methodol. 1982;13:290–312.

Me S. Some new results on indirect effects and their standard errors in covariance structure models. Sociol Methodol. 1986;16:159–86.

Hesselbrock M, Babor TF, Hesselbrock V, Meyer RE, Workman K. "Never believe an alcoholic"? On the validity of self-report measures of alcohol dependence and related constructs. Subst Use Misuse. 1983;18(5):593–609.

Del Boca FK, Darkes J. The validity of self-reports of alcohol consumption: state of the science and challenges for research. Addiction. 2003;98(Suppl 2):1–12.

Litten RZ, Fertig J. Self-report and biochemical measures of alcohol consumption. Addiction. 2003;98(Suppl 2):3–4.

Litten RZ, Bradley AM, Moss HB. Alcohol biomarkers in applied settings: recent advances and future research opportunities. Alcohol Clin Exp Res. 2010;34(6):955–67.

Kerr WC, Greenfield TK, Midanik LT. How many drinks does it take you to feel drunk? Trends and predictors for subjective drunkenness. Addiction. 2006;101(10):1428–37.
Acknowledgments
The views are not those of the Department of Veterans Affairs or the United States Government. COMpAAAS/Veterans Aging Cohort Study, a CHAART Cooperative Agreement, is supported by the National Institutes of Health: National Institute on Alcohol Abuse and Alcoholism (U24-AA020794, U01-AA020790, U01-AA020795, U01-AA020799; U10 AA013566-completed) and in kind by the US Department of Veterans Affairs.
About this article
Cite this article
McGinnis, K.A., Fiellin, D.A., Tate, J.P. et al. Number of Drinks to "Feel a Buzz" by HIV Status and Viral Load in Men. AIDS Behav 20, 504–511 (2016). https://doi.org/10.1007/s10461-015-1053-7
Published:

Issue Date:

DOI: https://doi.org/10.1007/s10461-015-1053-7
Keywords
HIV

Alcohol intoxication

Alcohol use

Alcohol-related disorders

Buzz