Abstract
We estimated the prevalence of sexual violence (SV) experience among men who have sex with men (MSM) in Brazil and identified its associated risk factors. We recruited 3859 MSM through respondent driven sampling. A multivariable hierarchical analysis was performed using an ecological model. The prevalence of having ever experienced SV was 15.9 % (95 % confidence interval [CI] 14.7–17.1). SV experience was independently associated with discrimination due to sexual orientation (odds ratio [OR] 3.05; 95 % CI 2.10–4.42), prior HIV testing (OR 1.81; 95 % CI 1.25–2.63), ≤14 years at first sex (OR 1.86; 95 % CI 1.28–2.71), first sex with a man (OR 1.89; 95 % CI 1.28–2.79), presenting STI symptoms (last year) (OR 1.66; 95 % CI 1.12–2.47), and having suicidal ideas (last 6 months) (OR 2.08; 95 % CI 1.30–3.35). The high levels of SV against MSM in Brazil place them at a markedly higher risk of SV than the general population. Homophobic prejudice is the strongest determinant of SV and urgently needs to be included at the forefront of the national response to SV.
Resumen
Se estimó la prevalencia de haber experimentado violencia sexual (VS) entre hombres que tienen sexo con hombres (HSH) en Brasil y se identificó sus factores de riesgo. Se reclutó 3859 HSH mediante respondent driven sampling. Se realizó un análisis multivariado hierárquico usando un modelo ecológico. La prevalencia de experiencia de VS alguna vez fue 15.9 % (Intervalo de confianza [IC] 95 % 14.7–17.1). Los factores asociados independientemente con haber sufrido VS alguna vez fueron discriminación debida a orientación sexual (odds ratio [OR] 3.05; 95 % CI 2.10–4.42), haber realizado la prueba del VIH (OR 1.81; 95 % CI 1.25–2.63), ≤14 años de edad en la primera relación sexual (OR 1.86; 95 % CI 1.28–2.71), primera relación sexual con un hombre (OR 1.89; 95 % CI 1.28–2.79), presentar síntomas de ITS durante el último año (OR 1.66; 95 % CI 1.12–2.47), y tener ideas suicidas durante los últimos 6 meses (OR 2.08; 95 % CI 1.30–3.35). Los altos niveles de VS contra los HSH en Brasil sitúan este grupo ante un riesgo de VS superior que la población general. La homofobia es el determinante más importante y debe de encabezar urgentemente la respuesta nacional ante la VS.
Access options
Buy single article
Instant access to the full article PDF.
USD 39.95
Price excludes VAT (USA)
Tax calculation will be finalised during checkout.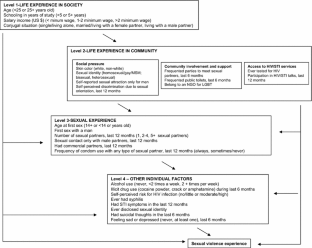 References
Krug EG et al. World report on violence and health. Geneva, World Health Organization, 2002. http://www.who.int/violence_injury_prevention/violence/world_report/en/. Last accessed: 30 Jan 2014.

Randle AA, Graham CA. A review of the evidence on the effects of intimate partner violence on men. Psychol Men Masc. 2011;12:97–111.

Stall R, Mills TC, Williamson J, et al. Association of co-occurring psychosocial health problems and increased vulnerability to HIV/AIDS among urban men who have sex with men. Am J Public Health. 2003;93:939–42.

Dunkle KL, Jewkes RK, Murdock DW, Sikweyiya Y, Morrell R. Prevalence of consensual male-male sex and sexual violence, and associations with HIV in South Africa: a population-based cross-sectional study. PLoS Med. 2013;10:e1001472.

Baral S, Trapence G, Motimedi F, et al. HIV prevalence, risks for HIV infection, and human rights among men who have sex with men (MSM) in Malawi, Namibia, and Botswana. PLoS One. 2009;4:e4997.

Lane T, Raymond HF, Dladla S, et al. High HIV prevalence among men who have sex with men in Soweto, South Africa: results from the Soweto men's study. AIDS Behav. 2011;15:626–34.

Dunkle KL, Wong FY, Nehl EJ, et al. Male-on-male intimate partner violence and sexual risk behaviors among money boys and other men who have sex with men in Shanghai, China. Sex Transm Dis. 2013;40:362–5.

Shaw SY, Lorway RR, Deering KN, et al. Factors associated with sexual violence against men who have sex with men and transgendered individuals in Karnataka, India. PLoS One. 2012;7:e31705.

Toro-Alfonso J, Rodriguez-Madera S. Domestic violence in Puerto Rican gay male couples: perceived prevalence, intergenerational violence, addictive behaviors, and conflict resolution skills. J Interpers Violence. 2004;19:639–54.

Guadamuz TE, Wimonsate W, Varangrat A, et al. Correlates of forced sex among populations of men who have sex with men in Thailand. Arch Sex Behav. 2011;40:259–66.

Beyrer C, et al. The global HIV epidemics among men who have sex with men. Washington: The World Bank; 2011.

Ellis CD. Male rape–the silent victims. Collegian. 2002;9(4):34–9.

Feldman MB, Ream GL, Díaz RM, El-Bassel N. Intimate partner violence and HIV sexual risk behavior among Latino gay and bisexual men. J LGBT Health Res. 2007;3:9–19.

Schraiber LB, D'Oliveira AF, França I Jr. Grupo de Estudos em População, Sexualidade e Aids. [Intimate partner sexual violence among men and women in urban Brazil, 2005]. Rev Saude Publica. 2008;42(Suppl 1):127–37.

Finneran C, Chard A, Sineath C, Sullivan P, Stephenson R. Intimate partner violence and social pressure among gay men in six countries. West J Emerg Med. 2012;13:260–71.

Koblin BA, Torian L, Xu G, et al. Violence and HIV-related risk among young men who have sex with men. AIDS Care. 2006;18:961–7.

World Health Organization. World report on violence and health: summary. Geneva, Switzerland, 2002. http://www.who.int/violence_injury_prevention/violence/world_report/en/Full%20WRVH%20summary.pdf#sthash.08aKduLp.dpuf. Accessed at 17 Dec 2013.

Kerr LR, Mota RS, Kendall C, et al. HIV among MSM in a large middle-income country. Aids. 2012;27:427–35.

Barbosa A Jr, Pascom AR, Szwarcwald CL, Kendall C, McFarland W. Transfer of sampling methods for studies on most-at-risk populations (MARPs) in Brazil. Cad Saude Publica. 2011;27(Suppl 1):S36–44.

Johnston LG, Malekinejad M, Kendall C, Iuppa IM, Rutherford GW. Implementation challenges to using respondent-driven sampling methodology for HIV biological and behavioral surveillance: field experiences in international settings. AIDS Behav. 2008;12(4 Suppl):S131–41.

Heacktorn DD. Respondent-driven sampling: a new approach to the study of hidden populations. Soc Probl. 1997;44:174–99.

Salganik M, Heacktorn DD. Extensions of respondent driven sampling: analyzing continuous variables and controlling for differential recruitment. Sociol Methodol. 2007;37:151–207.

Szwarcwald CL, de Souza PR Jr, Damacena GN, Junior AB, Kendall C. Analysis of data collected by RDS among sex workers in 10 Brazilian cities, 2009: estimation of the prevalence of HIV, variance, and design effect. J Acquir Immune Defic Syndr. 2011;57(Suppl 3):S129–35.

Ministry of Health of Brazil, Health Surveillance Secretariat. Department of STD, aids and viral hepatitis. (Survey of knowledge, attitudes and practices related to STD and aids of the Brazilian population aged 15 to 64 years old, 2008). Brasília: Ministry of Health; 2011.

Victora CG, Huttly SR, Fuchs SC, Olinto MT. The role of conceptual frameworks in epidemiological analysis: a hierarchical approach. Int J Epidemiol. 1997;26:224–7.

Venturi G, Recamán M, Oliveira S. A mulher brasileira nos espaços público e privado: Editora. Sao Paulo: Fundacao Perseu Abramo; 2004.

de Oliveira HN, Machado CJ, Guimaraes MD. Factors associated with self-report of sexual violence against men and women with mental disorders in Brazil. Soc Psychiatry Psychiatr Epidemiol. 2012;47:1567–79.

Heintz AJ, Melendez RM. Intimate partner violence and HIV/STD risk among lesbian, gay, bisexual, and transgender individuals. J Interpers Violence. 2006;2:193–208.

Watts C, Zimmerman C. Violence against women: global scope and magnitude. Lancet. 2002;359:1232–7.

Barker G et al. Evolving men. Initial results from the international men and gender equality survey (IMAGES). Washington: International Center for Research on Women (ICRW) and Rio de Janeiro: Instituto Promundo, 2011. http://www.icrw.org/publications/evolving-men. Last accessed at 2 Feb 2014.

Venturi G, Bokany V. Diversidade sexual e homofobia no Brasil. Editora Fundação Perseu Abramo, 2008.

Araujo MA, Montagner MA, da Silva RM, Lopes FL, de Freitas MM. Symbolic violence experienced by men who have sex with men in the primary health service in Fortaleza, Ceara, Brazil: negotiating identity under stigma. AIDS Patient Care STDS. 2009;23:663–8.

King M, Woollett E. Sexually assaulted males: 115 men consulting a counseling service. Arch Sex Behav. 1997;26:579–88.

Finneran C, Stephenson R. Gay and bisexual men's perceptions of police helpfulness in response to male-male intimate partner violence. West J Emerg Med. 2013;14:354–62.

Welles SL, Corbin TJ, Rich JA, Reed E, Raj A. Intimate partner violence among men having sex with men, women, or both: early-life sexual and physical abuse as antecedents. J Community Health. 2011;36:477–85.

Secretaria Nacional de Assistência Social (SNAS)/Ministério do Desenvolvimento Social e Combate à Fome (MDS). Orientações Técnicas: Centro de Referência Especializado de Assistência Social—CREAS. Brasília, 2011. http://aplicacoes.mds.gov.br/snas/documentos/04-caderno-creas-final-dez.pdf. Last accessed at 06 Dec 2014.

Ministério da Saúde do Brasil. Temático prevençao de violências e cultura de paz. VIII. Panei de indicadores do SUS. No: 5. Organizaçao Panamericana da Saúde. Brasília: 2008. http://bvsms.saude.gov.br/bvs/publicacoes/painel_indicadores_sus_n5_p1.pdf.

Lloyd S, Operario D. HIV risk among men who have sex with men who have experienced childhood sexual abuse: systematic review and meta-analysis. AIDS Educ Prev. 2012;24:228–41.

Chan KL, Straus MA, Brownridge DA, Tiwari A, Leung WC. Prevalence of dating partner violence and suicidal ideation among male and female university students worldwide. J Midwifery Womens Health. 2008;53:529–37.

Masho SW, Anderson L. Sexual assault in men: a population-based study of Virginia. Violence Vict. 2009;24:98–110.

DeJong J, Mahfoud Z, Khoury D, Barbir F, Afifi RA. Ethical considerations in HIV/AIDS biobehavioral surveys that use respondent-driven sampling: illustrations from Lebanon. Am J Public Health. 2009;99:1562–7.

Johnston LG, Whitehead S, Simic-Lawson M, Kendall C. Formative research to optimize respondent-driven sampling surveys among hard-to-reach populations in HIV behavioral and biological surveillance: lessons learned from four case studies. AIDS Care. 2010;22:784–92.

Ministério da Justiça. Secretaria de Estado dos Direitos Humanos. Departamento da Criança e do Adolescente. Plano Nacional de enfrentamento da violência sexual infanto-juvenil. Ministério da Justiça, Brasília: 2002. http://portal.mj.gov.br/sedh/ct/conanda/plano_nacional.pdf. Last accessed at 05 March 2014.
Acknowledgments
This work was supported by the National Department on STD, AIDS, and Viral Hepatitis of the Ministry of Health through a Grant (CSV 234/07). The study site in Manaus received additional funding from the Joint United Nations Programme on HIV/AIDS (UNAIDS) in Brazil. Dr. Kerr thanks the Institute for Global Health of the University of San Francisco California where the original Project was conceived. Dr. Sabidó has a fellowship as a visiting senior researcher at the Fundação de Medicina Tropical. Dr. Heitor Vieira Dourado that is funded by the Foundation for Research Support of the Amazonas State (FAPEAM) through the Strategic Programme in Science, Technology & Innovation in Health Foundations (PECTI/AM SAÚDE).
Conflict of interest
The authors declare that they have no competing interest.
About this article
Cite this article
Sabidó, M., Kerr, L.R.F.S., Mota, R.S. et al. Sexual Violence Against Men Who Have Sex with Men in Brazil: A Respondent-Driven Sampling Survey. AIDS Behav 19, 1630–1641 (2015). https://doi.org/10.1007/s10461-015-1016-z
Published:

Issue Date:

DOI: https://doi.org/10.1007/s10461-015-1016-z
Keywords
Sexual violence

Risk factors

MSM

Respondent-driven sampling

Brazil