Abstract
We conducted a respondent driven sampling survey to estimate HIV prevalence and risk behavior among female sex workers (FSWs) in Nairobi, Kenya. Women aged 18 years and older who reported selling sex to a man at least once in the past 3 months were eligible to participate. Consenting FSWs completed a behavioral questionnaire and were tested for HIV and sexually transmitted infections (STIs). Adjusted population-based prevalence and 95 % confidence intervals (CI) were estimated using RDS analysis tool. Factors significantly associated with HIV infection were assessed using log-binomial regression analysis. A total of 596 eligible participants were included in the analysis. Overall HIV prevalence was 29.5 % (95 % CI 24.7–34.9). Median age was 30 years (IQR 25–38 years); median duration of sex work was 12 years (IQR 8–17 years). The most frequent client-seeking venues were bars (76.6 %) and roadsides (29.3 %). The median number of clients per week was seven (IQR 4–18 clients). HIV testing was high with 86.6 % reported ever been tested for HIV and, of these, 63.1 % testing within the past 12 months. Of all women, 59.7 % perceived themselves at 'great risk' for HIV infection. Of HIV-positive women, 51.0 % were aware of their infection. In multivariable analysis, increasing age, inconsistent condom use with paying clients, and use of a male condom as a method of contraception were independently associated with unrecognized HIV infection. Prevalence among STIs was low, ranging from 0.9 % for syphilis, 1.1 % for gonorrhea, and 3.1 % for Chlamydia. The data suggest high prevalence of HIV among FSWs in Nairobi. Targeted and routine HIV and STI combination prevention strategies need to be scaled up or established to meet the needs of this population.
Access options
Buy single article
Instant access to the full article PDF.
US$ 39.95
Tax calculation will be finalised during checkout.
Subscribe to journal
Immediate online access to all issues from 2019. Subscription will auto renew annually.
US$ 79
Tax calculation will be finalised during checkout.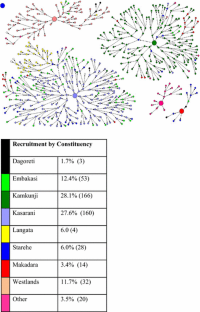 References
1.

Joint United Nations Programme on HIV/AIDS (UNAIDS). UNAIDS guidance note on HIV and sex work. Geneva: UNAIDS; 2012.

2.

UNAIDS. Global HIV/AIDS response: epidemic update and health sector progress towards universal access. Geneva: UNAIDS; 2011.

3.

UNAIDS. AIDS epidemic update: December 2009. Genevar: UNAIDS, 2009. http://data.unaids.org/pub/Report/2009/JC1700/Epi/Update/2009.en.pdf. Accessed on January 20, 2012

4.

Baral S, Beyrer C, Muessig K, et al. Burden of HIV among female sex workers in low-income and middle-income countries: a systematic review and meta-analysis. Lancet Infect Dis. 2012;12:538–49.

5.

Mathers BM, Degenhardt L, Phillips B, et al. Global epidemiology of injecting drug use and HIV among people who inject drugs: a systematic review. The Lancet. 2008;372(9651):1733–45.

6.

Kimani J, Kaul R, Nagelkerke NJD, Luo M, et al. Reduced rates of HIV acquisition during unprotected sex by Kenyan female sex workers predating population declines in HIV prevalence. AIDS. 2008;22:131–7.

7.

Fonck K, Kaul R, Keli F, et al. Sexual transmitted infections and vaginal douching in a population of female sex workers in Nairobi. Kenya. Sex Transm Infect. 2001;77:271–5.

8.

Hawken MP, Melis RDJ, Ngombo DT, Mandaliya K, et al. Part time female sex workers in a suburban community in Kenya: a vulnerable hidden population. Sex Transm Infect. 2002;78:271–3.

9.

Priddy FH, Wakasiaka S, Hoang TD, et al. Anal sex, vaginal practices, and HIV Incidence in female sex Workers in Urban Kenya: implications for the development of intravaginal HIV prevention methods. AIDS Res Hum Retroviruses. 2011;27(10):1067–72.

10.

Magnani R, Sabin K, Saidel T, Heckathorn D. Review of sampling hard-to-reach and hidden populations for HIV surveillance. AIDS. 2005;19(Suppl 2):S67–72.

11.

Johnston LG, Malekinejad M, Rifkin MR, Rutherford GW, Kendall C. Implementation challenges to using respondent-driven sampling methodology for HIV biological and behavioral surveillance: field experiences in international settings. AIDS Behav. 2009;12(Suppl 1):131–41.

12.

Heckathorn D. Respondent-driven sampling: a new approach to the study of hidden populations. Soc Probl. 1997;44(2):174–99.

13.

Goel S, Salganik MJ. Assessing respondent-driven sampling. Proc Natl Acad Sci USA. 2010;107(15):6743–7.

14.

Heckathorn D. Respondent-driven sampling II: deriving valid population estimates from chain-referral samples of hidden populations. Soc Probl. 2002;49(14):11–34.

15.

Heckathorn DD. Extensions of respondent-driven sampling: analyzing continuous variables and controlling for differential recruitment. Sociol Methodol. 2007;37(1):151–207.

16.

Salganik MJ. Variance estimation, design effects, and sample size calculations for respondent-driven sampling. J Urban Health. 2006;83(6S):i98–112.

17.

National AIDS/STI Control Programme (NASCOP). 2007 Kenya AIDS indicator survey: final report. Nairobi: NASCOP; 2009.

18.

Kenya National Bureau of Statistics (KNBS) and ICF Macro. Kenya demographic and health survey 2008–09. Calverton, MA: KNBS and ICF Macro; 2010.

19.

NASCOP. National guidelines for HIV/STI programs for sex workers. Nairobi: NASCOP; 2010.

20.

McClelland L, Wanje G, Kashonga F, et al. Understanding the context of HIV risk behavior among HIV-positive and HIV-negative female sex workers and male bar clients following antiretroviral therapy rollout in Mombasa, Kenya. AIDS Educ Prev. 2011;23(4):299–312.

21.

Ngugi EN, Chakkalackal M, Sharma A, et al. Sustained changes in sexual behavior by female sex workers after completion of a randomized HIV prevention trial. JAIDS. 2007;45:588–94.

22.

Yadav G, Saskin R, Ngugi E, Kimani J, Keli F, Fonck K, et al. Associations of sexual risk taking among Kenyan female sex workers after enrollment in an HIV-1 prevention trial. J Acquir Immune Defic Syndr. 2005;38:329–34.

23.

Wariki WMV, Ota E, Mori R, et al. Behavioral interventions to reduce the transmission of HIV infection among sex workers and their clients in low- and middle-income countries. Cochrane Database Syst Rev. 2012. doi:10.1002/14651858.CD005272.pub3.

24.

Foss AM, Hossain M, Vickerman PT, Watts CH. A systematic review of published evidence on intervention impact on condom use in sub-Saharan Africa and Asia. Sex Transm Infect. 2007;83:510–6.

25.

Fonck K, Kidula N, Kirui P, et al. Pattern of sexually transmitted diseases and risk factors among women attending an STD referral clinic in Nairobi, Kenya. Sex Transm Dis. 2000;7:417–23.

26.

McClelland RS, Richradson BA, Hassan WM, Chohan V, et al. Improvement of vaginal health for Kenyan women at risk for acquisition of human immunodeficiency virus type 1: results of a randomized trial. JID. 2008;197:1361–8.

27.

Luchters S, Chersich MF, Rinyiru A, et al. Impact of five years of peer-mediated interventions on sexual behavior and sexually transmitted infections among female sex workers in Mombasa, Kenya. BMC Public Health. 2008;8:143.

28.

Kaul R, Kimani J, Nagelkerke NJ, et al. Monthly antibiotic chemoprophylaxis and incidence of sexually transmitted infections and HIV-1 Infection in Kenyan sex workers: a randomized controlled trial. JAMA. 2004;291(21):2555–62.
Acknowledgments
The authors acknowledge Nyawira N Njeri, Soloman Kamuti, Gloria Gakii, George Rutherford from the University of California San Francisco, Mary Lou Lindegren from Vanderbilt University, and the study participants for their valuable contributions. The authors also wish to thank the National HIV and STI Control Programme (NASCOP), the National AIDS Control Council, the University of Manitoba's Sex Worker Outreach Programme (SWOP), Liverpool VCT, the University of Nairobi Institute of Tropical and Infectious Diseases (UNITID) Laboratory, the Mombasa HIV/STD Research Laboratory, the University of Washington, the Gay and Lesbian Coalition of Kenya (GALCK), and the participants for their respective supportive roles in the successful completion of this research. This study was funded by the President's Emergency Plan for AIDS Relief through The Centers for Disease Control and Prevention (CDC), through the Population Council's cooperative agreement of Award No. 5U62PS224506.
Disclaimer
The findings and conclusions in this paper are those of the authors and do not necessarily represent those of the US Centers for Disease Control and Prevention or the Government of Kenya.
About this article
Cite this article
Musyoki, H., Kellogg, T.A., Geibel, S. et al. Prevalence of HIV, Sexually Transmitted Infections, and Risk Behaviours Among Female Sex Workers in Nairobi, Kenya: Results of a Respondent Driven Sampling Study. AIDS Behav 19, 46–58 (2015). https://doi.org/10.1007/s10461-014-0919-4
Keywords
Female sex worker

Kenya

HIV

Sexually transmitted infection

Respondent driven

Sampling