Abstract
Previous research has found a deleterious impact of stigma on the mental health of children affected by HIV/AIDS. Little is known about the longitudinal relationship of stigma and children's mental health. This study explores the longitudinal reciprocal effects of depressive symptoms and stigma, specifically enacted stigma and perceived stigma, among children affected by HIV/AIDS aged 6–12. Longitudinal data were collected from 272 children orphaned by AIDS and 249 children of HIV-positive parents in rural China. Cross-lagged panel analysis was conducted in the study. Results showed that the autoregressive effects were stable for depressive symptoms, perceived stigma and enacted stigma suggesting the substantially stable individual differences over time. The cross-lagged effects indicated a vicious circle among the three variables in an order of enacted stigma → depressive symptom → perceived stigma → enacted stigma. The possibility of employing equal constraints on cross-lagged paths suggested that the cross-lagged effects were repeatable over time. The dynamic interplay of enacted stigma, perceived stigma and depressive symptoms suggests the need of a multilevel intervention in stigma reduction programming to promote mental health of children affected by HIV/AIDS.
This is a preview of subscription content, log in to check access.
Access options
Buy single article
Instant access to the full article PDF.
US$ 39.95
Price includes VAT for USA
Subscribe to journal
Immediate online access to all issues from 2019. Subscription will auto renew annually.
US$ 99
This is the net price. Taxes to be calculated in checkout.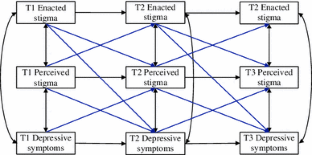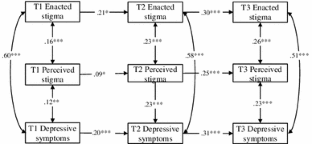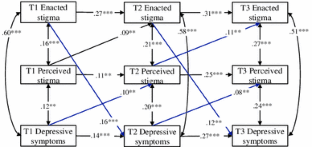 References
1.

UNICEF. Statistics by Area/HIV/AIDS. 2013 [cited 2013 Jan 15, 2013]; Available from: http://www.childinfo.org/hiv_aids_global_trends.html.

2.

Chi P, Li X. Impact of parental HIV/AIDS on children's psychological well-being: a systematic review of global literature. AIDS Behav. 2013;17(7):2554–74.

3.

Crocker J, Major B, Steele R. Social stigma. In: Gilbert DT, Fiske ST, Lindzey G, editors. The handbook of social psychology. New York: McGraw Hill; 1998. p. 504–33.

4.

Goffman E. Stigma: notes on the management of spoiled identity. New York: Simon & Schuster Inc.; 1963.

5.

Steward WT, Herek GM, Ramakrishna J, Bharat S, Chandy S, Wrubel J, et al. HIV-related stigma: adapting a theoretical framework for use in India. Soc Sci Med. 2008;67(8):1225–35.

6.

Herek GM, Capitanio JP, Widaman KF. HIV-related stigma and knowledge in the United States: prevalence and trends, 1991–1999. Am J Public Health. 2002;92(3):371–7.

7.

Herek GM, Gillis JR, Cogan JC. Internalized stigma among sexual minority adults: insights from a social psychological perspective. J Couns Psychol. 2009;56(1):32.

8.

Parker R, Aggleton P. HIV and AIDS-related stigma and discrimination: a conceptual framework and implications for action. Soc Sci Med. 2003;57(1):13–24.

9.

Brown L, Macintyre K, Trujillo L. Interventions to reduce HIV/AIDS stigma: what have we learned? AIDS Educ Prev. 2003;15(1):49–69.

10.

Campbell C, Skovdal M, Mupambireyi Z, Madanhire C, Robertson L, Nyamukapa CA, et al. Can AIDS stigma be reduced to poverty stigma? exploring Zimbabwean children's representations of poverty and AIDS. Child Care Health Dev. 2012;38(5):732–42.

11.

Gausset Q, Mogensen HO, Yameogo WME, Berthé A, Konaté B. The ambivalence of stigma and the double-edged sword of HIV/AIDS intervention in Burkina Faso. Soc Sci Med. 2012;74(7):1037–44.

12.

Logie C, Gadalla T. Meta-analysis of health and demographic correlates of stigma towards people living with HIV. AIDS Care. 2009;21(6):742–53.

13.

Mak WWS, Poon CYM, Pun LYK, Cheung SF. Meta-analysis of stigma and mental health. Soc Sci Med. 2007;65(2):245–61.

14.

Surkan PJ, Mukherjee JS, Williams DR, Eustache E, Louis E, Jean-Paul T, et al. Perceived discrimination and stigma toward children affected by HIV/AIDS and their HIV-positive caregivers in central Haiti. AIDS Care. 2010;22(7):803–15.

15.

Nyamukapa CA, Gregson S, Wambe M, Mushore P, Lopman B, Mupambireyi Z, et al. Causes and consequences of psychological distress among orphans in eastern Zimbabwe. AIDS Care. 2010;22(8):988–96.

16.

Zhao J, Li X, Fang X, Hong Y, Zhao G, Lin X, et al. Stigma Against Children Affected by AIDS (SACAA): psychometric evaluation of a brief measurement scale. AIDS Behav. 2010;14(6):1302–12.

17.

Boyes ME, Cluver LD. Relationships among HIV/AIDS orphanhood, stigma, and symptoms of anxiety and depression in south african youth a longitudinal investigation using a path analysis framework. Clin Psychol Sci. 2013;1(3):323–30.

18.

Cluver LD, Orkin M. Cumulative risk and AIDS-orphanhood: interactions of stigma, bullying and poverty on child mental health in South Africa. Soc Sci Med. 2009;69(8):1186–93.

19.

Lin X, Zhao G, Li X, Stanton B, Zhang L, Hong Y, et al. Perceived HIV stigma among children in a high HIV-prevalence area in central China: beyond the parental HIV-related illness and death. AIDS Care. 2010;22(5):545–55.

20.

Zhao G, Li X, Zhao J, Zhang L, Stanton B. Relative importance of various measures of HIV-related stigma in predicting psychological outcomes among children affected by HIV. Community Ment Health J. 2012;48(3):275–83 Epub 2011/06/18.

21.

Scambler G. Epilepsy. London: Routledge; 1989.

22.

Liamputtong P, Haritavorn N, Kiatying-Angsulee N. HIV and AIDS, stigma and AIDS support groups: perspectives from women living with HIV and AIDS in central Thailand. Soc Sci Med. 2009;69(6):862–8.

23.

Letteney S, LaPorte HH. Deconstructing stigma: perceptions of HIV-seropositive mothers and their disclosure to children. Soc Work Health Care. 2004;38(3):105–23.

24.

Maman S, Abler L, Parker L, Lane T, Chirowodza A, Ntogwisangu J, et al. A comparison of HIV stigma and discrimination in five international sites: the influence of care and treatment resources in high prevalence settings. Soc Sci Med. 2009;68(12):2271–8.

25.

Smith R, Rossetto K, Peterson BL. A meta-analysis of disclosure of one's HIV-positive status, stigma and social support. AIDS Care. 2008;20(10):1266–75.

26.

Uys L, Chirwa M, Kohi T, Greeff M, Naidoo J, Makoae L, et al. Evaluation of a health setting-based stigma intervention in five African countries. AIDS Patient Care and STDS. 2009;23(12):1059–66.

27.

Whetten K, Ostermann J, Whetten RA, Pence BW, O'Donnell K, Messer LC, et al. A comparison of the wellbeing of orphans and abandoned children Ages 6–12 in institutional and community-based care settings in 5 less wealthy nations. PLoS One. 2009;4(12):e8169.

28.

Li L, Lee SJ, Thammawijaya P, Jiraphongsa C, Rotheram-Borus MJ. Stigma, social support, and depression among people living with HIV in Thailand. AIDS Care. 2009;21(8):1007–13.

29.

Simbayi LC, Kalichman S, Strebel A, Cloete A, Henda N, Mqeketo A. Internalized stigma, discrimination, and depression among men and women living with HIV/AIDS in Cape Town South Africa. Soc Sci Med. 2007;64(9):1823–31.

30.

He Z, Ji C. Nutritional status, psychological well-being and the quality of life of AIDS orphans in rural Henan Province China. Trop Med Int Health. 2007;12(10):1180–90.

31.

West A, Wedgwood K. Children affected by AIDS, orphans and impact mitigation in China. In: Kaufman J, Kleinman A, Saich T, editors. AIDS and social policy in China. Cambridge: Harvard University Asia Center; 2006. p. 243–64.

32.

UNAIDS, UNICEF, USAID. Children on the brink 2004: A joint report of new orphan, estimates and a framework for Action. New York: 2004.

33.

Xu T, Yan Z, Duan S, Wang C, Rou K, Wu Z. Psychosocial well-being of children in HIV/AIDS-affected families in southwest China: a qualitative study. J Child Fam Stud. 2009;18(1):21–30.

34.

Li X, Barnett D, Fang X, Lin X, Zhao G, Zhao J, et al. Lifetime incidence of traumatic events and mental health among children affected by HIV/AIDS in rural China. J Clin Child Adolesc Psychol. 2009;38(5):731–44.

35.

Dowdney L. Annotation: childhood bereavement following parental death. J Child Psychol Psychiatry. 2000;41(7):819–30.

36.

Fendrich M, Wessiman MM, Warner V. Screening for depressive disorder in children and adolescents: validating the Center for Epidemiologic Studies Depression Scale for Children. Am J Epidemiol. 1990;131(3):538–51.

37.

Wang X. Rating scales for mental health (Chinese Journal of Mental Health Supplement). Beijing: Chinese Association of Mental Health; 1993.

38.

Muthén LK, Muthén BO. Mplus user's guide: Fifth edition. Los angeles: Author; 2007.

39.

Quintana SM, Maxwell SE. Implications of recent developments in structural equation modeling for counseling psychology. Couns Psychol. 1999;27(4):485–527.

40.

Mukolo A, Heflinger CA, Wallston KA. The stigma of childhood mental disorders: a conceptual framework. J Am Acad Child Adolesc Psychiatry. 2010;49(2):92–103.

41.

Green SE. The impact of stigma on maternal attitudes toward placement of children with disabilities in residential care facilities. Soc Sci Med. 2004;59(4):799–812.

42.

Bronfenbrenner U. The ecology of human development: experiments by nature and design. Cambridge: Harvard University Press; 1979.

43.

Ungar M, Ghazinour M, Richter J. Annual research review: what is resilience within the social ecology of human development? J Child Psychol Psychiatry. 2013;54(4):348–66.
Acknowledgments
This study reported in this article was supported by NIH Research Grant from the National Institute of Mental health (R01MH76488) and the National Institute of Nursing Research (R01NR13466). The content of the article is solely the responsibility of the authors and does not necessarily represent the official views of the National Institute of Mental health and the National Institute of Nursing Research. The authors wish to thank Joanne Zwemer for help in preparing the manuscript.
About this article
Cite this article
Chi, P., Li, X., Zhao, J. et al. Vicious Circle of Perceived Stigma, Enacted Stigma and Depressive Symptoms Among Children Affected by HIV/AIDS in China. AIDS Behav 18, 1054–1062 (2014). https://doi.org/10.1007/s10461-013-0649-z
Keywords
Children

HIV/AIDS

Enacted stigma

Perceived stigma

Depressive symptoms

Cross-lagged

Longitudinal