Abstract
The heightened risk of persons with serious mental illness (SMI) to contract and transmit human immunodeficiency virus (HIV) is a public health problem. Our objective was test the effectiveness of a community-based advanced practice nurse intervention to promote adherence to HIV and psychiatric treatment regimens call Preventing AIDS Through Health for Positives (PATH+). We enrolled 238 HIV-positive subjects with SMI who were in treatment at community HIV provider agencies from 2004 to 2009. Participants in the intervention group were assigned an advanced practice nurse who provided community-based care management at a minimum of one visit/week and coordinated their medical and mental healthcare for 12 months. A parallel process latent growth curve model using three data points for biomarkers (baseline, 12 and 24 months) and five data points for health related quality of life (baseline, 3, 6, 12, and 24 months) showed moderate to excellent fit for modeling changes in CD4, viral load, and mental and physical SF-12 subscales. Results suggest that positive effects for PATH+ persisted at 24 months; 12 months after the intervention ended. This project demonstrates the effectiveness of a nurse-led, community-based, individually tailored adherence intervention. We demonstrated improved outcomes in individuals with HIV/SMI and regarding health-related quality of life and reductions in disease burden.
This is a preview of subscription content,
to check access.
Access this article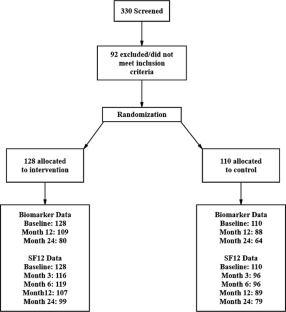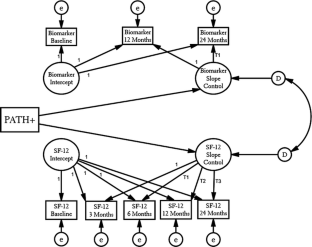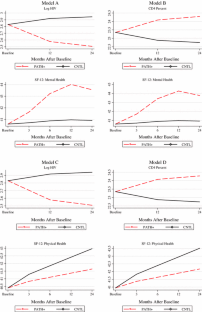 References
Gottesman I, Groome CS. HIV/AIDS risks as a consequence of schizophrenia. Schizophr Bull. 1997;23(4):675–84.

Walkup J, Blank MB, Gonzalez JS, et al. The impact of mental health and substance abuse factors on HIV prevention and treatment. J Acquir Immune Defic Syndr. 2008;47:S15–9.

Blank MB, Eisenberg MM. HIV and mental illness: opportunities for prevention. Journal of prevention & intervention in the community. J Prev Interv. 2007;33(1–2):1–4.

Susser E, Valencia E, Conover S. Prevalence of HIV-infection among psychiatric patients in a New York City men's shelter. Am J Public Health. 1993;83(4):568–70.

Blank MB, Mandell DS, Aiken L, Hadley TR. Co-occurrence of HIV and serious mental illness among medicaid recipients. Psychiatric services. 2002;53(7):868–73.

Himelhoch S, McCarthy JF, Ganoczy D, Medoff D, Dixon LB, Blow FC. Understanding associations between serious mental illness and HIV among patients in the VA health system. Psychiatr Serv. 2007;58(9):1165–72.

Rothbard A, Blank M, Staab J, et al. Previously undetected metabolic syndromes and infectious diseases among psychiatric inpatients. Psychiatr Serv. 2009;60(4):534–7.

Parry CD, Blank MB, Pithey AL. Responding to the threat of HIV among persons with mental illness and substance abuse. Curr Opin Psychiatr. 2007;20(3):235–41.

Blank MB, Hanrahan NP, Fishbein M, et al. A randomized trial of a nursing intervention for HIV disease management among persons with serious mental illness. Psychiatr Serv. 2011;62(11):1318–24.

Walkup J, Blank MB, Gonzalez JS, et al. The impact of mental health and substance abuse factors on HIV prevention and treatment. J Acquir Immune Defic Syndr. 2008;47:S15–9.

Drake RE. Brief history, current status, and future place of assertive community treatment. Am J Orthopsychiatry. 1998;68(2):172–5.

Lee AK, Hanrahan NP, Aiken LH, Blank MB. Perceived facilitators and barriers to the implementation of an advanced practice: nursing intervention for HIV regimen adherence among the seriously mentally ill. J Psychiatr Ment Health Nurs. 2006;13(5):626–8.

Morgan BD, Rossi AP. Difficult-to-manage HIV/AIDS clients with psychiatric illness and substance abuse problems: a collaborative practice with psychiatric advanced practice nurses. J Assoc Nurses AIDS Care. 2007;18(6):77–84.

Kane CF, Blank MB. NPACT: enhancing programs of assertive community treatment for the seriously mentally Ill. Community Ment Health J. 2004;40(6):549–59.

Aiken L, Lake E, Semaan S, et al. Nurse practitioner managed care for persons with HIV infection. J Nurs Scholarsh. 1993;25(3):172–7.

Battaglioli-DeNero AM. Strategies for improving patient adherence to therapy and longterm patient outcomes. J Assoc Nurses AIDS Care. 2007;18(1 Suppl):S17–22.

Collins L, Murphy S, Bierman K. A conceptual framework for adaptive preventive interventions. Prev Sci. 2004;5(3):185–96.

Blank MB, Eisenberg MM. Tailored treatment for HIV + persons with mental illness: the intervention cascade. J Acquir Immune Defic Syndr. 2013;63:S44–8.

Ware JE Jr, Kosinski M, Keller SD. A 12-Item Short-Form Health Survey: construction of Scales and Preliminary Tests of Reliability and Validity. Med Care. 1996;34(3):220–33.

Salyers MP, Bosworth HB, Swanson JW, Lamb-Pagone J, Osher FC. Reliability and Validity of the SF-12 Health Survey among People with Severe Mental Illness. Med Care. 2000;38(11):1141–50.

Curran P, Hussong A. Structural equation modeling of repeated measures data: latent curve analysis. In: Moskowitz D, Hershberger S, editors. Modeling intraindividual variability with repeated measures data. Mahwah: Lawrence Erlbaum; 2002. p. 59–85.

Curran P, Muthén B. The application of latent curve analysis to testing developmental theories in intervention research. Am J Community Psychol. 1999;27:567–95.

Fergus S, Zimmerman M, Caldwell CH. Growth trajectories of sexual risk behavior in adolescence and young adulthood. Am J Public Health. 2007;97:1096–101.

Barnes G, Reifman A, Farrell M, Dintcheff B. The effects of parenting on the development of adolescent alcohol misuse: a six-wave latent growth model. J Marriage Family. 2000;62:175–86.

Fishbein M, Hennessy M, Kamb M, et al. Using intervention theory to model factors influencing behavior change. Project RESPECT. Eval Health Prof. 2001;24(4):363–84.

Bollen K, Curran P. Latent curve models. New York: Wiley; 2006.

Cheong J, MacKinnon DP, Khoo ST. Investigation of mediational processes using parallel process latent growth curve modeling. Struct Equ Modeling. 2003;10(2):238–62.

Biesanz J, Deeb-Sossa N, Papadakis A, Bollen K, Curran P. The role of coding time in estimating and interpreting growth curve models. Psychol Methods. 2004;9(1):30–52.

Hu L-T, Bentler P. Evaluating model fit. In: Hoyle R, editor. Structural equation modeling: Concepts, issues and applications. Newbury Park: Sage; 1995. p. 76–99.

Koblin B, Chesney M, Coates T. Effects of a behavioral intervention to reduce acquisition of HIV infection among men who have sex with men: the EXPLORE randomized controlled study. Lancet. 2004;364:41–50.

Belcher L, Kalichman S, Topping M, et al. A randomized trial of a brief HIV risk reduction counseling intervention for women. J Consult Clin Psychol. 1998;66(5):856–61.

Cottler L, Compton W, Abdahllah A, Cunningham-Williams R, Abram F, Fichtenbaum C. Peer delivered interventions reduce HIV risk behaviors among out-of-treatment drug abusers. Public Health Rep. 1998;113:58–66.

Stephens RC, Simpson DD, Coyle SL, McCoy CB. Comparative effectiveness of NADR interventions. In: Brown BS, Beschner GM, editors. Handbook on risk of AIDS. Westport: Greenwood Press; 1993. p. 519–56.

Friedman SR, Jose B, Deren S, Des Jarlais DC, Neaigus A. Risk factors for human immunodeficiency virus seroconversion among out-of-treatment drug injectors in high and low seroprevalence cities. Am J Epidemiol. 1995;142(8):864–74.

Gibson DR, McCusker J, Chesney M. Effectiveness of psychosocial interventions in preventing HIV risk behaviour in injecting drug users. AIDS. 1998;12(8):919–29.

Coyle S, Needle R, Normand J. Outreach based HIV prevention for injecting drug users: a review of published outcome data. Public Health Rep. 1998;113(Supplement 1):19–30.

Lightfoot M, Rotheram-Borus MJ, Comulada S, Gundersen G, Reddy V. Self-monitoring of behaviour as a risk reduction strategy for persons living with HIV. AIDS Care. 2007;19(6):757–63.

Mannheimer SB, Morse E, Matts JP, et al. Sustained benefit from a long-term antiretroviral adherence intervention: results of a large randomized clinical trial. J Acquir Immune Defic Syndr. 2006;43:S41–7.

Holzemer WL, Bakken S, Portillo CG. Testing a nurse-tailored HIV medication adherence intervention. Nurs Res. 2006;55:189–97.

Rotheram-Borus MJ, Swendeman D, Chovnick G. The past, present, and future of HIV prevention: integrating behavioral, biomedical, and structural intervention strategies for the next generation of HIV prevention. Annu Rev Clin Psychol. 2009;5:143.

Katon WJ, Lin EH, Von Korff M, et al. Collaborative care for patients with depression and chronic illnesses. N Engl J Med. 2010;363(27):2611–20.

Marziali M, De Santis W, Carello R, et al. T-cell homeostasis alteration in HIV-1 infected subjects with low CD4 T-cell count despite undetectable virus load during HAART. AIDS. 2006;20(16):2033–41.
Acknowledgments
This research was supported by grants from National Institute on Drug Abuse (RO1-DA-015627 ''HIV Prevention Program among Substance Abusing SMI"), the National Institute for Nursing Research (RO1-NR-008851 ''Nursing Intervention for HIV Regimen Adherence among SMI'', the Penn Center for AIDS Research (P30AI045008), and the Penn Mental Health AIDS Research Center (P30MH097488)). Trial registration: clinicaltrials.gov identifier NCT00264823. The authors would like to thank William W. Thompson., Ph.D. of the Health-Related Quality of Life and Well-Being Team, National Center for Chronic Disease Prevention and Health Promotion, Centers for Disease Control and Prevention for his helpful comments.
About this article
Cite this article
Blank, M.B., Hennessy, M. & Eisenberg, M.M. Increasing Quality of Life and Reducing HIV Burden: The PATH+ Intervention. AIDS Behav 18, 716–725 (2014). https://doi.org/10.1007/s10461-013-0606-x
Published:

Issue Date:

DOI: https://doi.org/10.1007/s10461-013-0606-x
Keywords