Abstract
This paper examines comprehensive data on arrests for HIV-specific crimes within a single jurisdiction, the Nashville Tennessee prosecutorial region, over 11 years. There were 25 arrests for HIV exposure and 27 for aggravated prostitution. Eleven of the arrests for HIV exposure involved nonsexual behaviors; none alleged transmission. Sixteen of the arrests for HIV exposure involved sexual behavior; three alleged transmission. Aggravated prostitution cases (i.e. prostitution while knowing one has HIV) often involved solicitation of oral sex; none alleged transmission. Maximum sentences for HIV-specific crimes ranged from 5 to 8 years. We conclude that enforcement of US HIV-specific laws is underestimated. Fifty-two arrests over 11 years were recorded in one jurisdiction. Over half of the arrests involved behaviors posing minimal or no HIV transmission risk. Despite concerns about malicious, intentional HIV transmission, no cases alleged malice or intention.
Access options
Buy single article
Instant access to the full article PDF.
USD 39.95
Price includes VAT (USA)
Tax calculation will be finalised during checkout.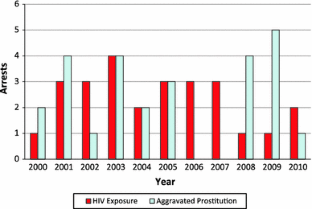 References
1.

Criminal exposure of another to HIV (human immunodeficiency virus), hepatitis B virus (HBV), or to hepatitis C virus (HCV). 2012; Tenn. Code Ann. §39-13-109.

2.

Aggravated prostitution. 2012; Tenn. Code Ann. §39-13-516.

3.

Lazzarini Z, Bray S, Burris S. Evaluating the impact of criminal laws on HIV risk behavior. J Law Med Ethics. 2002;30(2):239–55.

4.

Bennet-Carlson R, Faria D, Hanssens C. Ending and defending against HIV criminalization: a manual for advocates Vol 1, 1st ed. State and Federal Laws and Prosecutions; 2011. www.hivlawandpolicy.org/resources/download/564. Accessed 24 Oct 12.

5.

Authorized terms of imprisonment and fines for felonies and misdemeanors. 2012; Tenn. Code Ann. §40-35-111.

6.

Prostitution. 2012; Tenn. Code Ann. §39-13-513.

7.

Tennessee sexual offender and violent sexual offender registration. verification, and tracking act of 2004. 2012; Tenn. Code Ann. §40-39-201-215.

8.

National Alliance of State & Territorial AIDS Directors. Understanding State Departments of Health and Corrections Collaboration: a summary of survey findings –Part II and strategic guidance towards ending criminalization-related stigma and discrimination; 2011. www.nastad.org/HIVC/decriminalization_findings.pdf. Accessed 24 Oct 12.

9.

UNAIDS. Brief policy: criminalization of HIV transmission. 2008. http://www.data.unaids.org/.../20080731_jc1513_policy_criminalization_en.pdf. Accessed 24 Oct 12.

10.

Burris S, Cameron E. The case against criminalization of HIV transmission. JAMA. 2008;300(5):578–81.

11.

Galletly CL, Pinkerton SD. Conflicting messages: how criminal HIV disclosure laws undermine public health efforts to control the spread of HIV. AIDS Behav. 2006;10(5):451–61.

12.

Vittinghoff E, Douglas J, Judson F, McKirnan D, MacQueen K, Buchbinder SP. Per-contact risk of human immunodeficiency virus transmission between male sexual partners. Am J Epidemiol. 1999;150(3):306–11.

13.

Baggaley RF, White RG, Boily M. Systematic review of orogenital HIV-1 transmission probabilities. Int J Epidemiol. 2008;37:1255–65.

14.

Friedman H. To protect and serve? Trial. 2011;47:14–7.

15.

Dodds C, Bourne A, Weait M. Responses to criminal prosecutions for HIV transmission among gay men with HIV in England and Wales. Reprod Health Matters. 2009;17(34):135–45.

16.

Dodds C, Keogh P. Criminal prosecutions for HIV transmission: people living with HIV respond. Int J STD AIDS. 2006;17:315–8.

17.

Galletly CL, Dickson-Gomez JB. HIV sero-positive status disclosure to prospective sex partners and criminal laws that require it: perspectives of persons living with HIV. Int J STD AIDS. 2009;20(9):613–8.

18.

Galletly CL, DiFranceisco W, Pinkerton SD. HIV-positive persons' awareness and understanding of their states' criminal HIV disclosure law. AIDS Behav. 2009;13:1262–9.

19.

Horvath KJ, Weinmeyer R, Rosser S. Should it be illegal for HIV-positive persons to have unprotected sex without disclosure? An examination of attitudes among US men who have sex with men and the impact of state law. AIDS Care. 2010;22:1221–8.

20.

U.S. positive women's network. diagnosis, sexuality, and choice: women living with hiv and the quest for equality, dignity and quality of life in the U.S. Oakland California; 2011. http://www.pwn-usa.org/wp-content/uploads/2011/03/PWN-HR-Survey-FINAL.pdf. Accessed 24 Oct 12.

21.

Klitzman R, Kirshenbaum S, Kittel L, et al. Naming names: perceptions of name-based reporting, partner notification, and the criminalization of nondisclosure among persons living with HIV. Sex Res Soc Policy. 2004;1(3):38–57.

22.

Galletly CL, Pinkerton SD, DiFrancesico W. A quantitative study of Michigan's criminal HIV exposure law. AIDS Care. 2011;24(2):174–9.

23.

Burris S, Beletsky L, Burleson J, Case P, Lazzarini Z. Do criminal laws influence HIV risk behavior? An empirical trial. Arizona State Law J. 2007;39:467–519.

24.

O'Byrne P, Bryan A, Woodyatt C. Nondisclosure prosecutions and HIV prevention: results from an Ottawa-based gay men's sex survey. J Assoc Nurses in AIDS Care. 2012;[ahead of publication].

25.

Adam BD, Elliott R, Husbands W, Murray J, Maxwell J. Effects of the criminalization of HIV transmission in Cuerrier on men reporting unprotected sex with men. Can J Law and Soc. 2008;23:143–59.

26.

Galletly CL, Glasman LR, Pinkerton SD, DiFranceisco W. New Jersey's HIV exposure law and the HIV-related attitudes, beliefs, and sexual and seropositive status disclosure behaviors of persons living with HIV. Am J Public Health. 2012;102(11):2135–40.

27.

Mykhalovskiy E. The problem of "significant risk": exploring the public health impact of criminalizing HIV non-disclosure. Soc Sci Med. 2011;73:668–75.

28.

Hoppe T. Punishing HIV: how michigan trial courts frame felony HIV disclosure cases. Presentation at International AIDS Conference 2012, Washington, DC; 25 Jun 2012.
About this article
Cite this article
Galletly, C.L., Lazzarini, Z. Charges for Criminal Exposure to HIV and Aggravated Prostitution Filed in the Nashville, Tennessee Prosecutorial Region 2000–2010. AIDS Behav 17, 2624–2636 (2013). https://doi.org/10.1007/s10461-013-0408-1
Keywords
HIV-specific criminal statutes

HIV exposure laws

Persons living with HIV

Criminal law

HIV seropositive status disclosure

HIV transmission prevention