Abstract
Haiti has the highest number of individuals living with HIV in the Caribbean. Due to Haiti's resource-poor environment and inadequate mental health and substance abuse services, adherence to antiretroviral therapy (ART) may be especially difficult. This study examined associations among demographics, maladaptive coping, partner conflict, alcohol problems, depression, and negative attitudes about medications and their impact on adherence among 194 HIV-positive Haitians. In a mediated directional structural equation model, depression and negative attitudes about ART directly predicted poorer adherence. Greater partner conflict, maladaptive coping and alcohol problems predicted more depression. Maladaptive coping predicted a negative attitude about ART. Alcohol problems predicted partner conflict and maladaptive coping. Significant indirect effects on adherence mediated through both depression and negative attitudes about ART include negative effects of female gender, alcohol problems and maladaptive coping. Results highlight the importance of integrated care for depression, alcohol use and other psychosocial problems to increase ART adherence.
Resumen
Haití tiene el número más alto de personas que viven con el VIH en el Caribe. Debido a la escases de recursos y servicios de salud mental y tratamiento del abuso de sustancias psicoactivas en el entorno Haitiano, la adherencia a la terapia antirretroviral (TARV) se puede volver especialmente difícil. Este estudio examinó asociaciones entre características demográficas, métodos inadaptados de lidiar, conflicto con la pareja, problemas relacionados al consumo del alcohol, la depresión, y las actitudes negativas sobre los medicamentos, y el impacto de dichas variables en la adherencia en 194 haitianos VIH-positivos. En un modelo de ecuación estructural, la depresión y las actitudes negativas sobre la TARV directamente predecían una adherencia inferior. Niveles más altos de conflicto con la pareja, métodos inadaptados de lidiar y problemas relacionados al consumo del alcohol predecían más depresión. Los métodos inadaptados de lidiar predecían una actitud negativa frente a la TARV. Problemas con el consumo del alcohol predecían conflicto con la pareja y métodos inadaptados de lidiar. Efectos indirectos significativos que afectan la adherencia mediados por ambas la depresión y las actitudes negativas sobre la TARV incluyen los efectos negativos del sexo femenino, problemas relacionados al consumo del alcohol y los métodos inadaptados de lidiar. Estos hallazgos recalcan la necesidad de una atención integral para la depresión, el consumo de alcohol y los problemas psicosociales para aumentar la adherencia a la TARV.
Access options
Buy single article
Instant access to the full article PDF.
USD 39.95
Price excludes VAT (USA)
Tax calculation will be finalised during checkout.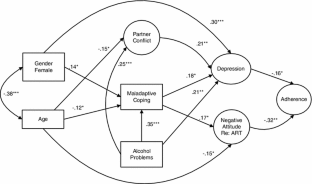 Notes
Wherever a coefficient alpha was provided without citing another source, the statistic was calculated for this study sample. These coefficients reflected the Creole versions of instruments.
References
Barreto S, Miranda J, Figueroa J, et al. Epidemiology in Latin America and the Caribbean: current situation and challenges. Int J Epidemiol. 2012;41(2):557–71.

Malow R, Rosenberg R, Lichtenstein B, Dévieux J. The impact of disaster on HIV in Haiti and priority areas related to the Haitian crisis. J Assoc Nurses AIDS Care. 2010;21(3):283–8.

Dowell S, Tappero J, Frieden T. Public health in Haiti—challenges and progress. N Engl J Med. 2011;364(4):300–1.

Hotez P, Bottazzi M, Franco-Paredes C, Ault S, Periago M. The neglected tropical diseases of Latin America and the Caribbean: a review of disease burden and distribution and a roadmap for control and elimination. PLoS Negl Trop Dis. 2008;2(9):e300.

UNAIDS (2010) UNAIDS report on the global AIDS epidemic 2010. Available from: http://www.unaids.org/globalreport/global_report.htm. Accessed 25 Aug 2012.

UNAIDS. Country HIV and AIDS Estimates: Haiti. 2009. Available from: http://www.unaids.org/en/regionscountries/countries/haiti/. Accessed 28 Aug 2012.

United Nations Development Programme. Human Development Report. United Nations; 2011.

Hempstone, H, Diop-Sidibe, N, Ahanda, K, Lauredent, E, & Heerey, M. HIV/AIDS in Haiti: A literature review. USAID Health Communication Partnership. 2004. Available from: http://pdf.usaid.gov/pdf_docs/PNADR360.pdf. Accessed 30 Aug 2012.

Deschamps M, Pape J, Hafner A, Johnson W. Heterosexual Transmission of HIV in Haiti. Ann Intern Med. 1996;125:324–30.

Malow R, Rosenberg R, Dévieux J. Cognitive-behavioral stress management interventions for ethnic-minority HIV-positive alcohol/drug abusers in resource limited and culturally diverse communities. Am J Infect Dis. 2009;5(1):48–59.

UNAIDS. Report on the Global HIV/AIDS Epidemic. 2002. http://www.unaids.org/en/media/unaids/contentassets/dataimport/pub/report/2002/brglobal_aids_report_en_pdf_red_en.pdf. Accessed 28 Aug 2012.

Blashill A, Perry N, Safren S. Mental health: a focus on stress, coping, and mental illness as it relates to treatment retention, adherence, and other health outcomes. Curr HIV/AIDS Rep. 2011;8(4):215–22.

Nachega J, Morroni C, Zuniga J, et al. HIV treatment adherence, patient health literacy, and health care provider-patient communication: results from the 2010 AIDS Treatment for Life international survey. J Int Assoc Physicians AIDS Care. 2012;11(2):128–33.

Nakimuli-Mpungu E, Bass J, Alexandre P, et al. Depression, alcohol use and adherence to antiretroviral therapy in Sub-Saharan Africa: a systematic review. AIDS Behav. 2011;16(8):2101–18.

Pence B. The impact of mental health and traumatic life experiences on antiretroviral treatment outcomes for people living with HIV/AIDS. J Antimicrob Chemother. 2009;63(4):636–40.

Kahana S, Rohan J, Allison S, Frazier T, Drotar D. A meta-analysis of adherence to antiretroviral therapy and virologic responses in HIV-infected children, adolescents, and young adults. AIDS Behav. 2013;17(1):41–60.

Smith-Fawzi M, Eustache E, Oswald C, et al. Psychosocial functioning among HIV-affected youth and their caregivers in Haiti: implications for family-focused service provision in high HIV burden settings. AIDS Patient Care STDs. 2010;24(3):147–58.

Parker R, Easton D, Charles H. Structural barriers and facilitators in HIV prevention: a review of international research. AIDS. 2000;14(S1):S22–S32.

Garvie P, Flynn P, Belzer M, et al. Psychological factors, beliefs about medication, and adherence of youth with Human Immunodeficiency Virus in a multisite directly observed therapy pilot study. J Adolesc Health. 2011;48:637–40.

Dévieux J, Malow R, Jean-Gilles M, et al. Reducing health disparities through culturally sensitive treatment for HIV+ adults in Haiti. ABNF J. 2004;15(6):109–15.

Namuddu B, Kalyango J, Karamagi C, et al. Prevalence and factors associated with traditional herbal medicine use among patients on highly active antiretroviral therapy in Uganda. BMC Public Health. 2011;11:855.

Dévieux J, Deschamps M, Malow R, et al. Barriers to care among HIV + Haitians: an examination of sociocultural factors. In: Pope C, White R, Malow R, editors. HIV/AIDS: global frontiers in prevention/intervention. New York: Routledge; 2009. p. 238–45.

(UNICEF) UNCF. Haiti at a Glance 2007. Available from: http://www.unicef.org/infobycountry/haiti_statistics.html. Accessed 31 Aug 2012.

Bianco J, Heckman T, Sutton M, Watakakosol R, Lovejoy T. Predicting adherence to antiretroviral therapy in HIV-infected older adults: the moderating role of gender. AIDS Behav. 2011;15(7):1437–46.

Cruess D, Kalichman S, Amaral C, Swetzes C, Cherry C, Kalichman M. Benefits of adherence to psychotropic medications on depressive symptoms and antiretroviral medication adherence among men and women living with HIV/AIDS. Ann Behav Med. 2012;43(2):189–97.

Grenard J, Munjas B, Adams J, et al. Depression and medication adherence in the treatment of chronic diseases in the United States: a meta-analysis. J Gen Intern Med. 2011;26(10):1175–82.

Johnson M, Dilworth S, Taylor J, Neilands T. Improving coping skills for self-management of treatment side effects can reduce antiretroviral medication nonadherence among people living with HIV. Ann Behav Med. 2011;41(1):83–91.

Nel A, Kagee A. Common mental health problems and antiretroviral therapy adherence. AIDS Care. 2011;23(11):1360–5.

Rao D, Feldman B, Fredericksen R, et al. A structural equation model of HIV-related stigma, depressive symptoms, and medication adherence. AIDS Behav. 2012;16(3):711–6.

Sherr L, Clucas C, Harding R, Sibley E, Catalan J. HIV and depression—a systematic review of interventions. Psychol Health Med. 2011;16(5):493–527.

Soller M, Kharrazi N, Prentiss D, et al. Utilization of psychiatric services among low-income HIV-infected patients with psychiatric comorbidity. AIDS Care. 2011;23(11):1351–9.

Talukdar A, Tallukdar P, Ghosal M, Bal R, Ghosh P, Goswami D. Evaluation of depression and coping skill among HIV-positive people in Kolkata, India. J Int Assoc Physicians AIDS Care. 2012;11(2):115–20.

Wagner G, Goggin K, Remien R, et al. A closer look at depression and its relationship to HIV antiretroviral adherence. Ann Behav Med. 2011;42(3):352–60.

Bottonari K, Tripathi S, Fortney J, et al. Correlates of antiretroviral and antidepressant adherence among depressed HIV-infected patients. AIDS Patient Care STDs. 2012;26:265–73.

Baum M, Rafie C, Lai S, Sales S, Page J, Campa A. Alcohol use accelerates HIV disease progression. AIDS Res Hum Retroviruses. 2010;26(5):511–8.

Pan American Health Organization. Antiretroviral treatment in the spotlight: a public health analysis in Latin America and the Caribbean. Alonso González M, ed. Washington, DC: PAHO; 2012.

Gonzalez J, Batchelder A, Psaros C, Safren S. Depression and HIV/AIDS treatment nonadherence: a review and meta-analysis. J Acquir Immune Defic Syndr. 2011;58(2):181–7.

O'Neil C, Palmer A, Coulter S, et al. Factors associated with antiretroviral medication adherence among HIV-positive adults accessing highly active antiretroviral therapy (HAART) in British Columbia, Canada. J Int Assoc Physicians AIDS Care. 2012;11(2):134–41.

Dévieux JG, Malow RM, Rosenberg R, et al. Cultural Adaptation in Translational Research: Field Experiences. J Urban Health. 2005; 82(2):iii82-iii91.

Carver C, Scheier M, Weintraub J. Assessing coping strategies: a theoretically based approach. J Pers Soc Psychol. 1989;56:267–83.

Saunders J, Aasland O, Babor T, de la Fuente J, Grant M. Development of the Alcohol Use Disorders Identification Test (AUDIT): WHO collaborative project on early detection of persons with harmful alcohol consumption II. Addiction. 1993;88:791–804.

Maisto S, Conigliaro J, McNeil M, Kraemer K, Kelley M. An empirical investigation of the factor structure of the AUDIT. Psych Assess. 2000;12(3):346–53.

Radloff L. The CES-D Scale: a self-report depression scale for research in the general population. Appl Psychol Meas. 1977;1:385–401.

Yuan K, Bentler P, Kano Y. On averaging variables in a confirmatory factor analysis model. Behaviormetrika. 1997;24:71–83.

Horne R, Weinman J. Patients' beliefs about prescribed medicines and their role in adherence to treatment in chronic physical illness. J Psychosom Res. 1999;47(6):555–67.

Bentler P. EQS 6 structural equations program manual. Encino, CA: Multivariate Software, Inc.; 2006.

Hu L. Cutoff criteria for fit indexes in covariance structure analysis: conventional criteria versus new alternatives. Struct Equ Model. 1999;6:1–55.

Chou C, Bentler P. Model modification in covariance structure modeling: a comparison among likelihood ratio, Lagrange Multiplier, and Wald tests. Multivar Behav Res. 1990;25:115–36.

MacCallum R. Specification searches in covariance structure modeling. Psychol Bull. 1986;100:107–20.

Sumari-deBoer I, Sprangers M, Prins J, Nieuwker P. HIV stigma and depressive symptoms are related to adherence and virological response to antiretroviral treatment among immigrant and indigenous HIV infected patients. AIDS Behav. 2012;16(6):1681–9.

Kong M, Nahata M, Lacombe V, Seiber E, Balkrishnan R. Association between race, depression, and antiretroviral therapy adherence in a low-income population with HIV infection. J Gen Intern Med. 2012;27(9):1159–64.

Patel V, Chowdhary N, Rahman A, Verdeli H. Improving access to psychological treatments: lessons from developing countries. Behav Res Therapy. 2011;49(9):523–8.

Coleman SM, Gandhi R, Safren S, Freudenreich O. Impact of integrated and measurement-based depression care: clinical experience in an HIV clinic. Psychosomatics. 2012;53(1):51–7.

Curran G, Pyne J, Fortney J, et al. Development and implementation of collaborative care for depression in HIV clinics. AIDS Care. 2011;23(12):1626–36.

Simoni J, Safren S, Manhart L, et al. Challenges in addressing depression in HIV research: assessment, cultural context, and methods. AIDS Behav. 2011;15(2):376–88.

Cohen M, McCauley M, Gamble T. HIV treatment as prevention and HPTN 052. Curr Opin HIV AIDS. 2012;7(2):99–105.

Forsyth A, Valdiserri R. Reaping the prevention benefits of highly active antiretroviral treatment: policy implications of HIV Prevention Trials Network 052. Curr Opin HIV AIDS. 2012;7(2):111–6.

Nachega J, Mills E, Schechter M. Antiretroviral therapy adherence and retention in care in middle-income and low-income countries: current status of knowledge and research priorities. Curr Opin HIV AIDS. 2010;5(1):70–7.

Kang S, Deren S, Colon H. Differential gender effects of depression on use of HIV medications among HIV-positive Puerto Rican drug users. AIDS Care. 2011;23(11):1467–71.

Gordillo V, Fekete E, Platteau T, et al. Emotional support and gender in people living with HIV: effects on psychological well-being. J Behav Med. 2009;32(6):523–31.

Connell RW. Gender and power: society, the person and sexual politics. Stanford, CA: Stanford University Press; 1988.

Wingood GM, DiClemente RJ. Application of the theory of gender and power to examine HIV-related exposures, risk factors, and effective interventions for women. Health Educ Behav. 2000;27:539–65.

Weiser S, Wolfe W, Bangsberg D, et al. Barriers to antiretroviral adherence for patients living with HIV infection and AIDS in Botswana. J Acquir Immune Defic Syndr. 2003;34(3):281–8.

Oyugi JH, Byakika-Tusiime J, Charlebois ED, et al. Multiple validated measures of adherence indicate high levels of adherence to generic HIV antiretroviral therapy in a resource-limited setting. J Acquir Immune Defic Syndr. 2004;36(5):1100–2.

Milan S, Ickovics J, Vlahov D, et al. Interpersonal predictors of depression trajectories in women with HIV. J Consult Clin Psychol. 2005;73(4):678–88.

Campbell J, Baty M, Ghandour R, Stockman J, Francisco L, Wagman J. The intersection of intimate partner violence against women and HIV/AIDS: a review. Int J Inj Contr Saf Promot. 2008;15(4):221–31.

Harling G, Msisha W, Subramanian S. No association between HIV and intimate partner violence among women in 10 developing countries. PLoS ONE. 2010;5(12):8.

Breiding M, Black M, Ryan G. Chronic disease and health risk behaviors associated with intimate partner violence-18 U.S. states/territories, 2005. Ann Epidemiol. 2008;18(7):538–44.

Schafer K, Brant J, Gupta S, et al. Intimate partner violence: a predictor of worse HIV outcomes and engagement in care. AIDS Patient Care STDs. 2012;26(6):356–65.

Kennedy A, Adams A, Bybee D, Campbell R, Kubiak S, Sullivan C. A model of sexually and physically victimized women's process of attaining effective formal help over time: the role of social location, context, and intervention. Am J Community Psychol. 2012;50(1–2):217–28.

Ribeiro W, Andreoli S, Ferri C, Prince M, Mari J. Exposure to violence and mental health problems in low and middle-income countries: a literature review. Revista brasileira de psiquiatria. 2009; 31(S2):S49–S57.

Gage A. Women's experience of intimate partner violence in Haiti (1982). Soc Sci Med. 2005;61(2):343–64.

Gage A, Hutchinson P. Power, control, and intimate partner sexual violence in Haiti. Arch Sex Behav. 2006;35(1):11–24.

Gómez A, Speizer I, Beauvais H. Sexual violence and reproductive health among youth in Port-au-Prince, Haiti. J Adolesc Health. 2009;44(5):508–10.

Klinkenberg W, Calsyn R, Morse G, McCudden S, Richmond T, Burger G. Consistency of recall of sexual and drug-using behaviors for homeless persons with dual diagnosis. AIDS Behav. 2002;6(4):295–307.

Koenig S, Ivers LC, Pace S, et al. Successes and challenges of HIV treatment programs in Haiti: aftermath of the earthquake. HIV Therapy. 2010;4:145–60.

WHO; UNFPA; UNAIDS; IPPF. Linking sexual and reproductive health and HIV/AIDS, gateways to integration: a case study from Haiti. Geneva: WHO Press; 2008.

Bass JK, Bornemann TH, Burkey M, et al. A United Nations General Assembly Special Session for mental, neurological, and substance use disorders: the time has come. PLoS Med. 2012;9(1):e1001159.

Raviola G, Eustache E, Oswald C, Belkin GS. Mental health response in Haiti in the aftermath of the 2010 earthquake: a case study for building long-term solutions. Harv Rev Psychiatry. 2012;20(1):68–77.

Belkin GS, Unützer J, Kessler RC, et al. Scaling up for the "Bottom Billion": "5 × 5" implementation of community mental health care in low-income regions psychiatric services. Psychiatr Serv. 2011;62(12):1450–94.
Acknowledgments
This research was supported by a grant from the National Institute on Alcohol Abuse and Alcoholism and a grant from the National Institute on Drug Abuse.
About this article
Cite this article
Malow, R., Dévieux, J.G., Stein, J.A. et al. Depression, Substance Abuse and Other Contextual Predictors of Adherence to Antiretroviral Therapy (ART) Among Haitians. AIDS Behav 17, 1221–1230 (2013). https://doi.org/10.1007/s10461-012-0400-1
Published:

Issue Date:

DOI: https://doi.org/10.1007/s10461-012-0400-1
Keywords
Antiretroviral therapy

Haitians

Adherence

Depression