Abstract
Patient electronic personal health record (PHR) use has been associated with improved patient outcomes in diabetes and depression care. Little is known about the effect of PHR use on HIV care processes and outcomes. We evaluated whether there was an association between patient PHR use and antiretroviral adherence. Data came from the Veterans Aging Cohort Study and included cross-sectional survey and medical record data from 1871 HIV+ veterans. Our adherence measure was an antiretroviral medication possession ratio, dichotomized at 0.90, and based on pharmacy refill data. In our sample 44 % did not use the internet, 14 % used internet but not for health, 27 % used internet for health but not the PHR, and 14 % used the PHR. In multivariable analysis PHR use was associated with ≥90 % adherence after controlling for socio-demographic variables. Findings provide support for longitudinal studies and studies that identify which PHR functions (e.g. online medication refills, viewing lab results, secure messaging with providers) are most closely associated with medication adherence.
Access options
Buy single article
Instant access to the full article PDF.
US$ 39.95
Tax calculation will be finalised during checkout.
Subscribe to journal
Immediate online access to all issues from 2019. Subscription will auto renew annually.
US$ 79
Tax calculation will be finalised during checkout.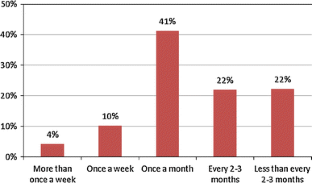 References
1.

Roter DL, Hall JA, Merisca R, Nordstrom B, Cretin D, Svarstad B. Effectiveness of interventions to improve patient compliance: a meta-analysis. Med Care. 1998;36:1138–61.

2.

Bangsberg DR, Acosta EP, Gupta R, et al. Adherence-resistance relationships for protease and non-nucleoside reverse transcriptase inhibitors explained by virological fitness. AIDS. 2006;20:223–31.

3.

Garcia de Olalla P, Knobel H, Carmona A, Guelar A, Lopez-Colomes JL, Cayla JA. Impact of adherence and highly active antiretroviral therapy on survival in HIV-infected patients. J Acquir Immune Defic Syndr. 2002;30:105–10.

4.

Bangsberg DR, Perry S, Charlebois ED, et al. Non-adherence to highly active antiretroviral therapy predicts progression to AIDS. AIDS. 2001;15:1181–3.

5.

Simoni JM, Amico KR, Pearson CR, Malow R. Strategies for promoting adherence to antiretroviral therapy: a review of the literature. Curr Infect Dis Rep. 2008;10:515–21.

6.

Arnsten JH, Li X, Mizuno Y, et al. Factors associated with antiretroviral therapy adherence and medication errors among HIV-infected injection drug users. J Acquir Immune Defic Syndr. 2007;46(Suppl 2):S64–71.

7.

Wolf MS, Davis TC, Osborn CY, Skripkauskas S, Bennett CL, Makoul G. Literacy, self-efficacy, and HIV medication adherence. Patient Educ Couns. 2007;65:253–60.

8.

Bogart LM, Wagner GJ, Galvan FH, Klein DJ. Longitudinal relationships between antiretroviral treatment adherence and discrimination due to HIV-serostatus, race, and sexual orientation among African-American men with HIV. Annu Behav Med. 2010;40:184–90.

9.

Bogart LM, Wagner G, Galvan FH, Banks D. Conspiracy beliefs about HIV are related to antiretroviral treatment nonadherence among African-American men with HIV. J Acquir Immune Defic Syndr. 2010;53:648–55.

10.

Rainie L. The internet as a diversion and destination. Washington, DC: Pew Research Center; 2011.

11.

Simon GE, Ralston JD, Savarino J, Pabiniak C, Wentzel C, Operskalski BH. Randomized trial of depression follow-up care by online messaging. J Gen Intern Med. 2011;26(7):698–704.

12.

Ralston JD, Hirsch IB, Hoath J, Mullen M, Cheadle A, Goldberg HI. Web-based collaborative care for type 2 diabetes: a pilot randomized trial. Diabetes Care. 2009;32:234–9.

13.

Kahn JS, Hilton JF, Van Nunnery T, et al. Personal health records in a public hospital: experience at the HIV/AIDS clinic at San Francisco General Hospital. J Am Med Inform Assoc. 2010;17:224–8.

14.

Zulman DM, Nazi KM, Turvey CL, Wagner TH, Woods SS, An LC. Patient interest in sharing personal health record information: a web-based survey. Annu Intern Med. 2011;155:805–10.

15.

Nazi KM, Hogan TP, Wagner TH, et al. Embracing a health services research perspective on personal health records: lessons learned from the VA My HealtheVet system. J Gen Intern Med. 2010;25(Suppl 1):62–7.

16.

Ralston JD, Carrell D, Reid R, Anderson M, Moran M, Hereford J. Patient web services integrated with a shared medical record: patient use and satisfaction. J Am Med Inform Assoc. 2007;14:798–806.

17.

Tang PC, Lee TH. Your doctor's office or the internet? Two paths to personal health records. N Engl J Med. 2009;360:1276–8.

18.

Silvestre AL, Sue VM, Allen JY. If you build it, will they come? The Kaiser Permanente model of online health care. Health Aff (Millwood). 2009;28:334–44.

19.

Justice AC, Dombrowski E, Conigliaro J, et al. Veterans Aging Cohort Study (VACS): Overview and description. Med Care. 2006;44:S13–24.

20.

Smola S, Justice AC, Wagner J, Rabeneck L, Weissman S, Rodriguez-Barradas M. Veterans aging cohort three-site study (VACS 3): overview and description. J Clin Epidemiol. 2001;54(Suppl 1):S61–76.

21.

Steiner JF, Koepsell TD, Fihn SD, Inui TS. A general method of compliance assessment using centralized pharmacy records. Description and validation. Med Care. 1988;26:814–23.

22.

Braithwaite RS, Kozal MJ, Chang CC, et al. Adherence, virological and immunological outcomes for HIV-infected veterans starting combination antiretroviral therapies. AIDS. 2007;21:1579–89.

23.

Braitstein P, Justice A, Bangsberg DR, et al. Hepatitis C coinfection is independently associated with decreased adherence to antiretroviral therapy in a population-based HIV cohort. AIDS. 2006;20:323–31.

24.

Hogg RS, Heath K, Bangsberg D, et al. Intermittent use of triple-combination therapy is predictive of mortality at baseline and after 1 year of follow-up. AIDS. 2002;16:1051–8.

25.

Low-Beer S, Yip B, O'Shaughnessy MV, Hogg RS, Montaner JS. Adherence to triple therapy and viral load response. J Acquir Immune Defic Syndr. 2000;23:360–1.

26.

Bangsberg DR. Less than 95% adherence to nonnucleoside reverse-transcriptase inhibitor therapy can lead to viral suppression. Clin Infect Dis. 2006;43:939–41.

27.

Bangsberg DR, Deeks SG. Is average adherence to HIV antiretroviral therapy enough? J Gen Intern Med. 2002;17:812–3.

28.

Lima VD, Bangsberg DR, Harrigan PR, et al. Risk of viral failure declines with duration of suppression on highly active antiretroviral therapy irrespective of adherence level. J Acquir Immune Defic Syndr. 2010;55:460–5.

29.

Baker L, Wagner TH, Singer S, Bundorf MK. Use of the Internet and e-mail for health care information: results from a national survey. JAMA. 2003;289:2400–6.

30.

Babor TF, Higgins-Biddle JC, Saunders JB, Monteiro MG. The alcohol use disorders identification test: guidelines for use in primary care. 2nd ed. Geneva: World Health Organization; 2001.

31.

Conigliaro J, Gordon AJ, McGinnis KA, Rabeneck L, Justice AC. How harmful is hazardous alcohol use and abuse in HIV infection: do health care providers know who is at risk? J Acquir Immune Defic Syndr. 2003;33:521–5.

32.

Ickovics JR, Meisler AW. Adherence in AIDS clinical trials: a framework for clinical research and clinical care. J Clin Epidemiol. 1997;50:385–91.

33.

Rodrigues R, Shet A, Antony J, et al. Supporting adherence to antiretroviral therapy with mobile phone reminders: results from a cohort in South India. PLoS ONE. 2012;7:e40723.

34.

Bedelu M, Ford N, Hilderbrand K, Reuter H. Implementing antiretroviral therapy in rural communities: the Lusikisiki model of decentralized HIV/AIDS care. J Infect Dis. 2007;196(Suppl 3):S464–8.

35.

Li CY, Sung FC. A review of the healthy worker effect in occupational epidemiology. Occup Med (Lond). 1999;49:225–9.

36.

Punnett L. Adjusting for the healthy worker selection effect in cross-sectional studies. Int J Epidemiol. 1996;25:1068–76.

37.

McInnes DK, Solomon JL, Shimada SL, et al. Development and evaluation of an internet and personal health record training program for low income patients with HIV and hepatitis C. Med Care. 2013, in press.

38.

Reidel K, Tamblyn R, Patel V, Huang A. Pilot study of an interactive voice response system to improve medication refill compliance. BMC Med Inform Decis Mak. 2008;8:46.

39.

Starks H, Simoni J, Zhao H, et al. Conceptualizing antiretroviral adherence in Beijing, China. AIDS Care. 2008;20:607–14.

40.

Nazi KM, Hogan TP, McInnes DK, Woods SS, Graham G. Evaluating patient access to electronic health records: results from a survey of veterans. Med Care. 2013, in press.

41.

Brookhart MA, Patrick AR, Dormuth C, et al. Adherence to lipid-lowering therapy and the use of preventive health services: an investigation of the healthy user effect. Am J Epidemiol. 2007;166:348–54.

42.

Grossberg R, Zhang Y, Gross R. A time-to-prescription-refill measure of antiretroviral adherence predicted changes in viral load in HIV. J Clin Epidemiol. 2004;57:1107–10.

43.

Azar MM, Springer SA, Meyer JP, Altice FL. A systematic review of the impact of alcohol use disorders on HIV treatment outcomes, adherence to antiretroviral therapy and health care utilization. Drug Alcohol Depend. 2010;112:178–93.

44.

Gordon AJ, McGinnis KA, Conigliaro J, Rodriguez-Barradas MC, Rabeneck L, Justice AC. Associations between alcohol use and homelessness with healthcare utilization among human immunodeficiency virus-infected veterans. Med Care. 2006;44:S37–43.

45.

Kidder DP, Wolitski RJ, Campsmith ML, Nakamura GV. Health status, health care use, medication use, and medication adherence among homeless and housed people living with HIV/AIDS. Am J Public Health. 2007;97:2238–45.

46.

Mills EJ, Nachega JB, Buchan I, et al. Adherence to antiretroviral therapy in sub-Saharan Africa and North America: a meta-analysis. JAMA. 2006;296:679–90.

47.

Venkatesh KK, Srikrishnan AK, Mayer KH, et al. Predictors of nonadherence to highly active antiretroviral therapy among HIV-infected South Indians in clinical care: implications for developing adherence interventions in resource-limited settings. AIDS patient care STDs. 2010;24:795–803.

48.

Green BB, Cook AJ, Ralston JD, et al. Effectiveness of home blood pressure monitoring, web communication, and pharmacist care on hypertension control: a randomized controlled trial. JAMA. 2008;299:2857–67.

49.

Leveille SG, Walker J, Ralston JD, Ross SE, Elmore JG, Delbanco T. Evaluating the impact of patients' online access to doctors' visit notes: designing and executing the OpenNotes project. BMC Med Inform Decis Mak. 2012;12:32.

50.

McInnes DK, Gifford AL, Kazis LE, Wagner TH. Disparities in health-related internet use by US veterans: results from a national survey. Inform Prim Care. 2010;18:59–68.

51.

Eyrich-Garg KM. Mobile phone technology: a new paradigm for the prevention, treatment, and research of the non-sheltered "street" homeless? J Urban Health. 2010;87:365–80.
Acknowledgments
Dr. McInnes was supported by VA CDA #09-016 and by VA HIV/Hepatitis and eHealth QUERI Programs (RRP #09-192). The views expressed in this article are those of the authors and do not necessarily represent the views of the Department of Veterans Affairs.
About this article
Cite this article
Keith McInnes, D., Shimada, S.L., Rao, S.R. et al. Personal Health Record Use and Its Association with Antiretroviral Adherence: Survey and Medical Record Data from 1871 US Veterans Infected with HIV. AIDS Behav 17, 3091–3100 (2013). https://doi.org/10.1007/s10461-012-0399-3
Keywords
HIV

Medication adherence

Health informatics

Internet

Personal health record

Veterans