Abstract
Of people living with HIV in the US, ~16 % or over 150,000 individuals passed through a correctional facility in 2006. Given the enormous impact of HIV within incarcerated populations, facilitating continuity of care from jails to the community is particularly important in reducing morbidity and mortality for releasees. Grantees participating in the Enhancing Linkages to HIV Primary Care in Jail Settings Initiative developed models for identifying HIV-positive detainees during incarceration and linking them to care following release. In this sample of 1,021 HIV-infected releasees, 79 % received clinical services and 74 % received additional community services within 30 days post-release. Our analysis found several significant factors associated with linkage including: receipt of HIV or medication education in jail, having a completed discharge plan at release, staff awareness of clients' release date, and stable housing on the 30th day post-release. In addition, a subset of participants who had both jail and community viral load assessments showed a statistically significant increase in suppressed viral load. EnhanceLink data suggest that jails may be effective settings to engage individuals in care.
Access options
Buy single article
Instant access to the full article PDF.
USD 39.95
Price includes VAT (USA)
Tax calculation will be finalised during checkout.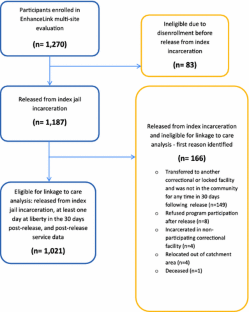 References
1.

Spaulding AC, Seals RM, Page MJ, Brzozowski AK, Rhodes W, Hammett TM. HIV/AIDS among inmates of and releasees from US correctional facilities, 2006: declining share of epidemic but persistent public health opportunity. PLoS One. 2009;4(11):e7558.

2.

Maruschak LM, Beavers R. HIV in Prisons, 2007–08. Bureau of Justice Statistics Bulletin. NCJ 228307. Washington, DC: US Department of Justice, Office of Justice Programs, Bureau of Justice Statistics; 2009.

3.

Cohen MS, Chen YQ, McCauley M, et al. Prevention of HIV-1 infection with early antiretroviral therapy. N Engl J Med. 2011;365(6):493–505.

4.

Westergaard RP, Kirk GD, Richesson DR, Galai N, Mehta SH. Incarceration predicts virologic failure for HIV-infected injection drug users receiving antiretroviral therapy. Clin Infect Dis. 2011;53(7):725–31.

5.

Baillargeon J, Giordano TP, Rich JD, et al. Accessing antiretroviral therapy following release from prison. JAMA J Am Med Assoc. 2009;301(8):848–57.

6.

Draine J, Ahuja D, Altice FL, et al. Strategies to enhance linkages between care for HIV/AIDS in jail and community settings. AIDS Care. 2011;23(3):366–77.

7.

Nunn A, Cornwall A, Fu J, Bazerman L, Loewenthal H, Beckwith C. Linking HIV-positive jail inmates to treatment, care, and social services after release: results from a qualitative assessment of the COMPASS program. J Urban Health. 2010;87(6):954–68.

8.

Spaulding AC, Booker CA, Freeman SH, et al. Jails, HIV testing and linkage to care services: an overview of the EnhanceLink initiative. AIDS Behav. 2012. doi:10.1007/s10461-012-0339-2

9.

Spaulding AC, Jacob Arriola KR, Ramos KL, et al. Enhancing linkages to HIV primary care in jail settings: report on a consultants' meeting. J Correct Health Care. 2007;13(2):93–128.

10.

Wohl DA, Scheyett A, Golin CE, et al. Intensive case management before and after prison release is no more effective than comprehensive pre-release discharge planning in linking HIV-infected prisoners to care: a randomized trial. AIDS Behav. 2010;15(2):356–64.

11.

Lincoln T, Kennedy S, Tuthill R, Roberts C, Conklin TJ, Hammett TM. Facilitators and barriers to continuing healthcare after jail. A community-integrated program. J Ambul Care Manage. 2006;29(1):2–16.

12.

Zaller N, Holmes L, Dyl A, et al. Linkage to treatment and supportive services among HIV-positive ex-offenders in Project Bridge. J Health Care Poor Underserved. 2008;19(2):522–31.

13.

Springer SA, Pesanti E, Hodges J, Macura T, Doros G, Altice FL. Effectiveness of antiretroviral therapy among HIV-infected prisoners: reincarceration and the lack of sustained benefit after release to the community. Clin Infect Dis. 2004;38(12):1754–60.

14.

Granich RM, Gilks CF, Dye C, De Cock KM, Williams BG. Universal voluntary HIV testing with immediate antiretroviral therapy strategy for elimination of HIV transmission: a mathematical model. Lancet. 2009;373(9657):48–57.

15.

Wolitski RJ, Kidder DP, Pals SL, et al. Randomized trial of the effects of housing assistance on the health and risk behaviors of homeless and unstably housed people living with HIV. AIDS Behav. 2009;14(3):493–503.

16.

Chen NE, Meyer JP, Avery AK, et al. Adherence to HIV treatment and care among previously homeless jail detainees. AIDS Behav. 2011. doi:10.1007/s10461-011-0080-2

17.

Myers J, Zack B, Kramer K, Gardner M, Rucobo G, Costa-Taylor S. Get Connected: an HIV prevention case management program for men and women leaving California prisons. Am J Public Health. 2005;95(10):1682–4.

18.

Fontana L, Beckerman A. Recently released with HIV/AIDS: primary care treatment needs and experiences. J Health Care Poor Underserved. 2007;18(3):699–714.

19.

Bowser BP, Jenkins-Barnes T, Dillard-Smith C, Lockett G. Harm reduction for drug abusing ex-offenders: outcome of the California prevention and education project MORE project. J Evid Based Soc Work. 2010;7(1–2):15–29.

20.

Bauserman RL, Richardson D, Ward M, et al. HIV prevention with jail and prison inmates: Maryland's prevention case management program. AIDS Educ Prev. 2003;15(5):465–80.

21.

Jacob Arriola KR, Braithwaite RL, Holmes E, Fortenberry RM. Post-release case management services and health-seeking behavior among HIV-infected ex-offenders. J Health Care Poor Underserved. 2007;18(3):665–74.

22.

Spaulding A, Messina L, Kim B, et al. Planning for success predicts virus suppressed: results of a non-controlled, observational study of factors associated with viral suppression among HIV-positive persons following jail release. AIDS Behav. 2012. doi:10.1007/s10461-012-0341-8
Acknowledgments
This project was supported by the US Department of Health and Human Services, Health Resources and Services Administration Grant (U90HA07632). This work was facilitated by the Center for AIDS Research at Emory University (P30 AI050409). The authors wish to thank our partner organizations and their staff and clients for participation in and support of the programmatic activities associated with this work.
Electronic supplementary material
Below is the link to the electronic supplementary material.
About this article
Cite this article
Booker, C.A., Flygare, C.T., Solomon, L. et al. Linkage to HIV Care for Jail Detainees: Findings From Detention to the First 30 Days After Release. AIDS Behav 17, 128–136 (2013). https://doi.org/10.1007/s10461-012-0354-3
Keywords