Abstract
Interest in sport as a tool for behavioral HIV prevention has grown substantially in the past decade. With dozens of organisations now using sport-based HIV prevention (SBHP) approaches and upcoming randomized controlled trials in South Africa and Zimbabwe, there is a pressing need to synthesize previous evaluation findings and identify gaps in existing research. A systematic review on the effectiveness of SBHP interventions was carried out, identifying both published and unpublished studies on SBHP interventions that measured effectiveness quantitatively. Study quality was scored using an adapted Newcastle-Ottawa Scale. Random-effects meta-analyses were carried out across studies for effects on six categories of HIV-related outcomes. The review identified 952 publications, 21 of which met inclusion criteria. No randomised controlled trials on SBHP interventions and no studies assessing biological outcomes were identified. Mean study quality score was 5.1 (SD 3.1) out of 20 points. Overall strong evidence was observed for positive effects on HIV-related knowledge (RR = 1.26, 95 % CI = 1.15–1.37), stigma (RR = 1.13, 95 % CI = 1.02–1.24), self-efficacy (RR = 1.22, 95 % CI = 1.02–1.41), reported communication (RR = 1.24, 95 % CI = 1.06–1.41), and reported recent condom use (RR = 1.29, 95 % CI = 1.00–1.59). Generally, the review found encouraging evidence for some short-term effects but relied predominantly on low-quality studies. More rigorous research on SBHP is needed to objectively assess effectiveness. Randomised controlled trials could play an important role in guiding policies, strategies, and funding related to SBHP.
Access options
Buy single article
Instant access to the full article PDF.
US$ 39.95
Tax calculation will be finalised during checkout.
Subscribe to journal
Immediate online access to all issues from 2019. Subscription will auto renew annually.
US$ 79
Tax calculation will be finalised during checkout.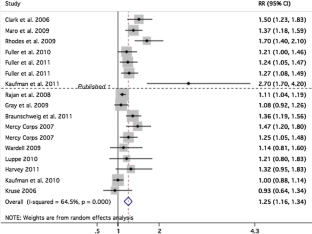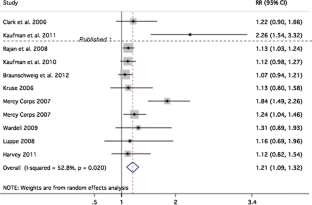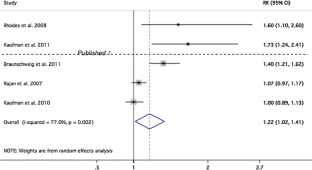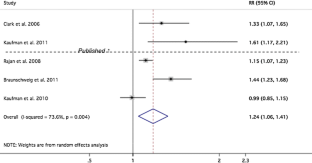 References
1.

UNAIDS. World AIDS Day Report 2011: Joint United Nations Programme on HIV/AIDS (UNAIDS); 2011.

2.

Nations U. Declaration of Commitment on HIV/AIDS. United Nations General Assembly Special Session on HIV/AIDS, Geneva. 2001; 25–27 June 2001.

3.

UNAIDS. Securing The Future Today: Synthesis of Strategic Information on HIV and Young People Geneva: UNAIDS. 2011.

4.

Kirby DB, Laris BA, Rolleri LA. Sex and HIV education programs: their impact on sexual behaviors of young people throughout the world. J Adolesc Health. 2007;40:206–17.

5.

Ross DA, Changalucha J, Obasi AI, et al. Biological and behavioural impact of an adolescent sexual health intervention in Tanzania: a community-randomized trial. AIDS. 2007;21:1943–55.

6.

Jewkes R, Nduna M, Levin J, et al. Impact of stepping stones on incidence of HIV and HSV-2 and sexual behaviour in rural South Africa: cluster randomised controlled trial. BMJ. 2008;337:a506.

7.

Cowan FM, Pascoe SJ, Langhaug LF, et al. The Regai Dzive Shiri project: results of a randomized trial of an HIV prevention intervention for youth. AIDS. 2010;24:2541–52.

8.

Ross DA. Behavioural interventions to reduce HIV risk: what works? AIDS. 2010;24(Suppl 4):S4–14.

9.

Brown BR Jr, Baranowski MD, Kulig JW, Stephenson JN, Perry B. Searching for the Magic Johnson effect: AIDS, adolescents, and celebrity disclosure. Adolescence. 1996;31:253–64.

10.

Kalichman SC. Magic Johnson and public attitudes toward AIDS: a review of empirical findings. AIDS Educ Prev. 1994;6:542–57.

11.

Quadagno D, Eberstein IW, Foster K, Sittig JE, Sly DF, Kistner JA. Magic Johnson and children's conceptions of AIDS. AIDS Educ Prev. 1997;9:359–72.

12.

Using football for HIV/AIDS prevention in Africa. Football for an HIV Free Generation. 2010. http://assets.sportanddev.org/downloads/f4_hiv_report.pdf. Accessed 14 Aug 2011.

13.

2010 World Cup Provides Platform for Major HIV Prevention Initiative. Grassroot Soccer, Inc. 2008. http://www.grassrootsoccer.org/2008/12/01/2010-world-cup-provides-platform-for-major-hiv-prevention-initiative/. Accessed 14 Aug 2011.

14.

Factsheet: HIV & AIDS prevention through sport. Lausanne: International Olympic Committee. July 2011.

15.

Iwg S. Harnessing the power of sport for development and peace: recommendations to governments. Toronto: Sport for Development and Peace International Working Group; 2008.

16.

Bandura A. Social learning theory. New York: General Learning Press; 1977.

17.

The Newcastle-Ottawa Scale (NOS) for assessing the quality of nonrandomised studies in meta-analyses. OHRI. 2011. http://www.ohri.ca/programs/clinical_epidemiology/oxford.asp.Accessed 14 Aug 2011.

18.

Mercy Corps. Commitment to practice: a playbook for practitioners in HIV, youth and sport. 2007.

19.

Clark TS, Friedrich GK, Ndlovu M, Neilands TB, McFarland W. An adolescent-targeted HIV prevention project using African professional soccer players as role models and educators in Bulawayo. Zimb AIDS Behav. 2006;10:S77–83.

20.

Delva W, Michielsen K, Meulders B, et al. HIV prevention through sport: the case of the Mathare Youth Sport Association in Kenya. AIDS Care. 2010;22:1012–20.

21.

Fuller CW, Junge A, DeCelles J, Donald J, Jankelowitz R, Dvorak J. 'Football for Health'—a football-based health-promotion programme for children in South Africa: a parallel cohort study. Br J Sports Med. 2010;44:546–54.

22.

Fuller CW, Junge A, Dorasami C, DeCelles J, Dvorak J. '11 for Health', a football-based health education programme for children: a two-cohort study in Mauritius and Zimbabwe. Br J Sports Med. 2011;45:612–8.

23.

Kaufman Z, Perez K, Adams LV, Khanda M, Ndlovu M, Holmer H. Long-term behavioral impact of a soccer-themed, school-based HIV Prevention program in Zimbabwe and Botswana. In: Poster, editor. XVIII International AIDS conference, Vienna; 2010.

24.

Kaufman Z, Welsch R, Erickson JD, Craig S, Ross DA. Effectiveness of a sports-based HIV prevention intervention in the Dominican Republic: a quasi-experimental study. AIDS Care 2011.

25.

Kruse SE. Review of kicking AIDS out: is sport an effective tool in the fight against HIV/AIDS?. Oslo: NORAD; 2006.

26.

Maro CN, Roberts GC, Sorensen M. Using sport to promote HIV/AIDS education for at-risk youths: an intervention using peer coaches in football. Scand J Med Sci Sports. 2009;19:129–41.

27.

Peacock-Villada P, DeCelles J, Banda PS. Grassroot Soccer resiliency pilot program: building resiliency through sport-based education in Zambia and South Africa. New Dir Youth Dev. 2007;141–54:13.

28.

Rhodes SD, Hergenrather KC, Bloom FR, Leichliter JS, Montano J. Outcomes from a community-based, participatory lay health adviser HIV/STD prevention intervention for recently arrived immigrant Latino men in rural North Carolina. AIDS Educ Prev. 2009;21:103–8.

29.

Gray D, Betzel A, Workman L, Roux P. Investigating the benefit of a novel HIV/AIDS information workbook as a teaching aid in a school life-skills program in the Western Cape, South Africa. In: IV SA AIDS Conference. Durban; 2009.

30.

Wardell C. Implementation and Evaluation of a Sports-Based HIV/AIDS Prevention Education Program for Preadolescents in St. Lucia: University of Vermont; 2009.

31.

Luppe T. Evaluation of the grassroots soccer club HIV/AIDS programme in Musina, South Africa. Johannesburg: University of the Witwatersrand School of Public Health; 2010.

32.

Rajan N, Nanda, Franca-Koh, Orleans-Lindsay. Creating a youth "Movement" to combat HIV/AIDS. In: 136th APHA annual meeting, San Diego; 2008.

33.

Kim S. The grassroot project. Washington: George Washington School of Public Health and Health Services; 2010.

34.

Braunschweig EN, Kaufman ZA, Decelles J, Clark TS, Ross DA. Generation Skillz: development process for a sports-based HIV prevention intervention and preliminary evaluation results. Cape Town:Grassroot Soccer; 2011.

35.

Harvey A. Evaluation of the grassroot project: the George Washington University; 2011.

36.

Plummer ML, Ross DA, Wight D, et al. "A bit more truthful": the validity of adolescent sexual behaviour data collected in rural northern Tanzania using five methods. Sex Transm Infect 2004;80 (Suppl 2):ii49–56.
Acknowledgments
We are grateful to the Marshall Aid Commemoration Commission and the Rhodes Trust for the studentships supporting the first and second authors. We also wish to acknowledge organizations that shared grey literature sources for the review. In addition to the authors, Lucie Cluver at Oxford University provided input into the review's design and Helen Weiss provided input into the meta-analysis.
About this article
Cite this article
Kaufman, Z.A., Spencer, T.S. & Ross, D.A. Effectiveness of Sport-Based HIV Prevention Interventions: A Systematic Review of the Evidence. AIDS Behav 17, 987–1001 (2013). https://doi.org/10.1007/s10461-012-0348-1
Keywords
Systematic review

HIV prevention

Sport

Effectiveness

Evidence