Abstract
In resource-constrained settings, the most frequently cited barrier to optimal antiretroviral therapy (ART) adherence among HIV-infected patients has been the cost of medications. In recent years many subsidized medication programs have been developed to improve ART affordability. A Graduated Cost Recovery program at the largest care center in South India has enrolled 839 eligible patients into four tiers based on an evaluation of their financial information and willingness to pay, of these patients 635 consented to participate in this study. Patients in Tier 1 receive first-line ART at no cost, whereas patients in Tiers 2, 3, and 4 pay 50, 75, and 100%, respectively of the cost of first-line medications based on an assessment of their means. Adherence rates of 95% or greater on 3-day recall were achieved by 84.6% of Tier 1 (n = 156), 71.6% of Tier 2 (n = 141), 72.3% of Tier 3 (n = 242), and 79.2% of Tier 4 (n = 96). These findings suggest patients are highly motivated and that the provision of no-cost ART can promote higher rates of optimal adherence.
Access options
Buy single article
Instant access to the full article PDF.
USD 39.95
Price excludes VAT (USA)
Tax calculation will be finalised during checkout.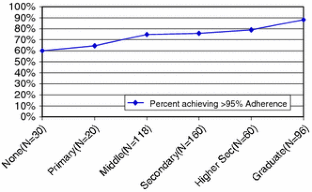 References
Karon JM, Fleming PL, Steketee RW, De Cock KM. HIV in the United States at the turn of the century: an epidemic in transition. Am J Public Health. 2001;91:1060–8.

Murphy EL, Collier AC, Kalish LA, et al. Highly active antiretroviral therapy decreases mortality and morbidity in patients with advanced HIV disease. Ann Intern Med. 2001;135:17–26.

Hogg RS, Heath KV, Yip B, et al. Improved survival among HIV-infected individuals following initiation of antiretroviral therapy. JAMA. 1998;279:450–4.

Palella FJ, Delaney KM, Moorman AC, et al. Declining morbidity and mortality among patients with advanced human immunodeficiency virus infection HIV Outpatient Study Investigators. N Engl J Med. 1998;338:853–60.

Powderly WG, Landay A, Lederman MM. Recovery of the immune system with antiretroviral therapy: the end of opportunism? JAMA. 1998;280:72–7.

Vittinghoff E, Scheer S, O'Malley P, Colfax G, Holmberg SD, Buchbinder SP. Combination antiretroviral therapy and recent declines in AIDS incidence and mortality. JAIDS. 1999;179:717–20.

Sabate E, editor. Adherence to long-term therapies evidence for action. Geneva, Switzerland: World Health Organization; 2003.

Paterson DL, Swindells S, Mohr J, et al. Adherence to protease inhibitor therapy and outcomes in patients with HIV infection. Ann Intern Med. 2000;133:21–30.

Bangsberg DR, Hecht FM, Charlesbois ED, et al. Adherence to protease inhibitors, HIV-1 viral load, and development of drug resistance in an indigent population. AIDS. 2000;14:357–66.

Nieuwkerk PT, Gisolf EH, Reijers MH, Lange JM, Danner SA, Sprangers MA, et al. Long-term quality of life outcomes in three antiretroviral treatment strategies for HIV-1 infection. AIDS. 2001;15:1985–91.

Farmer P, Leandre F, Mukherjee JS, et al. Community-based approaches to HIV treatment in resource-poor settings. Lancet. 2001;358:404–9.

Lanièce I, Ciss M, Desclaux A, et al. Adherence to HAART and its principal determinants in a cohort of Senegalese adults. AIDS. 2003;17:S103–8.

Kumarasamy N, Venkatesh KK, Mayer KH, Freedberg K. Financial burden of health services for people with HIV/AIDS in India. Indian J Med Res. 2007;126:509–17.

Weidle PJ, Malamba S, Mwebaze R, et al. Assessment of a pilot antiretroviral drug therapy programme in Uganda: patients' response, survival, and drug resistance. Lancet. 2002;360:34–40.

Weiser S, Wolfe W, Bangsberg D, et al. Barriers to antiretroviral adherence for patients living with HIV infection and AIDS in Botswana. JAIDS. 2003;34:281–8.

UNAIDS. UNAIDS/WHO AIDS epidemic update. 2007. Available from http://www.unaids.org/epidemic-update/. Accessed 1 Nov 2009.

The World Development Indicators database, World Bank. Available from: http://ddp-ext.worldbank.org/CSIDB/getCountryStatInfoXML?id=ind&format=CSIDB (2008). Accessed 1 Nov 2008.

Safren S, Kumarasamy N, James R, Raminani S, Solomon S, Mayer KH. ART adherence, demographic variables and CD4 outcome among HIV-positive patients on antiretroviral therapy in Chennai, India. AIDS Care. 2005;17:853–62.

Kumarasamy N, Safren SA, Raminani SR, et al. Barriers and facilitators to antiretroviral medication adherence among patients with HIV in Chennai, India: a qualitative study. AIDS Patient Care STDs. 2005;19:526–36.

Kumarasamy N, Vallabhaneni S, Cecelia AJ, et al. Reasons for modification of generic highly active antiretroviral therapeutic regimens among patients in Southern India. JAIDS. 2006;41:53–8.

Tchetgen E, Kaplan EH, Friedland GH. Public health consequences of screening patients for adherence to highly active antiretroviral therapy. JAIDS. 2001;26:118–29.

Wu AW, Ammassari A, Antinori A. Adherence to antiretroviral therapy: where are we, and where do we go from here? JAIDS. 2002;31:S95–7.

Yeni PG, Hammer SM, Hirsch MS, et al. Antiretroviral treatment for adult HIV infection in 2002: updated recommendations of the International AIDS Society-USA Panel. JAMA. 2002;288:222–35.

Sangeetha P, Sripriya P, Ganesh AK, Solomon SS, Duraisamy P. Enhancing HAART through graduated cost recovery in GFATM. In: Poster presentation at XVI international AIDS conference, abstract code: MOPE0706; 2006.

Byakika-Tusiime J, Oyugi JH, Tumwikirize WA, Katabira ET, Mugyenyi EN, Bangsberg DR. Adherence to HIV antiretroviral therapy in HIV+ Ugandan patients purchasing therapy. Int J STD AIDS. 2005;16:38–41.

Crane JT, Kawuma A, Oyugi JH, et al. The price of adherence: qualitative findings from HIV positive individuals purchasing fixed-dose combination generic HIV antiretroviral therapy in Kampala, Uganda. AIDS Behav. 2006;10:437–42.

Gupta I, Trivedi M, Kandamuthan S. Costing of free ART programme of the government of India; 2006. Available from: http://iegindia.org/dis_111_2006.pdf. Accessed 6 Nov 2009.

Gupta I, Sankar D. Treatment-seeking behaviour and the willingness to pay for antiretroviral therapy of HIV positive patients in India. In: Over M, Heywood P, Gold J, Gupta I, Hira S, Marseille E, editors. HIV/AIDS treatment and prevention in India: modeling the costs and consequences. Washington, DC: World Bank; 2004.

Reynolds NR. Adherence to antiretroviral therapies: state of the science. Curr HIV Res. 2004;2:207–14.

Miller LG, Hays RD. Adherence to combination antiretroviral therapy: synthesis of the literature and clinical implications. AIDS Read. 2000;10:177–85.

Wagner G, Miller LG. Is the influence of social desirability on patients' self-reported adherence overrated? JAIDS. 2004;35(2):203–4.

Simoni JM, Kurth AE, Pearson CR, Pantalone DW, Merrill JO, Frick PA. Self-report measures of antiretroviral adherence: a review with recommendations for HIV research and clinical management. AIDS Behav. 2006;10:227–45.

Ammassari A, Antinori A, Aloisi MS, et al. Depressive symptoms, neurocognitive impairment, and adherence to highly active antiretroviral therapy among HIV-infected persons. Psychosomatics. 2004;45:394–402.

Chander G, Lau B, Moore RD. Hazardous alcohol use: a risk factor for non-adherence and lack of suppression in HIV infection. JAIDS. 2006;43:411–7.

Golin CE, Earp J, Tien HC, Stweart P, Porter C, Howie L. A 2-arm, randomized, controlled trial of a motivational interviewing-based intervention to improve adherence to antiretroviral therapy (ART) among patients failing or initiating ART. JAIDS. 2006;42:42–51.

Lucas GM, Mullen BA, McCaul ME. Adherence, drug use, and treatment failure in a methadone-clinic-based program of directly administered antiretroviral therapy. AIDS Patient Care STDs. 2001;21:564–74.

Nachega JB, Stein DM, Lehman DA, et al. HIV/AIDS and antiretroviral treatment knowledge, attitudes, beliefs, and practices in HIV-infected adults in Soweto, South Africa. JAIDS. 2005;38:196–201.

Nguyen VK, Ako CY, Niamba P, Sylla A, Tiendrebeogo I. Adherence as therapeutic citizenship: impact of the history of access to antiretroviral drugs on adherence to treatment. AIDS. 2007;21:S31–5.

Schönnesson LN, Williams ML, Ross MW, Diamond PM, Keel P. Three types of adherence to HIV antiretroviral therapy and their association with AIDS diagnosis, medication side-effects, beliefs about antiretroviral therapy, and beliefs about HIV disease. Int J STD AIDS. 2007;18:369–73.
Acknowledgments
Sources of Financial Support: The authors would like to thank the Brown/Tufts Fogarty International Clinical Research and Scholars Program, D43 TW000237-14S1 and the National Institute of Health for their supporting this study.
About this article
Cite this article
Batavia, A.S., Balaji, K., Houle, E. et al. Adherence to Antiretroviral Therapy in Patients Participating in a Graduated Cost Recovery Program at an HIV Care Center in South India. AIDS Behav 14, 794–798 (2010). https://doi.org/10.1007/s10461-009-9663-6
Published:

Issue Date:

DOI: https://doi.org/10.1007/s10461-009-9663-6
Keywords