Abstract
Voluntary counseling and testing (VCT) for couples (CVCT) is an important HIV-prevention effort in sub-Saharan Africa where a substantial proportion of HIV transmission occurs within stable partnerships. This study aimed to determine the acceptance and effectiveness of CVCT as compared to individual VCT (IVCT). 1,521 women attending three antenatal clinics in Dar es Salaam were randomized to receive IVCT during that visit or CVCT with their husbands at a subsequent visit. The proportion of women receiving test results in the CVCT arm was significantly lower than in the IVCT arm (39 vs. 71%). HIV prevalence overall was 10%. In a subgroup analysis of HIV-positive women, those who received CVCT were more likely to use preventive measures against transmission (90 vs. 60%) and to receive nevirapine for themselves (55 vs. 24%) and their infants (55 vs. 22%) as compared to women randomized to IVCT. Uptake of CVCT is low in the antenatal clinic setting. Community mobilization and couple-friendly clinics are needed to promote CVCT.
Access options
Buy single article
Instant access to the full article PDF.
USD 39.95
Price excludes VAT (USA)
Tax calculation will be finalised during checkout.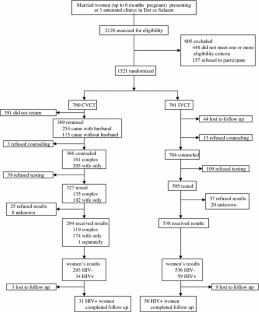 References
Becker S, Gray R. Source of new infections in generalized HIV epidemics. Lancet. 2008;372(9646):1299–300.

Dunkle KL, Stephenson R, Karita E, et al. New heterosexually transmitted HIV infections in married or cohabiting couples in urban Zambia and Rwanda: an analysis of survey and clinical data. Lancet. 2008;371(9631):2183–91.

Were WA, Mermin JH, Wamai N, et al. Undiagnosed HIV infection and couple HIV discordance among household members of HIV-infected people receiving antiretroviral therapy in Uganda. J Acquir Immune Defic Syndr. 2006;43(1):91–5.

Desgrees-du-Lou A, Orne-Gliemann J. Couple-centered testing and counseling for HIV serodiscordant heterosexual couples in sub-Saharan Africa. Reprod Health Matters. 2008;16(32):151–61.

Department of Health and Human Services (DHHS), Centers for Disease Control and Prevention (CDC). Couples HIV counseling and testing (CHCT): participants manual. DHHS and CDC. Available at: http://www.cdc.gov/globalaids/CHCTintervention/. Accessed August 11, 2009.

Painter TM. Voluntary counseling and testing for couples: a high-leverage intervention for HIV/AIDS prevention in sub-Saharan Africa. Soc Sci Med. 2001;53(11):1397–411.

Allen S, Meinzen-Derr J, Kautzman M, et al. Sexual behavior of HIV discordant couples after HIV counseling and testing. AIDS. 2003;17(5):733–40.

Chomba E, Allen S, Kanweka W, et al. Evolution of couples' voluntary counseling and testing for HIV in Lusaka, Zambia. J Acquir Immune Defic Syndr. 2008;47(1):108–15.

Kamenga M, Ryder RW, Jingu M, et al. Evidence of marked sexual behavior change associated with low HIV-1 seroconversion in 149 married couples with discordant HIV-1 serostatus: experience at an HIV counselling center in Zaire. AIDS. 1991;5(1):61–7.

Padian NS, O'Brien TR, Chang Y, Glass S, Francis DP. Prevention of heterosexual transmission of human immunodeficiency virus through couple counseling. J Acquir Immune Defic Syndr. 1993;6(9):1043–8.

Voluntary HIV-1 Counseling and Testing Efficacy Study Group. Efficacy of voluntary HIV-1 counselling and testing in individuals and couples in Kenya, Tanzania, and Trinidad: a randomised trial. Lancet 2000; 356(9224):103–12.

Allen S, Tice J, Van de Perre P, et al. Effect of serotesting with counselling on condom use and seroconversion among HIV discordant couples in Africa. BMJ. 1992;304(6842):1605–9.

Sweat M, Gregorich S, Sangiwa G, et al. Cost-effectiveness of voluntary HIV-1 counselling and testing in reducing sexual transmission of HIV-1 in Kenya and Tanzania. Lancet. 2000;356(9224):113–21.

Farquhar C, Kiarie JN, Richardson BA, et al. Antenatal couples counseling increases uptake of interventions to prevent HIV-1 transmission. J Acquir Immune Defic Syndr. 2004;37(5):1620–6.

Iwanowski MR. Couples VCT in ANC clinics: prevention of perinatal and heterosexual HIV transmission in Africa. Second IAS Conference on HIV Pathogenesis and Treatment. Paris, 2003 (abstract 1062).

Semrau K, Kuhn L, Vwalika C, et al. Women in couples antenatal HIV counseling and testing are not more likely to report adverse social events. AIDS. 2005;19(6):603–9.

U.S. Census Bureau. HIV/AIDS surveillance data base [database online]. Washington D.C.: US Census Bureau, 2001. Available at: http://www.census.gov/ipc/www/hiv3afri.xls. Accessed August 11, 2009.

Grinstead OA, Gregorich SE, Choi KH, Coates T, Voluntary HIV-1 Counselling and Testing Efficacy Study Group. Positive and negative life events after counselling and testing: the voluntary HIV-1 counselling and testing efficacy study. AIDS. 2001;15(8):1045–52.

Mlay R, Lugine A, Becker S. Couple counseling and testing for HIV at antenatal clinics: views from men, women and counsellors. AIDS Care. 2008;20(3):356–60.

WHO. Counselling for HIV/AIDS: a key to caring. Geneva: WHO/GPA/TCO/HCS/95.15; 1995.

U.S. Centers for Disease Control. Counseling and testing revised guidelines for HIV counseling, testing and referral. MMWR. 2001;50(RR-19):1–57.

Bureau of Statistics (Tanzania). Tanzania Demographic and Health Survey 1996. Calverton, Maryland: Macro International; 1997.

Antelman G, Smith Fawzi MC, Kaaya S, et al. Predictors of HIV-1 serostatus disclosure: a prospective study among HIV-infected pregnant women in Dar es Salaam, Tanzania. AIDS. 2001;15(14):1865–74.

Kilewo C, Massawe A, Lyamuya E, et al. HIV counseling and testing of pregnant women in sub-Saharan Africa: experiences from a study on prevention of mother-to-child HIV-1 transmission in Dar es Salaam, Tanzania. J Acquir Immune Defic Syndr. 2001;28(5):458–62.

Maman S, Mbwambo JK, Hogan NM, et al. HIV-positive women report more lifetime partner violence: findings from a voluntary counseling and testing clinic in Dar es Salaam, Tanzania. Am J Public Health. 2002;92(8):1331–7.

Maman S, Mbwambo J, Hogan NM. Women's barriers to HIV-1 testing and disclosure: challenges for HIV-1 voluntary counselling and testing. AIDS Care. 2001;13(5):595–603.

Medley A, Garcia-Moreno C, McGill S, Maman S. Rates, barriers and outcomes of HIV serostatus disclosure among women in developing countries: implications for prevention of mother-to-child transmission programmes. Bull World Health Organ. 2004;82(4):299–307.

Temmerman M, Moses S, Kiragu D, Fusallah S, Wamola IA, Piot P. Impact of single session post-partum counseling of HIV infected women on their subsequent reproductive behaviour. AIDS Care. 1990;2(3):247–52.

USAID. U.S. Presidents Emergency Plan for AIDS Relief: Tanzania launches national HIV/AIDS testing campaign, September, 2007. Available at http://www.pepfar.gov/press/92135.htm. Accessed August 11, 2009.

Allen S, Karita E, Chomba E, et al. Promotion of couples' voluntary counseling and testing for HIV through influential networks in two African capital cities. BMC Public Health. 2007; 7:349.

Machekano R, McFarland W, Hudes ES, Bassett MT, Mbizvo MT, Katzenstein D. Correlates of HIV test results seeking and utilization of partner counseling services in a cohort of male factory workers in Zimbabwe. AIDS Behav. 2000;4(1):63–70.

Matovu JK, Kigozi G, Nalugoda F, Wabwire-Mangen F, Gray RH. The Rakai Project counselling programme experience. Trop Med Int Health. 2002;7(12):1064–7.
Acknowledgments
This research was funded by the Center for AIDS Research of Johns Hopkins University. Analyses were supported by the Bill and Melinda Gates Institute for Population and Reproductive Health and the Hopkins Population Center, also of Johns Hopkins University. We also thank Professor Ron Gray of Johns Hopkins University, Dr. Godfrey Kigozi of the Rakai Health Sciences Program, and Dr. Jessie Mbwambo of Muhimbili University College of Health Sciences, for serving on the Data Safety and Monitoring Board for the project. We are grateful to Professor Suzanne Maman of the University of North Carolina for helpful suggestions as we designed the study. We thank the Temeke District Authority for assisting in the identification of study clinics. We extend our sincere appreciation to the counselors, interviewers, data processing staff, and laboratory staff, as well as the women and men who participated in the study.
About this article
Cite this article
Becker, S., Mlay, R., Schwandt, H.M. et al. Comparing Couples' and Individual Voluntary Counseling and Testing for HIV at Antenatal Clinics in Tanzania: A Randomized Trial. AIDS Behav 14, 558–566 (2010). https://doi.org/10.1007/s10461-009-9607-1
Received:

Accepted:

Published:

Issue Date:

DOI: https://doi.org/10.1007/s10461-009-9607-1
Keywords
Couples

Voluntary counseling and testing

HIV

Antenatal care

Tanzania