Abstract
Injection drug users (IDUs) contaminate preparation materials with blood-borne pathogens by using syringes as measuring and dispensing devices. In collaboration with IDUs, we developed a preventive intervention consisting of four new preparation practices aimed at avoiding the use of syringes in the preparation, and reducing the contamination of the materials. This report describes the results of a pilot trial introducing the new practices to ascertain their adoption potential and their potential efficacy in reducing contamination. Participants comprised 37 active IDUs among whom the new practices were promoted during 16 weeks. In addition to self-reported behaviors, the study collected cookers and plastic caps from shooting galleries and tested them for the presence of blood residues. Adoption rates were: (1) cleaning of skin area with hand sanitizer—65.6%; (2) directly pouring water with a dropper into the cooker—56.3%; (3) drawing drug solution with a preparation syringe and syringe filter—34.4%; and, (4) backload rinsing syringes—53.1%. Rates of blood residues detected in cookers and plastic caps were 41.7% prior to the trial, 28.6% at week 8, 24.6% at week 14, and 12.0% at week 18. We believe the results of the pilot trial are compelling and suggest that this intervention merits further formal testing.
This is a preview of subscription content, log in to check access.
Access options
Buy single article
Instant access to the full article PDF.
US$ 39.95
Price includes VAT for USA
Subscribe to journal
Immediate online access to all issues from 2019. Subscription will auto renew annually.
US$ 99
This is the net price. Taxes to be calculated in checkout.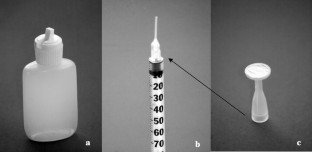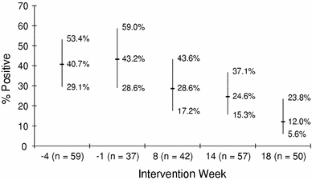 References
Booth, R. E., Kwiatkowski, C. F., Mikulich-Gilbertson, S. K., Brewster, J. T., Salomonsen-Sautel, S., Corsi, K. F., et al. (2006). Predictors of risky needle use following interventions with injection drug users in Ukraine. Drug and Alcohol Dependence, 82(Suppl 1), S49–S55. doi:10.1016/S0376-8716(06)80009-8.

Burt, R. D., Hagan, H., Garfein, R. S., Sabin, K., Weinbaum, C., & Thiede, H. (2007). Trends in hepatitis B virus, hepatitis C virus, and human immunodeficiency virus prevalence, risk behaviors, and preventive measures among Seattle injection drug users aged 18–30 years, 1994–2004. Journal of Urban Health, 84, 436–454. doi:10.1007/s11524-007-9178-2.

Colon, H. M., Finlinson, A., Negron, J., Sosa, I., Rios-Olivares, E., & Robles, R. R. (2008). Participatory research with injection drug users to modify drug preparation practices I: Intervention Development. Unpublished manuscript.

Finlinson, H. A., Colon, H. M., Lopez, M. S., Robles, R. R., & Cant, J. G. (2005). Injecting shared drugs: An observational study of the process of drug acquisition, preparation, and injection by Puerto Rican drug users. Journal of Psychoactive Drugs, 37, 37–49.

Finlinson, H. A., Oliver-Velez, D., Deren, S., Cant, J. G., Colon, H. M., Robles, R. R., et al. (2006). A longitudinal study of syringe acquisition by Puerto Rican injection drug users in New York and Puerto Rico: Implications for syringe exchange and distribution programs. Substance Use and Misuse, 41, 1313–1336. doi:10.1080/10826080600885092.

Huo, D., Bailey, S. L., Garfein, R. S., & Ouellet, L. J. (2005). Changes in the sharing of drug injection equipment among street-recruited injection drug users in Chicago, Illinois, 1994–1996. Substance Use and Misuse, 40, 63–76. doi:10.1081/JA-200030495.

Kapadia, F., Latka, M. H., Hagan, H., Golub, E. T., Campbell, J. V., Coady, M. H., et al. (2007). Design and feasibility of a randomized behavioral intervention to reduce distributive injection risk and improve health-care access among hepatitis C virus positive injection drug users: The study to reduce intravenous exposures (STRIVE). Journal of Urban Health, 84, 99–115. doi:10.1007/s11524-006-9133-7.

Koester, S. (1998). Following the blood: Syringe reuse leads to blood-borne virus transmission among injection drug users. Journal of Acquired Immune Deficiency Syndromes and Human Retrovirology, 18(Suppl 1), S139–S140.

Koester, S., Glanz, J., & Baron, A. (2005). Drug sharing among heroin networks: Implications for HIV and hepatitis B and C prevention. AIDS and Behavior, 9, 27–39. doi:10.1007/s10461-005-1679-y.

Ksobiech, K. (2006). Beyond needle sharing: Meta-analyses of social context risk behaviors of injection drug users attending needle exchange programs. Substance Use and Misuse, 41, 1379–1394. doi:10.1080/10826080600846219.

Mathei, C., Shkedy, Z., Denis, B., Kabali, C., Aerts, M., Molenberghs, G., et al. (2006). Evidence for a substantial role of sharing of injecting paraphernalia other than syringes/needles to the spread of hepatitis C among injecting drug users. Journal of Viral Hepatitis, 13, 560–570. doi:10.1111/j.1365-2893.2006.00725.x.

Middelthon, A. L. (2005). A room for reflection: Self-observation and transformation in participatory HIV prevention work. Medical Anthropology Quarterly, 19, 419–436. doi:10.1525/maq.2005.19.4.419.

Morissette, C., Cox, J., De, P., Tremblay, C., Roy, E., Allard, R., et al. (2007). Minimal uptake of sterile drug preparation equipment in a predominantly cocaine injecting population: Implications for HIV and hepatitis C prevention. The International Journal on Drug Policy, 18, 204–212. doi:10.1016/j.drugpo.2006.08.004.

Racz, J., Gyarmathy, V. A., Neaigus, A., & Ujhelyi, E. (2007). Injecting equipment sharing and perception of HIV and hepatitis risk among injecting drug users in Budapest. AIDS Care, 19, 59–66. doi:10.1080/09540120600722742.

Rogers, E. M. (2003a). Diffusion networks. In E. M. Rogers (Ed.), Diffusion of innovations (pp. 281–334). New York: Free Press.

Rogers, E. M. (2003b). Innovativeness and adopter categories. In E. M. Rogers (Ed.), Diffusion of innovations (pp. 252–280). New York: Free Press.

Thiede, H., Hagan, H., Campbell, J. V., Strathdee, S. A., Bailey, S. L., Hudson, S. M., et al. (2007). Prevalence and correlates of indirect sharing practices among young adult injection drug users in five U.S. cities. Drug and Alcohol Dependence, 91(Suppl 1), S39–S47. doi:10.1016/j.drugalcdep.2007.03.001.
Acknowledgments
The authors wish to recognize the highly committed community work of David Benjamin, Mayra Soto, Rafael Quiñones, Wanda Trinidad, Patricia Alvarez, and Antonio Arencibia. José Venegas prepared the figure for this report.
About this article
Cite this article
Colon, H.M., Finlinson, H.A., Negron, J. et al. Pilot Trial of an Intervention Aimed at Modifying Drug Preparation Practices Among Injection Drug Users in Puerto Rico. AIDS Behav 13, 523–531 (2009). https://doi.org/10.1007/s10461-009-9540-3
Received:

Accepted:

Published:

Issue Date:
Keywords
Injection drug users

Puerto Rico

Participatory research

HIV

HCV

Drug preparation practices