Abstract
Cognitive escape provides a model for examining the cognitive processes involved in escaping from thoughts of HIV/AIDS in a population of men who have sex with men (MSM). This investigation presents psychometric information and validation data on the Cognitive Escape Scale (CES), a measure of HIV-related cognitive avoidance. This study also examined the associations between the CES and self-report measures of theoretically related constructs, including HIV-related worry, sensation-seeking, depressive symptoms, perceived stress, and risky sexual behaviors. Participants were 709 MSM (71% White, 13% Latino, 8% African-American, 6% Native American; M age = 35). The CES measured HIV-related thought avoidance. Exploratory and confirmatory factor analyses supported a 3-factor structure to the CES, suggesting three strategies of cognitive escape: fatalism/short-term thinking, thought suppression/distraction, and alcohol/drug use. These factors are differentially related to several variables of interest including risky sexual behaviors. Although the CES is designed for use with both HIV negative and positive men, correlates differed between groups.
This is a preview of subscription content, log in to check access.
Access options
Buy single article
Instant access to the full article PDF.
US$ 39.95
Price includes VAT for USA
Subscribe to journal
Immediate online access to all issues from 2019. Subscription will auto renew annually.
US$ 99
This is the net price. Taxes to be calculated in checkout.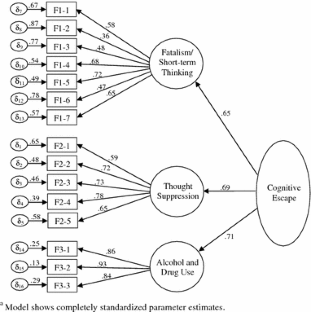 Notes
1.

McKirnan et al. (2001) developed a 12-item measure of escape-related alcohol and drug use, which assesses sexual disinhibition expectancies from consuming alcohol and drugs. While this measure predicts risky sexual behaviors, it does not measure escape from HIV-related thoughts, per se.

2.

Two-spirited is a Native American term that indicates that someone possesses both a male and a female spirit. It has been likened to being "gay" in the non-Native American context (Tafoya 2003).

3.

Our logic, in grouping those who were unaware of their HIV status together with HIV negative men for statistical analyses, was that it is self-perceptions of HIV status that drive the psychological and behavioral processes of interest. Further, Huebner and Davis (2007) found that HIV unaware men did not differ from HIV negative men on self-reported health outcomes, whereas both differed from HIV positive men. Given the low prevalence of HIV in the sampled community, the probability is that the majority of unaware men were in fact negative.

4.

These items had been included in the 'Thought Suppression/Distraction' scale in a previous study (see Hoyt et al. 2006).

5.

An EFA including only HIV-negative men yielded the same factor structure as reported for the entire exploratory sample, as reported.

6.

Covariance matrices for the exploratory and confirmatory samples are available from the authors.

7.

To determine that the specified models were identified (if there is a unique solution), the t-rule for CFA was utilized. This states that the number of free parameters (t) must be less than or equal to ½ q(q + 1), where q is the number of measured items. This is a necessary, but not sufficient condition for establishing identification. t was estimated for models a, b, and c above, and all three models met the criterion. These models also satisfied the sufficient three-indicator rule as a unit is defined for all factors in each model, there are at least three measured items per latent factor, each item loads on only one factor, and the matrices of unique covariance are diagonal (see Bollen 1989 for identification rules).

8.

Although HIV-related cues did not differ significantly by HIV status, it should be noted that the same cues were administered to all participants and were likely better suited for HIV negative men. It may be that an alternate list of cues would be more salient to HIV positive men. We further note that the statistical power to detect effects differed by HIV status due to the smaller sample size for the HIV positive group, thus weaker effects may not have been detected among HIV positive men.

9.

We thank the anonymous reviewer who brought this to our attention.
References
Appleby, P. R., Marks, G., Ayala, A., Miller, L. C., Murphy, S., & Mansergh, G. (2005). Consideration of future consequences and unprotected anal intercourse among men who have sex with men. Journal of Homosexuality, 50, 119–133.

Aspinwall, L. G., Kemeny, M. E., Taylor, S. E., Schneider, S. G., & Dudley, J. P. (1991). Psychosocial predictors of gay men's AIDS risk-reduction behavior. Health Psychology, 10, 432–444.

Beck, A. T., Rush, A. J., Shaw, B. F., & Emery, G. (1979). Cognitive therapy of depression. New York: Guilford.

Billings, A. G., & Moos, R. H. (1981). The role of coping responses in attenuating the impact of stressful life events. Journal of Behavioral Medicine, 4, 139–157.

Bollen, K. A. (1989). Structural equations with latent variables. New York: Wiley.

Borkovec, T. D., & Lyonfields, J. D. (1993). Worry: Thought suppression of emotional processing. In: H. W. Krohne (Ed.), Attention and avoidance: Strategies in coping with aversiveness (pp. 101–118). Seattle: Hogrefe and Huber.

Browne, M. W., & Cudeck, R. (1993). Alternative ways of assessing model fit. In: R. A. Bollen & J. S. Long (Eds.), Testing structural equation models (pp. 136–162). Thousand Oaks: Sage.

Bryan, A. D., Aiken, L. S., & West, S. G. (1997). Young women's condom use: The influence of acceptance of sexuality, control over the sexual encounter, and perceived susceptibility to common STDs. Health Psychology, 16, 468–479.

Cabaj, R. P. (2000). Substance abuse, internalized homophobia, and gay men and lesbians: Psychodynamic issues and clinical implications. Journal of Gay and Lesbian Psychotherapy, 3, 5–24.

Centers for Disease Control and Prevention. (1999). Resurgent bacterial sexually transmitted disease among men who have sex with men: King County, Washington, 1997–1999. Morbidity Mortality Weekly Report, 48, 773–777.

Centers for Disease Control and Prevention. (2001). No turning back: Addressing the HIV crisis among men who have sex with men. Atlanta: Centers for Disease Control and Prevention.

Chen, S. Y., Gibson, S., Katz, M. H., Klausner, J. D., Dilley, J. W., Schwarcz, S. K., et al. (2002). Continuing increases in sexual risk behavior and sexually transmitted diseases among men who have sex with men: San Francisco, Calif, 1999–2001, USA. American Journal of Public Health, 92, 1387–1388.

Cohen, S., Kamarck, T., & Mermelstein, R. (1983). A global measure of perceived stress. Journal of Health and Social Behavior, 24, 385–396.

Crocker, L., & Algina, J. (1986). Introduction to classical and modern test theory. Austin: Holt, Rinehart, and Winston, Inc.

Cronbach, L. J. (1951). Coefficient alpha and the internal structure of tests. Psychometrika, 16, 297–334.

Davis, M. C. (1998). Psychosocial correlates of cardiovascular risk factors in young adults. Unpublished raw data.

DiIorio, C., Parsons, M., Lehr, S., Adame, D., & Carlone, J. (1993). Factors associated with use of safer sex practices among college freshmen. Research in Nursing and Health, 16, 343–350.

Ebata, A., & Moos, R. (1991). Coping and adjustment in distressed and healthy adolescents. Journal of Applied Developmental Psychology, 12, 33–54.

Elford, J. (2004). HIV treatment optimism and high-risk sexual behavior among gay men: The attributable population risk: Comment. AIDS, 18, 2216–2217.

Folkman, S., & Lazarus, R. S. (1984). Personal control and stress and coping processes: A theoretical analysis. Journal of Personality and Social Psychology, 46, 839–852.

Gerrard, M., Gibbons, F. X., & Bushman, B. J. (1996). Relation between perceived vulnerability to HIV and precautionary sexual behavior. Psychological Bulletin, 19, 390–409.

Henson, J. M., Carey, M. P., Carey, K. B., & Maisto, S. A. (2006). Associations among health behaviors and time perspective in young adults: Model testing with boot-strapping replication. Journal of Behavioral Medicine, 29, 127–137.

Hojat, M., Zuckerman, M., Magee, M., Mangione, S., Nasca, T., Vergare, M., & Gonnella, J. S. (2005). Empathy in medical students as related to specialty interest, personality, and perceptions of mother and father. Personality and Individual Differences, 39, 1205–1215.

Hoyt, M. A., Nemeroff, C. J., & Huebner, D. M. (2006). The effects of HIV-related thought suppression on sexual risk behavior: Cognitive escape in men who have sex with men. Health Psychology, 25, 455–461.

Hu, L., & Bentler, P. M. (1999). Cutoff criteria for fit indexes in covariance structure analysis: Conventional criteria versus new alternatives. Structural Equation Modeling, 6, 1–55.

Huebner, D. M., & Davis, M. C. (2007). Perceived antigay discrimination and physical health outcomes. Health Psychology, 26, 627–634.

Huebner, D. M., Rebchook, G. M., & Kegeles, S. M. (2004). A longitudinal study of the association between treatment optimism and sexual risk behavior in young adult gay and bisexual men. Journal of Acquired Immune Deficiency Syndrome, 37, 1514–1519.

Janis, I. L., & Mann, L. (1977). Decision making: A psychological analysis of conflict, choice and commitment. New York: Free Press.

Joreskog, K. G., & Sorbom, D. (2005), LISREL 8.72: Structural equation modeling. Chicago: Scientific Software International Co.

Kalichman, S. C., Cain, D., Weinhardt, L., Benotsch, E., Presser, K., Zweben, A., Bjodstrup, B., & Swain, G. R. (2005). Experimental components analysis of brief theory-based HIV/AIDS risk-reduction counseling for sexually transmitted infection patients. Health Psychology, 24, 198–208.

Kalichman, S. C., Heckman, T., & Kelly, J. A. (1996). Sensation seeking as an explanation for the association between substance use and HIV-related risky sexual behavior. Archives of Sexual Behavior, 25, 141–154.

Kalichman, S. C., Nachimson, D., Cherry, C., & Williams, E. (1998). Treatment advances and behavioral prevention setbacks: Preliminary assessment of reduced perceived threat of HIV/AIDS. Health Psychology, 17, 546–550.

Krohne, H. W. (1993). Attention and avoidance: Two central strategies in coping with aversivesness. In: H. W. Krohne (Ed.), Attention and avoidance: Strategies in coping with aversiveness (pp. 3–15). Seattle: Hogrefe and Huber.

McAuliffe, T. L., Kelly, J. A., Sikkema, K. J., Murphy, D. A., Winett, R. A., Solomon, L. J., & Roffman, R. A. (1999). Sexual HIV risk behavior levels among young and older gay men outside of AIDS epicenters: Findings of a 16-city sample. AIDS and Behavior, 3, 111–119.

McDonald, R. P. (1985). Factor analysis and related methods. Hillsdale: Lawrence Erlbaum Associates.

McDonald, R. P. (1999). Test theory: A unified treatment. Mahwah: Lawrence Erlbaum Associates, Inc.

McKirnan, D. J., Ostrow, D. G., & Hope, B. (1996). Sex, drugs and escape: A psychological model of HIV-risk sexual behaviours. AIDS Care, 8, 655–669.

McKirnan, D. J., Vanable, P. A., Ostrow, D. G., & Hope, B. (2001). Expectancies of sexual escape and sexual risk among drug and alcohol-involved gay and bisexual men. Journal of Substance Abuse, 13, 137–154.

Millsap, R. E. (2002). Structural equation modeling: A user's guide. In: F. Drasgow & N. Schmitt (Eds.), Measuring and analyzing behavior in organizations (pp. 257–301). San Francisco: Jossey-Bass.

Ratzan S. (Ed.) (1993). AIDS: Effective health communication for the 90's. Washington: Taylor and Francis.

Rohde, P., Lewinsohn, P. M., Tilson, M., & Seeley, J. R. (1990). Dimensionality of coping and its relation to depression. Journal of Personality and Social Psychology, 58, 499–511.

Rosenstock, I. M., Strecher, V. J., & Becker, M. H. (1994). The Health Belief Model and HIV risk behavior change. In: R. J. DiClemente & J. L. Peterson (Eds.), Preventing AIDS: Theories and methods of behavioral interventions (pp. 5–24). New York: Plenum Press.

Rothspan, S., & Read, S. J. (1996). Present versus future time perspective and HIV risk among heterosexual college students. Health Psychology, 15, 131–134.

SPSS. (2005). SPSS 14.0 for Windows (Version 14.0) [Computer Software]. Chicago: Author.

Tafoya, T. (2003). Native gay and lesbian issues: The two-spirited. In: D. C. Kimmel & L. D. Garnets (Eds.), Psychological perspectives on lesbian, gay, and bisexual experiences (2nd ed., pp. 401–409). New York: Columbia University Press.

Taylor, R. L., & Hamilton, J. C. (1997). Preliminary evidence for the role of self-regulatory processes in sensation seeking. Anxiety, Stress and Coping: An International Journal, 10, 351–375.

Vanable, P. A., Ostrow, D. G., McKirnan, D. J., Taywaditep, K. J., & Hope, B.A. (2000). Impact of combination therapies on HIV risk perception and sexual risk among HIV-positive and HIV-negative gay and bisexual men. Health Psychology, 19, 134–145.

Vicioso, K. J., Parsons, J. T., Nanin, J. E., Purcell, D. W., & Woods, W. J. (2005). Experiencing release: Sex environments and escapism for HIV-positive men who have sex with men. Journal of Sex Research, 42, 13–19.

Vredenburg, K., Krames, L., & Flett, G. L. (1985). Reexamining the Beck Depression Inventory: The long and short of it. Psychological Reports, 56(3), 767–778.

Williams, M. L., Elwood, W. N., & Bowen, A. M. (2000). Escape from risk: A qualitative exploration of relapse to unprotected anal sex among men who have sex with men. Journal of Psychology and Human Sexuality, 11, 25–49.

Wills, T. A., Sandy, J. M., & Yaeger, A. M. (2001). Time perspective and early-onset substance use: A model based on stress-coping theory. Psychology of Addictive Behaviors, 15, 118–125.

Witte, K., Meyer, G., & Martell, D. (2001). Effective health risk message: A step-by-step guide. Thousand Oaks: Sage Publications.

Wegner, D. M., Schneider, D. J., Carter, S. R., & White, T. L. (1987). Paradoxical effects of thought suppression. Journal of Personality and Social Psychology, 53, 5–13.

Zimbardo, P.G., & Boyd, J.N. (1999). Putting time in perspective: A valid, reliable, individual-differences metric. Journal of Personality and Social Psychology, 77, 1271–1288.

Zimbardo, P. G., Keogh, K. A., & Boyd, J. N. (1997). Present time perspective as a predictor of risky driving. Personality and Individual Differences, 23, 1007–1023.

Zinbarg, R. E., Revelle, W., Yovel, I., & Li, W. (2005). Cronbach's α, Revelle's (, and McDonald's ωH: Their relations with each other and two alternative conceptualizations of reliability. Psychometrika, 70, 123–133.

Zuckerman, M. (1979). Sensation seeking: Beyond the optimal level of arousal. Hillsdale: Erlbaum.

Zuckerman, M. (1994). Behavioral expressions and biosocial bases of sensation seeking. Cambridge: Cambridge University Press.

Zuckerman, M., Kuhlman, D. M., Joireman, J., Teta, P., & Kraft, M. (1993). A comparison of three structural models for personality: The big three, the big five, and the alternative five. Journal of Personality and Social Psychology, 65, 757–768.
Acknowledgments
This research was supported in part by a grant from the Centers for Disease Control and Prevention to the Arizona Department of Health Services through cooperative agreement #99004. The authors would like to thank Leona Aiken, Brendt Parrish, and Roger Millsap for their important contributions, and the anonymous reviewers for their insightful and constructive comments. We also thank the many AIDS service organizations and participants of the Heads Up Study for their time, effort, and dedication.
About this article
Cite this article
Nemeroff, C.J., Hoyt, M.A., Huebner, D.M. et al. The Cognitive Escape Scale: Measuring HIV-related Thought Avoidance. AIDS Behav 12, 305–320 (2008). https://doi.org/10.1007/s10461-007-9345-1
Received:

Accepted:

Published:

Issue Date:
Keywords
Cognitive escape

HIV

AIDS

Thought suppression

Fatalism