Abstract
Researchers conducted focus groups in the Eastern Cape Province of South Africa concerning AIDS and treatment options. Constituent groups included adults aged 25–45, HIV/AIDS caregivers, HIV-positive adults, nurses, rural elders, teenagers, and traditional healers. This pilot work aimed to gather early evidence on perceptions about the government's rollout of antiretroviral treatment (ART), identify potential barriers to success, and inform a subsequent pilot survey. Diffusion of innovations theory was used to interpret the data and helped identify potential obstacles to the ART rollout. AIDS stigma and a weakened healthcare system were negatively impacting the program. There was a lack of accurate knowledge about HIV/AIDS and antiretroviral treatment, with wide disparities among groups. Many people were not convinced that antiretroviral treatment is superior to other treatments, and a few people were afraid it was poisonous. There was no evidence that people were aware of the long-term difficulties of adherence to the regimen.
Access options
Buy single article
Instant access to the full article PDF.
USD 39.95
Price includes VAT (USA)
Tax calculation will be finalised during checkout.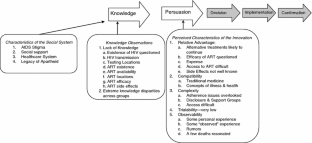 References
ASSA (n.d). Provincial output workbook. Available at: http://www.assa.org.za/default.asp?id=1000000050 (last accessed 9 July 2006).

Bertrand, J. (2004). Diffusion of Innovation and HIV/AIDS. Journal of Health Communication, 9(supplement), 113–121.

Campbell, C., Foulis, C. A., Maimane, S., & Sibiya, Z. (2005). "I have an evil child in my house": Stigma and HIV/AIDS management in a South African community. American Journal of Public Health, 95(5), 808–815.

Chopra, M., Kendall, C., Hill, Z., Schaay, N., Nkonki, L., & Doherty, T. (2006). 'Nothing new': Responses to the introduction of antiretroviral drugs in South Africa. AIDS 20(15), 1975–1977.

Department of Health. (2004). National antiretroviral treatment guidelines. National Department of Health, South Africa: Jacana Press.

Gebrekristos, H., Lurie, M., Mthethwa, N., & Karim, Q. (2005). Knowledge and acceptability of HAART among TB patients in Durban, South Africa. AIDS Care, 17(6), 767–772.

Mills, E., Cooper, C., Seely, D., & Kanfer, I. (2005). African herbal medicines in the treatment of HIV: Hypoxis and Sutherlandia. An overview of evidence and pharmacology. Nutrition Journal [Electronic], 4, 19.

Nachega, J., Lehman, D., Hlatshwayo, D., Mothopeng, R., Chaisson, R., & Karstaedt, A. (2005). HIV/AIDS and antiretroviral treatment knowledge, attitudes, beliefs, and practices in HIV-infected adults in Soweto, South Africa. Journal of Acquired Immune Deficiency Syndrome, 38(2), 196–201.

Rao, N., & Svenkerud, P. (1998). Effective HIV/AIDS prevention communication strategies to reach culturally unique populations: Lessons learned in San Francisco, U.S.A. and Bangkok, Thailand. International Journal of Intercultural Relations, 22(1), 85–105.

Rogers, E. M. (2003). Diffusion of innovations, 5 ed. New York: Free Press.

Shisana, O., Rehle, T., Simbayi, L. C., Parker, W., Zuma, K., Bhana, A., Connolly, C., Jooste, S., & Pillay, V. (2005). South African National HIV prevalence, HIV incidence, behaviour and communication survey. Cape Town: HSRC Press.

Tshibangu, K. C., Worku, Z. B., De Jongh, M. A., Van Wyk A. E., Mokwena S. O., & Peranovic, V. (2004). Assessment of effectiveness of traditional herbal medicine in managing HIV/AIDS patients in South Africa. East African Medical Journal, 81(10), 499–504.
Acknowledgments
The authors would like to thank the editor and two anonymous referees for comments and helpful advice and the Office of the Vice President for Research at Virginia Commonwealth University for financial support.
About this article
Cite this article
Mitchell, S.K., Kelly, K.J., Potgieter, F.E. et al. Assessing Social Preparedness for Antiretroviral Therapy in a Generalized AIDS Epidemic: A Diffusion of Innovations Approach. AIDS Behav 13, 76–84 (2009). https://doi.org/10.1007/s10461-007-9293-9
Received:

Accepted:

Published:

Issue Date:
Keywords
AIDS

South Africa

Antiretroviral therapy

Diffusion of innovations

Traditional medicine