Abstract
What role does traditional ecological knowledge play in the lives of smallholder farmers in post-conflict communities as they cope with the destructive impacts of war? In many cases, military weapons, such as unexploded bombs, are left behind in the surrounding landscape, forcing farmers to adapt their livelihood practices to the increased risk of death and injury. We analyze trends in the local production of knowledge in Ratanak Kiri province, Cambodia, an area heavily bombarded by the US Air Force during the Vietnam War. We argue that the system of traditional ecological knowledge has adapted to include basic information on bomb identification, location, and management strategies. This factual approach gives individuals the flexibility to generate their own views on whether they perceive unexploded ordnance as a violent hazard and/or an economic commodity. In a relatively short 50-year time period, the body of knowledge has been quickly accumulated and culturally transmitted to family and neighbors. Our findings suggest that traditional ecological knowledge should not be reduced to a static and ancient form of collective memory. We call for the expansion of the concept of traditional ecological knowledge to include short-term and dynamic processes of knowledge generation.
Access options
Buy single article
Instant access to the full article PDF.
US$ 39.95
Tax calculation will be finalised during checkout.
Subscribe to journal
Immediate online access to all issues from 2019. Subscription will auto renew annually.
US$ 79
Tax calculation will be finalised during checkout.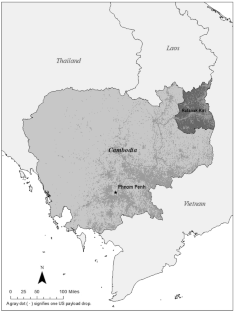 Notes
1.

In 2016, more than two billion people were living in countries affected by conflict. In addition, the vast majority of food-insecure people live in currently war-torn or post-war countries: an estimated 489 million out of 815 million undernourished people (FAO et al. 2017).

2.

The village has been renamed to protect the residents' anonymity.

3.

The couple later clarifies that they acquired this land 20 years ago and have no political affiliation with Lon Nol or the Khmer Rouge. Of the 37 interviews, only one respondent mentions being aligned with the Cambodian army (led by General Lon Nol). Another 11 respondents signaled that they had been Khmer Rouge supporters or even former Khmer Rouge soldiers. The remaining interviewees did not talk about local politics or personal ideology. While local support for the Khmer Rouge may explain why the area was subject to intense US bombing, historians argue that the US bombing inspired many Cambodians to join the communist resistance, particularly since the head of state, Prince Sihanouk, sought to remain politically neutral and would not acknowledge the US intrusion on Cambodian soil (Shawcross 1979; Kiernan 1989).
References
Beckford, C., and D. Barker. 2007. The role and value of local knowledge in Jamaican agriculture: Adaptation and change in small-scale farming. Geographical Journal 173 (2): 118–128.

Berkes, F. 1999. Sacred ecology: Traditional ecological knowledge and resource management. Philadelphia, PA: Taylor and Francis.

Berkes, F. 2009. Indigenous ways of knowing and the study of environmental change. Journal of the Royal Society of New Zealand 39 (4): 151–156.

Berkes, F., and D. Jolly. 2002. Adapting to climate change: Social-ecological resilience in a Canadian western Arctic community. Conservation Ecology 5(2).

Berkes, F., C. Folke, and M. Gadgil. 1994. Traditional ecological knowledge, biodiversity, resilience and sustainability. In Biodiversity conservation, ed. C.A. Perrings, K.G. Mäler, C. Folke, C.S. Holling, and B.O. Jansson, 269–287. Dordrecht: Springer.

Berkes, F., J. Colding, and C. Folke. 2000. Rediscovery of traditional ecological knowledge as adaptive management. Ecological Applications 10 (5): 1251–1262.

Blattman, C., and E. Miguel. 2010. Civil war. Journal of Economic Literature 48 (1): 3–57.

Boillat, S., and F. Berkes. 2013. Perception and interpretation of climate change among Quechua farmers of Bolivia: Indigenous knowledge as a resource for adaptive capacity. Ecology and Society 18(4).

Chendorain, M.D., L.D. Stewart, and B. Packer. 2005. Corrosion of unexploded ordnance in soil-field results. Environmental Science & Technology 39 (8): 2442–2447.

Collier, P., V.L. Elliott, H. Hegre, A. Hoeffler, M. Reynal-Querol, and N. Sambanis. 2003. Breaking the conflict trap: Civil war and development policy. Washington, DC: World Bank Publications.

Cusser, S., C. Bahlai, S.M. Swinton, G.P. Robertson, and N.M. Haddad. 2020. Long-term research avoids spurious and misleading trends in sustainability attributes of no-till. Global Change Biology 26 (6): 3715–3725.

Davidson-Hunt, I., and F. Berkes. 2003. Learning as you journey: Anishinaabe perception of social-ecological environments and adaptive learning. Conservation Ecology 8(1).

Fairhead, J., and I. Scoones. 2005. Local knowledge and the social shaping of soil investments: Critical perspectives on the assessment of soil degradation in Africa. Land Use Policy 22 (1): 33–41.

Folke, C. 2004. Traditional knowledge in social-ecological systems. Ecology and Society 9(3).

FAO, IFAD, UNICEF, WFP, and WHO. 2017. The state of food security and nutrition in the world: Building resilience for peace and food security. Rome: Food and Agriculture Organization.

Gadgil, M., F. Berkes, and C. Folke. 1993. Indigenous knowledge for biodiversity conservation. Ambio 22 (2/3): 151–156.

Gómez-Baggethun, E., E. Corbera, and V. Reyes-García. 2013. Traditional ecological knowledge and global environmental change: Research findings and policy implications. Ecology and Society 18(4).

Handayani, I.P., and P. Prawito. 2010. Indigenous soil knowledge for sustainable agriculture. In Sociology, organic farming, climate change and soil science, ed. E. Lichtfouse, 303–317. Dordrecht: Springer.

Hiwasaki, L., E. Luna, and J.A. Marçal. 2015. Local and indigenous knowledge on climate-related hazards of coastal and small island communities in Southeast Asia. Climatic Change 128 (1–2): 35–56.

Ismay, J. 2017. U.S. will keep older cluster munitions, a weapon banned by 102 nations. The New York Times, 1 December.

Kiernan, B. 1989. The American Bombardment of Kampuchea, 1969–1973. Vietnam Generation 1 (1): 4–41.

Lin, E., R. Qin, J. Edgerton, and D. Kong. 2020. Crater detection from commercial satellite imagery to estimate unexploded ordnance in Cambodian agricultural land. PLoS One 15 (3): e0229826.

Martin-Shields, C.P., and W. Stojetz. 2019. Food security and conflict: Empirical challenges and future opportunities for research and policy making on food security and conflict. World Development 119: 150–164.

Maxwell, D., L. Russo, and L. Alinovi. 2012. Constraints to addressing food insecurity in protracted crises. Proceedings of the National Academy of Sciences 109 (31): 12321–12325.

McDade, T.W., V. Reyes-García, P. Blackinton, S. Tanner, T. Huanca, and W.R. Leonard. 2007. Ethnobotanical knowledge is associated with indices of child health in the Bolivian Amazon. Proceedings of the National Academy of Sciences 104 (15): 6134–6139.

Menzies, C.R., ed. 2006. Traditional ecological knowledge and natural resource management. Lincoln, NE: University of Nebraska Press.

Messer, E., M.J. Cohen, and J. d'Costa. 1998. Food from peace: Breaking the links between conflict and hunger. Washington, DC: International Food Policy Research Institute.

Neives, E. 2018. The 'endless war' of land mines in the Balkans. The New York Times, 4 April.

Netting, R.M. 1981. Balancing on an Alp: Ecological change and continuity in a Swiss mountain community. Cambridge: Cambridge University Press.

Padwe, J. 2020. Disturbed forests, fragmented memories: Jarai and other lives in the Cambodian highlands. Seattle, WA: University of Washington Press.

Peloquin, C., and F. Berkes. 2009. Local knowledge, subsistence harvests, and social-ecological complexity in James Bay. Human Ecology 37 (5): 533–545.

Perez, C., C. Nicklin, O. Dangles, S. Vanek, S.G. Sherwood, S. Halloy, K.A. Garrett, and G.A. Forbes. 2010. Climate change in the high Andes: Implications and adaptation strategies for small-scale farmers. The International Journal of Environmental, Cultural, Economic and Social Sustainability 6: 71–88.

Reed, C.A., ed. 2011. Origins of agriculture. Berlin: Walter de Gruyter.

Robbins, P. 2011. Political ecology: A critical introduction. Hoboken, NJ: Wiley-Blackwell.

Shawcross, W. 1979. Sideshow: Kissinger, Nixon, and the destruction of Cambodia. New York, NY: Simon & Schuster.

Speranza, C.I., B. Kiteme, P. Ambenje, U. Wiesmann, and S. Makali. 2010. Indigenous knowledge related to climate variability and change: Insights from droughts in semi-arid areas of former Makueni District, Kenya. Climatic Change 100 (2): 295–315.

Stern, J.E. 2018. From Arizona to Yemen: The journey of an American bomb. The New York Times, 11 December.

Syswerda, S.P., A.T. Corbin, D.L. Mokma, A.N. Kravchenko, and G.P. Robertson. 2011. Agricultural management and soil carbon storage in surface vs. deep layers. Soil Science Society of America Journal 75 (1): 92–101.

Turner, M.G. 2010. Disturbance and landscape dynamics in a changing world. Ecology 91 (10): 2833–2849.

Uk, K. 2016. Salvage: Cultural resilience among the Jorai of Northeast Cambodia. Ithaca: Cornell University Press.

Von Glasenapp, M., and T.F. Thornton. 2011. Traditional ecological knowledge of Swiss alpine farmers and their resilience to socioecological change. Human Ecology 39 (6): 769–781.

Zani, L. 2019. Bomb children: Life in the former battlefields of Laos. Durham, NC: Duke University Press.
Acknowledgements
We gratefully acknowledge the Initiative for Food and Agriculture Transformation, Mershon Center, Political Science Department, and Office of International Affairs at the Ohio State University for funding. The authors would like to acknowledge the support of our interpreters, translators, and demining staff, as well as Chase Harpole, Kit Wislocki, Greg Crowther, Nick Kawa, Alex Thompson, William Minozzi, Casey Hoy, and Ted Paterson.
Additional information
Publisher's Note
Springer Nature remains neutral with regard to jurisdictional claims in published maps and institutional affiliations.
About this article
Cite this article
Lin, E., Sprunger, C.D. & Hwang, J. The farmer's battlefield: traditional ecological knowledge and unexploded bombs in Cambodia. Agric Hum Values (2021). https://doi.org/10.1007/s10460-021-10195-0
Keywords
Traditional ecological knowledge

Legacy of war

Smallholder farmer

Southeast Asia

Unexploded ordnance