Abstract
Despite a heightened political discourse surrounding food choices, few studies have identified connections between political beliefs and consumer perceptions. Using gluten as an example, this article identifies how political opinions relate to opinions of food products. If an avoidance of gluten is a biological condition and not a social construct, there should be no correlation between political opinions and gluten avoidance. Our study uncovers a complex relationship between the social construction of gluten avoidance and the potential role of political views. Perhaps most surprising, we find that supporters of Donald Trump are more likely to identify as avoiding gluten, relative to non-supporters. Findings suggest that future research might benefit from considering the political beliefs of consumers when estimating models of food demand.
This is a preview of subscription content, log in to check access.
Access options
Buy single article
Instant access to the full article PDF.
US$ 39.95
Tax calculation will be finalised during checkout.
Subscribe to journal
Immediate online access to all issues from 2019. Subscription will auto renew annually.
US$ 99
Tax calculation will be finalised during checkout.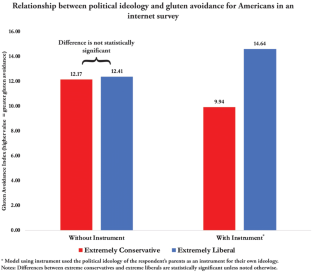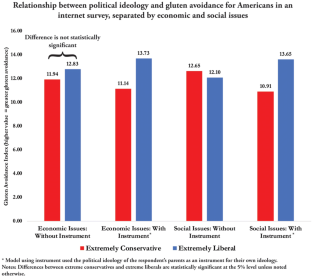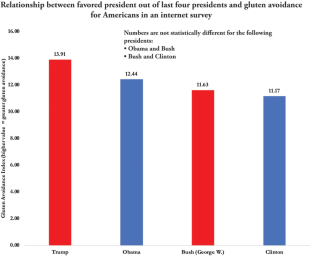 Notes
1.

For a recent discussion of the research surrounding gluten sensitivity, see Dubner (2017).

2.

When we asked about economic issues, it is possible that participants might have thought of liberalism in the classic sense. To make sure this was not the case, we evaluated a Pearson correlation matrix and conducted exploratory factor analysis to identify the relationship between the three scales. Because all three were positively correlated with one another at the α = 0.01 level, we can safely conclude that most participants did not consider the question to mean classically liberal.
References
Albom, M. 2017. One Fish, Two Fish, This Librarian is Rude-ish. Detroit: Detroit Free Press.

Angrist, J.D., and J.S. Pischke. 2008. Mostly Harmless Econometrics: An Empiricist's Companion. Princeton: Princeton University Press.

Bellows, A.C., V.G. Alcarez, and W.K. Hallman. 2010. Gender and food, a study of attitudes in the USA towards organic, local, U.S. grown, and GM-free foods. Appetite 55: 540–550.

Biesiekierski, J.R., E.D. Newnham, P.M. Irving, J.S. Barrett, M. Haines, J.D. Doecke, S.J. Shepherd, J.G. Muir, and P.R. Gibson. 2011. Gluten causes gastrointestinal symptoms in subjects without celiac disease: a double-blind randomized placebo-controlled trial. American Journal of Gastroenterology 106 (3): 508–514.

Biesiekierski, J., S.L. Peters, E.D. Newnham, O. Rosella, J.G. Muir, and P.R. Gibson. 2013. No Effects of Gluten in Patients With Self-Reported Non-Celiac Gluten Sensitivity After Dietary Reduction of Fermentable, Poorly Absorbed, Short-Chain Carbohydrates. Gastroenterology 145: 320–328.

Blaylock, J., D. Smallwood, K. Kassel, J. Variyam, and L. Aldrich. 1999. Economics, Food Choices, and Nutrition. Food Policy 24 (3): 269–286.

Burke, P.J., and J.E. Stets. 2009. Identity Theory. Oxford: Oxford University Press.

Catassi, C., S. Gatti, and A. Fasano. 2014. The New Epidemiology of Celiac Disease. Journal of Pediatric Gastroenterology and Nutrition 59: S7–S9.

Chuck, C., S.A. Fernandes, and L.L. Hyers. 2016. Awakening to the Politics of Food: Politicized Diet as Social Identity. Appetite 107: 425–436.

Collins, E. 2016. Poll: Americans feel more divided than ever. USA Today: On Politics. November 21.

Davey, A. 2018. 'Conservative' Ideology and the Politics of Local Food. Agriculture and Human Values 35 (4): 853–865.

Di Sabatino, A., U. Volta, C. Salvatore, P. Biancheri, G. Caio, R. De Giorgio, M. Di Stefano, and G.R. Corazza. 2015. Small Amounts of Gluten in Subjects with Suspected Nonceliac Gluten Sensitivity: A Randomized, Double-Blind, Placebo-Controlled, Cross-Over Trial. Clinical Gastroenterology and Hepatology 13: 1604–1612.

Domnick, B. 2009. Which Agricultural Sectors Benefit From The Low-Carbohydrate Diet Movement: A Survey Of Consumer Perceptions Of Healthy Food Substitutes On A Low-Carbohydrate Diet. Master's Thesis. Department of Agricultural Economics. Oklahoma State University.

Dubner, S.J. 2017. The Demonization of Gluten. Freakonomics Podcast. October 18.

El-Salhy, M., J.G. Hatlebakk, O.H. Gilja, and T. Hausken. 2015. The Relation Between Celiac Disease, Nonceliac Gluten Sensitivity and Irritable Bowel Syndrome. Nutrition Journal 14 (1): 92–100.

Erbland, K., D. Fear, and R. Sheffield. 2018. 20 Best 'Portlandia' Sketches. Rolling Stone. https://www.rollingstone.com/culture/culture-lists/20-best-portlandia-sketches-155671/the-celery-incident-season-4-204322/. Accessed 7 Sept 2018.

Gordts, E., N. Golgowski, J. Cook, and D. Madanl. 2017. NFL players continue peaceful protests in defiance of Trump. Huffington Post. October 1.

Horowitz, A.W., and A.P. Souza. 2011. The Impact of Parental Income on the Intra-Household Distribution of School Attainment: A Measurement Strategy and Evidence. Quarterly Review of Economics and Finance 51 (1): 1–18.

Jennings, M.K., L. Stoker, and J. Bowers. 2009. Politics across Generations: Family Transmission Reexamind. The Journal of Politics. 71 (3): 782–799.

Kahan, D.M. 2013. Ideology, Motivated Reasoning, and Cognitive Reflection. Judgment and Decision Making 8 (4): 407–424.

Kirell, A. 2014. Liberals Eat at P.F. Chang's, Conservatives at Cracker Barrel; and Otgher Fun Food Facts. Media ITE. https://www.mediaite.com/online/liberals-eat-at-p-f-changs-conservatives-at-cracker-barrel-and-other-fun-food-facts/. Accessed 7 Sept 2018.

Kolbert, E. 2017. Why Facts Don't Change Our Minds. New Yorker 27: 47–57.

Kurtzleben, D. 2017. Here's How Many Bernie Supporters Ultimately Voted for Trump. National Public Radio. http://www.npr.org/2017/08/24/545812242/1-in-10-sanders-primary-voters-ended-up-supporting-trump-survey-finds. Accessed 10 Oct 2017.

Lusk, J.L. 2012. The Political Ideology of Food. Food Policy 37 (5): 530–542.

Lusk, J.L. 2017. Consumer Research with Big Data: Applications from the Food Demand Survey (FooDS). American Journal of Agricultural Economics 99 (2): 303–320.

Macht, M., and G. Simons. 2000. Emotions and Eating in Everyday Life. Appetite 35 (1): 65–71.

Malone, T., and J.L. Lusk. 2018. An Instrumental Variable Approach to Distinguishing Perceptions from Preferences for Beer Brands. Managerial and Decision Economics 39 (4): 403–417.

McFadden, B.R. 2017. Gluten-free water' shows absurdity of trend in labeling what's absent. The Conversation. August 28.

McFadden, B.R., and J.L. Lusk. 2015. Cognitive Biases in the Assimilation of Scientific Information on Global Warming and Genetically Modified Food. Food Policy 54: 35–43.

Mintz, S.W., and C.M. Du Bois. 2002. The Anthropology of Food and Eating. Annual Review of Anthropology 31 (1): 99–119.

Moore, L.R. 2014. "But We're not Hypochondriacs": The Changing Shape of Gluten-Free Dieting and the Contested Illness Experience. Social Science and Medicine 105: 76–83.

Murphy, S. 2011. Political Ideology Linked to Food Choices. LiveScience. https://www.livescience.com/14302-political-ideology-liberal-conservative-food-choices.html. Accessed 24 Aug 2018.

National Review Editorial Board. 2016. Against Trump. National Review. January 21.

Nickerson, R.S. 1998. Confirmation Bias: A Ubiquitous Phenomenon in Many Guises. Review of General Psychology 2 (2): 175–220.

Norwood, F.B., G. Tonsor, and J.L. Lusk. 2018. I will Give You My Vote but Not My Money: Preferences for Public versus Private Action in Addressing Social Issues. Applied Economic Perspectives and Policy.

Offit, P.A. 2017. War on Science: Gluten-Free Madness Needs to End. Daily Beast. https://www.thedailybeast.com/war-on-science-gluten-free-madness-needs-to-end. Accessed 24 Aug 2018.

Ojeda, C., and P.K. Hatemi. 2015. Accounting for the Child in the Transmission of the Party Identification. American Sociological Review 80 (6): 1150–1174.

Petrin, A., and K. Train. 2010. A Control Function Approach to Endogeneity in Consumer Choice Models. Journal of Marketing Research 47 (1): 3–13.

Reilly, K. 2016. Ted Cruz Pledges Not to Provide Gluten-Free Meals to the Military. Time Magazine: Politics. February 16.

Riffkin, R. July 23, 2015. One in Five Americans Include Gluten-Free Foods in Diets. Gallup News. http://news.gallup.com/poll/184307/one-five-americans-include-gluten-free-foods-diet.aspx. Accessed 16 Oct 2017.

Saher, M., M. Lindeman, and U.K. Koivisto Hursti. 2006. Attitudes towards genetically modified and organic foods. Appetite 46: 324–331.

Settle, J.E., C.T. Dawes, and J.H. Fowler. 2009. The Heritability of Partisan Attachment. Political Research Quarterly 62 (3): 601–613.

Shahbazkhani, B., S. Amirsaeid, R. Malekzadeh, F. Khatavi, M. Etemadi, E. Kalantri, M. Rostami-Nejad, and K. Rostami. 2015. Non-Celiac Gluten Sensitivity Has Narrowed the Spectrum of Irritable Bowel Syndrome: A Double-Blind Randomized Placebo-Controlled Trial. Nutrients 7: 4542–4554.

Sheluga, D. 2014. The Truth About Gluten Free: Market Size and Consumer Behavior for Successful Business Decisions. First Edition. Ardent Mills. http://www.ardentmills.com/uploads/Gluten-Free-White-Paper.pdf. Accessed 9 October 2017.

Shute, N. March 9, 2013. Gluten Goodbye: One-Third OF Americans Say They're Trying To Shun It. The Salt. National Public Radio. http://www.npr.org/sections/thesalt/2013/03/09/173840841/gluten-goodbye-one-third-of-americans-say-theyre-trying-to-shun-it. Accessed 29 Nov 2016.

Spence, M. 1973. Job Market Signaling. Quarterly Journal of Economics 87 (3): 355–374.

Telling, G. January 8, 2015. 5 Things You Never Knew About Portlandia. People. https://people.com/tv/portlandia-season-5-premiere-5-things-to-know/. Accessed 7 Sept 2018.

Warde, A. 2005. Consumption and Theories of Practice. Journal of Consumer Culture 5 (2): 131–153.

Wilson, N.L. 2011. How the Cookie Crumbles: A Case Study of Gluten-Free Cookies and Random Utility. American Journal of Agricultural Economics 94 (2): 576–582.

Witzling, L., and B.R. Shaw. 2019. Lifestyle Segmentation and Political Ideology: Toward Understanding Beliefs and Behavior about Local Food. Appetite 132: 106–113.

Worosz, M.R., and N.L. Wilson. 2012. A Cautionary Tale of Purity, Labeling and Product Literacy in the Gluten-Free Market. Journal of Consumer Affairs 46 (2): 288–318.

Wu, J.H., B. Neal, H. Trevena, M. Crino, W. Stuart-Smith, K. Faulkner-Hogg, J.C. Yu Louie, and E. Dunford. 2015. Are Gluten-Free Foods Healthier than Non-Gluten-Free Foods? An Evaluation of Supermarket Products in Australia. British Journal of Nutrition 114 (3): 448–454.
Additional information
Publisher's Note
Springer Nature remains neutral with regard to jurisdictional claims in published maps and institutional affiliations.
Appendix
Appendix
Although data on aversion to gluten and political affiliation is easily collected, interpreting any correlation between the two is difficult because there are multiple reasons why a correlation might exist. This section describes four stylized links between political affiliation and gluten-avoidance. Each link is an event or series of events that causes one to choose a specific political affiliation and begin to avoid gluten. The event could be a personal experience like a sickness, exposure to new information, or parental influence. The event might occur during the person's life (a contemporary link), or before the person was born (historical link). The distinction between contemporary and historical events do not have to be during or before a person's birth, but could instead be interpreted as demarcating a recent versus a past event. Also, the link might be mediated in that the event causes one to adopt a political view first, and that political view then induces them to form a specific opinion about gluten, or it might be unmediated in that the view on gluten is formed separately from the view on political issues, but both are ultimately caused by the same event. See Fig. 4 below for these four categorization of links as they relate to liberal a belief system. They are best understood with a series of examples. These specific examples are contrived to show how someone could become more liberal and begin avoiding gluten. Of course, the opposite examples might show how someone could become more conservative and begin consuming gluten.
Link A Suppose an individual develops a preference for a particular form of wheat bread, and soon after experiences poor health. Regardless of whether the health symptoms are caused by the gluten, the person may suspect that gluten is to blame for their poor health, and they thus develop an aversion to gluten. As they make repeated trips to the doctor and undergo expensive medical tests and scans, their growing medical bills makes them alter their views on health care, a highly politicized issue. Now desiring government-funded health care, they become more liberal. Both the aversion to gluten and embrace of liberal politics happened at roughly the same time. In this instance, politics did not cause gluten avoidance even though politics and perceptions of gluten are correlated. The link connecting gluten perceptions and political affiliation is poor health, and the link is contemporary to the individual's life. It is also unmediated, in that the link helps form both political affiliation and gluten-avoidance directly. That is, the sickness would have led to more liberal political beliefs even if the person did not believe the sickness was caused by gluten.
Link B A person is raised in a conservative home but then attends college where they are exposed to and become attracted to liberal views. This happens before the person has heard of gluten-sensitivity. As they begin socializing in liberal circles, they meet an increasing number of people claiming to be gluten-sensitive. According to Identity Theory, the person will seek to verify their new political identity to both themselves and others (Burke and Stets 2009), and begin to prefer gluten-free food like their new friends. That practice is related to the economic theory of signaling, which suggests that people might engage in practices in order to gain a within-group advantage (Spence 1973). The link here is exposure to new ideas. It is a contemporary link, but it is mediated in the sense that the only reason they avoid gluten is because they adopted new political views. Without a new political outlook, their perceptions towards gluten would have remained the same.
Link C This individual is raised in a liberal household, and due to exposure to their parents adopts liberal views as well. If liberals are more likely to claim gluten-sensitivity, the individual may make this claim as well in the self-verification process. Like Path B the link is mediated, in that the only reason they avoid gluten is because they first chose liberal politics. The link is also historical, though, as their parents' political identity (assuming they do not change political views after having children) was caused by the events in the parents' lives, from before the person was born.
Link D Perhaps there are a variety of genes increasing the odds one is both a liberal and sensitive to gluten. The link, genetics, is direct in that it causes both, but is unmediated in that the individual does not need to be exposed to liberal views first to develop an aversion to gluten: it was inherent in their genes. This differs from Link A in that Link A is assumed to be a recently contracted illness whereas Link D is assumed to be a health problem the person experiences throughout their life, and caused by an event prior to their birth.
Any correlation between political affiliation and gluten sensitivity could be the result of any or all of these paths—or numerous paths not listed. Moreover, there could be many different varieties of any one link. For example, a person may be exposed to multiple events inducing them to adopt a liberal political view, such that there could be a dozen different types of Path B. The figure above described Link D as activated by genetics, but it could be activated by the happenstance of the region one was raised.
About this article
Cite this article
Malone, T., Bailey Norwood, F. Gluten aversion is not limited to the political left. Agric Hum Values 37, 1–15 (2020). https://doi.org/10.1007/s10460-019-09958-7
Accepted:

Published:

Issue Date:
Keywords