Abstract
This paper extends arguments about the potential for reflexive governance in agri-food sustainability by linking food ethics to the notion of 'unintended consequences' and 'responsibilisation'. Analysis of sustainable consumption governance shows the way authorities and intermediaries use food waste reduction projects to 'responsibilise' the consumer, including recent examples of shared responsibility. This paper takes this argument further by developing a 'strategies of responsibilisation' framework that connects relations between food system outcomes, problematisation in public discourse and strategies of responsibilisation in agri-food governance. A food and drink waste case study of strategies to introduce reusable coffee cups in UK coffee shops and food retail chains is examined to exemplify relations between problematisation and responsibilisation. We examine problematisation and responsibilisation discourses that have emerged in relation to the issue, particularly in relation to single-use plastics, together with emerging governance arrangements and their underlying rationalities. The case study shows two key things: firstly, how ethical questions about food in public discourses connect to wider environmental planetary concerns (in this case packaging in relation to the environment); and secondly, how responsibility has emergent and dynamic properties, which we term 'cycles of responsibilisation'. The paper concludes by assessing the wider value of applying a responsibility framework to examine governance responses to increasingly complex agri-food system sustainability challenges.
Access options
Buy single article
Instant access to the full article PDF.
USD 39.95
Price includes VAT (USA)
Tax calculation will be finalised during checkout.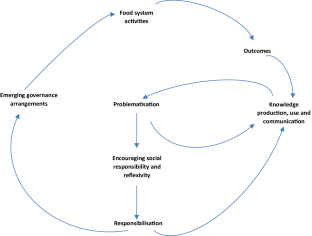 Abbreviations
CSR:

Corporate Social Responsibility

EAC:

Environmental Audit Committee

PRS:

Producer Responsibility Scheme

WRAP:

Waste and Resources Action Programme
References
Adkins, Lisa. 2003. Reflexivity: Freedom or Habit of Gender? Theory, Culture & Society 20 (6): 21–42.

Barnett, Clive, Paul Cloke, Nick Clarke, and Alice Malpass. 2005. Consuming Ethics: Articulating the Subjects and Spaces of Ethical Consumption. Antipode 37 (1): 23–45. https://doi.org/10.1111/j.0066-4812.2005.00472.x. doi.

Barnett, C., P. Cloke, N. Clarke, and A. Malpass. 2011. Globalizing Responsibility: The Political Rationalities of Ethical Consumption. Chichester: Wiley.

BBC News Online. 2016. Viewpoint: The waste mountain of coffee cups. Hugh Fearnley-Whittingstall. 27th July 2016. http://www.bbc.co.uk/news. Accessed 8 Feb 2018. 

Block, F. 1990. Postindustrial Possibilities: A Critique of Economic Discourse. Berkeley: University of California Press.

Brunori, Gianluca, Francesca Galli, Dominique Barjolle, Rudolf van Broekhuizen, Luca Colombo, Mario Giampietro, and James Kirwan, et al. 2016. Are Local Food Chains More Sustainable than Global Food Chains? Considerations for Assessment. Sustainability 8 (5): 449.

Casson, L. 2017. Plastic facts keep getting scarier. 20th July. Available from Greenpeace website: https://www.greenpeace.org.uk/ Accessed 8 Feb 2018.

Chandler, David. 2013. Resilience ethics: responsibility and the globally embedded subject. Ethics & Global Politics 6 (3): 175–194. https://doi.org/10.3402/egp.v6i3.21695.

Country Living. 2017. This week's Blue Planet II has triggered an emotional public reaction. Weekly Newsletter. 19th November. http://www.countryliving.co.uk. Accessed 8 Feb 2018.

DEFRA. 2018. A Green Future: Our 25 Year Plan to Improve the Environment. London: DEFRA (Department of the Environment, Food and Rural Affairs).

Dubbink, Wim, Johan Graafland, and Luc van Liedekerke. 2008. CSR, Transparency and the Role of Intermediate Organisations. Journal of Business Ethics 82 (2):391–406. https://doi.org/10.1007/s10551-008-9893-y.

EAC (Environmental Audit Committee). 2018. Disposable Packaging: Coffee Cups. Second Report of the Session 2017-19. HC 657. 5th January 2018. London: House of Commons.

Evans, David, Daniel Welch, and Joanne Swaffield. 2017. Constructing and mobilizing 'the consumer': Responsibility, consumption and the politics of sustainability. Environment and Planning A: Economy and Space 49 (6): 1396–1412. https://doi.org/10.1177/0308518x17694030.

Flood, A. 2018. 'Single-use' named 2018 word of the year. The Guardian: https://www.theguardian.com/books/2018/nov/2007/single-use-named-word-of-the-year-2018-environment-collins-dictionary. Accessed 18 Dec 2018.

Gabbatiss, J. 2018. Disposable coffee cups: How big a problem are they for the environment? The Independent online: Environment: 5th January 2018. http://www.independent.co.uk/. Accessed 15 Feb 2018.

Goodman, D., and E. M. DuPuis. 2002. Knowing food and growing food: Beyond the production-consumption debate in the sociology of agriculture. Sociologia Ruralis 42 (1): 5–22.

Goodman, M., D. Maye, and L. Holloway. 2010. Guest editorial. Ethical foodscapes?: premises, promises, and possibilities. Environment and Planning A 42: 1782–1796.

Goodman, D., E. M. DuPuis, and M. Goodman. 2012. Alternative Food Networks: knowledge, practice, and politics. Abingdon: Routledge.

Guthman, Julie. 2003. Fast food/organic food: reflexive tastes and the making of 'yuppie chow'. Social & Cultural Geography 4 (1): 45–58.

Hinrichs, C. 2000. Embeddedness and local food systems: notes on two types of direct agricultural market. Journal of Rural Studies 16: 295–303.

Hinrichs, C. 2014. Transitions to sustainability: a change in thinking about food systems change? Agriculture & Human Values 31 (1): 143–155. https://doi.org/10.1007/s10460-014-9479-5.

Jackson, Peter, Neil Ward, and Polly Russell. 2009. Moral economies of food and geographies of responsibility. Transactions of the Institute of British Geographers 34: 12–24.

Kahneman, D., and A. Tversky. 1979. Prospect theory: An analysis of decision under risk. Econometrica 47 (2): 263–292.

Kirwan, James, and Damian Maye, and Gianluca Brunori. 2017a. Acknowledging complexity in food supply chains when assessing their performance and sustainability. Journal of Rural Studies 52: 21–32. https://doi.org/10.1016/j.jrurstud.2017.03.008.

Kirwan, James, and Damian Maye, and Gianluca Brunori. 2017b. Reflexive Governance, Incorporating Ethics and Changing Understandings of Food Chain Performance. Sociologia Ruralis 57 (3): 357–377. https://doi.org/10.1111/soru.12169. doi.

Laville, S. 2018. Explained: Throwaway Society. The Guardian Newspaper: Thursday 18th January, p. 11.

Laville, S., and M. Taylor. 2018. British supermarkets create estimated 800,000 tonnes of plastic waste each year. The Guardian Newspaper: Thursday 18th January, pp. 10–11.

Mason, P., and T. Lang. 2017. Sustainable Diets. London: Routledge.

McEwan, Cheryl, and Michael K. Goodman. 2010. Place Geography and the Ethics of Care: Introductory Remarks on the Geographies of Ethics, Responsibility and Care. Ethics, Place & Environment 13 (2): 103–112. https://doi.org/10.1080/13668791003778602.

Miller, Daniel. 2003. Could the Internet defetishise the commodity? Environment and Planning D: Society and Space 21: 359–372.

Monbiot, G. 2018. We won't save the Earth with a better kind of disposable coffee cup. The Guardian Newspaper: Thursday 6th September. https://www.theguardian.com/commentisfree/2018/sep/2006/save-earth-disposable-coffee-cup-green?CMP=Share_iOSApp_Other. Accessed 18 Nov 2018.

Nicholls, F. 2016. A rubbish truck of plastic in the ocean every minute—and how you can help. Greenpeace: Available from Greenpeace website: https://www.greenpeace.org.uk/ Accessed 8 Feb 2018.

Pereira, Laura M., and Shaun Ruysenaar. 2012. Moving from traditional government to new adaptive governance: the changing face of food security responses in South Africa. Food Security 4 (1): 41–58. https://doi.org/10.1007/s12571-012-0164-5.

Poortinga, W. 2017. Results of a field experiment to reduce coffee cup waste. Summary report to Bewley's Tea & Coffee UK Ltd. Cardiff: Welsh School of Architecture & School of Psychology, Cardiff University.

Popke, Jeff. 2006. Geography and ethics: everyday mediations through care and consumption. Progress in Human Geography 30 (4): 504–512. https://doi.org/10.1191/0309132506ph622pr.

Riley, Tess. 2018. MPs want you to pay a 'latte levy' to cut coffee cup waste. The Huffington Post, UK Edition: Politics: 5th January. http://www.huffingtonpost.co.uk. Accessed 8 Feb 2018.

River Cottage. 2018. The UK has woken up and smelled the coffee cup nightmare: https://rivercottage.net/. Accessed 8 Feb 2018.

Sayer, Andrew. 2003. (De)commodification, consumer culture, and moral economy. Environment and Planning D: Society and Space 21: 341–357.

Sayer, Andrew. 2004. Moral economy. Lancaster: Lancaster University

Shove, Elizabeth. 2010. Beyond the ABC: Climate Change Policy and Theories of Social Change. Environment and Planning A: Economy and Space 42 (6): 1273–1285. https://doi.org/10.1068/a42282.

Siegle, L. 2017. Milk bottles and copper hospitals: past ideas for a plastic-free future. The Guardian online. Accessed 28 Feb 2018.

Springmann, Marco, Michael Clark, Daniel Mason-D'Croz, Keith Wiebe, Benjamin Leon Bodirsky, Luis Lassaletta, Wim de Vries, et al. 2018. Options for keeping the food system within environmental limits. Nature 562 (7728): 519–525. https://doi.org/10.1038/s41586-018-0594-0.

WEF and EMF (World Economic Forum and Ellen MacArthur Foundation). 2017. The new plastics economy: catalysing action. https://www.ellenmacarthurfoundation.org. Accessed 8 Feb 2018.

Westhoek, H., J. Ingram, S. Van Berkum, L. Özay, and M. Hajer. 2016. Food Systems and Natural Resources. A report prepared by the Working Group on Food Systems of the International Resource Panel: United Nations Environment Programme.

Wollaston, S. 2016. Hugh's War on Waste: The Battle Continues review 8 - taking the lid off the coffee cup scandal. The Guardian online. Accessed 28 Feb 2018.

WRAP. 2008. The Food We Waste. Banbury: Waste and Resources Action Programme (WRAP).

WRAP. 2018. New initiative to transform UK plastics system and tackle plastic pollution. 11th January, 2018. http://wrap.org.uk/. Accessed 8 Feb 2018.

Young, I. M. 2003. From guilt to solidarity: sweatshops and political responsibility. Dissent:39–44.

Young, I. M. 2011. Responsibility for Justice. Oxford: Oxford University Press.
Acknowledgements
The research on which this paper is based was funded by the European Commission's Seventh Framework Programme, as part of Theme [KBBE.2012.2.5-03] [A comparative analysis of global versus local food supply systems], Grant Agreement No.: 311778.
Additional information
Publisher's Note
Springer Nature remains neutral with regard to jurisdictional claims in published maps and institutional affiliations.
The original version of this article was revised due to typesetting Mistakes regarding Figure 1.
About this article
Cite this article
Maye, D., Kirwan, J. & Brunori, G. Ethics and responsibilisation in agri-food governance: the single-use plastics debate and strategies to introduce reusable coffee cups in UK retail chains. Agric Hum Values 36, 301–312 (2019). https://doi.org/10.1007/s10460-019-09922-5
Accepted:

Published:

Issue Date:
Keywords
Ethics and agri-food governance

Food and drink waste

Single-use packaging

Reusable coffee cups

Problematisation

Responsibilisation