Abstract
The contradictions between food poverty affecting a large section of the global population and the everyday wastage of food, particularly in high income countries, have raised significant academic and public attention. All actors in the food chain have a role to play in food waste prevention and reduction, including farmers, food manufacturers and processors, caterers and retailers and ultimately consumers. Food surplus redistribution is considered by many as a partial solution to food waste reduction and food poverty mitigation, while others criticize charitable initiatives as inadequate responses, that inhibit governments from responsibly protecting the citizens right to food. This paper frames food assistance as "hybrid systems", situating at the intersection of territorial food, public welfare and third sector voluntary systems. Based on available literature and reflections on previous research examining food banks in Italy, we develop a system dynamics conceptual mapping. The aim is to model a set of relations and dynamic mechanisms associated with variables relevant to food waste generation, food recovery for social purposes and food poverty alleviation. The analysis of feedback interactions highlights the (actual and potential) vulnerabilities of food assistance systems that occur when addressing food poverty by reducing food surplus. In summary, as the awareness on food poverty and food surplus arises, incentives to food recovery and redistribution strengthen the role of (voluntary) food assistance actors, increasing their exposure to drivers of change, such as retailers' standards for food surplus prevention. This paper contributes to the current academic debate on charitable food assistance, with insights for policy makers and other systems' actors.
This is a preview of subscription content, log in to check access.
Access options
Buy single article
Instant access to the full article PDF.
US$ 39.95
Tax calculation will be finalised during checkout.
Subscribe to journal
Immediate online access to all issues from 2019. Subscription will auto renew annually.
US$ 99
Tax calculation will be finalised during checkout.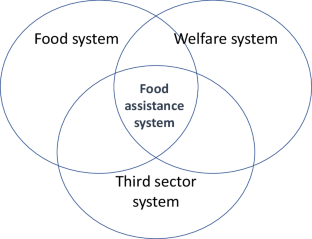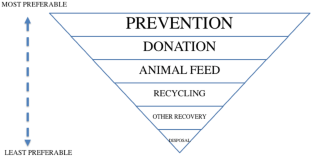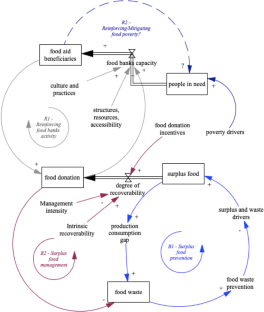 Notes
1.

2.

3.

4.

5.

Law No 166/2016 of 19 August 2016, Provisions concerning the donation and distribution of food and pharmaceutical products for purposes of social solidarity and to limit waste, Official Journal No 202 of 30 August 2016.

6.

National Pact Against Food Waste Law no. 2016-138 of February 11, 2016.

7.

Data shows more specifically that 33, 22% comes from the food industry (manufacturers), 17% from the retail sector and 14% from individuals through national and local collections (O'Connor et al. 2014).

8.

European Federation of Food Banks (FEBA): http://www.eurofoodbank.eu/ In addition, the Tafel (German 'food banks' which are not members of FEBA) distributes some 220,000 tons of food annually to approximately 1,5 million people.
Abbreviations
FEAD:

Fund for European Aid to the most Deprived

PEAD:

Programme Européen d'Aide alimentaire aux plus Démunis

SDG:

Sustainable development goals
References
Abdussamad, J. 2014. Applying systems thinking to examine and reduce dependency on food banks. Interdisciplinary Description of Complex Systems: INDECS 12 (1): 99–107.

Alexander, C., and C. Smaje. 2008. Surplus retail food redistribution: An analysis of a third sector model. Resources, conservation and recycling 52 (11): 1290–1298.

Arcuri, S., F. Galli, and G. Brunori. 2016. 'Local' level analysis of FNS pathways in Italy. The case of food assistance in Tuscany. TRANSMANGO: EU KBBE.2013.2.5-01 Grant agreement no: 613532.

Arcuri, S., G. Brunori, and F. Galli. 2017. Insights on the role of private and public actors in food assistance provision: A literature review for High Income Countries. Economia agro-alimentare. 19 (1): 119–150.

Baglioni, S., B. De Pieri, and T. Tallarico. 2017. Surplus food recovery and food aid: The pivotal role of non-profit organisations. Insights from Italy and Germany. VOLUNTAS: International Journal of Voluntary and Nonprofit Organizations 28 (5): 2032–2052.

Bazerghi, C., F. H. McKay, and M. Dunn. 2016. The role of food banks in addressing food insecurity: A systematic review. Journal of Community Health 41 (4): 732–740.

BCFN. 2012. Food waste: Causes, impacts and proposal. Milan: Codice Edizioni.

Beretta, C., F. Stoessel, U. Baier, and S. Hellweg. 2013. Quantifying food losses and the potential for reduction in Switzerland. Waste Management 33 (3): 764–773.

Booth, S., and J. Whelan. 2014. Hungry for change: The food banking industry in Australia. British Food Journal 116 (9): 1392e1404.

Brzezina, N., B. Kopainsky, and E. Mathijs. 2016. Can organic farming reduce vulnerabilities and enhance the resilience of the European food system? A critical assessment using system dynamics structural thinking tools. Sustainability 8: 971.

Buzby, J. C., and J. Hyman. 2012. Total and per capita value of food loss in the United States. Food Policy 37 (5): 561–570.

Caldeira, C., S. Corrado, and S. Sala. 2017. Food waste accounting - Methodologies, challenges and opportunities, EUR 28988 EN; Luxembourg (Luxembourg): Publications Office of the European Union. JRC.

Campbell, E. C., M. Ross, and K. L. Webb. 2013. Improving the nutritional quality of emergency food: A study of food bank organizational culture, capacity, and practices. Journal of Hunger & Environmental Nutrition 8 (3): 261–280.

Campiglio, L., and G. Rovati. 2009. La povertà alimentare in Italia: prima indagine quantitativa e qualitativa. Milano: Guerini e associati.

Candel, J. J. 2014. Food security governance: A systematic literature review. Food Security 6 (4): 585–601.

Cánovas Creus, A., A. Bernstad Saraiva, and E. F. Arruda. 2018. Structured evaluation of food loss and waste prevention and avoidable impacts: A simplified method. Waste Management & Research 36 (8): 698–707.

Caplan, P. 2017. Win-win? Food poverty, food aid and food surplus in the UK today. Anthropology Today 33 (3): 17–22.

Caraher, M., and A. Cavicchi. 2014. Old crises on new plates or old plates for a new crisis? Food banks and food insecurity. British Food Journal. https://doi.org/10.1108/BFJ-08-2014-0285.

Corrado, S., and S. Sala. 2018. Food waste accounting along global and European food supply chains: State of the art and outlook. Waste Management 79: 120–131.

Dowler, E. 2014. Food banks and Food Justice in 'Austerity Britain' in Riches, G and Silvasti, T. First World Hunger Revisited: food charity or the right to food? Palgrave Macmillan.

Edwards, F., and D. Mercer. 2007. Gleaning from Gluttony: An Australian youth subculture confronts the ethics of waste. Australian Geographer 38 (3): 279–296.

Elmes, M. B., K. Mendoza-Abarca, and R. Hersh. 2016. Food banking, ethical sensemaking, and social innovation in an era of growing hunger in the United States. Journal of Management Inquiry 25 (2): 122–138.

Ericksen, P. J. 2008. Conceptualizing food systems for global environmental change research. Global Enviromental. Change 18: 234–245.

Ericksen, P., B. Stewart, J. Dixon, D. Barling, P. Loring, M. Anderson, and J. Ingram. 2010. The value of a food system approach. Food Security and Global Environmental Change 25: 24–25.

European Commission. 2015. Closing the loop. A european action plan for circular economy. (COM 2015/614).

European Commission. 2017. Guidelines on food donation. (2017/C 361/01).

European Court of Auditors. 2016. Special report no 34: Combating food waste: An opportunity for the EU to improve the resource-efficiency of the food supply chain. https://www.eca.europa.eu/Lists/ECADocuments/SR16_34/SR_FOOD_WASTE_EN.pdf. Accessed on 28 August 2018.

European Parliament and Council. 2018. Directive (EU) 2018/851 of the European Parliament and of the Council of 30 May 2018 amending Directive 2008/98/EC on waste.

Evans, D. 2011. Blaming the consumer–once again: The social and material contexts of everyday food waste practices in some English households. Critical Public Health 21 (4): 429–440.

Fabian Commission. 2015. Hungry for change. The final report of the Fabian Commission on Food and Poverty. https://www.fabians.org.uk/wp-content/uploads/2015/10/Hungry-for-Change-web-27.10.pdf. Accessed on 8 February 2019.

Galli, F., S. Arcuri, F. Bartolini, J. Vervoort, and G. Brunori. 2016. Exploring scenario guided pathways for food assistance in Tuscany. Bio-based and Applied Economics 5 (3): 237–266.

Galli, F., A. Hebinck, and B. Carroll. 2018. Addressing food poverty in systems: governance of food assistance in three European countries. Food Security, 10 (6): 1353–1370.

Garrone, P., M. Melacini, and A. Perego. 2014. Opening the black box of food waste reduction. Food Policy 46: 129–139.

Gentilini, U. 2013. Banking on food: The state of food banks in high-income countries. IDS Working Papers, 2013(415), 1–18.

Gjerris, M., and S. Gaiani. 2013. Household food waste in Nordic countries: Estimations and ethical implications. Etikk i praksis-Nordic Journal of Applied Ethics 1: 6–23.

Godfray, H.C.J., J.R. Beddington, I.R. Crute, L. Haddad, D. Lawrence, J.F. Muir, J. Pretty, S. Robinson, S.M. Thomas, and C. Toulmin. 2010. Food security: The challenge of feeding 9 billion people. Science 327: 812.

Halloran, A., J. Clement, N. Kornum, C. Bucatariu, and J. Magid. 2014. Addressing food waste reduction in Denmark. Food Policy 49: 294–301.

Hebinck, A., F. Galli, S. Arcuri, B. Carroll, D. O'connor, and H. Oostindie. 2018. Capturing change in European food assistance practices: A transformative social innovation perspective. Local Environment 23 (4): 398–413.

HLPE. 2017. Nutrition and food systems. A report by the high level panel of experts on food security and nutrition of the Committee on World Food Security, Rome

Ingram, J. 2011. A food systems approach to researching food security and its interactions with global environmental change. Food Security 3: 417–431.

IPES. 2017. Unravelling the Food–Health Nexus: Addressing practices, political economy, and power relations to build healthier food systems. The Global Alliance for the Future of Food and IPES-Food. http://www.ipes-food.org/_img/upload/files/Health_FullReport(1).pdf. Accessed on 17 July 2018.

Keitsch, M. 2018. Structuring ethical interpretations of the sustainable development goals—concepts, implications and progress. Sustainability 10: 829.

Kopainsky, B., T. Tribaldos, and S.T. Ledermann. 2018. A food systems perspective for food and nutrition security beyond the Post-2015 development agenda. Systems Research and Behavioral Science 35 (2): 178–190.

Lambie-Mumford, H. 2013. 'Every town should have One': emergency food banking in the UK. Journal of Social Policy 42 (1): 73e89.

Lambie-Mumford, H. 2017. Hungry Britain: The rise of food charity. Bristol: Policy Press.

Lang, T., and D. Barling. 2012. Food security and food sustainability: Reformulating the debate. Geographical Journal 178 (4): 313–326.

Lorenz, S. 2012. Socio-ecological consequences of charitable food assistance in the affluent society: The German Tafel. International Journal of Sociology and Social Policy 32 (7): 386–400.

Middleton, G., K. Mehta, D. McNaughton, and S. Booth. 2018. The experiences and perceptions of food banks amongst users in high-income countries: An international scoping review. Appetite 120: 698–708.

Mooney, P. H., and S. A. Hunt. 2009. Food security: The elaboration of contested claims to a consensus frame. Rural Sociology 74 (4): 469–497.

Nilsson, M., D. Griggs, and M. Visbeck. 2016. Policy: Map the interactions between sustainable development goals. Nature 534: 320–322.

O'Connor, C., M. Gheoldus, and O. Jan. 2014. Comparative study on eu member states' legislation and practices on food donation. European Economic and Social Committee in collaboration with Deloitte Sa: Brussels, Belgium.

Papargyropoulou, E., R. Lozano, J. K. Steinberger, N. Wright, and Z. bin Ujang. 2014. The food waste hierarchy as a framework for the management of food surplus and food waste. Journal of Cleaner Production 76: 106–115.

Poppendieck, J. 1998. Want amid plenty: From hunger to inequality. Monthly Review 50 (3): 125.

Priefer, C., J. Jörissen, and K. R. Bräutigam. 2016. Food waste prevention in Europe–A cause-driven approach to identify the most relevant leverage points for action. Resources, Conservation and Recycling, 109, 155–165.

Riches, G. 2011. Thinking and acting outside the charitable food box: Hunger and the right to food in rich societies. Development in Practice 21 (4e5): 768e775.

Riches, G. 2018. Food Bank Nations: Poverty, corporate charity and the right to food. Abingdon: Routledge.

Riches, G., and T. Silvasti, eds. 2014. First world hunger revisited: Food charity or the right to food?. London: Springer.

Rogge, K. S., and K. Reichardt. 2016. Policy mixes for sustainability transitions: An extended concept and framework for analysis. Research Policy 45 (8): 1620–1635.

Rombach, M., V. Bitsch, E. Kang, and F. Ricchieri. 2018. Comparing German and Italian food banks: Actors' knowledge on food insecurity and their perception of the interaction with food bank users. British Food Journal. https://doi.org/10.1108/BFJ-11-2017-0626.

Roodhuyzen, D. M. A., P. A. Luning, V. Fogliano, and L. P. A. Steenbekkers. 2017. Putting together the puzzle of consumer food waste: Towards an integral perspective. Trends in Food Science & Technology 68: 37–50.

Salamat, M. R. 2016. Ethics of sustainable development: the moral imperative for the effective implementation of the 2030 Agenda for Sustainable Development. In Natural Resources Forum (Vol. 40. No. 1–2)

Santini, C., and A. Cavicchi. 2014. The adaptive change of the Italian Food Bank foundation: A case study. British Food Journal 116 (9): 1446–1459.

SCAR. 2018. Assessment of Research and Innovation on Food Systems by European Member States. Directorate-General for Research and Innovation. European Commission. https://ec.europa.eu/research/bioeconomy/pdf/publications/Assessment_of_R_and_I_on_food_systems.pdf. Accessed on 17 November 2018.

Schneider, F. 2013a. Review of food waste prevention on an international level. In Proceedings of the Institution of Civil Engineers-Waste and Resource Management (Vol. 166, No. 4, pp. 187–203). ICE Publishing.

Schneider, F. 2013b. The evolution of food donation with respect to waste prevention. Waste Management 33 (3): 755–763.

Sert, S., P. Garrone, M. Melacini, and A. Perego. 2018. Corporate food donations: Altruism, strategy or cost saving? British Food Journal 120 (7): 1628–1642.

Simmet, A., J. Depa, P. Tinnemann, and N. Stroebele-Benschop. 2017. The nutritional quality of food provided from food pantries: A systematic review of existing literature. Journal of the Academy of Nutrition and Dietetics 117 (4): 577–588.

Smith, D., C. Thompson, K. Harland, S. Parker, and N. Shelton. 2018. Identifying populations and areas at greatest risk of household food insecurity in England. Applied Geography 91: 21–31.

Stave, K. A., and B. Kopainsky. 2015. A system dynamics approach for examining mechanisms and pathways of food supply vulnerability. Journal of Environmental Studies and Sciences 5 (3): 321–336.

Sterman, J. D. 2000. Business dynamics: Systems thinking and modeling for a complex world. New York: Irwin Professional McGraw–Hill.

Tarasuk, V., and J. M. Eakin. 2005. Food assistance through "surplus" food: Insights from an ethnographic study of food bank work. Agriculture and Human Values 22 (2): 177–186.

Tarasuk, V., N. Dachner, A.-M. Hamelin, A. Ostry, P. Williams, and E. Bosckei. 2014. A survey of food bank operations in five canadian cities. BioMed Central Public Health 14: 1234.

Thyberg, K. L., and D. J. Tonjes. 2016. Drivers of food waste and their implications for sustainable policy development. Resources, Conservation and Recycling, 106, 110–123.

Turner, B. L., H. M. Menendez, R. Gates, L. O. Tedeschi, and A. S. Atzori. 2016. System dynamics modeling for agricultural and natural resource management issues: Review of some past cases and forecasting future roles. Resources 5 (4): 40.

van Berkum, S., J. Dengerink, and R. Ruben. 2018. The food systems approach: Sustainable solutions for a sufficient supply of healthy food. Wageningen, Wageningen Economic Research, Memorandum 2018-064. 32.

Vanham, D., F. Bouraoui, A. Leip, B. Grizzetti, and G. Bidoglio. 2015. Lost water and nitrogen resources due to EU consumer food waste. Environmental Research Letters 10 (8): 084008.

Vlaholias, E., K. Thompson, D. Every, and D. Dawson. 2015. Charity starts… at work? Conceptual foundations for research with businesses that donate to food redistribution organisations. Sustainability 7 (6): 7997–8021.

WRAP. 2009. Household Food and Drink Waste in the UK. Report prepared by WRAP. Banbury.
Acknowledgements
This research acknowledges funding from the following project: "Assessment of the impact of global drivers of change on Europe's food security" (TRANSMANGO), granted by the EU under Seventh Framework Programme, theme KBBE.2013.2.5-01, Grant Agreement No.: 613532.
Additional information
Publisher's Note
Springer Nature remains neutral with regard to jurisdictional claims in published maps and institutional affiliations.
About this article
Cite this article
Galli, F., Cavicchi, A. & Brunori, G. Food waste reduction and food poverty alleviation: a system dynamics conceptual model. Agric Hum Values 36, 289–300 (2019). https://doi.org/10.1007/s10460-019-09919-0
Accepted:

Published:

Issue Date:
Keywords
Food surplus

Food poverty

Food banks

Third sector

Food system

System dynamics