Abstract
Food retailers are powerful actors of the agro-industrial food system. They exert strong lock-in effects that hinder transitions towards more sustainable agri-food systems. Indeed, their marketing practices generally result in excluding the most sustainable food products, such as local, low-input, small-scale farmers' products. Recently in Belgium, several initiatives have been created to enable the introduction of local products on supermarket shelves. In this article, we study three of those initiatives to analyse if the development of local sourcing in supermarkets opens up an opportunity for a transition towards more sustainable agri-food systems. We conceptualise transitions as a shift in governance and ethical values and adopt a pragmatist approach of ethics combined with the systemic perspective of transition studies, to evaluate the impact of these initiatives. Our analysis shows that they mainly contribute to the reproduction of the incumbent agri-food system. It also highlights that first, to be a driver for sustainability transitions, food ethics need to be systemic i.e. relate to a systemic understanding of problems and perspective of sustainability, including social justice. And second, it highlights that governance arrangements involving not only representative organisations of the various agri-food and non-agricultural actors, but also actors upholding ethical values that are currently missing in conventional supply chains and representing excluded and marginalised interests, favour the uptake of such systemic ethics by incumbent actors. Hence, systemic ethics and inclusive governance are key features for initiatives to contribute to a sustainability transition.
Access options
Buy single article
Instant access to the full article PDF.
USD 39.95
Price excludes VAT (USA)
Tax calculation will be finalised during checkout.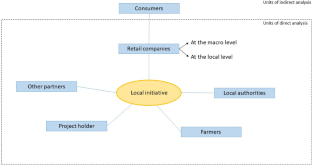 Notes
Multiple variants of these two paradigms can be found in political discourses and the scholarly literature. For instance, Levidow (2015), focusing on farming practices, knowledge and innovation systems, refers to life science (bioeconomy and sustainable intensification) versus agroecology, whose underlying economic models correspond to the agro-industrial versus the integrated territorial paradigms.

By value, we understand an "enduring belief that a specific mode of conduct or end-state of existence is personally or socially preferable to an opposite or converse mode of conduct or end-state of existence" (Rokeach 1973, p. 5).

This follows a global tendency (Costa et al. 2018).

As defined by van der Ploeg et al. (2008, p. 11): « market governance refers to the institutional capacity to control and strengthen markets and to construct new ones. This is related to the way in which specific supply chains are organized, how the total realized value is shared (between actors but also spatially) and how the potential benefits of collective action are delivered (Saccomandi 1998) ».

An option illustrated by a proposal of the European Commission (2018) for a Directive on unfair trading practices in business-to-business relationships in the food supply chain.

Keeping in mind that articulating local and global is not necessarily the solution to overcoming the conventional/alternative divide (Brunori and Galli 2016).

For a general history of food ethics, see Zwart (2000).

Translation by the authors.

We had initially targeted the three largest corporations in Belgium, but exploratory work revealed that one of them had no specific programme for local sourcing.

Except for consumers, whose values and practices were assessed indirectly, based on data collected from the other actors.

Many union's members were invited: the small number of participants shows how profound the mistrust was.

To all hypermarkets. Franchised stores are managed independently.

Apart from barcodes, no other requirements are imposed on farmers in the scheme. Anyone meeting the criteria defining a « local producer » (criteria discussed below) may participate in the initiative.

Both in Hainaut and Liège, word-of-mouth caused the Provinces to be frequently contacted directly by producers wishing to work with supermarkets.

One example is the airing in November 2013 on the Belgian television of a documentary about how industrial bread, mostly imported from abroad, is manufactured. This generated a strong demand for local bread, as we were told by an artisan baker who was approached by several corporate retailers following that episode.

According to the provincial officers, with a majority of F1 retailers but a minority of discount corporate retailers.

LAGs are composed of public and private, social and economic actors, and manage the funds related to LEADER programmes (EU programmes for rural development). The LAG "Culturalités en Hesbaye Brabaçonne" gathers municipal, provincial and regional public authorities; local cultural centres and institutions; agricultural, rural and economic development associations mostly focused on tourism; private entrepreneurs including farmers.

Source: Nielsen, Grocery Universe 2017—Belgium.
Abbreviations
CSO:

Civil society organisation

FTE:

Full time equivalent

LAG:

Local action group

UK:

United Kingdom
References
Boltanski, L., and E. Chiapello. 1999. Le nouvel esprit du capitalisme. vol. 10. Paris: Gallimard.

Brunori, G. 2007. Local food and alternative food networks: A communication perspective. Anthropology of Food [Online].

Brunori, G., and F. Galli. 2016. Sustainability of local and global food chains: Introduction to the special issue. Sustainability 8: 765. https://doi.org/10.3390/su8080765.

Buck, D., C. Getz, and J. Guthman. 1997. From farm to table: The organic vegetable commodity chain of Northern California. Sociologia Ruralis 37: 3–20.

Bui, S. 2015. Pour une approche territoriale des transitions écologiques. Analyse de la transition vers l'agroécologie dans la Biovallée. PhD dissertation. Paris: AgroParisTech.

Bui, S. 2018. A whole system approach to agency in transitions: Evidence of a combined effect of multiple niches. Paper presented at the 9th International Sustainability Transition conference. Manchester, UK, 12–14 June 2018.

Bui, S., A. Cardona, C. Lamin-e, and M. Cerf. 2016. Sustainability transitions: Insights on processes of niche-regime interaction and regime reconfiguration in agri-food systems. Journal of Rural Studies 48: 92–103. https://doi.org/10.1016/j.jrurstud.2016.10.003.

Busch, L. 2003. Virgil, vigilance, and voice: Agrifood ethics in an age of globalization. Journal of Agricultural and Environmental Ethics 16: 459–477.

Buttel, F. H. 1997. Some observations on agro-food change and the future of agricultural sustainability movements. In Globalising food: Agrarian Questions and Global Restructuring, 344–365. New-York: Routledge.

Callon, M., R. Lhomme, and J. Fleury. 1999. Pour une sociologie de la traduction en innovation. Recherche & Formation 31: 113–126. https://doi.org/10.3406/refor.1999.1574.

Callon, M., P. Lascoumes, and Y. Barthe. 2009. Acting in an Uncertain World. An Essay on Technical Democracy. Cambridge, Massachusetts: MIT Press.

Cardona, A. 2012. Territorial agri-food systems: relinking farming to local and environmental stakes to change farming systems. In Producing and reproducing farming systems. New modes of organisation for sustainable food systems of tomorrow. Proceedings of the 10th European IFSA Symposium.

Clapp, J., and D. A. Fuchs. 2009. Corporate Power in Global Agrifood Governance. London: MIT Press.

Costa, I., S. Bui, O. De Schutter, and T. Dedeurwaerdere. 2018. Learning for sustainability transitions: a discussion on the role of mainstream business actors towards more sustainable food systems. Paper presented at the 9th International Sustainability Transition conference. Manchester, UK, 12–14 June 2018.

Cowan, R., and P. Gunby. 1996. Sprayed to Death: Path Dependence, Lock-in and Pest Control Strategies. The Economic Journal 106: 521–542. https://doi.org/10.2307/2235561.

De Schutter, O. 2009. Agribusiness and the right to food. New York, United Nations.

Dedeurwaerdere, T., O. De Schutter, M. Hudon, E. Mathijs, B. Annaert, T. Avermaete, and T. Bleeckx, et al. 2017. The governance features of social enterprise and social network activities of collective food buying groups. Ecological Economics 140: 123–135.

Friedmann, H. 2005. From colonialism to green capitalism: Social movements and emergence of food regimes. Research in Rural Sociology and Development 11: 227.

Friedmann, H., and P. McMichael. 1989. Agriculture and the state system: The rise and decline of national agricultures, 1870 to the present. Sociologia Ruralis 29: 93–117.

Friedmann, H., and A. Mcnair. 2008. Whose rules rule? contested projects to certify 'local production for distant consumers'. Journal of Agrarian Change 8: 408–434. https://doi.org/10.1111/j.1471-0366.2008.00175.x.

Geels, F. W. 2002. Technological transitions as evolutionary reconfiguration processes: a multi-level perspective and a case-study. Research Policy 31: 1257–1274. https://doi.org/10.1016/S0048-7333(02)00062-8.

Geels, F. W. 2018. Disruption and low-carbon system transformation: Progress and new challenges in socio-technical transitions research and the Multi-Level Perspective. Energy Research & Social Science 37: 224–231.

Goodman, D. 2003. The quality "turn" and alternative food practices: Reflections and agenda. Journal of Rural Studies 19: 1–7.

Goodman, D., and E. M. DuPuis. 2002. Knowing food and growing food: Beyond the production–consumption debate in the sociology of agriculture. Sociologia Ruralis 42: 5–22.

Goodman, M. K., D. Maye, and L. Holloway. 2010. Ethical foodscapes? Premises, promises, and possibilities. Environment and Planning A: Economy and Space 42: 1782–1796.

Guthman, J. 2004. The trouble with 'organic lite'in California: A rejoinder to the 'conventionalisation'debate. Sociologia Ruralis 44: 301–316.

Henson, S., and J. Humphrey. 2010. Understanding the complexities of private standards in global agri-food chains as they impact developing countries. The Journal of Development Studies 46: 1628–1646.

Hinrichs, C. C. 2014. Transitions to sustainability: A change in thinking about food systems change? Agriculture and Human Values 31: 143–155. https://doi.org/10.1007/s10460-014-9479-5.

Jänicke, M. 2008. Ecological modernisation: New perspectives. Journal of Cleaner Production 16: 557–565.

Konefal, J., M. Mascarenhas, and M. Hatanaka. 2005. Governance in the global agro-food system: Backlighting the role of transnational supermarket chains. Agriculture and Human Values 22: 291–302. https://doi.org/10.1007/s10460-005-6046-0.

Lamine, C., H. Renting, A. Rossi, J. S. C. Wiskerke, and G. Brunori. 2012. Agri-food systems and territorial development: innovations, new dynamics and changing governance mechanisms. In Farming Systems Research into the 21st Century: The New Dynamic, 229–256. New York: Springer.

Lamine, C., J.-M. Audergon, S. Penvern, S. Simon, and J. Pluvinage. 2014a. From genetics to marketing (… and through complex connexions and interdependencies): an integrative approach of the ecologisation of fruit production. In Proceedings of the 2014 European IFSA Symposium—Farming systems facing global challenges: capacities and strategies. Berlin.

Lamine, C., M. Navarrete, and A. Cardona. 2014b. Transitions towards organic farming at the farm and at the local scales: the role of innovative production and organisational modes and networks. In Organic Farming, Prototype for Sustainable Agricultures, 423–438. New York: Springer.

Lamine, C., S. Bui, and G. Ollivier. 2015. Pour une approche systémique et pragmatique de la transition écologique des systèmes agri-alimentaires. Cahiers de recherche sociologique 58: 95–117.

Le Velly, R., I. Dufeu, and L. Le Grel. 2016. Les systèmes alimentaires alternatifs peuvent-ils se développer commercialement sans perdre leur âme? Analyse de trois agencements marchands. Économie Rurale 6: 31–45.

Marsden, T. K., A. Flynn, and M. Harrison. 2000. Consuming Interests: the Social Provision of Foods. London: UCL Press.

McCullough, E. B., P. L. Pingali, and K. G. Stamoulis. 2010. Small farms and the transformation of food systems: An overview. In Looking East Looking West. Wageningen: Wageningen Academic Pub.

Oosterveer, P., J. S. Guivant, and G. Spaargaren. 2007. Shopping for green food in globalizing supermarkets: Sustainability at the consumption junction. In Sage Handbook on Environment and Society, 411–428. London: Sage

Renting, H., T. K. Marsden, and J. Banks. 2003. Understanding alternative food networks: Exploring the role of short food supply chains in rural development. Environment and Planning A 35: 393–411. https://doi.org/10.1068/a3510.

Richards, C., H. Bjørkhaug, G. Lawrence, and E. Hickman. 2013. Retailer-driven agricultural restructuring—Australia, the UK and Norway in comparison. Agriculture and Human Values 30: 235–245. https://doi.org/10.1007/s10460-012-9408-4.

Rokeach, M. 1973. The Nature of Human values. New-York: Free Press.

Saccomandi, V. 1998. Agricultural market economics: a neo-institutional analysis of the exchange, circulation and distribution of agricultural products. Assen, The Netherlands: Van Gorcum.

Smith, A., and A. Stirling. 2010. The politics of social-ecological resilience and sustainable socio-technical transitions. Ecology and Society 15: 11.

Sonnino, R., and T. K. Marsden. 2006. Beyond the divide: Rethinking relationships between alternative and conventional food networks in Europe. Journal of Economic Geography 6: 181–199. https://doi.org/10.1093/jeg/lbi006.

Spaargaren, G., and A. P. J. Mol. 1992. Sociology, environment, and modernity: Ecological modernization as a theory of social change. Society & Natural Resources 5: 323–344.

van der Ploeg, J. D., R. van Broekhuizen, G. Brunori, R. Sonnino, K. Knickel, T. Tisenkopfs, and H. Oostindie. 2008. Towards a framework for understanding regional rural development. In Unfolding webs: The dynamics of regional rural development, European Perspectives on Rural Development, 1–28. Assen: Van Gorcum.

Vanloqueren, G., and P. V. Baret. 2008. Why are ecological, low-input, multi-resistant wheat cultivars slow to develop commercially? A Belgian agricultural 'lock-in' case study. Ecological Economics 66: 436–446. https://doi.org/10.1016/j.ecolecon.2007.10.007.

Wiskerke, J. S. C. 2009. On places lost and places regained: Reflections on the alternative food geography and sustainable regional development. International Planning Studies 14: 369–387.

Wittmayer, J. M., F. Avelino, F. van Steenbergen, and D. Loorbach. 2017. Actor roles in transition: Insights from sociological perspectives. Environmental Innovation and Societal Transitions 24: 45–56. https://doi.org/10.1016/j.eist.2016.10.003.

Wrigley, N. 1994. Retailing and the arbitrage economy: market structure, regulatory frameworks, investment regimes, and spatial outcomes. Paper presented at the Harold Innes Centenary Conference. Toronto, Canada, 23–25 September 1994.

Zwart, H. 2000. A short history of food ethics. Journal of Agricultural and Environmental Ethics 12: 113–126.
Acknowledgements
We acknowledge co-funding of this research from the Belgian Science Policy Office, under the project FOOD4SUSTAINABILITY (contract BR/121/A5) and from the European Commission, under the project GENCOMMONS (ERC Grant Agreement 284). We also wish to thank the editors of this special issue for giving very useful comments on an earlier version of this paper.
Additional information
Publisher's Note
Springer Nature remains neutral with regard to jurisdictional claims in published maps and institutional affiliations.
About this article
Cite this article
Bui, S., Costa, I., De Schutter, O. et al. Systemic ethics and inclusive governance: two key prerequisites for sustainability transitions of agri-food systems. Agric Hum Values 36, 277–288 (2019). https://doi.org/10.1007/s10460-019-09917-2
Accepted:

Published:

Issue Date:

DOI: https://doi.org/10.1007/s10460-019-09917-2
Keywords
Sustainability transitions

Governance

Agri-food system

Food ethics

Local food

Retail corporations