Abstract
Are public and private standards affecting farmer knowledge and moving farm practices toward food safety and environmental sustainability in China? We surveyed 355 apple farmers involved in chains supplying a diversity of retailing points, including supermarkets. Using a multivariate regression model, we find no measurable evidence that the certification schemes of farm bases and agribusiness companies lead to improved apple growers' knowledge regarding pest and disease management. The observed behavioral changes are mainly prompted by delegated decision-making towards leaders of farm bases, which raises questions on the long-term changes in farmers' practices and on the fundamental values and ethics of China's agrofood system that is governed through the standards.
This is a preview of subscription content, log in to check access.
Access options
Buy single article
Instant access to the full article PDF.
US$ 39.95
Price includes VAT for USA
Subscribe to journal
Immediate online access to all issues from 2019. Subscription will auto renew annually.
US$ 99
This is the net price. Taxes to be calculated in checkout.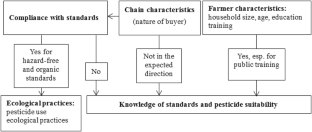 Notes
1.

In China, the No. 1 Document is considered the State Council's most important document of the year and, for the 14th consecutive year, focused exclusively on agriculture.

2.

The length restriction does not allow for a thorough presentation of the institutions and the production of agricultural standards in China. More details are available in an online document that is specific to this project and publication. https://agritrop.cirad.fr/588525/.

3.

One supermarket manager interviewed by the authors of this study in 2014 mentioned that they have their own standard controlled by a private auditing company and used by three cooperatives. Their priority is traceability and farmer training through the global food safety initiative (GFSI).

4.

In the case of no direct marketing to any supermarket but rather to vendor companies, we requested the contacts of those agribusiness companies to round out our survey. Once the vendors agreed to an interview, the research team conducted a follow-up survey involving the marketing channels of the company.

5.

In a very limited number of cases, a farm base had member coverage in several villages. For such cases, we chose member farmers in the village with the largest number of members.

6.

The figures 0.3 and 0.6 are the means of the private extension services and the public extension services variables respectively.
References
Agreste. 2012. Les traitements phytosanitaires en arb Agreste. https://www.data.gouv.fr/fr/datasets/agreste-pratiques-culturales-en-arboriculture/. Accessed 10 Jan 2017.

Anders, S., and J. Caswell. 2009. The benefits and costs of proliferation of geographical labeling for developing countries. The Estey Centre Journal of International Law and Trade Policy 10 (1): 77–93.

Asfaw, S., D. Mithöfer, and H. Waibel. 2010. Agrifood supply chain, privatesector standards, and farmers' health: Evidence from Kenya. Agricultural Economics 41 (3–4): 251–263.

Balsevich, F., J. A. Berdegue, L. Flores, D. Mainville, and T. Reardon. 2003. Supermarkets and produce quality and safety standards in Latin America. American Journal of Agricultural Economics 85 (5): 1147–1154.

Blackmore, E., J. Keeley, R. Pyburn, E. Mangus, L. Chen, and Q. Yuhui. 2012. Pro-poor certification: Assessing the benefits of sustainability certification for smallscale farmers in Asia, Natural Resource Issues No. 25, IIED, London. http://pubs.iied.org/pdfs/14604IIED.pdf. Accessed 10 Apr 2018.

Boselie, D., S. Henson, and D. Weatherspoon. 2003. Supermarket procurement practices in developing countries: Redefining the roles of the public and private sectors. American Journal of Agricultural Economics 85 (5): 1155–1161.

Busch, L. 2011. The private governance of food: Equitable exchange or bizarre bazaar? Agriculture and Human Values 28 (3): 345–352.

Chen, R., J. Huang, and F. Qiao. 2013. Farmers' knowledge on pest management and pesticide use in Bt cotton production in China. China Economic Review 27: 15–24.

Chiputwa, B., D. J. Spielman, and M. Qaim. 2015. Food standards, certification, and poverty among coffee farmers in Uganda. World Development 66: 400–412.

Cocks, J., H. R. Gow, and D. J. Dunn. 2003. Meeting private grades and standards in transition agriculture: Experiences from the Armenian dairy industry. International Food and Agribusiness Management Review 6 (1): 3–11.

Codron, J. M., E. Giraud-Héraud, and L. G. Soler. 2005. Minimum quality standards, premium private labels, and European meat and fresh produce retailing. Food Policy 30 (3): 270–283.

Daviron, B., and I. Vagneron. 2011. From commoditisation to de-commoditisation … and back again: Discussing the role of sustainability standards for agricultural products. Development Policy Review 29 (1): 91–113.

Ding, J. P., J. K. Huang, X. P. Jia, J. F. Bai, S. Boucher, and M. Carter. 2015. Direct farm, production base, traceability and food safety in China. Journal of Integrative Agriculture 14 (11): 2380–2390.

Djama, M., E. Fouilleux., and I. Vagneron. 2011. Standard-setting, certifying and benchmarking: A governmentality approach to sustainability standards in the agro-food sector. In Governing through standards: Origins, drivers and limitations, eds. S. Ponte, P. Gibbon, and J. Vestergaard, 184–209. London: Palgrave Macmillan.

Dolan, C., and J. Humphrey. 2000. Governance and trade in fresh vegetables: The impact of UK supermarkets on the African Horticulture Industry. Journal of Development Studies 37 (2): 147–176.

Dries, L., T. Reardon, and J. F. Swinnen. 2004. The rapid rise of supermarkets in Central and Eastern Europe: Implications for the agrifood sector and rural development. Development Policy Review 22(5): 525–556.

Fan, H., Z. Ye, W. Zhao, He. Tian, Y. Qi, and L. Busch. 2009. Agriculture and food quality and safety certification agencies in four Chinese cities. Food Control 20 (7): 627–630.

Feder, G., R. Murgai, and J. B. Quizon. 2004. The acquisition and diffusion of knowledge: The case of pest management training in farmer field schools, Indonesia. Journal of Agricultural Economics 55 (2): 221–243.

Fromm, I., and J. Dubón. 2006. Upgrading and the value chain analysis: The case of small-scale coffee farmers in Honduras. Prosperity and Poverty in a Globalised World—Challenges for Agricultural Research., Conference on International Agricultural Research for Development, Bonn, Germany, October 11–13.

Fuchs, D., A. Kalfagianni, J. Clapp, and L. Busch. 2011a. Introduction to symposium on private agrifood governance: Values, shortcomings and strategies. Agriculture and Human Values 28 (3): 335–344.

Fuchs, D., A. Kalfagianni, and T. Havinga. 2011b. Actors in private food governance: The legitimacy of retail standards and multistakeholder initiatives with civil society participation. Agriculture and Human Values 28 (3): 353–367.

Fulponi, L. 2007. The globalization of private standards and the agri-food system. In Global supply chains, standards and the poor: How the Globalization of Food Systems and Standards Affects Rural Development and Poverty, eds. Johan F. M. Swinnen, 5–18. Wallingford: CABI.

Gale, H. F., and D. Hu. 2011. Food safety pressures push integration in China's agricultural sector. American Journal of Agricultural Economics 94 (2): 483–488.

Galtier, F., G. Belletii, and A. Marescotti. 2008. Are geographical indications a way to 'decommodify' the coffee market? Congress of the European Association of Agricultural Economists, Gent, Belgium, August 26–29.

Gibbon, P., and S. Ponte. 2005. Trading down: Africa, value chains, and the global economy. Philadelphia: Temple University Press.

Giddens, A. 1990. The consequences of modernity. California: Stanford University Press.

Giovannucci, D., and S. Ponte. 2005. Standards as a new form of social contract? Sustainability initiatives in the coffee industry. Food Policy 30 (3): 284–301.

Gopalakrishnan, N. S., P. S. Nair, and A. K. Babu. 2007. Exploring the Relationship between Geographical Indications and Traditional Knowledge: An analysis of the legal tools for the protection of Geographical Indications in Asia. ICTSD Programme on IPRs and Sustainable Development Working paper. Geneva: International Centre for Trade and Sustainable Development.

Green Food. 2007. The concept. Green Food website. http://www.greenfood.org.cn/Html/2007-5-21/3675_4485_2007-5-21_4486.html. Accessed 8 Aug 2017.

Guo, H. D., R. W. Jolly, and J. H. Zhu. 2007. Contract farming in China: Perspectives of farm households and agribusiness firms. Comparative Economic Studies 49 (2): 285–312.

Hatanaka, M., C. Bain, and L. Busch. 2005. Third-party certification in the global agrifood system. Food Policy 30 (3): 354–369.

Henson, S., and T. Reardon. 2005. Private agri-food standards: Implications for food policy and the agri-food system. Food Policy 30 (3): 241–253.

Hu, D., T. Reardon, S. Rozelle, P. Timmer, and H. Wang. 2004. The Emergence of supermarkets with Chinese characteristics: Challenges and opportunities for China's agricultural development. Development Policy Review 22 (5): 557–586.

Huang, J.k., H. Y. Zhi, Z. R. Huang, X. P. Jia, and S. Rozelle. 2009. Smallholder Incomes, Vegetable Marketing and Food Safety: Evidence from China. The New Landscape of Global Agriculture. International Association of Agricultural Economists Conference (27th) August 16–22, Beijing.

IFOAM. 2012. The IFOAM standard for organic production and processing (Draft version 0.2). IFOAM, Bonn, Germany. http://www.ifoam.org/about_ifoam/standards/norms/IS_V0.2_20111107formotions.doc. Accessed 28 Apr 2017.

Jaffee, S., and O. Masakure. 2005. Strategic use of private standards to enhance international competitiveness: Vegetable exports from Kenya and elsewhere. Food Policy 30 (3): 316–333.

Jia, X. P., and J. K. Huang. 2011. Contractual arrangements between farmer cooperatives and buyers in China. Food Policy 36 (5): 655–665.

Kersting, S., and M. Wollni. 2012. New institutional arrangements and standard adoption: Evidence from small-scale fruit and vegetable farmers in Thailand. Food Policy 37 (4): 452–462.

Kleemann, L., A. Awudu, and M. Buss. 2014. Certification and access to export markets: Adoption and return on investment of organic-certified pineapple farming in Ghana. World Development 64: 79–92.

Lemeilleur, S. 2013. Smallholder compliance with private standard certification: The case of Global GAP adoption by mango producers in Peru. International Food and Agribusiness Management Review 16 (4): 159–180.

Li, Y., R. Qi, and H. Liu. 2010. Designing independent regulatory system of food safety in China. Agriculture and Agricultural Science Procedia 1: 288–295.

Ma, W., and A. Abdulai. 2016a. The impact of agricultural cooperatives on the adoption of technologies and farm performance of apple farmers in China. Kiel: Kiel University.

Ma, W., and A. Abdulai. 2016b. Does cooperative membership improve household welfare? Evidence from apple farmers in China. Food Policy 58: 94–102.

Maertens, M., and J. Swinnen. 2009. Trade, standards and poverty: Evidence from Senegal. World Development 37 (1): 161–178.

McCauley, L. A., D. Sticker, C. Bryan, M. R. Lasarev, and J. A. Scherer. 2002. Pesticide knowledge and risk perception among adolescent Latino farmworkers. Journal of Agricultural Safety and Health 8 (4): 397–409.

Michelson, H. 2013. Small farmers, NGOs, and a Walmart world: Welfare effects of supermarkets operating in Nicaragua. American Journal of Agricultural Economics 95 (3): 628–649.

Michelson, H., S. Boucher, X. Cheng, J. K. Huang, and X. P. Jia. 2018. Connecting supermarkets and farms: The role of intermediaries in Walmart China's fresh produce supply chains. Renewable Agriculture and Food Systems 33 (1): 47–59.

Minten, B., L. Randrianarison, and J. F. Swinnen. 2009. Global retail chains and poor farmers: Evidence from Madagascar. World Development 37 (11): 1728–1741.

Ni, H. G., and H. Zeng. 2009. Law enforcement is key to China's food safety. Environmental Pollution 157 (7): 1990–1992.

Okello, J. J., C. A. Narrod, and D. Roy. 2011. Export standards, market institutions and smallholder farmer exclusion from fresh export vegetable high value chains: Experiences from Ethiopia, Kenya and Zambia. Journal of Agricultural Science 3 (4): 188–195.

Ponte, S., and P. Gibbon. 2005. Quality standards, conventions and the governance of global value chains. Economy and Society 34 (1): 1–31.

Porter, T., and K. Ronit. 2010. The challenges of global business authority: Democratic renewal, stalemate or decay? New York: Stake University of New York Press.

Qi, Y., Z. Ye, W. Zhao, H. Tian, H. Fan, and L. Busch. 2008. Third-party certification of agro-products in China: A study of Agro-product producers in Guangzhou, Shenzhen, Hangzhou and Qingdao. Food Protection Trends 28 (11): 765–770.

Rao, E. J., and M. Qaim. 2011. Supermarkets, farm household income, and poverty: Insights from Kenya. World Development 39 (5): 784–796.

Reardon, T., C. P. Timmer, C. B. Barrett, and J. Berdegue. 2003. The rise of supermarkets in developing countries: Opportunities and challenges for agrifood products suppliers. American Journal of Agricultural Economics 85 (5): 1140–1146.

Schussler, L. 2009. Protecting 'single-origin coffee' within the global coffee market: The role of geographical indications and trademarks. The Estey Centre Journal of International Law and Trade Policy 10 (1): 149–185.

Swinnen, J. F., (Ed.). 2007. Global supply chains, standards and the poor: How the globalization of food systems and standards affects rural development and poverty. Wallingford: CABI.

Thompson, L. J., and S. Lockie. 2013. Private standards, grower networks, and power in a food supply system. Agriculture and Human Values 30 (3): 379–388.

Tripp, R., and S. Pal. 2000. Information and agricultural input markets: Pearl millet seed in Rajasthan. Journal of International Development 12 (1): 133–144.

Van Der Meer, C. 2006. Exclusion of small-scale farmers from coordinated supply chains: Market failure, policy failure or just economies of scale? In The agro-food chains and networks for development, eds. R. Ruben, M. Slingerland, and H. Nijhoff, 209–218. Dordrecht: Springer.

Wang, Z., Y. Mao, and F. Gale. 2008. Chinese consumer demand for food safety attributes in milk products. Food Policy 33 (1): 27–36.

Willer, H., and L. Kilcher. 2009. The World of Organic Agriculture. 2009. FiBL-IFOAM Report, IFOAM, Bonn and FiBL. Geneva: Research Institute of Organic Agriculture), Frick and ITC.

XINHUANET. 2017. http://www.xinhuanet.com/2017-09/04/c_129695890.htm. Accessed 4 Sep 2017.

Xu, P., Y. Zeng, Q. Fong, T. Lone, and Y. Liu. 2012. Chinese consumers' willingness to pay for green- and eco-labeled seafood. Food Control 28 (1): 74–82.

Yang, P., M. lles, S. Yan, and F. Jolliffe. 2005. Farmers' knowledge, perceptions and practices in transgenic Bt cotton in small producer systems in Northern China. Crop Protection 24 (3): 229–239.
Acknowledgements
We thank the anonymous referees and the journal editor for suggestions that have improved the paper. We are also grateful for funding support from the National Natural Science Foundation of China (71573209), the talent Recruitment Program of Northwest A & F University, PhD Star-up Fund of Northwest A&F University (2452015328), the National Key Research and Development Program of China (2016YFD0201303), the "Sustainapple" program from the French National Research Agency (ANR-13-ALID-004).
Appendix
Appendix
See Table 8.
About this article
Cite this article
Ding, J., Moustier, P., Ma, X. et al. Doing but not knowing: how apple farmers comply with standards in China. Agric Hum Values 36, 61–75 (2019). https://doi.org/10.1007/s10460-018-9886-0
Accepted:

Published:

Issue Date:
Keywords
Agrifood chain

Knowledge

Food safety

Food system

Ethic and values