Abstract
This article addresses a stated need within the food justice movement scholarship to increase the attention paid to the political socialization of hired farm hands in industrial agriculture. In Canada, tackling the problem of farm worker equity has particular social and political contours related to the Canadian horticultural industry's reliance on a state-managed migrant agricultural labour program designed to fill the sector's labour market demands. As Canada's Seasonal Agricultural Worker Program (SAWP) produces relations of 'unfree labour', engaging migrant farm workers in social movement initiatives can be particularly challenging. Critical educational interventions designed to encourage migrant farm workers' contribution to contemporary social movements in Canada must therefore confront the socio-cultural obstacles that constrict migrant farm workers' opportunities to participate as full members of their communities. In this article, I argue that social justice oriented approaches to community-based arts can provide a means for increasing the social movement contributions of farm workers employed through managed labour migration schema such as Canada's SAWP.
This is a preview of subscription content, log in to check access.
Access options
Buy single article
Instant access to the full article PDF.
US$ 39.95
Price includes VAT for USA
Subscribe to journal
Immediate online access to all issues from 2019. Subscription will auto renew annually.
US$ 99
This is the net price. Taxes to be calculated in checkout.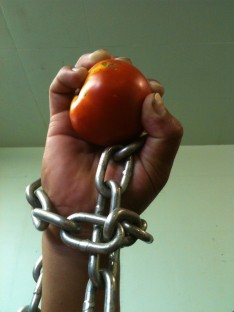 Notes
1.

I provided workshop participants with pseudonyms.

2.

Worker quotes have been translated to English from the original Spanish.
Abbreviations
SAWP:

Seasonal Agricultural Worker Program
References
Allen, P. 2008. Mining for justice in the food system: Perceptions, practices, and possibilities. Agriculture and Human Values 25(2): 157–161.

Bakan, A. B. 2008. Reconsidering the underground railroad: Slavery and racialization in the making of the Canadian state. Socialist Studies 4(1): 3–29.

Barak, A. 2016. Critical consciousness in critical social work: Learning from the Theatre of the Oppressed. British Journal of Social Work 6(1): 1776–1792.

Basok, T. 2002. Tortillas and tomatoes: transmigrant Mexican harvesters in Canada. Montreal: McGill-Queen's University Press.

Basok, T., D. Bélanger, and E. Rivas. 2014. Reproducing deportability: Migrant agricultural workers in South-western Ontario. Journal of Ethnic and Migration Studies 40(9): 1394–1413.

Bauder, H. 2008. Foreign farm workers in Ontario (Canada): Exclusionary discourse in the newsprint media. Journal of Peasant Studies 35(1): 100–118.

Boal, A. 1985. Theatre of the oppressed. New York: Theatre Communications Group.

Boal, A. 2002. Games for actors and non-actors. London: Routledge.

Brookfield, S., and J. Holst. 2010. Radicalizing learning: Adult education for a just world. San Francisco: Jossey-Bass.

Butterwick, S., and C. Roy. 2016. Working the margins of community-based adult learning. New York: Springer.

Butterwick, S., M. Carrillo, and K. Villagente. 2015. Women's fashion shows as feminist transformation. The Canadian Journal for the Study of Adult Education 27(2): 79–99.

Choudry, A. 2015. Learning activism: The intellectual life of contemporary social movements. Toronto: University of Toronto Press.

Choudry, A., and A. Smith. 2016a. Introduction: Struggling against unfree labour. In Unfree labour? Struggles of migrant and immigrant workers in Canada, eds. A. Choudry, and A. Smith, 1–20. Oakland: PM Press.

Choudry, A., and A. Smith, eds. 2016b. Unfree labour? Struggles of migrant and immigrant workers in Canada. Oakland: PM Press.

Conquergood, D. 1985. Performance as moral act: Ethical dimensions of ethnography of performance. Literature in Performance 5(2): 1–13.

De Genova, N. 2005. Working the boundaries: Race, space, and "illegality" in Mexican Chicago. Durham: Duke University Press.

De Lissovoy, N. 2015. Education and emancipation in the neoliberal era: Being, teaching, and power. New York: Palgrave Macmillan.

De Lissovoy, N. 2016. Race, reason and reasonableness: Toward an "unreasonable" pedagogy. Educational Studies 52(4): 346–362.

Denzin, N. K. 2003. Performance ethnography: Critical pedagogy and the politics of culture. Thousand Oaks: Sage Publications.

Ekers, M., C. Z. Levkoe, S. Walker, and B. Dale. 2016. Will work for food: Agricultural interns, apprentices, volunteers, and the agrarian question. Agriculture and Human Values 33(3): 705–720.

Fanon, F. 2008. [1952] Black skin, white masks. New York: Grove Press.

Feagan, R. 2007. The place of food: Mapping out the "local" in local food systems. Progress in Human Geography 31(1): 23–42.

Flores, J., and S. Garcia. 2009. Latina testimonios: A reflexive, critical analysis of 'Latina space' at a predominantly White campus. Race, Ethnicity and Education 12(2): 155–172.

Foucault, M. 1980. Power/knowledge: Selected interviews and other writings 1972–1977. New York: Pantheon Books.

Fraser, N. 1997. Justice interruptus: Critical reflections on the 'postsocialist' condition. New York: Routledge.

Fraser, N. 2013. Fortunes of feminism: From state-managed capitalism to neoliberal crisis. London: Verso.

Gottlieb, R., and A. Joshi. 2010. Food justice. Cambridge: MIT Press.

Gouge, M. C. 2015. Human rights in play, transnational solidarity at work: Creative playfulness and subversive storytelling among the Coalition of Immokalee Workers. Critical Sociology 42(6): 861–875.

Government of Canada. 2018. Annual labour market impact assessment statistics 2008–2015 by urban area. https://www.canada.ca/en/employment-social-development/services/foreign-workers/reports/2014/lmia-annual-statistics/urban-area.html. Accessed 10 March 2018.

Gray, M. 2014. Labor and the locavore: The making of a comprehensive food ethic. Berkeley: University of California Press.

Hammond, J. L. 2014. Mística, meaning and popular education in the Brazilian Landless Workers Movement. Interface: A Journal for and about Social Movements 6(1): 372–391.

Hill, S. 2005. Migrant workers take to stage. Windsor Star, August 19.

Hjalmarson, E., R. Bunn, A. Cohen, E. Terbasket, and L. Gahman. 2015. Race, food, and borders: Situating migrant struggle in the Okanagan Valley, British Columbia. Journal of Agriculture, Food Systems, and Community Development 5(4): 77–82.

Hsia, Hsiao-Chuan. 2010. The subjectivation of marriage migrants in Taiwan: The insiders' perspectives. In Learning from the ground up: Global perspectives on social movements and knowledge production, eds. A. Choudry, and D. Kapoor, 101–120. New York: Palgrave Macmillan.

Issa, D. 2007. Praxis of empowerment: Mística and mobilization in Brazil's landless rural workers' movement. Latin American Perspectives 34(2): 124–138.

Justicia for Migrant Workers. 2017. Harvesting freedom. https://harvestingfreedom.org/. Accessed 24 Oct 2017.

Kohl-Arenas, E., M. M. Nateras, and J. Taylor. 2014. Cultural organizing as critical praxis: Tamejavi builds immigrant voice, belonging, and power. Journal of Poverty 18(1): 5–24.

Law, J., and J. Urry. 2004. Enacting the social. Economy and Society 33(3): 390–410.

Lebaron, G. 2015. Unfree labour beyond binaries: Insecurity, social hierarcy and labour market restructuring. International Feminist Journal of Politics 17(1): 1–19.

Levkoe. 2017. Engaging the tensions of ecological internships: Considerations for agroecology and sustainable food systems movements. Agroecology and Sustainable Food Systems. https://doi.org/10.1080/21683565.2017.1347120.

Levkoe, C. Z., N. McClintock, L.-A. Minkoff-Zern, A. K. Coplen, J. Gaddis, J. Lo, and A. M. Weiler. 2016. Forging links between food chain labor activists and academics. Journal of Agriculture, Food Systems, and Community Development 6(2): 129–142.

Liang, P. 2016. Interweaving ethics and aesthetics: Marriage migrants and theatre making in the Asian transnational space. Inter-Asia Cultural Studies 17(3): 334–356.

Mienczakowski, J. 1999. Ethnography in the hands of participants: Tools for dramatic discovery. In Explorations of methodology, eds. G. Walford, and A. Massey, 145–161. Bingley: Emerald Group Publishing Limited.

Minkoff-Zern, L.-A. 2014. Challenging the agrarian imaginary: Farmworker-led food movements and the potential for farm labor justice. Human Geography 7(1): 85–101.

Nakache, D., and P. J. Kinoshita. 2010. The Canadian temporary foreign worker program: Do short term economic needs prevail over human rights concerns? Montreal: Institute for Research on Public Policy.

Newman, M. 2006. Teaching defiance: Stories and strategies for adult educators. San Francisco: Jossey-Bass.

Perry, J. A. 2012a. A silent revolution: 'Image theatre' as a system of decolonization. Research in Drama Education: The Journal of Applied Theatre and Performance 17(1): 103–119.

Perry, J. A. 2012b. Barely legal: Racism and migrant farm labour in the context of Canadian multiculturalism. Citizenship Studies 16(2): 189–201.

Perry, J. A. 2013. Living and learning through solidarity and struggle: Assessing the informal learning of Frontier College labourer-teachers. In Volunteer work, informal learning and social action, eds. F. Duguid, K. Mündel, and D. Schugurensky, 79–99. Rotterdam: Sense Publishers.

Perry, J. A. 2018. Play-making with migrant farm workers in Ontario, Canada: A kinesthetic and embodied approach to qualitative research. Qualitative Research. https://doi.org/10.1177/1468794117743463.

Preibisch, K. 2010. Pick-your-own labor: Migrant workers and flexibility in Canadian agriculture. International Migration Review 44(2): 404–441.

Preibisch, K. 2012. Migrant workers and changing work-place regimes in contemporary agricultural production in Canada. International Journal of Sociology of Agriculture and Food 19(1): 62–82.

Ramsaroop, C. 2016. The case for unemployment insurance benefits for migrant agricultural workers in Canada. In Unfree labour? Struggles of migrant and immigrant workers in Canada, eds. A. Choudry, and A. Smith, 105–122. Oakland: PM Press.

Reid-Musson, E. 2017. Intersectional rhythmanalysis: Power, rhythm, and everyday life. Progress in Human Geography. https://doi.org/10.1177/0309132517725069.

Rogaly, B. 2009. Spaces of work and everyday life: Labour geographies and the agency of unorganized temporary migrant workers. Geography Compass 3: 1975–1987.

Sachs, C., P. Allen, A. R. Terman, J. Hayden, and C. Hatcher. 2014. Front and back of the house: Socio-spatial inequalities in food work. Agriculture and Human Values 31(3): 3–17.

Satzewich, V. 1991. Racism and the incorporation of foreign labour: Farm labour migration to Canada since 1945. New York: Routledge.

Schutzman, M., and J. Cohen-Cruz, eds. 1994. Playing boal: Theatre, therapy, activism. New York: Routledge.

Sharma, N. 2006. Home economics: Nationalism in the making of "migrant workers" in Canada. Toronto: University of Toronto Press.

Sharma, N. 2012. The "difference" that borders make: "Temporary foreign workers" and the social organization of unfreedom in Canada. In Legislated inequality: Temporary labour migration in Canada, eds. P. T. Lenard, and C. Straehle, 26–47. Montreal: McGill-Queen's University Press.

Sinding, C., R. Gray, and J. Nisker. 2008. Ethical issues and issues of ethics. In Handbook of the arts in qualitative research, eds. J. G. Knowles, and A. L. Cole, 459–468. Los Angeles: Sage Publications.

Skrivankova, K. 2010. Between decent work and forced labour: Examining the continuum of exploitation. New York: Joseph Rowntree Foundation.

Smith, A. 2016. Migration, development and security within racialised global capitalism: Refusing the balance game. Third World Quarterly 37(11): 2119–2138.

Strauss, K. 2012. Coerced, forced and unfree labour: Geographies of exploitation in contemporary labour markets. Geography Compass 6(3): 137–148.

Thomas, M. 2016. Producing and contesting "unfree labour" through the Seasonal Agricultural Worker Program. In Unfree labour? Struggles of migrant and immigrant workers in Canada, eds. A. Choudry, and A. Smith, 21–36. Oakland: PM Press.

Vosko, L. F. 2016. Blacklisting as a modality of deportability: Mexico's response to circular migrant agricultural workers' pursuit of collective bargaining rights in British Columbia, Canada. Journal of Ethnic and Migration Studies 42(8): 1371–1387.

Weiler, A., C. Levkoe, and C. Young. 2016. Cultivating equitable ground: Community-based participatory research to connect food movements with migrant farmworkers. Journal of Agriculture, Food Systems, and Community Development 6(2): 73–87.
Acknowledgements
The author wishes to gratefully acknowledge the helpful comments of the three anonymous reviewers during the preparation of this manuscript. The funding was supported by Social Sciences and Humanities Research Council of Canada (Grant No. 752-2011-2626).
Ethics declarations
Ethical approval
All procedures performed in studies involving human participants were in accordance with the ethical standards of the University of Toronto and with the 1964 Helsinki declaration and its later amendments or comparable ethical standards.
Informed consent
Informed consent was obtained from all individual participants included in the study.
About this article
Cite this article
Perry, J.A. Images of work, images of defiance: engaging migrant farm worker voice through community-based arts. Agric Hum Values 36, 627–640 (2019). https://doi.org/10.1007/s10460-018-9861-9
Accepted:

Published:

Issue Date:
Keywords
Migrant farm workers

Theatre of the Oppressed

Seasonal Agricultural Worker Program

Guest worker programs

Unfree labour

Canada